25 Gift Ideas for the Girl on the Go
Disclosure: This page may contain affiliate links, meaning at no additional cost to you, I will earn a commission if you click through and make a purchase. As an Amazon Associate I earn from qualifying purchases.



Although it doesn't feel like it in Mexico, the holidays are just around the corner! In preparation, I've put together a detailed list of 25 gift ideas for "the girl on the go".
These are great gift ideas for the frequent traveler in your life or to add to your own holiday wish list. Every product on the list is one that I personally use or one that I want!
Check out the gift categories below:
Electronics
GoPro Action Camera
My favorite travel and action camera is definitely the GoPro. It's so compact that it fits easily in the palm of your hand and it's also waterproof which makes it perfect for snorkeling, scuba diving, or simply a day at the beach.
The photo and video quality is unreal and the super simple Quik editing app allows you to make some pretty epic videos in minutes.
Kindle Paperwhite Waterproof E-Reader
I love to read but hate to lug heavy books around while traveling.  The Kindle Paperwhite is a great gift option for travelers and the best e-reader for reading in bright sunlight.
The new version is also waterproof which makes it perfect to take on vacation to the beach or pool. 
The price is much more discounted if you buy it "With Special Offers". This will just display personalized ads as a screensaver or the bottom of your homescreen but does not actually disrupt you while reading. Kindle Unlimited memberships can also be gifted.
Apple AirPods Pro
Wireless headphones are a great gift option for frequent travelers. I use headphones all the time while traveling, working, or working out and I definitely prefer not being restrained by wires.
Apple AirPods Pro are completely wireless with amazing sound quality and pair seamlessly with iPhones and other Apple products.
Instant Print Camera
Instant print cameras are a great gift for travel lovers. It seems we rarely print photos anymore so I love the nostalgia of being able to instantly print out new memories.
I have the Fujifilm Instax Mini 9 and this Kodak PRINTOMATIC Digital Instant Print Camera is also a fun option.
Bose SoundLink Micro, Portable Outdoor Speaker
This Bose SoundLink Micro is a waterproof bluetooth speaker, which makes it perfect for bringing to the beach or pool. 
It's also compact so you can easily throw it into a backpack. For a small speaker, the sound quality is really impressive. 
Portable Charger
Portable chargers are great to have as a backup when you don't have access to plugs or power. 
These have definitely come in handy for me when on a long flight or car ride. This portable charger comes with adapters for iPhones or Androids, so you can always stay connected. 
Travel Accessories
Away Luggage
The Away luggage brand is one that I've had my eye on for the last few years. The company was started by Warby Parker alum, who implemented the same business model of cutting out the middle men and providing their products direct-to-consumer.
The Away Bigger Carry-On comes with a rechargeable battery, making it easier for you to charge your devices on the go. 
The new front pocket also gives you easy access to your boarding pass or travel documents.  The luggage pieces are stylish and thoughtfully designed, while also including a lifetime guarantee. 
Herschel Fashion Fanny Pack
I can hardly believe that fanny packs have come back into style! Now being marketed as "hip packs", I think they're super cute and very practical for a busy day when you're traveling or out and about. This Hershel Hip Pack is very stylish and comes in a variety of colors.
Samsonite Laptop Backpack
Laptop backpacks are essential when traveling.  I've found that backpacks are the easiest and most manageable way to keep your laptop safe and secure. 
This Samsonite laptop backpack has space for a 14.1″ laptop as well as a tablet and includes many different zippered compartments for easy access to your travel items and documents.
RFID Blocking Wallet
RFID blocking wallets are made from materials that prevent hackers from scanning your credit cards, passport, or personal information. 
They are great safeguards when you are traveling through crowded areas.  I love the aqua color and the wallet has compartments for credit cards, cash, and IDs.
Monogrammed Passport Cover
A monogrammed passport cover is a personalized and stylish gift option for an international traveler. 
These leather passport covers from Etsy come in a variety of colors and can be monogrammed with the recipient's initials.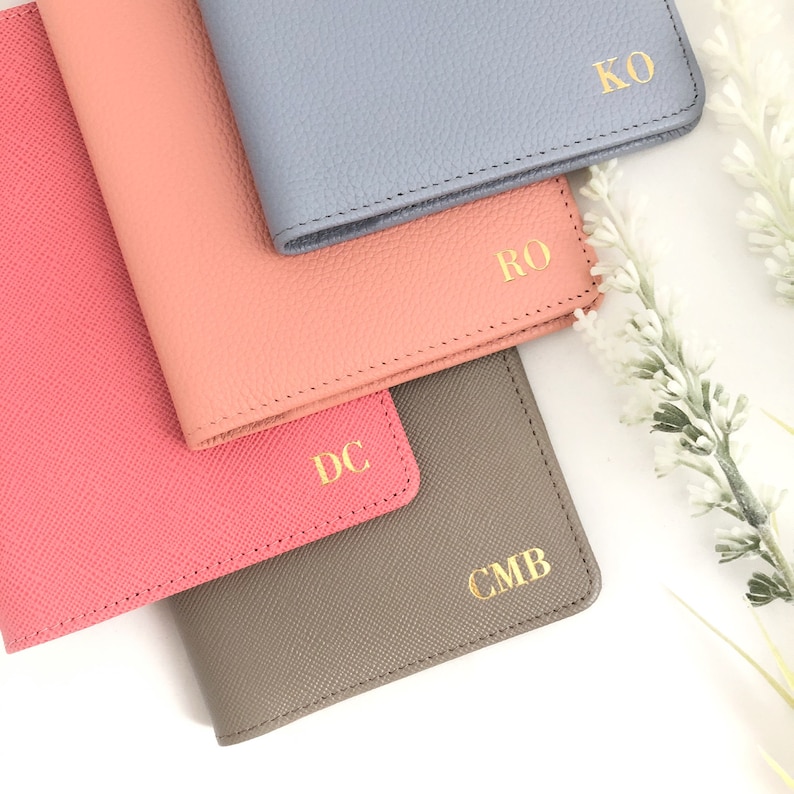 Luggage Tags
Luggage tags are an inexpensive gift option and are a great way to help identify luggage while traveling.
These painted luggage tags are bright and colorful and make a great stocking stuffer. 
Travel Jewelry Organizer
I never know how to keep my jewelry from ending up in a jumbled mess while traveling but this travel jewelry organizer is the perfect solution!
Its compact design folds over nicely to keep all your jewelry separated and in place, and it's not bulky so it can easily slide into your suitcase. 
Contoured Sleep Mask
A sleep mask is perfect for long haul travel.  This one is contoured in shape which means it's not completely flush against your eyes, giving you extra space to fully blink your eyes. 
This design makes it more comfortable especially if you have eyelash extensions. 
Travel Undergarment Organizer
A travel undergarment organizer is another great gift option to stay organized while on the go. 
It folds up easily and includes compartments for bras, socks, and undergarments. 
I usually always travel with a scarf because they are such a lightweight and versatile option to keep warm on flights and throughout your trip.
This pocket scarf has a hidden zipper where you can store your cell phone, wallet, or any valuables. It's a great way to keep your valuables safe while traveling.
Collapsible Water Bottle
Staying hydrated while traveling can definitely be a challenge. This collapsible water bottle can be rolled up and fits easily into a backpack or suitcase.
Beauty
Dual Voltage Compact Hair Dryer
One thing I always travel with is a hair dryer.  I have very thick hair and I generally just don't trust the quality of your average hotel hair dryer. 
This dual voltage hair dryer is perfect for traveling internationally as it automatically converts voltage and is compact in size to fit easily in your suitcase. 
Dual Voltage Mini Flat Iron
Another styling tool I usually travel with is a flat iron. I'm not one of those people that can just wake up and go with perfectly styled hair.
This mini flat iron is so compact it can fit easily into your suitcase or purse for quick touchups. Plus, the fact that's it's dual voltage makes it perfect for international travel.
Travel-Sized Sun Care Pack
One of the things I struggle to find in travel sized containers is quality sunscreen. Usually the only type of sunscreen in travel size is Sport which is generally too thick and greasy.
This Sun Bum travel-sized sun care pack is a great gift option that includes SPF 30 Sunscreen, After Sun Lotion, and Lip Balm in a cute travel bag. Sun Bum's products are hypoallergenic, paraben free and Vegan.
Sephora Favorites Travel Sized Set
Since moving to Mexico, I've definitely had to make skincare a priority. This Sephora Favorites Travel Sized Set includes some great products that are perfectly sized for your carry on.
All the items are travel friendly and the set includes belif Moisturizer, boscia Makeup Cleansing Oil, Murad SPF, Origins Refreshing Eye Cream, and Sephora Collection Rose Lip Balm.
Travel Gifts
Afar Magazine Subscription
Afar is hands down my favorite travel magazine. I've had an Afar magazine subscription for a couple of years now and I always look forward to receiving my next edition in the mail.
The magazine features great editorial content, photography, and travel stories in a compelling way. It's the only magazine I can read cover to cover.
Carry On Cocktail Kit
This carry on cocktail kit makes a great stocking stuffer.  It includes all the mixers you need to make a cocktail during your flight.
All you need to do is order a tiny bottle of alcohol and follow the instructions to make an enhanced version of your favorite in-flight cocktail. 
My favorite is a margarita but they also offer Gin & Tonic, Moscow Mule, Old Fashioned, and Champagne Cocktails.
Custom Coordinates Necklace
A custom coordinates necklace is a thoughtful and personalized gift option.  The coordinates can be customized to the recipient's home town, favorite city, or any place with special meaning. 
The color, chain length, and fonts can also be customized to your preference.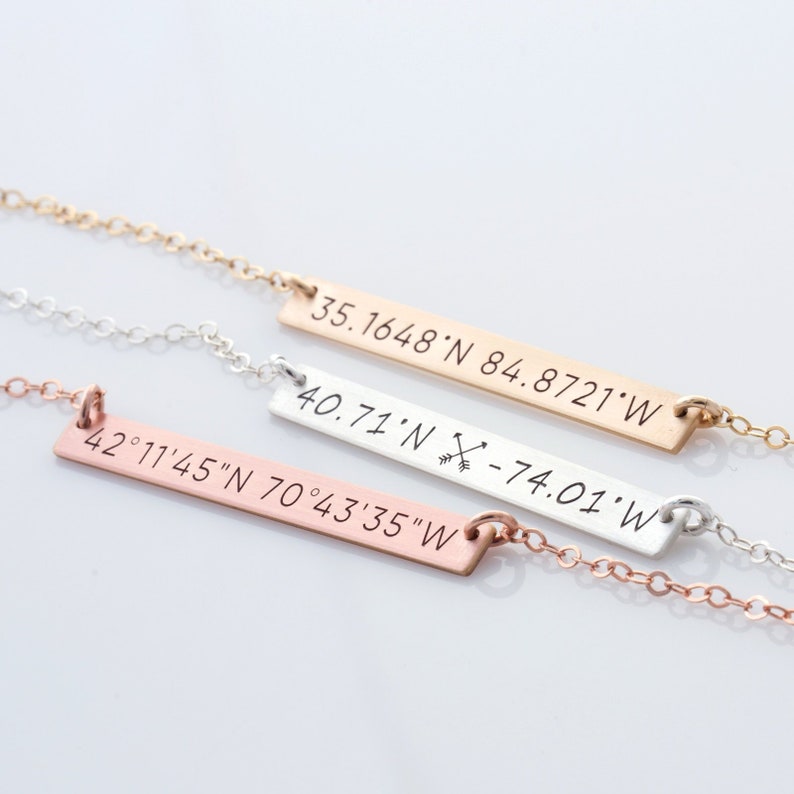 Cork Globe
A cork globe is a great keepsake and the perfect gift for anyone that loves to travel. It includes push pins to insert all the different places that you've traveled around the world.
Like this post? Pin it for later!