Essential Spanish Phrases for Mexico Travel eBook
Want to Learn the Essential Spanish Phrases for Mexico Travel?
Are you planning a trip to Mexico, but don't know any Spanish? Or you want to learn the essential Spanish phrases for Mexico but are short on time?
Don't worry—I've got the perfect solution to help you prepare for your trip!
My new eBook, "Speak Like a Local: Essential Spanish Phrases for Traveling in Mexico," is sure to get you speaking like a local in no time.
As a travel blogger that has lived in Mexico for more than 5 years, I've compiled all the Spanish phrases you need to know for your Mexican vacation into a handy eBook and quick reference guide.
From basic phrases and greetings to dining, shopping, and navigating transportation, this beautifully-designed eBook has all of the basic Spanish for travel to Mexico!
And it's super affordable so it will get you ready for trip to Mexico without breaking the bank!
Normal Price: $9.99
Get it today for only $7.99!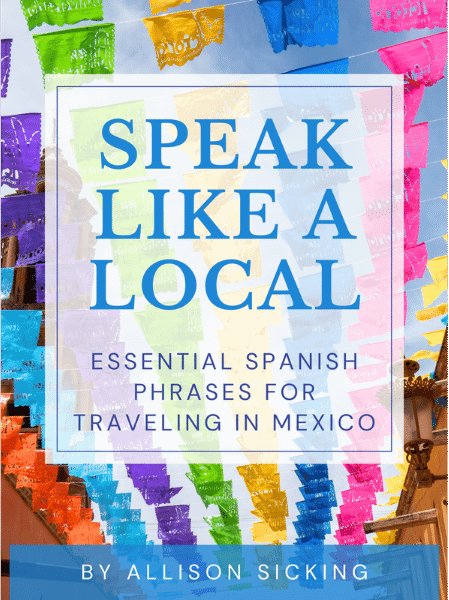 Does This Sound Like You?
If any of these statements sound familiar, this eBook is the perfect resource for you!
It covers all the essential Spanish phrases you need to know for traveling Mexico, from basic greetings and introductions to dining at a restaurant and understanding Mexican slang.
Who Can Benefit from the Spanish Phrases for Mexico eBook?
Designed with the traveler in mind, "Speak Like a Local: Essential Spanish Phrases for Traveling in Mexico" is your pocket-sized companion whether you're a first-time explorer or a frequent visitor to Mexico.
It's perfect for people who are short on time and want to quickly learn all the basics of Spanish for travel to Mexico.
Ideal for beginners, travelers, and those who want to dive deeper into the Mexican culture, this eBook will help you easily understand the local culture and confidently navigate your way around Mexico.
What You'll Learn from the Spanish Phrases for Mexico eBook
"Speak Like a Local: Essential Spanish Phrases for Traveling in Mexico" is packed with practical information, all aimed at making your trip to Mexico as safe and as trouble-free as possible.
The eBook is divided into various sections, each walking you through different situations and conversations you might encounter while traveling.
Here are the key benefits of purchasing the eBook:
❗️Now, to be clear, this eBook isn't going to make you fluent in Spanish or teach complex grammar rules—but rather equip you with the basic travel Spanish you need to travel and navigate your way around Mexico.
Who Am I? And How Can I Help You?
I'm Allison, a Playa del Carmen-based travel blogger who has been living in Mexico for more than 5 years. My personal Spanish journey includes mastering Spanish throughout high school and college, courses, and real-life experiences.
Gathering all my insights, I've crafted this eBook that's your ultimate insider's guide to common Spanish phrases for travel to Mexico. It's a compilation of easy Spanish phrases I use on a daily basis and have picked up during my extensive travels throughout Mexico.
What's Inside the Spanish Phrases for Travel to Mexico eBook?
This 20+ page eBook covers everything from basic phrases and numbers to sections for checking into a hotel, dining at a restaurant, or asking for help. Here's exactly what you'll find inside:
Basic Phrases
Start with the basics and build a strong foundation. This section covers basic Mexican Spanish phrases and introductions like hello, goodbye, please/thank you, and excuse me.
Numbers
Get comfortable counting in Spanish with basic Mexican words and numbers. From one to 20 (and larger denominations), this is your guide to understanding the Spanish language of numbers.
Meeting People
Learn how to make new friends and start conversations with locals. In this section, you'll learn social etiquette, and how to introduce yourself and exchange contact information.
Checking into a Hotel
Learn the basics on checking into a hotel in Spanish, including interactions at the Front Desk, as well as asking about amenities and common housekeeping requests.
Basic Food & Drinks
Learn the different food and drinks you'll see on menus throughout Mexico. From fruits and beverages to main courses and seafood, this section covers Mexican food basics.
Dining at a Restaurant
Learn phrases for arriving at a restaurant, understanding menu items, asking for recommendations, ordering food, communicating allergies and dietary requests, asking for the check, and more.
Money & Banking
Learn common money and banking terminology when it comes to ATM, credit cards, and cash exchanges.
Shopping
From bargaining techniques for souvenir shopping to talking about sizes and preferences, this section covers all of the essential Spanish phrases for shopping in Mexico.
Taxis & Transportation
Learn the basic Spanish words and phrases for navigating transportation. From asking for directions to understanding public transport and going to the airport, you'll be able to get where you need to go with ease.
Asking for Help
Learn how to ask for help in Spanish, including common questions, expressions for confusion, and asking for directions.
Emergencies
This section will help you get familiar with common phrases and expressions for medical, police, and other emergencies.
Mexican Slang
The locals will be impressed when you know the best Mexican slang! This section includes phrases for everyday conversations, plus some fun (and inappropriate! 🙊) phrases to help you fit in with the locals.
Mexican Destinations
Make your way around Mexico confidently and learn how to pronounce odd-looking destination names like Oaxaca, Hualtulco, Zihuatanejo, Holbox, and more.
BONUS: Xcaret Park Names
This bonus section includes a pronunciation guide for the Xcaret parks in Riviera Maya, which all start with an "X" and can be tricky to pronounce.
But What About Pronunciation?
Worried about not being able to pronounce these basic Spanish phrases for travel correctly? Don't be!
Each word or phrase in the eBook includes very easy to follow phonetic pronunciations so you won't need to be a master linguist to be able to say it right.
Try it for yourself:
🗣 Good morning! – ¡Buenos días! (BWAY-nos DEE-as)
Easy, right!? These Spanish phrases for Mexico with pronunciation guides will have you speaking Spanish like a local in no time!
Mexico Spanish Phrases eBook: FAQs
I want to make sure this Spanish for Mexico eBook is the perfect resource for you–so here's a quick list of FAQs to help answer any questions you may have:
Ready To Speak Like a Local?
Ready to speak Spanish confidently and be able to navigate your way around Mexico with ease?
"Speak Like a Local: Essential Spanish Phrases for Traveling in Mexico" is the perfect pocket guide to help you get started!
Don't miss this easy and affordable chance to learn the basics of Mexican Spanish today. Get your copy now!