Cabo Azul Resort Review: Is this luxury resort worth it? (2023 Review)
Cabo Azul Resort Review: Recap
Cabo Azul Resort: Quick Facts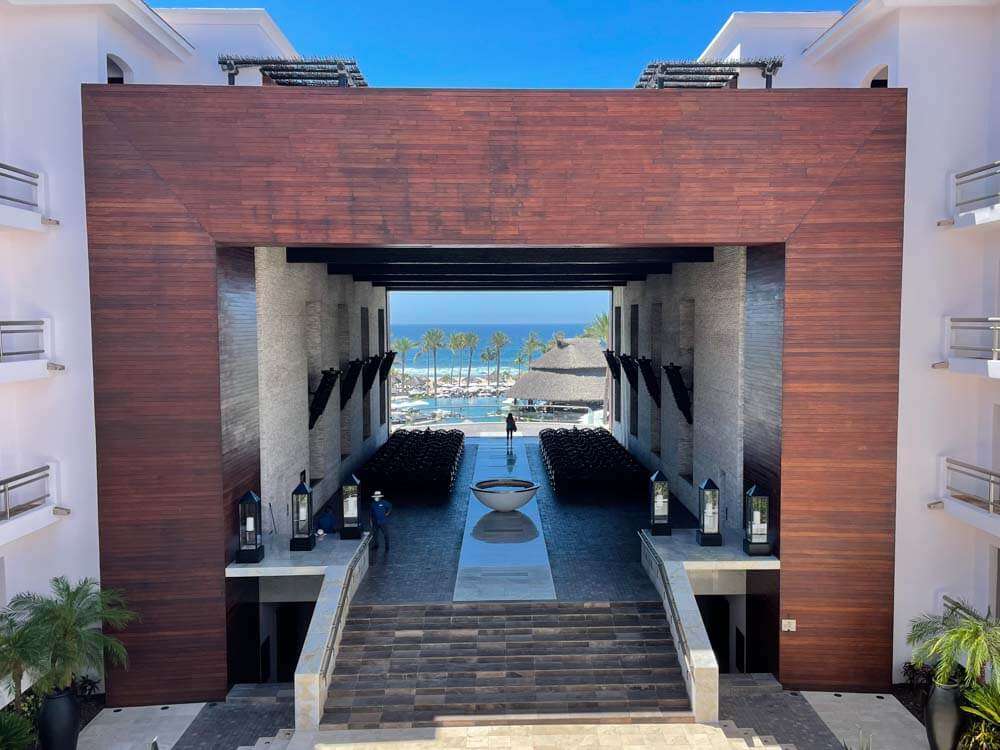 Cabo Azul Resort Pros and Cons
Is Cabo Azul Resort all inclusive?
Cabo Azul Resort Review: Location
Location Rating: 9/10
It's important to know exactly where Cabo Azul Resort Mexico is located.
When most people are first starting their Cabo trip planning, they don't realize that there are actually two separate towns that make up the Los Cabos region–Cabo San Lucas and San Jose del Cabo.
Cabo Azul Resort is located in the town of San Jose del Cabo, which is known for being smaller, quieter, and more relaxing than Cabo San Lucas.
The resort is located directly on the beachfront, offering a widespread beach with plenty of loungers.
The resort is also located right across the street from a commercial shopping strip with restaurants, clothing stores, and coffee shops.
Grocery stores and additional shopping can be reached by walking or a quick taxi ride.
It's also located less than 10 minutes from downtown San Jose del Cabo, which will cost just $7 USD for a taxi ride.
Driving times to nearby destinations are as follows:
Cabo Azul to Los Cabos International Airport (SJD): 25 minutes
Cabo Azul to Downtown San Jose del Cabo: 10 minutes
Cabo Azul to Grocery Stores (La Comer): 10 minutes
Cabo Azul to Cabo San Lucas Downtown: 30 minutes
👍 The location of Cabo Azul Resort in San Jose del Cabo is central and convenient. It was extremely easy to walk across the street to shops and restaurants or grab a quick taxi to reach destinations further away. Plus, the beachfront location is private and widespread.
↳ Check rates and availability at Cabo Azul Resort
How to Get to Cabo Azul Resort
There are a few different ways to get to Cabo Azul depending on your budget and the size of your group. The driving time from the airport to the resort is only about 25 minutes.
Book a Private Airport Transfer to Cabo Azul
Book a Shared Airport Shuttle to Cabo Azul
Take a Taxi to Cabo Azul
Cabo Azul Resort Review: Rooms
Room Rating: 8/10
Cabo Azul is an all-villa resort offering 4 different room types–each with different views. Pool and ocean view rooms will come at a premium price.
All Cabo Azul Resort rooms feature plush beds, spacious baths with bath robes, private balconies, and flat screen TVs with DVD players.
Brown wood design elements throughout feel a bit heavy at first but are still new and modern and give the suites a warm and inviting atmosphere.
Junior Suite
The Junior Suite at Cabo Azul Resort is a spacious and stylish suite that offers plenty of room for up to four guests.
The suite features a king bed, a queen size sofa sleeper in the separate living room, and a full bath with a walk-in shower and double sinks.
There is also a large private balcony with a seating area. The suite does not have a full kitchen but does have a mini-fridge, microwave, and coffee maker (with complimentary coffee).
This is the room type that I stayed in, which overlooked the Family Pool. With a separate living area, it feels more like a one bedroom unit but without the kitchen.
Overall, I felt the Junior Suite was very spacious, clean, and comfortable, and the perfect size for two people.
Our bathroom had two separate vanities, a walk-in shower, and a private toilet area, which made getting ready a breeze.
But perhaps the best part was the plush mattress–it felt like sleeping on a cloud!
The only thing I disliked about the room are the heavy design elements with dark woods which are not really my taste and perhaps could use a bit more color.
1 Bedroom Villa
The spacious One-Bedroom Villas at Cabo Azul feature 1,200 square feet of living space, a plush king bed, and a queen size sofa sleeper.
The full kitchen comes complete with stainless steel appliances including four-burner stoves, ovens, and full-sized refrigerators.
2 Bedroom Villa
The 2 Bedroom Villa at Cabo Azul Resort is a spacious and comfortable villa that can accommodate up to six guests.
The master bedroom has a king-sized bed, while the guest bedroom has a queen-sized bed.
The living room also has a queen-sized sofa sleeper, making it perfect for families or groups of friends traveling together.
The kitchen is fully equipped with stainless steel appliances, and there is also a dining table.
Ocean View Penthouse
The Ocean View Penthouse at Cabo Azul Resort is a luxurious 3,100 square foot retreat with stunning ocean views.
This top floor penthouse features a spacious outdoor veranda, perfect for enjoying the incredible views.
Inside, you'll find high-end design elements, hand-crafted furnishings, and natural stone floors throughout.
There are three private bedrooms, each with a king or queen bed, as well as a queen size sofa sleeper in the living room.
Cabo Azul Resort Review: Prices
Value Rating: 8/10
Here's a look at the prices you can expect to pay at Cabo Azul resort and a value comparison:
Cabo Azul Food and Drink Prices
Coming from Playa del Carmen, I was initially surprised at how much higher the prices are in Cabo than in Riviera Maya.
The prices in all of Cabo are much more comparable to California prices especially when it comes to food and drink.
And because the destination caters heavily to Americans, most of the prices will be in USD.
While the prices are higher in Cabo than in other parts of Mexico, I found the prices for food and drink at Cabo Azul to be very comparable to other restaurants in the destination.
So really you won't have to pay more for the added convenience of not having to leave the resort.
Depending on where you're coming from, you might need to adjust your price expectations and accept the fact that Cabo is going to be more expensive.
Here's an example of Cabo Azul Resort food prices:
Margaritas: $12-$20 USD
Beer: $5-$7 USD
Nachos: $16 USD
Burgers: $20 USD
Tacos: $13 USD
Dinner Entree (Javier's): $20-$70 USD
💳 Cabo Azul Resort is cashless so you can either charge all of your expenses to your room or pay with a credit card.
Cabo Azul Resort Fees
Another important thing to keep in mind is that the resort charges an additional resort fee per day, per unit.
The resort fee varies depending on the type of unit but the average price is around $30 USD per night.
This is common practice for resorts and includes the use of the pool, amenities, and resort activities.
Most of the time these service fees are included as an added charge when you are booking so don't be surprised if you see a resort fee added to your confirmation.
👍 In my opinion, the resort fee at Cabo Azul is a good value for an incredible pool, extremely comfortable lounge chairs, complimentary cabanas, and plenty of resort activities.
FAQs about Cabo Azul Resort
🗣️ For adults concerned about noise, the main pool areas at Cabo Azul did not seem loud or overly disruptive with kids.
Tips for Staying at Cabo Azul
Follow these tips to make the most of your experience at Cabo Azul:
Get to the pool early: Lounge chairs fill up quickly and many people will lay towels on chairs to reserve them. Get to the pool early if you want to get the best spots.
Upgrade to the Marcos Margarita: Don't even bother with the house margarita–I made this mistake and it did not taste great! For a couple dollars more, upgrade to the Marcos Margarita for a much tastier margarita made with fresh lime juice.
Go to the grocery store: If you don't want to eat out for every meal, head to the nearby grocery stores and stock up on food and beverages for your stay. We walked to the La Comer grocery store and then took a quick taxi ride back to the resort.
Bring your own drinks to the pool: While at the grocery store, we also bought some alcohol, seltzer, and soft drinks to enjoy at the pool. Bring the ice bucket from your room or you can ask for cups of ice from the pool bar.
Pack plenty of sunscreen: The sun in Cabo is intense! And that's coming from someone who lives in Playa del Carmen and is used to the heat. The dry heat in Cabo is next level so you'll want to pack plenty of sunscreen to avoid a sunburn. Be sure to wear biodegradable sunscreen if you're going to be swimming in the ocean.
Bring cash for taxis: Taxis can be arranged very easily with the valet staff. If you plan to leave the resort, bring cash to pay for taxi rides around town. It costs $7 USD each way to go to downtown San Jose del Cabo or nearby grocery stores.
Final Thoughts: Cabo Azul Reviews
So, what do you think? Are you ready to visit Cabo Azul Mexico? I hope these guest reviews of Cabo Azul Resort were helpful in deciding if the resort is worth it for you.
I honestly had an amazing stay at Cabo Azul and wouldn't hesitate to stay there again. This was my first trip to Los Cabos and I think this beautiful resort was the perfect place for a relaxing and luxurious retreat.
The resort's best feature is the tri-level infinity pool which is so dreamy and can't be beat! I stayed for 7 days and never got sick of just lounging at the pool.
The only thing that could be improved upon at Cabo Azul is the food and beverage. But since the resort is not all inclusive, there are plenty of excellent options nearby if the food isn't to your liking.
If you're looking for a relaxing getaway with beautiful pools, great service, and incredible amenities, Cabo Azul will be perfect for you.
With minimal nightlife, it's best for those looking for a place to relax and escape the hustle and bustle of everyday life.
So what are you waiting for?! Click here to check rates and book your next vacation at Cabo Azul.