The Ultimate Guide to the Xcaret Parks in Riviera Maya Mexico (2023)
Disclosure: This page may contain affiliate links, meaning at no additional cost to you, I will earn a commission if you click through and make a purchase. As an Amazon Associate I earn from qualifying purchases.



Are you interested in visiting the Xcaret parks in Riviera Maya Mexico? You've come to the right place!
I've a travel blogger that lives in Playa del Carmen, and I've become an expert on the Xcaret adventure parks.
If you're feeling confused or overwhelmed by all the Xcaret park names and tours, I've broken it all down for you in this post.
Read on for my ultimate guide to the Xcaret parks, including what they are, how to pronounce the park names, activities overview, transportation information, park costs, and more.
Ready to learn all about the Xcaret parks? Let's get to it, starting with a quick overview chart:
About the Xcaret Parks
First, let's start with some of the basics on Xcaret:
What is Xcaret?
Grupo Xcaret is the name of the company that owns and operates some of the best tourist attractions in Riviera Maya, Mexico.
The company is constantly expanding but they currently operate 8 adventure parks, 4 tour experiences, and 3 all-inclusive luxury hotels.
From unique tours and activities to luxury hotels, Xcaret has an emphasis on sustainable and socially responsible tourism that lets you plan your Mexico travels in a one-stop shop.
ℹ️ Important to Know: Xcaret is the name of the overall company, but it's also the name of one of the adventure parks.
How many Xcaret parks are there?
Currently, there are 8 Xcaret adventure parks, each offering a different type of adventure experience:
Xcaret
Xel-Ha
Xplor
Xplor Fuego
Xavage
Xenses
Xoximilco
Xibalba (Coming soon)
Grupo Xcaret also offers 4 different tour experiences:
Xichen
Tulum
Coba
Xenotes
And 3 luxury hotels:
Hotel Xcaret
Hotel Xcaret Arte (adults only)
La Casa de la Playa (adults only)
What can you do at Xcaret Mexico parks?
Just ask and you shall get – Xcaret adventure parks offer all the Mexican Riviera experiences you can think of!
Xcaret activities range from cultural immersion (think live entertainment and archaeological exploration) to unique outdoor activities.
The outdoor activities feature white water rafting, ziplining, snorkeling and snuba, underground river exploration, cenote swims, monster truck challenges, and so much more.
At these one-of-a-kind Mexico theme parks, you can also enjoy elevated Mexican cuisine, whether breakfast, lunch, or dinner.
Where are the Xcaret adventure parks?
Refer to this map of Xcaret parks for all locations of the different Xcaret parks in Mexico.
Xcaret, Xplor, and Xenses are located just south of Playa del Carmen, while Xel-Ha is closer to Tulum, and Xavage and Xoximilco are closer to Cancun.
How to pronounce the Xcaret park names?
If you're not sure how to pronounce the Xcaret park names, you're not alone! I was clueless when I first arrived in Playa del Carmen.
But I quickly learned the key to pronouncing Xcaret park names is to sound out the 'X' as either "s" or "sh".
Xcaret = Ish-ka-ret
Xel-Ha = Shell-Ha
Xplor = Ish-plor
Xavage = Sha-vage
Xenses = Shen-ses
Xoximilco = So-chee-meel-koh
Xibalba = She-bal-ba
Xenotes = Shay-know-tays
Xichen = She-chen
How much do Xcaret park tickets cost?
Xcaret prices vary between each park. As of 2023, Xcaret park admission tickets (online purchase) are currently priced at:
Xcaret Admission = $109.99 USD
Xel-Ha Admission = $99.99 USD
Xplor Admission = $129.99 USD
Xplor Fuego Admission = $109.99 USD
Xavage Admission = $149.99 USD
Xenses Admission = $69.99 USD
Xoximilco Admission = $99.99 USD
Xenotes Admission = $129.99 USD
Note that some of the Xcaret park packages come in two forms: basic admission and all-inclusive admission.
Basic admission offers a limited amount of activities, while all-inclusive offer unlimited access to all activities.
Children under 4 can enter for free, while children from 5 to 11 pay half-price for tickets.
How to book Xcaret tickets
Individual Xcaret park tickets can be bought through the master site below, or each park's own website.
Due to the pandemic, it's recommended to book in advance as they have limited admissions available.
I highly recommend booking your Xcaret tickets through their official website as it's the safest and most secure way to book Xcaret tickets.
Plus, they allow you to create your own customized package if you're interested in visiting more than one of the parks.
I've also outlined additional ways to save in the next section.
How to save money on Xcaret Park Tickets
There are a few different Xcaret discounts available–take advantage of these discounts outlined below to save money on Xcaret tickets and avoid paying full price for admission tickets.
Book in advance
You can automatically save by booking online on the official park website in advance:
10% off – ticket purchase 7 to 20 days in advance
15% off – ticket purchase at least 21 days in advance
Create your own package
If you're interested in visiting more than one of the Xcaret parks and tours, you can save by combining parks to create your own package:
15% off – ticket purchase for any combination package of two or more parks and tours
20% off – ticket purchase for any combination package of three or more parks and tours
Resident Discounts
Xcaret also offers a special discount for Quintana Roo residents which is valid only at the park's ticket booths, online, or through the contact center.
Tickets for Quintana Roo residents can be purchased through the website here but it is only available in the Spanish language.
You'll need to present an Official ID of Quintana Roo to be eligible for the discount. For foreigners living in Quintana Roo, Temporary and Permanent Resident Cards are accepted.
Visiting the Xcaret Parks
Here's the basic visitor information that you should know before visiting the Xcaret adventure parks:
Transportation
The Xcaret eco-parks are spread out across the Riviera Maya region so when planning your experience, you'll need to consider how you're going to get to the parks.
On Your Own
To get to each Xcaret park on your own, you can drive or rent a car, hire a taxi, or take the ADO bus (Xcaret and Xel-Ha only). If you drive, free parking is available on-site.
Transportation Service
Most people opt for round-trip transportation service for the most hassle free option. Simply add this request at the time of purchase for an Xcaret all inclusive experience.
The Xcaret transportation cost varies by park but is typically around $30 USD per person.
It's important to know that transportation can only be added at the time of purchase, so be sure to add this when you're buying your tickets.
If your hotel is not on the list of affiliated hotels, you'll be given a list of meeting points where Grupo Xcaret's official transport will pick you up.
Food and Drink
Do check if that particular ticket covers food and beverages! Xcaret is known for providing more upscale food and beverage experiences but they differ between the parks.
For instance, Xcaret Park Mexico doesn't automatically include food and drink in their packages – you have to add it to your purchase.
On the other hand, Xel-Ha offers continental breakfast, lunch buffet, snack bar and open bar (including alcohol).
Likewise, the other Xcaret adventure parks also offer buffet lunch, unlimited snacks and non-alcoholic drinks. Even though most of the restaurants are buffet style, the food is still very good.
Facilities and Services
The exact amenities vary but you can expect all Xcaret parks to have: rest areas, dressing rooms, lockers, restrooms, WiFi, ATM, and free parking.
Gift shops are located near the entrance where you can purchase Xcaret park photos, souvenirs, and gear (like water shoes).
Photos
One of my favorite takeaways from these parks is my experiencias Xcaret photos!
A Photo Pass can be added to your admission package upon purchase, which covers all group photos of up to 10 people. You can pick up your photos at the gift shops.
What's cool is that there are cameras and "Xelfies" photo opportunities all over the parks.
Tracking technology is inserted in your helmet or wristband so they can track your photos and you'll be able to scan and review them all at the end of the day.
The photo packages can be expensive but are a great way to capture your memories if you don't have a GoPro or waterproof camera.
Xcaret Parks
Let's take a deeper look at how the Xcaret eco-parks differ from each other so you can choose which Xcaret park is best for you.
Xcaret
The original of Grupo Xcaret parks, Xcaret by Mexico features 50 attractions within its massive property and is considered to be one of the best Xcaret parks to visit.
Drawing your attention towards the country's culture and heritage, its range of Xcaret park activities makes it the perfect choice for families.
Spend a full day out among the jungle trails, swimming in underground rivers, exploring caves, and frolicking on beaches or natural pools.
Stroll through open-air aviaries, the Butterfly Pavilion and Coral Reef Aquarium; historians will love the Mayan ruins and Mexican Folk Art Museum.
Don't miss out on the 300-member crew whose Xcaret Mexico Espectacular production tops the list of things to do in Riviera Maya!
The Xcaret show is a history lesson but fun – featuring pre-Hispanic dances and more.
You can read my full Xcaret park review in this post!
👉 Book Xcaret tickets on the official website by clicking here!
Xel-Ha
Known for aquatic adventures, Xel-Ha Park has a prime location around an inlet of the Caribbean Sea, which yields the best water activities.
Boardwalks and the Jungle Train connect all the cenotes, caves, hidden beaches, and hammock gardens. In the center lies an expansive "pool", where red flags mark areas rich in marine life.
While swimming and snorkeling take the spotlight, this Xcaret water park isn't just a large natural aquarium. Manmade slides, high jumps, and water ziplines add dimension to the park.
There's even a mile-long float down the river. For land activities, check out the manatee sanctuary and Mayan port city ruins. Definitely climb the Scenic Lighthouse water slide for panoramic views over the park!
You can read my full Xel Ha review in this post!
👉 Book Xel-Ha tickets on the official website by clicking here!
Travelista Tip: Xel-Ha is the only Xcaret park that includes unlimited alcohol so it's one of the best Xcaret parks for adults if you're looking for a fun adults waterpark experience with a group of friends.
Xplor
Xplor is the first Xcaret park I ever visited and still remains one of my favorites, offering ziplines, underground caves, and ATV experiences.
Xplor by Xcaret takes you deep into the Riviera Maya jungle landscape, where naturally carved gorges are hidden within dense forest.
The sky-high zipline course was what propelled Xcaret Xplor onto the lists of "best adventure parks in Mexico", letting you skim above the treetops and take in the views.
Some of the highest ziplines in Riviera Maya end with a vigorous drop into a cenote so be prepared to get wet!
The newest activity however, will have you trawling through 800 yards of subterranean trails.
Start with an amphibious vehicle tour through jungle and flooded caves, before the Underground Expedition takes you river paddling through ancient caves.
You can read my full Xplor review in this post!
👉 Book Xplor tickets on the official website by clicking here!
Xplor Fuego
Xplor Park transforms into its night-time persona when sunset hits and flickering torches and cackling bonfires signal the arrival of Xplor Fuego.
What was scenic fun in day time is now a dramatic and mysterious landscape.
Some describe it as an "extreme night adventure". The same ziplines now show you starry skies, the rainforest becomes strange and haunting, and the underground rivers are illuminated only by fire torches.
End the night with a generous BBQ buffet, and make the most of the nightscape before it closes at 11PM.
👉 Book Xplor Fuego tickets on the official website by clicking here!
Xavage
I've personally been to Xavage Park, which is located just 45 minutes away from Playa del Carmen.
I'd equate it to an Xcaret park on steroids, since it's where you'll find the most adrenaline pumping activities.
Each of the activities are named after animals: ropes course (Howler Monkey), Superman-style ziplining (Hawk), white water rafting (Barracuda), monster trucks (Puma), kayaking (Crocodile), high speed jet boat experience (Dragonfly), and kids pool (Serpent).
The white water rafting and monster truck course are intense – and probably some of the most unique experiences you'll find at Xcaret theme parks.
Read more about my Xavage experience in this post!
👉 Book Xavage tickets on the official website by clicking here!
Xenses
If you haven't gathered from its name, Xenses by Xcaret is all about challenging your senses – nothing is as it seems.
The unusual world teems with sensory deceptions, starting with an enormous water-jet-supported boulder at the entrance.
The charming streetscapes of Town at Xenses feel like an uphill climb when they're actually level ground. Xensatorium takes you through forest, desert, and savanna without your sight.
The Bird Flight zipline has you flying horizontally while mud rivers float you through stalagmite-dotted caverns.
Don't forget crazy photo ops either! Take a photo of the clean-water drinking fountain…set inside a toilet.
You can read my full Xenses review in this post!
👉 Book Xenses tickets on the official website by clicking here!
Xoximilco
Xoximilco Park is a literal, floating fiesta. Not your stereotypical "park", the Xoximilco tour offers a traditional Mexican party aboard a cruise, a re-creation of the famous attraction outside Mexico City.
The evening begins with carnival games and live performances, followed by a scenic cruise on trajineras (flat-bottomed boats).
Local musical genres such as mariachi and norteno play background music to your Mexican dinner. Dinner is the highlight of this experience, serving tasting platters of traditional foods.
Enjoy ceviche, tamales, Oaxacan chocolate, and more. There's also an all-night bar which serves alcoholic and fruity beverages.
👉 Book Xoximilco tickets on the official website by clicking here!
Xibalba Reserve
Xibalba Reserve is the latest Xcaret experience that is still under construction with an undetermined opening date.
Representing the Mayan belief of a three-tiered universe, Xibalba is the underworld – one which you'll explore via an underground circuit.
From the sacred Ceiba tree to 59-feet deep cenotes, your tour introduces physical spaces within the Mayan cultural context.
You'll learn about Mayan myths, Xibalba gods, and other ancient beliefs while getting to swim, snorkel, and experience stunning underground cenotes.
Xcaret Tours
Not a fan of adventure parks? Immerse yourself in the Mayan world with Xcaret tours!
These archaeological tours at Cancun and Riviera Maya offer comfortable travel on a panoramic bus, plus certified guides who lead you through famous historic sites.
Xichen
The all-inclusive Xichen by Xcaret tour brings you from Cancun or Riviera Maya to the heart of Mayan culture at the ancient ruins of Chichen Itza.
Stroll through the temples and structures with a certified Xcaret guide and learn about the mythologies behind the Pyramid of Chichen Itza.
The tour continues with a stop at a cenote for a refreshing swim, and a visit to the Valladolid downtown area. Enjoy a full-day trip that shows both ancient and contemporary sides of Yucatan!
The Xichen tour offers two different admissions:
Xichen Clasico (priced at $124.99 USD): Includes Chichen Itza tour, swimming at Xcajum Cenote, Panoramic Tour of Valladolid
Xichen Deluxe (priced at $144.99 USD): Includes Chichen Itza tour, swimming at Santuario Tsukan Cenote, Buffet meal at La Casona de Valladolid Restaurant
👉 Book the Xichen Tour on the official website by clicking here!
Tulum
The Tulum Xcaret tour takes you to the coast, featuring the only pre-Hispanic settlement built along the Caribbean Sea.
The Tulum Ruins archaeological site is exposed to the elements, shielded only be the surrounding wall which once served as defense.
I recommend climbing to the main building, as its cliff-top location is perfect for pictures! It's one of the most photographed sites in the Riviera Maya.
👉 Book the Tulum Tour on the official website by clicking here!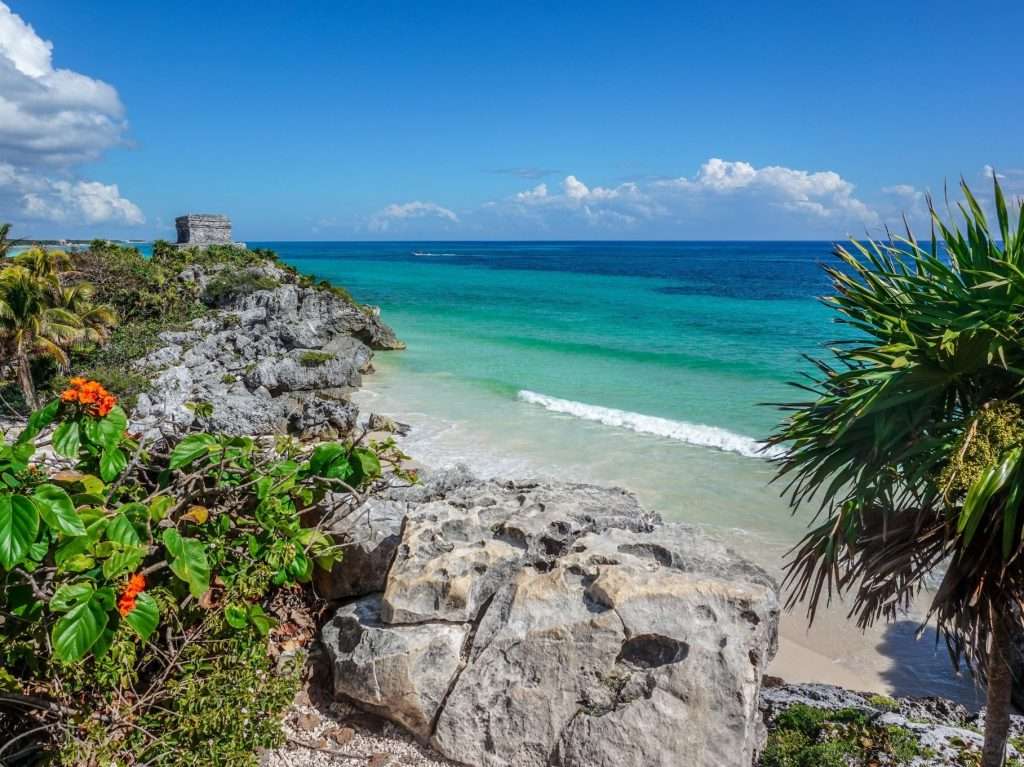 Coba
An ancient Mayan city which reigned before Chichen Itza, the Coba Tour by Xcaret takes you back millions of years.
Climb to the top of Nohoch Muul, the tallest pyramid of Riviera Maya, and see how far the 50 ancient paved roads known as Sac-Be stretch. You'll learn about past cultures, costumes, and beliefs.
Once you're done marveling over the ruins and surrounding jungle, embark on a bike ride and follow one of the Sac-Be roads for as long as you can. You can also continue onto Xel-Ha or the site in Tulum.
👉 Book the Coba Tour on the official website by clicking here!
Xenotes
This unique Xcaret Xenotes tour brings you to four different Riviera Maya cenotes along the famous "Ruta de Cenotes" in Puerto Morelos.
Xcaret arranges a circuit of activities that include kayaking, swimming, rappelling, and ziplining, letting you experience the natural wonders of the Mexican Riviera actively.
At Lu'um Cenote, a cavern cenote with million-year-old formations, you'll try assisted rappelling. Ziplines happen over Iik Cenote, where you can cliff jump over 20 feet high.
For kayaking, beautiful Ha Cenote treats you to a semi-open Xcaret cenote with hanging vegetation. The most beautiful underwater gardens are found at K'aak' Cenote, an ideal space for swimming and tubing.
You can read my full Xenotes review in this post!
👉 Book Xenotes tickets on the official website by clicking here!
Tips for Visiting Xcaret Parks
To make the most of your Xcaret experience, follow these easy Xcaret tips!
Book in advance: You'll automatically save 15% by booking at least 21 days in advance, or 10% by booking 7-20 days in advance. It's best to book online ahead of time as there are limited spots available with Covid capacity restrictions.
Combine the parks to save money: You get 15% to 20% off depending on how many experiences you package together.
Consider staying at one of the Xcaret hotels: These luxury Xcaret resorts give you all "fun-inclusive" access to the parks, meaning you get unlimited access to all of the parks during your stay. This is an especially great option for families if you plan on visiting more than one of the parks. Check out all the perks and photos on the hotel websites below:
Get there early and plan for a full day experience: You get to do each activity unlimited times so you'll want to arrive early to get the most out of the price of your admission.
Study the Xcaret parks map: When planning your day, prioritize which activities you are most interested in and plot out a route on the Xcaret park map for maximum efficiency. You'll also want to plan your meal times around the different activities. For example, some of the more intense activities are not the best on a full stomach!
Bring biodegradable sunscreen: Many of the parks are located in natural environments, beaches, and cenotes. Wearing biodegradable sunscreen is essential to protect these natural reserves.
Bring a GoPro or waterproof camera: The parks are action-packed and most involve water activities so you won't be able to use your cell phone to take photos. Bring a GoPro or waterproof camera to capture your memories.
Wear water shoes: Pretty much all of the parks involve water activities, so having a pair of water shoes will let you run between water, beach and jungle floor comfortably and quickly.
Wear a one-piece swimsuit and activewear: You will most likely be getting wet so I usually always wear a one-piece swimsuit and athletic shorts to be comfortable for all activities.
Bring a towel: In addition, you'll want to bring a beach towel to dry off after the water activities. These microfiber beach towels are a great option because they are super light weight and dry quickly.
Which Xcaret park is the best?
So, which is the best Xcaret park? That is a tough question to answer!
Honestly, all of the Xcaret parks are worth visiting and provide tremendous value and unique and unforgettable experiences you won't find anywhere else in the world.
Of course, everyone will have a different Xcaret park that they like the best depending on personal preferences, whether or not you have kids, or what kind of activities you like.
But if I really had to choose, here's my list of Xcaret parks ranked:
Xel-Ha
Xplor
Xplor Fuego
Xcaret
Xavage
Xoximilco
Xenses
Xibalba (not open yet)
If you need more help deciding between the Xcaret Mexico parks, check out my comparison guides for side-by-side comparison information:
Final Thoughts: Xcaret Parks
I hope this guide to the Mexico Xcaret parks was helpful if you're interested in visiting one of these thrilling Xcaret adventure parks while visiting Riviera Maya Mexico.
I know it's a LOT of information to digest but hopefully this Xcaret park guide has given you a better understanding of the overall Xcaret attractions and offerings to find the best Xcaret park for you.
While all the Xcaret theme parks and tours are tremendously fun, Xel-Ha is my personal favorite and the best option for water activities.
But no matter which park you choose to visit, you're sure to have an amazing time!
Just remember to buy your park tickets on the official Xcaret website to get the best deal!