Disclosure: This page may contain affiliate links, meaning at no additional cost to you, I will earn a commission if you click through and make a purchase. As an Amazon Associate I earn from qualifying purchases.
One of the most amazing things about living in Playa del Carmen is that I get to be a tourist on the weekends. Playa del Carmen is located right in the middle of the Riviera Maya, making it the perfect hub to experience all the amazing tours and activities in the region. Here's my top list of 20 absolutely incredible things to do in Riviera Maya that you won't want to miss on your Mexico vacation.
How to Plan Your Riviera Maya Excursions
There's so many fun activities and tours in Riviera Maya that you'll want to take some time to plan out your excursions to really make the most of your trip. Here's some helpful tips when planning your Riviera Maya excursions.
How to choose your Riviera Maya activities
Everybody's vacation style is different so you'll want to decide what's most important to you in terms of activities. Are you a total beach bum or more of an activities person?
The resorts in Riviera Maya are pretty spectacular so it's always a solid option just to stay at the resort. But if you want to get out and explore the destination, then definitely take some time to research and plan your activity days in advance.
Mix it up
Depending on the length of your trip, I would try to aim for at least 1 or 2 excursions during your stay. Plan a mix of water activities, adventure activities, and cultural activities depending on your interests.
And don't be afraid to try something new. After all, one of the most rewarding things about traveling to a new destination is the opportunity to try something new and different. I bet you'll be glad you did!
Check the weather
It's best to check the weather forecast to determine ideal days especially for water activities. If it's raining or stormy, then there's a chance that activities may be cancelled.
In addition, most tours have early pickup times so I would also avoid scheduling them the morning after a night out. There's nothing worse than being hungover on a boat or tour bus.
Leave time for R&R
Lastly, make sure to leave adequate days for relaxing by the pool and soaking up the sun on the incredible beaches in Riviera Maya. I tend to try to schedule activities at the beginning of the week so I can reserve the rest of the days for pure rest and relaxation.
How to book Riviera Maya tours
There's so many tours in Riviera Maya that it can definitely be an overwhelming booking experience. The second you land at the airport in Cancun, you'll be bombarded by sales people and tour desks trying to sell you a variety of often overpriced tours and activities.
Do your research online first so you can bypass these vendors. From my personal experience, these are the best ways to book your Mayan Riviera activities:
Book online
I would definitely recommend booking Riviera Maya tours online. I once purchased a tour from a vendor on 5th Avenue in Playa del Carmen and had a terrible experience. When we arrived for the tour, the tour operator had no record of our booking and we were almost turned away.
While the vendors on 5th Avenue may be cheaper, booking online from a reputable site such as Viator (owned by TripAdvisor) or Get Your Guide will give you an electronic record of your purchase and a paper trail. You'll also have the opportunity to read customer reviews and get firsthand information on what the tour's actually like.
Plus, if there are any issues, it's much easier to work with these companies' customer service departments for questions, disputes, or refunds. I once had to contact Get Your Guide support and they were super responsive and even have a direct Whatsapp chat with a support agent.
Book at your hotel or resort
If you're not able to book a particular tour or activity online, then I would recommend booking with a tour representative at your hotel or resort. Most hotels in Riviera Maya will have a tour desk in the lobby where you can book tours and get brochures with more information.
Transportation
The Riviera Maya region is pretty widespread and transportation can be expensive. I would highly recommend booking a tour that has transportation included with hotel pickup. This will by far be your easiest and most hassle free option.
Otherwise, if you are comfortable getting around on your own, then renting a car will be your best option especially if you want to get to some of the more offbeat and less well known activities.
When to Book
Tours and activities can fill up quickly so I would recommend booking as far in advance as you can. If booking online, most tour companies have flexible booking options and allow you to cancel with a full refund up to 24 hours before the tour date. Be sure to check the fine print if you are concerned about the cancellation policy.
Best Things to Do in Riviera Maya Mexico
These are the best Riviera Maya sightseeing tours and activities including water excursions, cultural excursions, and adventure excursions.
Best Water Excursions in Riviera Maya
Unsurprisingly some of the most thrilling excursions in Riviera Maya are water activities. After all, what's a trip to the Caribbean without getting wet?? These water activities are IMO some of the most fun things to do in Mayan Riviera.
Set sail on a catamaran to Isla Mujeres
One of my top recommendations for excursions in Riviera Maya is a catamaran sail to Isla Mujeres, which is a tiny island just off the coast of Cancun. The color of the water near Isla Mujeres is the probably the prettiest shade of turquoise I've ever seen – it's really unforgettable!
Isla Mujeres catamaran tours can be booked online in advance and some leave directly from Cancun and some even offer round trip transportation from Playa del Carmen.  
On the catamaran, you can usually snorkel, swim, and lounge on the deck with food included and an open bar. I went on a catamaran trip to Isla Mujeres for a friend's birthday celebration and it was an absolute blast!
Travelista Tip: If you have a larger group or want a more exclusive experience, consider booking a private catamaran tour.
Snorkel with giant starfish at El Cielo in Cozumel
One of the best snorkeling excursions in Riviera Maya Mexico is visiting "El Cielo" in Cozumel, where you can snorkel with giant starfish in crystal clear water. El Cielo can only be visited by boat so the easiest way to get there is to book a guided tour.
On the El Cielo tour you'll get to snorkel at three different coral reefs, as well as visit El Cielo and a super stunning beach called El Cielito. You can find my full guide to visiting El Cielo here. It is really unforgettable!
Swim with wild sea turtles in Akumal
Located half way between Playa del Carmen and Tulum, Akumal is a small beach town where you can swim with sea turtles in their natural habitat directly off the beach.
Akumal can be visited on your own or you can book a snorkeling tour which includes the use of snorkeling equipment and all entrance fees and taxes. I visited Akumal a few years ago and it was an incredible experience getting to swim alongside sea turtles of all sizes right off the beach.
Scuba dive at an underwater sculpture museum
The tropical island of Isla Mujeres is a great place for snorkeling and scuba diving in Riviera Maya and even has an underwater sculpture museum known as MUSA.  It's full of giant underwater artificial habitats including art installations, human statues, and even a house and a car.
To visit MUSA, you can book a scuba diving tour to get up close and personal with the life-sized statues. Even if you are not scuba certified, you can still book a snorkeling tour to view the underwater museum at the surface level. With the crystal clear water you are sure to have some incredible underwater views.
Swim in a freshwater cenote
The Yucatan peninsula is known for its incredible cenotes, which are freshwater swimming holes where you can swim, snorkel, or just hang out in a beautiful natural setting.
There are literally thousands of different cenotes in the region, unlike anywhere else in the world. These are the best cenotes in Riviera Maya to visit, which are all fun excursions and a great way to experience the natural beauty of the destination.
Many of the cenotes can be visited easily by renting a car or for a hassle free option, consider booking a cenote tour with transportation included.
Travelista Tip: Regular sunscreen is prohibited at cenotes so you'll want to be sure to bring biodegradable sunscreen to avoid a sunburn.
Swim with whale sharks in Isla Mujeres
If you are feeling daring, a more adventurous activity is swimming with whale sharks in Isla Mujeres.  Whale shark season is only between the months of May-September, when the plankton blooms in the shallow waters off the shores of the island.
I personally swam with whale sharks in Isla Mujeres and it was truly an unforgettable experience getting to swim alongside these giant creatures.  They are actually considered gentle giants so really it's not as scary as it sounds! You can find more information and book an Isla Mujeres whale sharks tour here. 
Visit Xel-Ha adventure park
There are many adventure parks in Riviera Maya but the most well known are the parks operated by a company called Grupo Xcaret. They have 8 different parks in the region offering many different types of adventurous activities.
One of my favorite Xcaret parks is called Xel-Ha (pronounced "Shell-Ha"), where you can spend the day doing a ton of fun water activities like snorkeling, giant water slides, cenotes, and snuba. There's even a private beach with all-inclusive food and beverage (including alcohol). You can find more information and book tickets online here.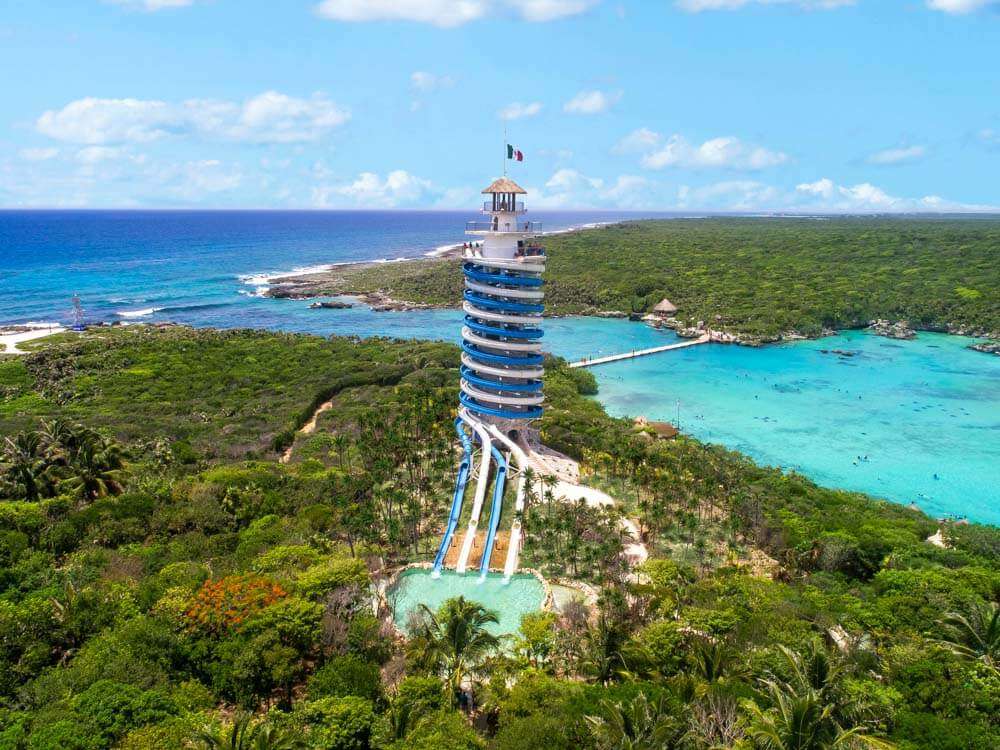 Discover a hidden lagoon at Kaan Luum Lagoon
Located just south of Tulum, Kaan Luum Lagoon is a secret swimming hole and one of the less well-known Riviera Maya attractions. It's definitely a hidden gem and makes for a fun excursion or day trip. Its most notable feature is a deep cenote in the middle of the lagoon where you'll see a sharp contrast in the color of the water.
At Kaan Luum Lagoon, you can spend the day swimming in the lagoon, lounging on the dock, or applying a mud mask. The attraction is somewhat off the beaten path so it's easiest to visit by renting a car or booking a paddleboarding tour.
You can find my full guide to visiting Laguna Kaan Luum here.
Navigate through an underground cave at Rio Secreto
Rio Secreto is one of the most popular attractions in Riviera Maya where you can swim through an impressive underground river over 1 kilometer of stalactites and stalagmites. Lunch is included and you can add on additional experiences where you can rappel and bike.
With it being underground, Rio Secreto is a great all weather activity that can be enjoyed even if the weather is bad. You can find more information and book tickets online here.
Try standup paddle boarding
Standup paddleboarding (SUP) is a unique and fun Riviera Maya activity, offering the opportunity to paddle board right off of the beach and get a killer workout too. 
It's really an incredible experience to go standup paddleboarding on the Caribbean Sea with bright turquoise hues and some impressive ocean views. You might also be lucky enough to spot some tropical fish and other marine life.
Aloha Paddle Club in Playa del Carmen is the absolute best place to go paddleboarding in the Riviera Maya. You can choose from mixed groups, sunrise sessions, or even book a SUP tour with them to a nearby cenote or lagoon.
Make a splash at the Jungala water park
Located at Vidanta Resorts, Jungala is the newest and largest water park attraction in Riviera Maya. The water park is a great Riviera Maya excursion for families and features extreme slides like a looping water slide, a free fall slide, a near vertical slide, and a high speed flume ride.
It also claims to have the longest lazy river in the world. And for adults or those looking for a more relaxed experience, you can also take advantage of their private cabanas and spa pool. Tickets to Jungala can be purchased online here.
Best Cultural Excursions in Riviera Maya
Whenever I'm planning activities for a new destination, I always like to include at least one cultural activity to really learn about the destination. Cultural excursions really give you a sense of place and can add more meaning to your trip.
Visit the ancient Mayan Ruins of Chichen Itza
The ancient Mayan ruins of Chichen Itza are located about 2.5 hours from both Cancun and Playa del Carmen, which makes it a great option for a cultural excursion and day trip.  
With impressive pyramids and large ancient remains, Chichen Itza is one of the largest Mayan ruins and one of the most visited archaeological sites in North America.  It is even considered one of the 7 Wonders of the Modern World and a UNESCO World Heritage site.  
The easiest way to visit Chichen Itza is on a guided tour, which normally includes round-trip transportation, a visit to a nearby cenote, and a leisurely stop in the quaint colonial town of Valladolid. It's a long day but so worth it for a captivating cultural experience.
Visit the Tulum Ruins
For a cultural experience that is not as far away, I would definitely recommend visiting the Tulum Ruins, which are the closest Mayan ruins to the Riviera Maya and an incredible oceanfront fortress.
The Tulum Ruins can be visited fairly easily on your own or you can book a guided tour for the added convenience of an experienced tour guide and roundtrip transportation with hotel pickup. Once on site, you can explore the ruins at leisure or go for a swim at the impressive public beach.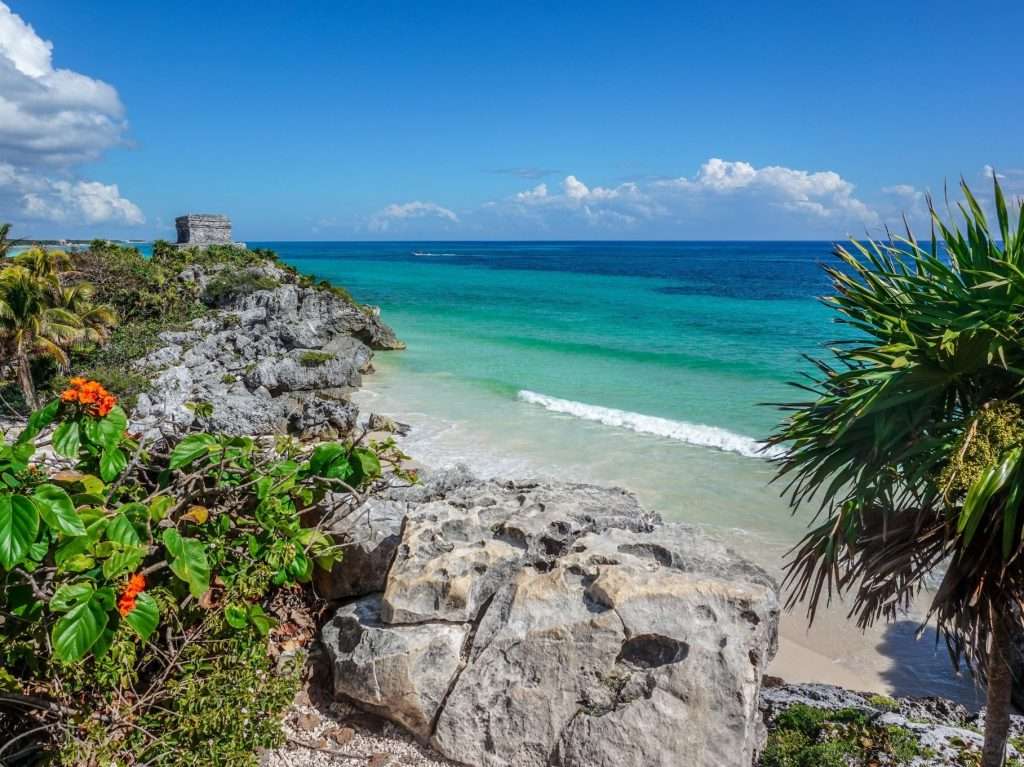 Indulge in local eats on a Playa del Carmen food tour
If you are a foodie, then I would definitely recommend a Playa del Carmen food tour for a chance to experience the local food culture.
These tours are a fun way to try the best street food and local dishes, and gives you the opportunity to meet new people in a relaxed environment.
On the tour, you'll get to try many different local Mexican and Yucatan specialties, all hand picked by a local tour guide. Most are walking tours, which is also a great way to explore the town of Playa del Carmen on foot.
See a Cirque du Solei performance at La Joya
Located at Vidanta Resorts, La Joya is the only Cirque du Solei performance in Mexico. I've seen the show twice and the acrobatic performances are so impressive! I even took my family when they came to visit and they said it was the highlight of their trip.
When purchasing tickets to the show, you can choose the following options:
VIP Dinner Champagne: VIP seating, dinner, unlimited champagne during dinner, early access, VIP service
Champagne: Premium seats, gourmet appetizers, and a half a bottle of champagne per person
Dinner & Champagne: A 3-course gourmet dinner plus a half bottle of champagne per person (Dinner is an hour before the show)
High Stools: This is bar stool seating only at the back of the theater
Sweat it out at a Mayan temazcal ceremony
Taking part in a temazcal ceremony is one of the most unique ways to experience the Mayan culture in the region. A temazcal is essentially a sweat lodge heated by hot stones.
The spiritual sauna experience takes place in the jungle and is led by a Mayan shaman that will conduct a traditional ceremony for healing, relaxation, and releasing toxins. The temazcal experience is usually followed by dinner and a dip in a freshwater cenote.
Best Adventure Excursions in Riviera Maya
If you are an adrenaline junkie and want to get your heart pumping, there is no shortage of adventurous activities in Riviera Maya.
Get an adrenaline rush at Xplor adventure park
Another one of my favorite Xcaret adventure parks is called Xplor, which is one of the best excursions in Riviera Maya where you can go ziplining, swim or raft through underwater caves, and drive amphibious vehicles.
They even have some over water ziplines where you can make a splash. The park offers a full day of adventures in Riviera Maya that will definitely get your adrenaline pumping! You can find more information and book tickets online here.
Travelista Tip: For an after dark adventure park experience, check out Xplor Fuego.
Go ziplining at Cenote Zapote eco-park
Cenote Zapote is an eco park near Puerto Morelos along the famous "Ruta de los Cenotes."  It's a full day adventure park experience where you can visit three stunning cenotes, as well as zip line through the jungle, explore the park on bikes, and cruise around on ATVs.
The park is located pretty far off of the main highway so the easiest way to get there is by booking a guided tour. I visited the park with some blogger friends and it was one of my favorite experiences in Riviera Maya. You can find my full guide to visiting Cenote Zapote here.
Go on a wildlife expedition to Sian Kaan Biosphere Reserve
Located just south of Tulum, Sian Ka'an Biosphere Reserve is one of the most outdoorsy things to do in the Riviera Maya.  Officially recognized as a UNESCO World Heritage site, Sian Ka'an is one of the largest protected areas in Mexico and offers the unique opportunity to explore a tranquil nature reserve.  
While visiting, you'll have the opportunity to observe wild marine animals like dolphins, sea turtles, and stingrays, as well as exotic plant varieties and birds all in their native habitat. 
Due to its remote location, the easiest way to explore Sian Ka'an is through a guided eco-tour, which is a full-day wildlife expedition offering a small boat tour, snorkeling, and nature observation.
Ride ATVs through the Mayan jungle
The Riviera Maya landscape is admittedly pretty flat but you can still find some fun all-terrain vehicle (ATV) or "jungle buggy" experiences. The best places to drive ATVs are at Xplor adventure park or by booking an ATV tour.
Be prepared to get dirty as you'll likely be driving off road through water and mud. Many ATV tours include a visit to a cenote afterwards where you can wash off the grime and cool off with a refreshing swim.
Are you ready to experience all the amazing things to do on the Mayan Riviera? As you can see, there are endless amounts of tours and activities for every interest that you are sure to have an incredible time. I've only just scratched the surface crossing them off my must do Riviera Maya Mexico bucket list!
Did you like this top things to do Riviera Maya post? Pin it for later!