25 Incredible Things to Do in Riviera Maya Mexico in 2022
Disclosure: This page may contain affiliate links, meaning at no additional cost to you, I will earn a commission if you click through and make a purchase. As an Amazon Associate I earn from qualifying purchases.



Looking for the best things to do in Riviera Maya Mexico? You've come to the right place!
One of the best perks about living in Playa del Carmen is that I get to be a tourist on the weekends. Playa del Carmen is located right in the middle of the Riviera Maya, making it the perfect hub to experience all the amazing tours and activities in the region.
In this post, I'm sharing my top list of 25 absolutely incredible things to do in Riviera Maya that you won't want to miss on your Mexico vacation, as well helpful tips for planning your Riviera Maya excursions.
Best Things to Do in Riviera Maya Mexico in 2022
These are the best Riviera Maya sightseeing tours and activities including a mix of water excursions, cultural experiences, and adventure activities:
1. Set sail on a catamaran to Isla Mujeres
One of my top recommendations for excursions in Riviera Maya is a catamaran sail to Isla Mujeres, which is a tiny island just off the coast of Cancun.
The color of the water near Isla Mujeres is probably the brightest shade of turquoise I've ever seen – it's really unforgettable!
And you can't miss visiting the famed Playa Norte, the most popular spot on the island and one of the best beaches in the world.
On a catamaran tour, you can usually snorkel, swim, and lounge on the deck with food included and an open bar. Most tours leave from Cancun and offer round trip transportation from Playa del Carmen or the Riviera Maya.
I went on a catamaran trip to Isla Mujeres for a friend's birthday celebration and it was an absolute blast!
👉 Book the best Isla Mujeres catamaran tour by clicking here!
Travelista Tip: If you have a larger group or want a more exclusive experience, consider booking a private catamaran tour.
2. Snorkel with giant starfish at El Cielo in Cozumel
One of the best snorkeling excursions in Riviera Maya Mexico is visiting "El Cielo" in Cozumel, a sandbar where you can snorkel with giant starfish in crystal clear water.
El Cielo can only be visited by boat so the easiest way to get there is to book a guided tour. On the El Cielo tour, you'll get to snorkel at three different coral reefs, as well as visit El Cielo and a super stunning beach called El Cielito.
You can find my full guide to visiting El Cielo here. It is a really unforgettable experience!
👉 Book the best El Cielo tour in Cozumel by clicking here!
3. Swim with wild sea turtles in Akumal
Located halfway between Playa del Carmen and Tulum, Akumal is a small beach town where you can swim with sea turtles in their natural habitat directly off the beach.
Akumal Bay can be visited on your own or you can book a snorkeling tour which includes the use of snorkeling equipment, knowledgeable guides, entrance fee and taxes, life jackets, and roundtrip transportation.
I visited Akumal on an organized tour and it was an incredible experience getting to swim alongside sea turtles of all sizes right off the beach. You can read more about my experience in this post!
👉 I recommend booking the Akumal snorkeling tour with this tour company!
4. Scuba dive at an underwater sculpture museum
With its clear turquoise waters, the tropical island of Isla Mujeres is the perfect place for snorkeling and scuba diving in Riviera Maya and even has an underwater sculpture museum known as MUSA.
It's full of giant underwater artificial habitats including art installations, human statues, and even a house and a car. To visit MUSA, you can book a scuba diving tour to get up close and personal with the life-sized statues.
Even if you are not scuba certified, you can still book a snorkeling tour to view the underwater museum at the surface level. With crystal clear water, you are sure to have some incredible underwater views.
👉 Click here to book a MUSA scuba diving tour.

👉 Click here to book a MUSA snorkeling tour.
5. Swim in a freshwater cenote
The Yucatan peninsula is known for its incredible cenotes, which are freshwater swimming holes where you can swim, snorkel, or just hang out in a beautiful place in nature.
There are literally thousands of different cenotes in the region, unlike anywhere else in the world. Visiting a cenote is a unique and fun excursion and a great way to experience the natural wonders of the destination.
Many of the cenotes can be visited easily by driving or renting a car or for a hassle-free option, consider booking a cenote tour with transportation included.
👉 Book the best Riviera Maya cenotes tour by clicking here!
Travelista Tip: Regular sunscreen is prohibited at cenotes so you'll want to be sure to bring biodegradable sunscreen to avoid a sunburn.
6. Get cultural at Xcaret Adventure Park
There are many adventure parks in Riviera Maya but the most well known are the theme parks operated by a company called Grupo Xcaret. They have 8 different parks in the region offering many different types of adventurous activities.
The original of Grupo Xcaret's parks, Xcaret Park (pronounced "Ish-ka-ret") features 50 attractions within its massive property where you can spend a full day out among the jungle trails, swimming in underground rivers, exploring caves, and frolicking on beaches or natural pools.
Drawing your attention towards the country's culture and heritage, its range of park activities makes it the perfect choice for families with younger children. Stroll through open-air aviaries, the Butterfly Pavilion, and Coral Reef Aquarium. Plus, historians will love the Maya ruins and Mexican Folk Art Museum.
Xcaret Park's main highlight is the Xcaret Mexico Espectacular production, which is a 300-person crew show that is a history lesson but fun – featuring pre-Hispanic dances and more!
You can read my full Xcaret park review in this post!
👉 Book Xcaret tickets on the official website by clicking here!
7. Swim with whale sharks in Isla Mujeres
If you are feeling daring, a more adventurous activity is swimming with whale sharks in Isla Mujeres.
Whale shark season is only between the summer months of May-September, when the plankton blooms in the shallow waters off the shores of the island.
I personally swam with whale sharks in Isla Mujeres and it was truly an unforgettable experience getting to swim alongside these giant creatures. They are actually considered gentle giants so really it's not as scary as it sounds!
You can read more about my experience in this post!
👉 Book the best Isla Mujeres whale shark tour clicking here!
8. Visit Xel-Ha adventure park
Another Xcaret park known for aquatic adventures, Xel-Ha Park (pronounced "Shell-Ha") has a prime location around an inlet of the Caribbean Sea, which yields the best water activities.
Boardwalks and the Jungle Train connect the park's cenotes, caves, hidden beaches, and hammock gardens. In the center lies an expansive "pool", where red flags mark areas rich in marine life.
While swimming and snorkeling take the spotlight, the eco-waterpark isn't just a large natural aquarium. Manmade slides, high jumps, and water ziplines add dimension to the park and there's even a mile-long lazy river.
For land activities, check out the manatee sanctuary and Mayan port city ruins. And definitely climb the Scenic Lighthouse for panoramic views over the park!
You can read my full Xel-Ha review in this post!
👉 Book tickets to Xel-Ha on the official website by clicking here!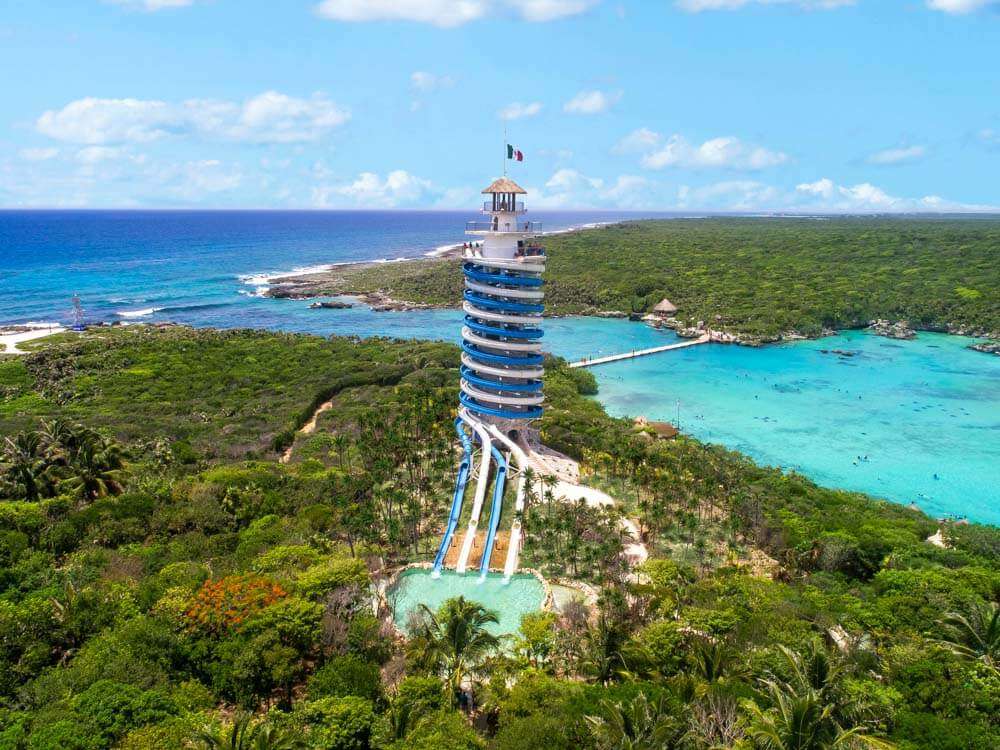 Located just south of Tulum, Kaan Luum Lagoon is a secret swimming hole and one of the less well-known Riviera Maya attractions.
It's definitely a hidden gem and makes for a fun excursion or day trip. Its most notable feature is a deep cenote in the middle of the lagoon where you'll see a sharp contrast in the color of the water.
At Kaan Luum Lagoon, you can spend the day swimming in the lagoon, lounging on the dock, or applying a mud mask. The attraction is somewhat off the beaten path so it's easiest to visit by renting a car or booking a paddleboarding tour.
👉 Book the best standup paddleboarding tour to Kaan Luum Lagoon by clicking here!
10. Navigate through underground rivers at Rio Secreto
Rio Secreto is one of the most popular attractions in Riviera Maya where you can swim through an impressive underground river over 1 kilometer of stalactites and stalagmites.
Lunch is included and you can add on additional experiences where you can rappel and bike. With it being underground, Rio Secreto is an all-weather activity and makes for a great rainy day activity in Playa del Carmen.
You can read my full Rio Secreto review in this post!
👉 Book tickets to Rio Secreto by clicking here!
11. Try standup paddle boarding
Standup paddleboarding (SUP) is a unique and fun Riviera Maya activity, offering the opportunity to paddle board right off of the beach and get a killer workout too.
It's really an incredible experience to go standup paddleboarding on the Caribbean Sea with bright turquoise hues and some impressive ocean views. You might also be lucky enough to spot some tropical fish and other marine life!
I recommend paddle boarding at Aloha Paddle Club in Playa del Carmen, which has the best reputation for paddleboarding and water sports in Mexico's Riviera Maya.
You can choose from mixed tour groups, sunrise sessions, or even book a SUP tour with them to a nearby cenote or lagoon.
👉 Book a standup paddleboarding session with Aloha Paddle Club by clicking here!
12. Make a splash at Jungala water park
Located at Vidanta Resorts, Jungala is the newest and largest water park attraction in Riviera Maya.
The water park is a great Riviera Maya excursion for families and features extreme slides like a looping water slide, a free fall slide, a near vertical slide, and a high speed flume ride.
It also claims to have the longest lazy river in the world! And for adults or those looking for a more relaxed experience, you can also take advantage of their private cabanas and spa pool.
👉 Book tickets to Jungala by clicking here!
13. Visit the ancient Mayan Ruins of Chichen Itza
The ancient Mayan ruins of Chichen Itza are located about 2.5 hours from both Cancun and Playa del Carmen, which makes it a great option for a cultural excursion and day tour.
With impressive pyramids and large ancient remains, Chichen Itza is one of the largest Mayan ruins and one of the most visited archaeological sites in North America. It is even considered one of the 7 Wonders of the Modern World and a UNESCO World Heritage site.
The easiest way to visit Chichén Itzá is on a guided tour, which normally includes round-trip transportation, a cenote swim, and a leisurely stop in the quaint colonial town of Valladolid. It's a long day but so worth it for a captivating cultural experience!
👉 Book the best Chichen Itza tour by clicking here!
14. Visit the Tulum Ruins
For a cultural experience that is not as far away, I would definitely recommend visiting the Tulum Ruins, which are the closest Mayan ruins to the Riviera Maya and an incredible oceanfront fortress.
The Tulum Ruins can be visited fairly easily on your own or you can book a guided tour for the added convenience of an experienced tour guide and roundtrip transportation with hotel pickup.
Once at the archaeological site, you can explore the ancient ruins at leisure or go for a swim at the impressive public beach.
👉 Book the best Tulum Ruins tour by clicking here!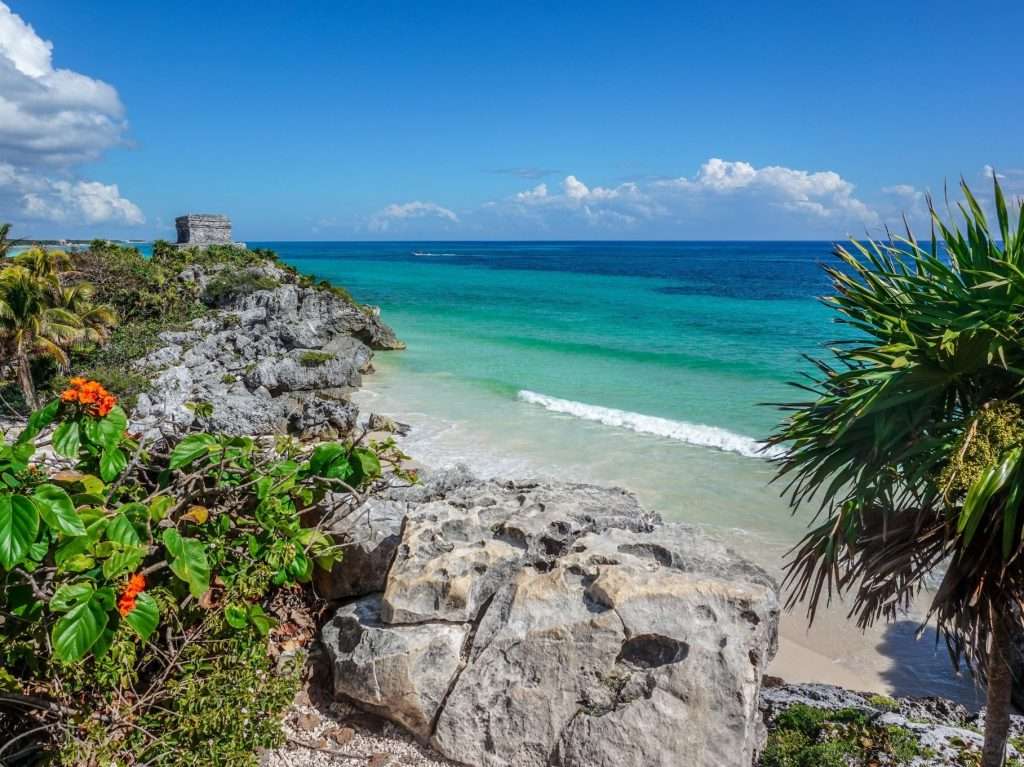 15. Indulge in local eats on a Playa del Carmen food tour
If you are a foodie, then I would definitely recommend a Playa del Carmen food tour for a chance to experience the local food culture.
These tours are a fun way to try the best street food and local dishes, and give you the opportunity to meet new people in a relaxed environment.
On the tour, you'll get to try many different local Mexican and Yucatan specialties, all hand picked by a local guide. Most are walking tours, which is also a great way to explore the town of Playa del Carmen on foot as well as 5th Avenue, the town's main street.
👉 Book the best Playa del Carmen food tour by clicking here!
16. See a Cirque du Solei performance at La Joya
Located at Vidanta Resorts, La Joya is the only Cirque du Solei performance in Mexico.
I've seen the show twice and the acrobatic performances are so impressive! I even took my entire family when they came to visit and they said it was the highlight of their trip.
When purchasing tickets to the show, you can choose the following options:
VIP Dinner Champagne: VIP seating, dinner, unlimited champagne during dinner, early access, VIP service
Champagne: Premium seats, gourmet appetizers, and a half a bottle of champagne per person
Dinner & Champagne: A 3-course gourmet dinner plus a half bottle of champagne per person (Dinner is an hour before the show)
High Stools: This is bar stool seating only at the back of the theater
👉 Book Cirque du Solei La Joya tickets by clicking here!
17. Sweat it out at a Mayan temazcal ceremony
Taking part in a temazcal ceremony is one of the most unique ways to experience the Mayan culture in the region. A temazcal is essentially a sweat lodge heated by hot stones.
The spiritual sauna experience takes place in the jungle and is led by a Mayan shaman that will conduct a traditional ceremony for healing, relaxation, and releasing toxins.
The temazcal experience is usually followed by dinner and a dip in a freshwater cenote.
👉 Book a temazcal experience by clicking here!
18. Soar over the jungle at Xplor adventure park
Another one of my favorite Xcaret adventure parks is called Xplor, which is one of the best excursions in Riviera Maya for adventure seekers.
At Xplor, you'll be treated to a full day all-inclusive adventure experience where you can go ziplining on multiple circuits, swim and raft through underwater caves, and drive amphibious vehicles.
They even have some overwater ziplines where you can make a splash. The park offers a full day of adventures in Riviera Maya that will definitely get your adrenaline pumping!
You can read my full Xplor review in this post!
👉 Book tickets to Xplor on the official website by clicking here!
Travelista Tip: For an after dark adventure park experience, check out Xplor Fuego.
19. Go ziplining at Cenote Zapote eco-park
Cenote Zapote is an eco park near Puerto Morelos along the famous "Ruta de los Cenotes." The park is located pretty far off of the main highway so for easy access, the best way to get there is by booking a guided tour.
Visiting Cenote Zapote is a full day adventure park experience where you can visit three stunning cenotes, as well as zipline through the jungle, explore the park on bikes, and cruise around on ATVs.
I visited the park with some blogger friends and it was one of my favorite things I've experienced in Riviera Maya.
You can read more about my Cenote Zapote experience in this post!
👉 Book the best Cenote Zapote tour by clicking here!
20. Go on a wildlife expedition to Sian Kaan Biosphere Reserve
Located just south of Tulum, Sian Ka'an Biosphere Reserve is one of the most outdoorsy things to do in the Riviera Maya and perfect for nature lovers.
Officially recognized as a UNESCO World Heritage site, Sian Ka'an is one of the largest protected areas in Mexico and offers the unique opportunity to explore a tranquil nature reserve.
While visiting, you'll have the opportunity to observe wild marine animals like dolphins, sea turtles, and stingrays, as well as exotic plant varieties and birds all in their native habitat.
Due to its remote location, the easiest way to explore Sian Ka'an is through a guided eco-tour, which is a full-day wildlife expedition offering a small boat trip, snorkeling, and nature observation.
👉 Book a Sian Ka'an eco-tour by clicking here!
21. Ride ATVs through the Mayan jungle
The Riviera Maya landscape is admittedly pretty flat but you can still find some fun all-terrain vehicle (ATV) or "jungle buggy" experiences.
The best places to drive ATVs are at Xplor adventure park or by booking an ATV adventure tour with all of your transportation and equipment included.
Be prepared to get dirty as you'll likely be driving off road through water and mud! Many ATV tours include a visit to a cenote afterwards where you can wash off the grime and cool off with a refreshing cenote swim.
👉 Book the best Riviera Maya ATV tour by clicking here!
22. Visit the tropical island of Isla Contoy
Isla Contoy is a small, uninhabited island located about 30 km north of Isla Mujeres. Only allowing 200 visitors per day to its pristine white-sand beaches lined with palm trees, the island offers a totally exclusive tropical island experience.
Despite its small size, the island is also home to a variety of plant and animal life, including over 100 species of birds. Isla Contoy can only be visited on a tour, where you can enjoy the island's jaw-dropping beach and birdwatching opportunities.
I personally visited Isla Contoy and can honestly say it's one of my favorite places and the most beautiful beach I have seen in Mexico–it is really unbelievable!
👉 Book the best Isla Contoy tour by clicking here!
23. Get your adrenaline pumping at Xavage
The newest of Xcaret's adventure parks, Xavage is located just south of Cancun, Mexico. I'd equate it to an Xcaret park on steroids since it's where you'll find some of the most adrenaline-pumping activities!
Xavage offers 7 different activities, each named after animals: ropes course (Howler Monkey), Superman-style ziplining (Hawk), white water rafting (Barracuda), monster trucks (Puma), kayaking (Crocodile), high-speed jet boat experience (Dragonfly), and kids pool (Serpent).
The white water rafting and monster truck course are intense – and probably some of the most unique experiences you'll find at Xcaret theme parks.
You can read my full Xavage review in this post!
👉 Book Xavage tickets on the official website by clicking here!
24. Let loose at Coco Bongo Show and Disco
Advertised as a Las Vegas-style production, Coco Bongo is an all-you-can-drink show and nightclub with locations in both Cancun and Playa del Carmen.
The Coco Bongo Mexico experience attracts vacation-goers from around the world for a 4-hour long pop culture inspired production featuring giant screens, acrobats, confetti explosions, celebrity impersonators, and tribute singers.
The massive, multi-level halls hold up to 1,800 spectators for a lively night of drinking and dancing–it's actually a lot of fun!
👉 Book Coco Bongo Playa del Carmen tickets online by clicking here!
25. Go horseback riding in the Yucatan jungle
Saddle up for a horseback riding adventure if you're looking for a low key, yet exciting way to explore the Riviera Maya.
Suitable for riders of all levels, this tour takes you horseback riding through Yucatán peninsula jungle, where you can learn about the flora and fauna and even get the chance to spot monkeys, coati, and other wildlife.
Once you reach a natural cenote, you'll get to dismount and cool off with a cenote swim before heading back to the ranch.
👉 Book the best Riviera Maya horseback riding tour by clicking here!
How to Book Riviera Maya Tours
There are so many tours in Riviera Maya that it can definitely be an overwhelming booking experience. From my personal experience, these are the best ways to book your Mayan Riviera activities:
Book online
I would definitely recommend booking Riviera Maya tours online. I once purchased a tour from a vendor on 5th Avenue in Playa del Carmen and had a terrible experience.
When we arrived for the tour, the tour operator had no record of our booking and we were almost turned away. Talk about stressful!
While the vendors on 5th Avenue may be cheaper, booking online from a reputable site such as Viator (owned by TripAdvisor) or Get Your Guide will give you an electronic record of your purchase and a paper trail.
You'll also have the opportunity to read customer reviews and get firsthand information on what the tours are actually like. Plus, if there are any issues, it's much easier to work with these companies' customer service departments for questions, disputes, or refunds.
I once had to contact Get Your Guide support and they were super responsive and even have a direct Whatsapp chat with a support agent.
Book at your hotel or resort
If you're not able to book a particular tour or activity online, then I would recommend booking with a tour representative at your hotel or resort.
Most hotels in Riviera Maya will have a tour desk in the lobby where you can book tours and get brochures with more information.
⚠️ Just keep in mind all inclusive resorts will only offer tours with their chosen operator so your options will be much more limited.
Riviera Maya Tour Transportation
It's important to know that the Riviera Maya region is pretty widespread and transportation can be very expensive.
For this reason, I would highly recommend booking a tour that has transportation included with hotel pickup. This will by far be your easiest and most hassle-free option.
Otherwise, if you are comfortable getting around on your own, then renting a car will be your best option especially if you want to get to some of the more offbeat and less well known activities.
👉 For a hassle-free experience, book your car through my favorite rental service Discover Cars by clicking here!
Tips for Planning Your Riviera Maya Excursions
Follow these tips to make the most of your Riviera Maya tour experience:
1. Plan in advance
There are so many fun activities and tours in Riviera Maya that you'll want to take some time to plan out your excursions to really make the most of your trip.
Everybody's vacation style is different so you'll want to decide what's most important to you in terms of activities. Are you a total beach bum or more of an activities person?
The luxury resorts in Riviera Maya are pretty spectacular so it's always a solid option just to stay at the resort!
But if you want to get out and explore the destination, then definitely take some time to research and plan your activity days in advance.
2. Mix it up
Depending on the length of your trip, I would try to aim for at least 1 or 2 excursions during your stay. Plan a mix of water activities, adventure activities, and cultural activities depending on your interests.
And don't be afraid to try something new. After all, one of the most rewarding things about traveling to a new destination is the opportunity to try something new and different. I bet you'll be glad you did!
3. Check the weather
It's best to check the weather forecast to determine ideal days for your excursions, especially for boat and water activities.
If it's raining, stormy or very windy, then there's a chance that activities may be canceled. Normally tour providers are pretty good about alerting you of concerning weather conditions and will help you to reschedule if needed.
4. Leave time for R&R
Make sure to leave adequate days for relaxing by the pool and soaking up the sun on the incredible white sand beaches in Riviera Maya.
I tend to try to schedule activities at the beginning of the trip so I can reserve the rest of the days for pure rest and relaxation.
5. Don't drink too much the night before
Most tours have extremely early pickup times (like 7am) so I would avoid scheduling them the morning after a night out of heavy drinking.
Trust me, there's nothing worse than being hungover on a long boat ride or tour bus!
FAQs About Top Things to Do in Riviera Maya
Here are the answers to some of the most frequently asked questions about visiting Riviera Maya:
When is the best time to book Riviera Maya excursions?
Tours and activities can fill up quickly so I would recommend booking as far in advance as you can.
If booking online, most tour companies like Viator and GetYourGuide have flexible booking options and allow you to cancel with a full refund up to 24 hours before the tour date.
Be sure to check the fine print if you are concerned about the cancellation policy. But at least you'll have your spot reserved and then you can cancel if needed without penalty.
What's the difference between Riviera Maya and Cancun?
Cancun is a beach town located at the north end of Mexico's Caribbean coast. Riviera Maya is the name of the coastal resort district than spans from Cancun all the way down to Tulum.
What is Riviera Maya Mexico known for?
Riviera Maya is known for its clear turquoise waters, beautiful white sand beaches, and Mayan archaeological sites. The region is also a popular tourist destination, with many resorts and hotels catering to visitors from all over the world.
Riviera Maya has something for everyone, whether you're looking for a relaxing beach vacation or an opportunity to explore the area's rich history and culture.
Whether you're visiting Riviera Maya for the first time or you're a returning visitor, there's always something new to discover in this stunning corner of Mexico.
What is the best month to go to Riviera Maya?
The weather in Riviera Maya is generally pleasant all year round so there really isn't a bad time to visit. However, there are certain times of year that may be better suited to your particular vacation plans.
For example, if you're looking to avoid the crowds, you might want to visit during the shoulder season (April-May and October-November). However, if you're hoping to take advantage of lower prices, you might want to visit during the low season (June-September).
Ultimately, the best time to visit Riviera Maya depends on your specific preferences and travel plans.
Conclusion: Best Things to Do in Riviera Maya Mexico
Are you ready to experience all these amazing things to do on the Mayan Riviera?
As you can see, there are endless amounts of tours and activities to suit every interest that you are sure to have an incredible time no matter what you choose!
Plus you'll also get to enjoy Mexico's beautiful beaches, delicious food, and vibrant culture.
What are you going to cross off your must do Riviera Maya Mexico bucket list first?!
Did you like this top things to do Riviera Maya post? Pin it for later!
Traveling to Mexico soon?
These are the Mexico travel resources I use and recommend:
🏨 Hotels: I always find the best deals for Mexico hotels and resorts on Booking.com. If you prefer a vacation rental, check VRBO as they are often cheaper than AirBnB's added fees!
✈️ Flights: I recommend using Skyscanner for the best Mexico flight deals. Be sure to sign up for their price alerts for your preferred travel dates.
🚗 Rental Cars: I like to use Discover Cars because you can compare multiple car rental companies and see detailed ratings for overall value, ease of pick-up, efficiency of agents, car condition, and overall time spent.
🚙 Cancun Airport Transportation: I recommend booking a private transfer with Cancun Airport Transportation for the quickest and most hassle-free option!
🤿 Tours & Activities: I always use Viator or GetYourGuide for booking tours and activities in Mexico. You can cancel up to 24 hours before the tour for a full refund, plus they have excellent customer service if you were to have any issues.
🚨 Travel Insurance: After my Dad broke his hand in a taxi accident in Playa del Carmen, I always recommend buying travel insurance before your trip for added peace of mind! I recommend Travel Insurance Master for short trips or Safety Wing for digital nomads.
☀️ Biodegradable Sunscreen: Don't forget to add biodegradable sunscreen to your Mexico packing list! Regular sunscreen is prohibited when swimming in the ocean and cenotes in Mexico, so you'll need to pack some biodegradable sunscreen for sun protection. I recommend Sun Bum Sunscreen, which is reef-friendly, vegan, and cruelty-free.