How to Visit the Tulum Ruins Mexico (2023 Visitor Guide)
Disclosure: This page may contain affiliate links, meaning at no additional cost to you, I will earn a commission if you click through and make a purchase. As an Amazon Associate I earn from qualifying purchases.



Do you want to visit the Tulum Ruins in Mexico? You've come to the right place!
I'm a travel blogger that lives in Playa del Carmen, just north of Tulum, and I've been to the Tulum Ruins many times!
In this post, I'm sharing everything you need to know about visiting the Tulum Ruins including an overview of the Mayan archaeological site, how to get there, visitor info, and top tips for visiting.
Plus, you'll learn what to do and see in Tulum after you're done visiting the ruins.
Read on for my complete Tulum Ruins Mexico visitor guide!
About the Tulum Ruins
First, let's start with a brief overview of the ruins of Tulum, which are one of the most popular tourist attractions in Mexico:
What are the Tulum Ruins?
Located just outside of Tulum's city center, the Tulum Mayan Ruins were originally built as an oceanside fortress and are the only beachfront Mayan Ruins in the Mexican state of Quintana Roo.
The most notable feature of the Tulum Ruins is the oceanfront location with the ruins elevated at a height of about 12 m (~39 feet), offering spectacular seaside views of the brightly colored Caribbean Sea.
At the Tulum archaeological site, many basic structures remain including El Castillo (The Castle) and many different temples. The site also offers a one-of-a-kind public beach access area to cool off after visiting the ruins.
Although the Tulum Ruins are not as grand as those found in Chichen Itza or Cobá, they are definitely still worth a visit if not for the views alone.
Where are the ruins in Tulum?
The ruins in Tulum Mexico are located just outside the city center of Tulum, or about an hour south of Playa del Carmen, Mexico.
Due to the site's close proximity to the city center, visiting the ruins is the perfect activity for any Tulum itinerary.
Driving times from nearby destinations are as follows:
Tulum to Tulum Ruins: 10 minutes
Playa del Carmen to Tulum Ruins: 1 hour
Cancun to Tulum Ruins: 2 hours
Merida to Tulum Ruins: 3 hours
Valladolid to Tulum Ruins: 1 hour 30 minutes
What does Tulum mean?
Tulum means "wall" in the Mayan language but the town of Tulum was previously called Zama, which means "city of dawn."
Can you climb the Tulum Ruins?
Unfortunately you are not able to climb the Tulum Ruins. The ruins at the Mayan city of Tulum have been off limits to tourists and are roped off to protect and preserve them.
How to Get to the Tulum Ruins
The ancient Ruins of Tulum can be visited fairly easily on your own or you can book a guided tour for the added convenience of roundtrip transportation with pickup from your hotel in Playa del Carmen.
Book a Tulum Ruins Tour
If you don't want to deal with the hassle of driving or figuring out public transportation, then I would recommend booking a Tulum Ruins tour.
Most Tulum tours will include all entrance fees, a knowledgeable tour guide, and roundtrip transportation with pickup from Riviera Maya hotels.
In addition, many tours also include snorkeling and visits to nearby cenotes, which are hidden swimming holes that can only be found in the Yucatan peninsula.
With these added activities, you get more bang for your buck and a hassle free booking option.
👉 I recommend booking a Tulum Ruins tour with this tour company!
Travelista Tip: If you have a larger group or are looking for a personal tour guide, consider booking a private Tulum Ruins tour.
Drive to the Tulum Ruins
If you decide to visit on your own, the best way to get to the Mayan ruins in Tulum is by driving or renting a car from Playa del Carmen.  This would allow you the freedom to explore the ruins at your own pace.
It is a little less than an hour drive south of Playa del Carmen, driving directly south on the main highway 307.
You will see signs off the highway with the "Ruinas" symbol. Turn left at the sign and you'll arrive to the main entrance.
👉 For a hassle-free experience, book your car through my favorite rental service Discover Cars by clicking here!
Tulum Ruins Parking
Parking at the ruins is easily available but a little expensive (around $160 pesos ~ $8 USD) so make sure you have some cash on hand. There will also be many tour buses parked on-site.
Take Public Transportation to the Tulum Ruins
By public transportation, the Tulum Ruins can be reached by taking a colectivo or the ADO bus:
Colectivo to Tulum Ruins
If you don't have a car, the cheapest way to get to the Tulum Mexico Ruins from Playa del Carmen is to take a colectivo (shared van).
The vans leave from the main bus depot on Avenida Juarez and Highway 307 (underneath the highway overpass). Just make sure you get on one that is heading towards Tulum.
It's a little less than an hour's drive from Playa del Carmen and costs around $45 pesos (~$2 USD) per person.
Tell the driver you're going to the ruins ("ruinas" in Spanish) and take note the stop is before the main stop in downtown Tulum.
Once you get off the colectivo, cross the highway and head straight towards the main entrance.
It's about a 10 minute walk to the main entrance but there is also a small train that drives visitors from the parking lot to the main entrance, which can be taken for an additional fee (I think it's around $20 pesos).
ADO Bus to Tulum Ruins
The Tulum Ruins can also be reached by taking the ADO bus from nearby towns and the route offers drop off directly at the Tulum archeological site.
The ADO is a large and comfortable charter-style bus, which provides a convenient and inexpensive mode of transportation to the ruins.
ADO tickets can be booked on the ADO website (Spanish only), through Busbud (English), or directly at the ADO station.
The ADO bus to the Tulum ruins is a little more expensive than a colectivo and runs less frequently but is probably an easier and more comfortable option especially if you don't speak Spanish.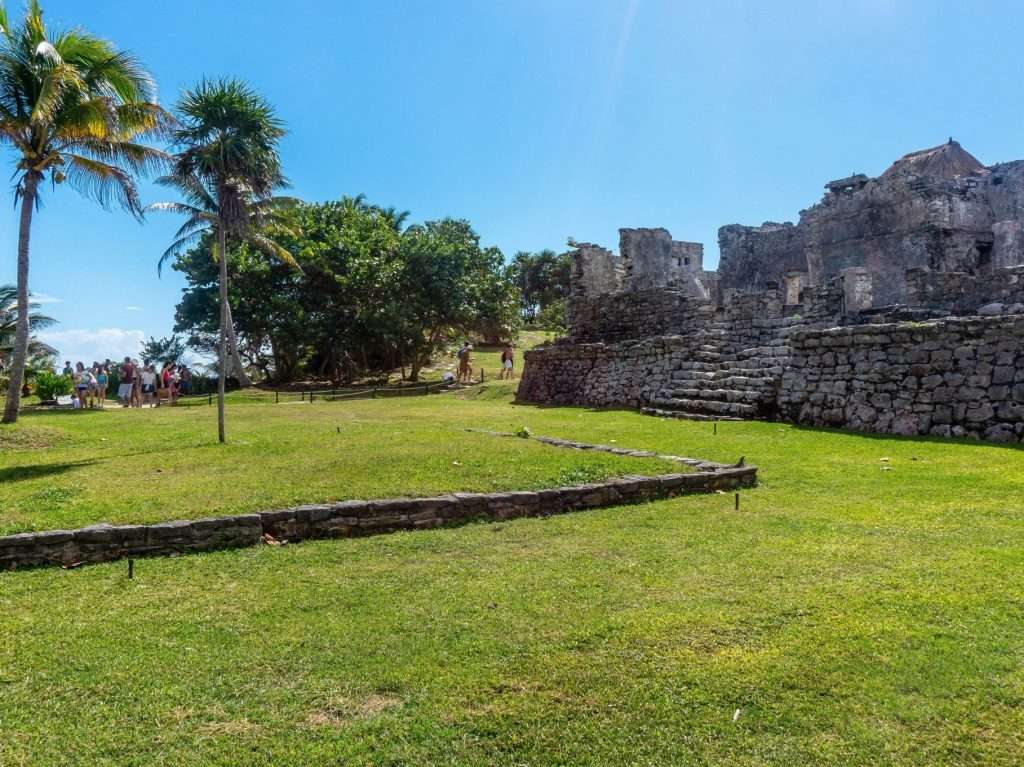 Tulum Ruins Visitor Info
Here's the basic visitor info for the Tulum Ruins including opening hours, entrance fee to Tulum Ruins, and best time to visit:
Tulum Ruins Opening Hours
The Tulum Ruins hours are currently daily from 8:00AM-5:00PM.
Entrance Fee for the Tulum Ruins
The Tulum Ruins entrance fee is around $90 pesos (~$4.50 USD) per person for visitors.
If you are planning to bring a GoPro or professional camera, you'll need to pay an additional photography fee (around $45 pesos).
Entrance is free for Mexican residents on Sundays.
Best Time to Visit the Tulum Ruins
The best time to visit the Tulum Ruins is during the week. Entrance is free for Mexican residents on Sundays so it can get extremely crowded with local families.
In addition, it's best to get there as early as possible if you want to avoid the crowds and get the best pictures.
Exploring the Ruins at Tulum
The ruins are located on a large site with an arrival area, the famous archaeological site, and public beach access.
Arrival Experience
Once you make your way past the parking lot, there is an arrival area with the large colorful "Tulum" letters where you can take photos.
You'll also find large souvenir shops, restaurants, and food and drink stands. Most of the souvenirs at the ruins are pretty overpriced and you'd be better off to stick to the shopping in Playa del Carmen.
You'll then proceed to the ticket booth to purchase your Tulum Ruins tickets and go through some turnstiles.
Then you'll have to walk a ways through a wooded area to get to the Tulum walls and stone entrance of the main archaeological zone.
Tulum Archaeological Site
Once you pass through the stone tunnel at the entrance, you are free to explore the ruins at your leisure.
The ruins are all roped off so you can't walk on them and just have to view them from a distance.
It's a bummer but with hundreds of people visiting daily, it's understandable that they have to preserve them.
There are small informational plaques in front of each structure (written in English and Spanish) that provide tidbits on the Mayan history and how each building was used.
You'll learn many interesting facts about Mayan culture, and that the ruins weren't originally built by the Mayans but were inhabited and expanded by them in the 13th century.
The ancient walled city of Tulum ran as a sophisticated operation which included sacrificial temples, a castle ("El Castillo"), the main pyramid, watch towers, and trading posts.
The best views can be found from the top of the Tulum site overlooking the Caribbean Sea.
This is where everyone is fighting for photo ops and also where you can access the wooden stairs leading down to the public beach.
The ruins are widespread so be prepared for a lot of walking and some steps to get up to the top.
There is little shade on the main site so be prepared for the heat! Temperatures in Tulum can be very hot all year round.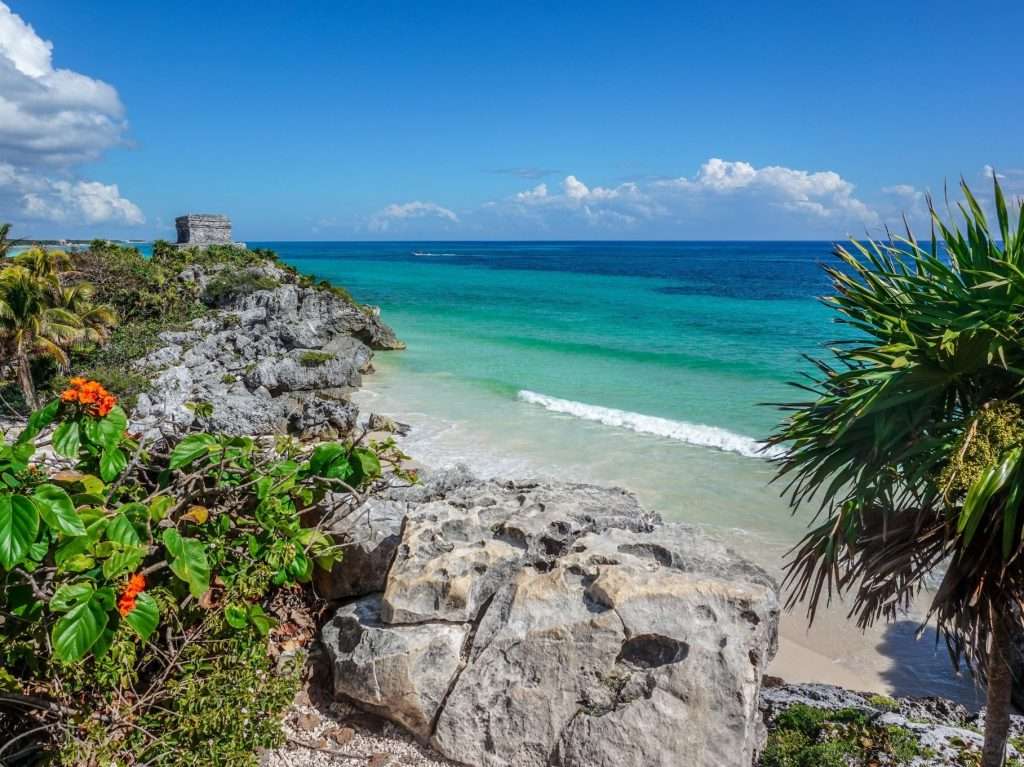 Tulum Ruins Beach
One of the most unique features of the Tulum Mayan Ruins is the public beach access directly on the site.
The beach is very impressive looking as it's enclosed by the massive rocky cliffs surrounding the ruins.
The small beach is beautiful and secluded but it can get very crowded so I would advise arriving early.
If you plan to swim, be sure to bring a bathing suit, towel, and biodegradable sunscreen.
👉 I personally use and recommend Sun Bum biodegradable sunscreen, which is reef-friendly, vegan, and cruelty-free.
What to Do After Visiting the Tulum Ruins
If you get to the ruins early, you'll still have a good part of the day to explore Tulum town or head to a Tulum beach.
Here's my recommendations for things to do in Tulum:
Visit a Beach Club
After you're done walking around the ruins, you'll more than likely be dripping in sweat and ready for a cold beverage!
I would highly suggest heading over to a beach club in Tulum – it's the perfect way to cool off and relax for the rest of the day.
Plus the beautiful beaches in Tulum are much more chill and widespread than the beaches in Playa del Carmen.
One of my favorite beach clubs in Tulum is Ziggy's Beach Club, which is about a 20 minute drive from the ruins. There are a line of taxis waiting right outside the ruins that you can take to get there.
Once you pull up to Ziggy's Beach Club, you will immediately feel Tulum's tropical bohemian vibe.
With a palm tree lined entrance and cutely strung overhead lights, you'll first pass by the hanging swings at the main bar before seeing the turquoise waters of the Caribbean coast in the distance.
From there, you can grab a table at the restaurant or head directly down to the beach to reserve a beach bed.
Pricing varies by season but there is usually a minimum consumption for use of the beach beds.
Visit a Cenote
Another fun activity after visiting the ruins is to head to a nearby cenote, which are freshwater swimming holes unique to the Yucatan peninsula of Mexico.
There are tons of cenotes near Tulum but Gran Cenote is probably the best one to visit that is the closest proximity to the ruins. The easiest way to get there is to take a taxi from the main entrance.
Once there you can swim, snorkel, or just hang out in a beautiful natural setting. Make sure to bring biodegradable sunscreen, water shoes, and a quick dry towel.
Tips for Visiting the Tulum Ruins in Mexico
Follow these tips to make the most of your experience at the Tulum Ruins:
Get there early: The ruins are open daily from 8am – 5pm but can get very crowded. If you go early, you can beat the tour groups, enjoy the site with less people, and still have time to hit a beach club afterwards.
Be prepared for the heat: There is very little shade at the ruins so I would bring a sun hat and a water bottle to stay hydrated. It can get VERY hot.
Wear comfortable walking shoes: The ruins are very widespread with stairs and areas of uneven terrain. It's best to wear tennis shoes, sneakers, or comfortable walking shoes.
Bring beach gear if you want to swim: There is public beach access directly from the ruins so if you want to swim I would recommend bringing a swimsuit, towel, and biodegradable sunscreen.
Bring an umbrella: It's a good idea to bring a compact umbrella if you have one. There is little to no covered areas at the ruins and rainstorms can come on very quickly. This happened to me the first time I was there and I got drenched! And if it doesn't rain, you can use the umbrella for shade!
Visiting the Tulum Ruins: FAQs
Here are the answers to some of the most frequently asked questions about visiting the Tulum Ruins:
What time do the Tulum Ruins open?
The Tulum ruins open daily at 8:00AM.
How much does it cost to visit the Tulum Ruins?
The Tulum Ruins price for entrance is $90 pesos (~$4.50 USD).
How far are the Tulum Ruins from Tulum town?
The Tulum Ruins are located about 2.5 miles (4 km) north of Tulum town.
How do you get to the Tulum Ruins from Tulum town?
The easiest way to get to the Tulum Ruins from Tulum town is by taking a taxi. It's also possible to walk there but takes about 50 minutes.
What is special about the Tulum Ruins?
What sets the Tulum Ruins apart is the oceanfront location overlooking the Caribbean Sea. The Tulum Ruins are the only oceanfront Mayan Ruins in the state of Quintana Roo.
Final Thoughts: Tulum Ruins Mexico
Teeming with rich history and flaunting pristine oceanfront views, the Mayan Ruins at Tulum is one of the best day tours from Playa del Carmen and one of the top things to do in the Mayan Riviera.
Even if you're not a history buff, there is still much to be enjoyed at the ancient Mayan Ruins of Tulum from the stunning views, secluded beach access, and the many nearby options for exploring or just relaxing in Tulum.
The easiest way to get there is by booking a Tulum Ruins tour for the added benefit of a knowledgeable tour guide and round-trip transportation.
But even if you choose to visit the Tulum Ruins on your own, you'll still have a fascinating experience exploring this ancient Mayan city!
Read next: Tulum vs Chichen Itza: Which Mayan Ruins are Best?
Traveling to Mexico soon?
These are the Mexico travel resources I use and recommend:
🏨 Hotels: I always find the best deals for Mexico hotels and resorts on Expedia or Booking.com. If you prefer a vacation rental, check VRBO as they are often cheaper than AirBnB's added fees!
✈️ Flights: I recommend using Skyscanner for the best Mexico flight deals. Be sure to sign up for their price alerts for your preferred travel dates.
🚗 Rental Cars: I like to use Discover Cars because you can compare multiple car rental companies and see detailed ratings for overall value, ease of pick-up, efficiency of agents, car condition, and overall time spent.
🚙 Cancun Airport Transportation: I recommend booking a private transfer with Cancun Airport Transportation for the quickest and most hassle-free option!
🤿 Tours & Activities: I always use Viator or GetYourGuide for booking tours and activities in Mexico. You can cancel up to 24 hours before the tour for a full refund, plus they have excellent customer service if you were to have any issues.
🚨 Travel Insurance: After my Dad broke his hand in a taxi accident in Playa del Carmen, I always recommend buying travel insurance before your trip for added peace of mind! I recommend Travel Insurance Master for short trips or Safety Wing for digital nomads.
☀️ Biodegradable Sunscreen: Don't forget to add biodegradable sunscreen to your Mexico packing list! Regular sunscreen is prohibited when swimming in the ocean and cenotes in Mexico, so you'll need to pack some biodegradable sunscreen for sun protection. I recommend Sun Bum Sunscreen, which is reef-friendly, vegan, and cruelty-free.
Did you like this Mayan Ruins Tulum Mexico guide? Pin it for later!