Playa del Carmen Seaweed Survival Guide (2023)
Disclosure: This page may contain affiliate links, meaning at no additional cost to you, I will earn a commission if you click through and make a purchase. As an Amazon Associate I earn from qualifying purchases.



Wondering what the seaweed is like in Playa del Carmen? You've come to the right guide!
I hate to be the bearer of bad news but as a travel blogger that lives in Playa del Carmen, the seaweed has become an unfortunate reality almost all year round.
But that doesn't mean that you can't still have an incredible vacation in Playa del Carmen, and there are still plenty of days where the beaches are absolutely beautiful and seaweed-free.
In this post, I'm sharing the inside scoop on the Playa del Carmen seaweed situation so you know what to expect when visiting.
Plus, I'm sharing my best tips and resources for checking the seaweed conditions, and revealing the best beaches in the region that are almost always seaweed free.
Ready to find out the truth about the Playa del Carmen seaweed situation? Let's get started!
What to Know About the Playa del Carmen Seaweed
Here is what you should know about the sargassum in Playa del Carmen:
What's the seaweed like in Playa del Carmen?
Technically the seaweed that has arrived on Mexico's Caribbean coast is called sargassum ("sargazo" in Spanish), which is a type of brown algae that floats in huge masses and washes up on the shore.
Unfortunately in recent years, the once pristine beaches in Playa del Carmen have become inundated with sargassum, which ebbs and flows with the weather conditions.
I'll be honest, the seaweed situation in Playa del Carmen can be bad at some times during the year. I won't sugarcoat it, the seaweed can be REALLY BAD and extremely off-putting.
At its worst, there can be massive piles of brown sargassum on the beaches with an overpowering rotten eggs smell that makes you want to hold your breath.
And the worst part about it is that it can be totally unpredictable. See below the two pictures are of the same beach 😳
Which beaches in Playa del Carmen have seaweed?
The sargassum can show up on almost any of the beaches in Cancun, Tulum, Playa del Carmen, and the Riviera Maya.
Some of the popular beaches have more natural inlets that shield them a little better from having much sargassum (like Playa Xpu-Ha for instance) but it's never a guarantee.
In downtown Playa del Carmen sargassum tends to be the worst in between the Cozumel ferry and the Constituyentes ferry.
Where does the Playa del Carmen seaweed come from?
Sargassum is a natural phenomenon that has been around for centuries, but the exact cause of its enormous rise in recent years is still not clear.
Scientists speculate that it is due to an increase in nutrient sources polluting the ocean, which fuels the sargassum and helps it to bloom into a "sargasso sea".
It's also believed to be affected by rising water temperature from climate change, global warming, and shifting weather patterns.
When is seaweed season in Playa del Carmen?
The seaweed season in Playa del Carmen is usually during the summer months from April–August.
During these months, the seaweed conditions are typically worse, however it can still show up at any time of year.
But while the Playa del Carmen sargassum season can be pretty unpredictable, one silver lining is that the seaweed conditions can literally change overnight.
Honestly I have seen instances where there has been brown murky water at the beach one day, and the next day the water will be completely clear.
The drastic change can actually be quite shocking!
I wouldn't bet on that happening every day but it's important to know that things can change for the better and it really just depends on the weather patterns and sea conditions.
Are Playa del Carmen beaches swimmable when there's seaweed?
When the Riviera Maya seaweed levels are really high, the water and beaches will be full of brown sargassum making them pretty unswimmable.
However, at lower levels, the seaweed just ends up on the beach which can be manually cleared away and the water can still be pretty turquoise and clear.
There are typically clean up crews working every morning on Playa del Carmen's beaches to clear away the seaweed.
How do they deal with the seaweed in Playa del Carmen?
Most hotels in Playa del Carmen will have a crew that clears the seaweed away from the beaches every morning.
Depending on the amount of seaweed, this often involves a lot of heavy machinery using a bulldozer, dump trucks, rakes, and shovels to clear it away.
The hotels and beach clubs in Playa del Carmen will do their best to clear the seaweed that's washed up on the beach but if it remains in the water, there's not really much they can do to get rid of it.
Aside from the resorts' efforts, the Mexican government and local authorities have also tried many tactics to rectify the current situation with the seaweed as it has the potential to have a major impact on tourism in the state of Quintana Roo.
Basically they tried to do anything they could to prevent losing tourism dollars from visitors deterred by the state of the beaches of Mexico.
This included everything from installing floating seaweed barriers to sending in the Mexican navy.
But alas, nothing really helped and the levels have since just kind of ebbed and flowed with the seasons.
Should You Rebook Your Trip to Playa del Carmen?
As disappointing as it can be, I strongly believe the seaweed conditions shouldn't discourage you from visiting Playa del Carmen or the Mayan Riviera.
The seaweed ebbs and flows and there are just so many amazing things to do in Riviera Maya that you CAN AND WILL still have an unforgettable vacation experience in Mexico.
Plus, there are many still beaches in Playa del Carmen without seaweed that are worth visiting for a day trip or an overnight stay.
But do your research on where you're planning to stay and if it's really a deal-breaker for you, then at least you can make an informed decision.
Playa del Carmen Seaweed Resources
Since the sargazo has arrived in Playa del Carmen, a lot of great online resources have popped up to share information.
These are a few of the best online resources I've found to check for up-to-date Playa del Carmen beach conditions.
Facebook Groups
Join these Facebook groups for the best updates:
Seaweed Updates Riviera Maya
One great resource for checking out seaweed conditions is the Sargasso Seaweed Updates Riviera Maya Facebook group.
This group is solely dedicated to sharing information about seaweed conditions in Riviera Maya.
It's a good place to find current seaweed conditions in Playa del Carmen as members will frequently post photos of what it looks like at specific beaches and resorts on a particular date.
Red Sargazo
Another popular Facebook group is called Red de Monitoreo del Sargazo de Quintana Roo.
This group is in Spanish but they post really handy Playa del Carmen seaweed maps showing the seaweed levels with color-coded ratings for each beach like excessive, abundant, moderate, very low, and without seaweed.
These infographics are posted almost daily and pinned to the top of their feed for easy access.
And you don't really need to know Spanish to interpret the Rivera Maya sargassum seaweed map.
Resort Specific Facebook Groups
Another thing you can do to check the seaweed in Riviera Maya is join a Facebook group that is dedicated to the specific hotel or resort you are planning to stay at.
Many resorts have Facebook groups that are used as an online forum for hotel guests, which is a good way to gauge conditions from actual guests on the ground.
Playa del Carmen Seaweed Webcams
Another option to view the sargassum Playa del Carmen conditions is to check out some of the live webcams in the area.
Here are a few of the most popular Playa del Carmen seaweed webcams:
Where to Go to Avoid the Seaweed in Playa del Carmen
The good news is that there are beaches in Riviera Maya where there is little to no seaweed.
These are great places to go for a day trip or even an overnight stay if you want to escape the seaweed and experience some really stunning beaches on Mexico's Caribbean coast.
Now it's never a guarantee that these beaches will be 100% seaweed-free but these are typically the best beaches in Riviera Maya without seaweed:
Cozumel
If you want to escape the Playa del Carmen sargazo, the closest place to go is Cozumel, which makes for a great day trip from Playa del Carmen.
Located about 45 minutes by ferry from downtown Playa del Carmen, Cozumel is a tropical island known for its beautiful Caribbean beaches and incredible coral reefs for snorkeling and scuba diving.
The beaches on the west side of the island usually have much less seaweed because they are blocked by the other side of the island.
My favorite beach on Cozumel is Playa Palancar, which is about a 30 minute drive from the ferry terminal.
It's a super gorgeous beach with lots of amenities and a fun place to just spend the day chilling out at a beach club.
There are also tons of other fun things to do in Cozumel, like snorkeling with starfish at El Cielo, renting a jeep to explore the island, or going shopping in the quaint downtown San Miguel de Cozumel.
Isla Mujeres
Another place in Riviera Maya known for its seaweed-free beaches is Isla Mujeres, which is a tiny island just 15 minutes off the coast of Cancun.
At about 1.5 hours away from Playa del Carmen, taking a day trip to Isla Mujeres is a bit of a trek but definitely worth it!
Or if you want to stay longer, you can book at overnight stay at one of the beautiful Isla Mujeres hotels.
The absolute best beach on the island is Playa Norte, which is considered to be one of the best beaches in the world!
Another fun option for visiting the island is booking an Isla Mujeres catamaran sail, where you'll get to set sail on the most unbelievably turquoise water.
Holbox
Located on the northern tip of Mexico's Yucatan peninsula, Holbox (pronounced "Hole-bosch") is a stunning tropical island and one of Mexico's most underrated beach destinations.
Because of its northern location, Isla Holbox delivers unbelievable beaches and tranquil turquoise waters for a seaweed-free escape.
Playa del Carmen to Holbox is about a 2.5 hour journey so it's best for an overnight stay.
And once you check-in to one of the stunning hotels in Holbox, you probably won't want to leave!
While in Holbox, you can simply chill out on the beach, go swimming with whale sharks, or even book a night time bioluminescence tour.
Isla Contoy
Located just a few miles off the coast of Cancun, Isla Contoy is an uninhabited tropical island that will leave you with a jaw-dropping first impression!
I've seen a lot of pretty beaches while living in Playa del Carmen and Isla Contoy is simply the best I've ever seen!
With its untouched white-sand beaches, crystal clear waters, and tropical palm trees, you won't believe your eyes! AND it pretty much never has any seaweed!
Isla Contoy is a protected island that only allows 200 visitors per day so the only way to get there is by booking an Isla Contoy tour.
👉 If you want to see Isla Contoy with your own eyes, I recommend booking an Isla Contoy tour with this tour company!
Top Playa del Carmen Seaweed Free Activities
If you you're not up for traveling to one of the nearby islands, there are still many amazing seaweed-free tours and activities that can be enjoyed right in Playa del Carmen and the surrounding Riviera Maya.
These are my top recommendations for seaweed free activities in Playa del Carmen:
1. Visit a freshwater cenote
The Yucatan peninsula is known for its incredible cenotes, which are freshwater swimming holes where you can swim, snorkel, or just hang out in a beautiful natural setting.
There are literally thousands of different cenotes in the region, unlike anywhere else in the world.
These are my favorite Playa del Carmen cenotes to visit, which are all perfect places to cool off and escape the seaweed.
2. Chill out at a rooftop pool
When the seaweed gets bad, the pool is pretty much gonna be your new best friend!
Luckily there are some pretty incredible rooftop pools in Playa del Carmen, where you won't have to bother with any seaweed, sand, saltwater, or obnoxious beach vendors.
Plus, you'll have all day access to comfortable lounge chairs, an umbrella for shade, and poolside food and beverage service. Not to mention some killer ocean views!
My favorite Playa del Carmen rooftop pool is Alessia Day Club at the Thompson Hotel (pictured above), which offers day passes and cabana rentals.
3. Explore ancient Mayan Ruins
For a more cultural experience, I would definitely recommend visiting the Tulum Ruins, which are located less than an hour south of Playa del Carmen.
The Tulum Ruins are the closest Mayan ruins to Playa del Carmen and the only beachfront Mayan Ruins in the state of Quintana Roo.
And for larger and grander ruins, consider taking a tour to Chichen Itza from Playa del Carmen, which is about 2.5 hours away and makes for a fun day trip.
4. Go on a snorkeling or scuba diving tour
When the seaweed levels are high, it's usually the worst closest to the beach and the rest of the ocean is more likely to be clear.
This makes Playa del Carmen snorkeling tours and even scuba diving still a viable option for those who want to do water activities.
Some of the best snorkeling I've done in Riviera Maya has been at El Cielo in Cozumel, which is a popular excursion for snorkeling with starfish and other marine life.
Another impressive spot for snorkeling in the Mexican Caribbean is at the coral reefs in Puerto Morelos.
Here are my top picks for snorkeling tours in Playa del Carmen:
5. Visit an adventure park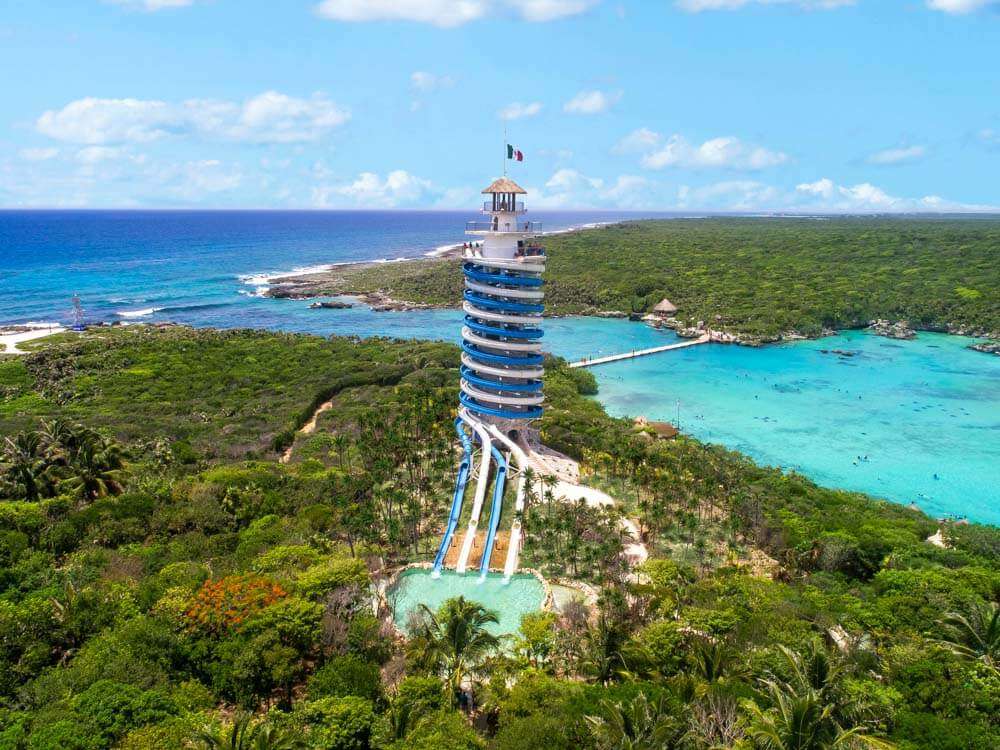 If you're feeling adventurous, I would definitely recommend trying one of the many Xcaret adventure parks in Riviera Maya.
These parks are all-inclusive and offer a variety of adventurous activities like ziplining, ATVs, water slides, and white water rafting.
Here's an overview of what you can do at the Xcaret parks:
Playa del Carmen Seaweed Survival Tips
These are my top tips for surviving the Mexico seaweed invasion:
Don't let it ruin your trip: As I mentioned, I strongly believe you shouldn't let the seaweed ruin your trip. Sometimes the conditions can change overnight. And if they don't, there's plenty of other amazing things to do in the Riviera Maya.
Don't stress about it: Stressing about the conditions won't do anything to improve the seaweed problem on the beaches of Playa del Carmen. I've seen a lot a people post in the Facebook groups anxiously asking what it will be like for their trip 3-6 months from now. It's completely unpredictable so it won't do any good to stress about it ahead of time.
Always have a plan B: It's best to always have a backup plan for any of your planned activities in case the seaweed conditions are less than ideal. Keep some of the seaweed free activities I mentioned in mind as alternatives.
Playa del Carmen Seaweed: FAQs
Here are the answers to some of the most frequently asked questions about Playa del Carmen seaweed:
Is there seaweed in Playa del Carmen now?
The best way to check the current beach conditions in Playa del Carmen is to follow the Red Sargazo Facebook Group, which posts an infographic map of the Playa del Carmen seaweed conditions almost daily.
What time of year is seaweed bad in Playa del Carmen?
Seaweed in Playa del Carmen is typically worse during the summer months (April–August) but can show up at any time of year.
How do you avoid seaweed in Playa del Carmen?
To avoid the seaweed in Playa del Carmen, you can visit nearby islands such as Cozumel, Isla Mujeres, or Holbox that are typically not affected by seaweed.

Additionally, you can participate in a variety of seaweed-free activities like visiting adventure parks, exploring Mayan Ruins, checking out freshwater cenotes, and relaxing at rooftop pools.
Which beach in Playa del Carmen has no seaweed?
The beaches closest to Playa del Carmen that have no seaweed are Playa Palancar on Cozumel or Playa Norte on Isla Mujeres. Additionally, Playa Xpu-Ha typically has less seaweed than other beaches in Riviera Maya.
Is there seaweed in Riviera Maya in 2023?
Yes, there is seaweed in Riviera Maya Mexico in 2023. Seaweed has become an unfortunate occurrence in the region and can show up at any time of year.
Conclusion: Playa del Carmen Seaweed Guide
I hope this seaweed survival guide was helpful in explaining what the seaweed situation is really like in Playa del Carmen!
As I said, I think it's important to know the facts but I definitely wouldn't let it discourage you from visiting.
There are still many incredible seaweed-free beaches and fun seaweed-free activities to enjoy in Playa del Carmen and the surrounding Riviera Maya region.
Plus, Mexico is such a hospitable place with a vibrant culture, incredible cuisine, and unforgettable activities that you are sure to have an amazing time!
🇲🇽 Traveling to Mexico soon?
These are the Mexico travel resources I use and recommend:
🏨 Hotels: I always find the best deals for Mexico hotels and resorts on Expedia or Booking.com. If you prefer a vacation rental, check VRBO as they are often cheaper than AirBnB's added fees!
✈️ Flights: I recommend using Skyscanner for the best Mexico flight deals. Be sure to sign up for their price alerts for your preferred travel dates.
🚗 Rental Cars: I recommend using Discover Cars because you can compare multiple car rental companies and see detailed ratings for overall value, ease of pick-up, efficiency of agents, car condition, and overall time spent.
🚙 Cancun Airport Transportation: I recommend booking a private transfer with Cancun Airport Transportation for the quickest and most hassle-free option!
🤿 Tours & Activities: I always use Viator or GetYourGuide for booking tours and activities in Mexico. You can cancel up to 24 hours before the tour for a full refund, plus they have excellent customer service if you were to have any issues.
🚨 Travel Insurance: After my Dad broke his hand in a taxi accident in Playa del Carmen, I always recommend buying travel insurance before your trip for added peace of mind! I recommend Travel Insurance Master for short trips or Safety Wing for digital nomads.
☀️ Biodegradable Sunscreen: Don't forget to add biodegradable sunscreen to your Mexico packing list! Regular sunscreen is prohibited when swimming in the ocean and cenotes in Mexico, so you'll need to pack some biodegradable sunscreen for sun protection. I recommend Sun Bum Sunscreen, which is reef-friendly, vegan, and cruelty-free.
Did you like this seaweed Playa del Carmen guide? Pin it for later!