Xenotes Review: Is this Riviera Maya cenote tour worth it? (2023 Review)
What is Xenotes?
Xenotes is an all-inclusive tour offered by Grupo Xcaret, which brings you to four different Riviera Maya cenotes along the famous "Ruta de los Cenotes" near Puerto Morelos.
ℹ️ Previously called Xenotes Oasis Maya, Xenotes is now known as Xenotes, Enigmatic Waters Tour by Xcaret.
Xcaret arranges a circuit of different activities at each of the four private cenotes that includes kayaking, swimming, rappelling, and ziplining.
Each cenote on the tour is a different type, letting you experience the natural wonders of Mexico's Riviera Maya actively.
Beautiful Ha Cenote treats you to a semi-open cenote with hanging vegetation and beautiful underground gardens for snorkeling and kayaking. Water ziplines happen over Iik Cenote, where you can also cliff jump over 20 feet high.
You'll try assisted rappelling at Lu'um Cenote, a cavern cenote with million-year-old formations. K'aak' Cenote offers an adrenaline rush with water slides, ziplines, and cliff jumps.
Where is Xenotes located?
How do you pronounce Xenotes?
Xenotes is pronounced "Shay-know-tays". The key to pronouncing the Xcaret names correctly is to pronounce the X as either an "Ish" or a "Sh" sound.
Why visit Xenotes?
If you've never visited a cenote before, the Xenotes tour is the perfect activity. Cenotes are unique to Mexico's Yucatan peninsula and you'll get to experience four different types in one day.
This action packed Xcaret cenote tour is really a one-stop shop where you can experience fun water activities like zip lining, kayaking, rappelling, and cliff jumping.
Set in the middle of the Mayan jungle, all activities take place in a natural environment that does not feel overly commercialized. And with small groups of around 15 people, you'll get a more personalized experience.
Plus, it's an all inclusive tour so all food, drinks, and round-trip transportation is included for a very fun, unique, and well-organized adventure tour experience.
Who is Xenotes suited for?
If you're looking for a unique outdoor adventure while visiting Riviera Maya, Mexico, the Xenotes water tour will be perfect for you.
Adventurous travelers who love adrenaline-pumping water activities and are looking for a water park experience will especially enjoy this tour.
Xenotes is also a great family-friendly activity for children ages 5 and older, though kids may have more fun if they're a bit older.
But for both kids and adults, the Xenotes tour will be an unforgettable experience!
Who is Xenotes NOT suited for?
If you do not like water activities or getting wet, then the Xenotes tour is not for you. With so many water activities, you'll be dripping wet the majority of the time!
You don't have to be a strong swimmer to enjoy Xenotes as life jackets are mandatory, but you probably won't have a good time if you are uncomfortable being in the water.
With lots of swimming, walking, and climbing involved, the tour can also be physically demanding so if you're not able to walk or swim for long periods of time, it's probably not the best place for you.
Xenotes Activities Quick Overview
Here's a quick overview of the activities at each cenote–scroll down for detailed descriptions and reviews of these cenote activities!
🗣️ The names of the cenotes are in the Mayan language, each representing one of the natural elements.
Xenotes Pros and Cons
Xenotes Tickets
How to Book Xenotes Tickets
How to Save Money on Xenotes Tickets
There are a few different Xcaret discounts available–take advantage of these automatic discounts outlined below to get the best deal on Xenotes tickets and avoid paying full price for the tour.
Book in advance
Create your own package
Stay at one of the Xcaret hotels
Staying at an Xcaret all inclusive hotel gives you all "fun-inclusive" access to the parks and tours, meaning you get unlimited access to all of the Xcaret parks during your stay.
This is an especially great option for families if you plan on visiting more than one of the parks.
🎨 Wondering what it's like to stay at an Xcaret hotel? Find out in my Hotel Xcaret Arte review!
Resident Discounts
Xcaret also offers a special discount for Quintana Roo residents which is valid only online or through the contact center.
Tickets for Quintana Roo residents can be purchased through the website here but it is only available in the Spanish language.
You'll need to present an Official ID of Quintana Roo to get the best price and be eligible for the discount. For foreigners living in Quintana Roo, Temporary and Permanent Resident Cards are accepted.
Xenotes Arrival Experience
Here's what you can expect on the day of your Xenotes experience:
Hotel Pickup
Roundtrip transportation is included with the Xenotes tour with pickup from your hotel, resort, or designated meeting point in Playa del Carmen, Cancun, or the Riviera Maya.
The private Xenotes vans are new and comfortable and bright green in color–they can't be missed!
During pickup, you'll meet your driver (who will also be your tour guide), get your wristbands, and sign a liability waiver.
🚨 Do you need travel insurance for Mexico? Yes! Most insurance plans in your home country will not cover incidents abroad. I recommend using Travel Insurance Master, which is a handy travel insurance marketplace where you can compare policies. Get a FREE quote by clicking here!
Arrival
After you're in the van, you'll head to the Xenotes site and your tour guide will explain the day's activities during the drive. From Playa del Carmen, it takes a little over an hour to get there depending on the number of pickups.
When you're in the van, you'll want to get prepared for the day's activities by putting on your water shoes and removing any watches, jewelry, or valuables.
Upon arriving at the Xenotes location, you'll be directed to small outdoor pavilions with dining tables and bench seating.
Each cenote on the tour has these types of pavilions along with restrooms, showers, and changing rooms.
Showers
Before getting started, everyone is required to take a quick shower to remove any sunscreen, insect repellent, or chemicals that might be harmful to the cenote environment.
These are outdoor showers so be prepared for the water to be a bit cold!
Life Jackets
After showering, you'll then put on life jackets (which are mandatory) and head to the first cenote.
Each cenote has a life jacket stand where you can select your preferred size.
Xenotes Review: Activities
Here's a detailed look at each of the cenotes and my honest Xenotes reviews:
Ha' Cenote (Water)
Then you'll head to the other side of the cenote via an underground cave entrance. Snorkeling masks are provided, and you'll be able to see tiny cenote fish, small catfish, and lily pads.
Overall, I enjoyed kayaking the most–it was a very beautiful and relaxing experience and not too difficult to navigate. I only wish it had lasted longer!
The snorkeling part of the cenote was a beautiful place with picturesque lily pads, but the visibility underwater wasn't the best so you could really only see some tiny fish at the surface.
Iik Cenote (Wind)
The zip lines are divided into two sides, each with two zip lines. You can choose to go on a seated hammock or hang from a monkey bar.
I personally enjoyed the seated hammock because it was more comfortable and there were some funny positions to choose from including the Spiderman, Superman, Princess, and my personal favorite–Miley Cyrus's Wrecking Ball!
Each person gets to go on the water ziplines three times, so you can really get a good feel for it. And if you're feeling brave, you can also choose to cliff jump from the zipline platform at a height of around 20 feet.
Overall, I had a blast at Iik Cenote and really enjoyed the water ziplines–they were thrilling but not too scary and it was very comical watching everyone trying to perfect their pose!
Lu'um Cenote (Earth)
You'll put on a harness and helmet before climbing to the top of a wooden platform. Then you'll try assisted rappelling down under the earth and into the cold cenote waters.
You can even choose to rappel upside down if you wish. With the harness and help of the guides, it feels very safe and secure–I only wished it had lasted longer!
Lu'um is the deepest cenote you'll visit on the tour so the water is extremely cold, but it's such an exhilarating experience. You'll also get to jump from a small ledge into the refreshing waters below.
Overall, Lu'um Cenote was probably the most unique cenote you'll visit on the tour–the hanging tree roots are really spectacular. And getting to rappel directly into the water is such a rush!
K'aak' Cenote (Fire)
You can then climb back to the top for more overwater ziplines from a hanging monkey bar.
And after you drop from the ziplines, you'll swim or inner tube for about 200 meters between stone walls where you can choose to do a cliff jump for one final rush.
Overall, Ka'ak' Cenote was relaxing and fun with a whole circuit of activities. The water was warm and comfortable, making it the perfect place to end the day with some final jumps and splashes.
Xenotes Review: Food and Beverage
Here's an overview of the Xenotes food and beverage offerings:
Xenotes Breakfast
You'll return to the pavilion, where a light breakfast buffet will be set up with apples and pastries. Drink options include coffee, hot chocolate, and fruit waters.
Overall, the Xenotes breakfast was pretty basic but was a nice simple treat after the first cenote. If you prefer something more filling, you'll definitely want to eat a heartier breakfast before leaving your hotel.
Xenotes Lunch
The sandwich buffet includes a variety of rustic breads, deli meats, salmon, premium cheeses, and salad bar type toppings.
Additional sides include soup, tortilla chips, seasonal fruit, and chocolate brownies. A variety of drinks like soda, bottled water, wine, and beer are also available.
Overall, I was impressed with the lunch buffet at Xenotes. Some of the toppings are probably a little more unusual than what you may be accustomed to, but you'll still be able to build a tasty sandwich.
Plus, the wine and beer is a nice added touch!
Xenotes Review: Services and Amenities
Here's an overview of the services and amenities available at Xenotes Riviera Maya:
Equipment
All necessary safety equipment is provided with Xenotes tours including life jackets, kayaks and paddles, snorkel masks, harnesses, and helmets.
The use of the life jacket is mandatory for all activities and there is a life jacket stand at each cenote.
Restrooms, Showers, & Changing Rooms
Clean and well-maintained restrooms, showers, and changing rooms are located at each of the 4 cenotes, making it very easy to take bathroom breaks or freshen up throughout the day.
Photo Package
One of the biggest takeaways of the Xenotes tour is the photo package. Each group will have a professional photographer that follows them around during the day taking the best high quality pictures.
While the photo package can be expensive, it's a great way to capture your memories if you don't have a waterproof camera.
Plus, they're positioned in the best vantage points to get all the best action shots from the cliff jumps and ziplines.
If you do wish to purchase your Xenotes photos, the payment can be made by cash or credit card at the end of the day.
You'll then receive a redemption code where you can download your Xenotes pictures online.
Travelista Tip: Save money by adding the photo package ahead of time when booking your tickets online. This is cheaper than what you'll pay on the day of your visit. I personally bought the photo package and thought it was worth it!
Xenotes Transportation
Round trip transportation is included in the Xenotes tour and the brightly-colored green vans are large, comfortable, and have waterproof seats.
Each group will be assigned to one van that will be used for the entire day–where you'll drive from one cenote to the next and then back to your hotel or resort.
Since there are no lockers at Xenotes, the van will also be used to store personal belongings. There weren't any issues with this on my tour but it's best not to leave any valuables just to be safe.
Xenotes Alternatives
If you're looking for Xenotes alternatives, there are a few other comparable options in Riviera Maya:
Cenote Zapote
Also located along the "Ruta de los Cenotes", Cenote Zapote is a Riviera Maya eco-park that is probably the most comparable option to the Xenotes experience.
At Cenote Zapote, you can visit 3 different types of cenotes, as well as go ziplining and biking. It's a very fun experience but the Xenotes tour has more to offer in terms of water activities.
You can read more about my Cenote Zapote experience in this post!
Rio Secreto
Another option would be to visit Rio Secreto, which is an underground river system located just south of Playa del Carmen.
At the Rio Secreto attraction, you can swim and trek through these underground caves, as well as go biking and rappelling.
This impressive network of underground rivers and caverns feels very natural and untouched, but does not offer quite as many activities as Xenotes.
You can read more about my Rio Secreto experience in this post!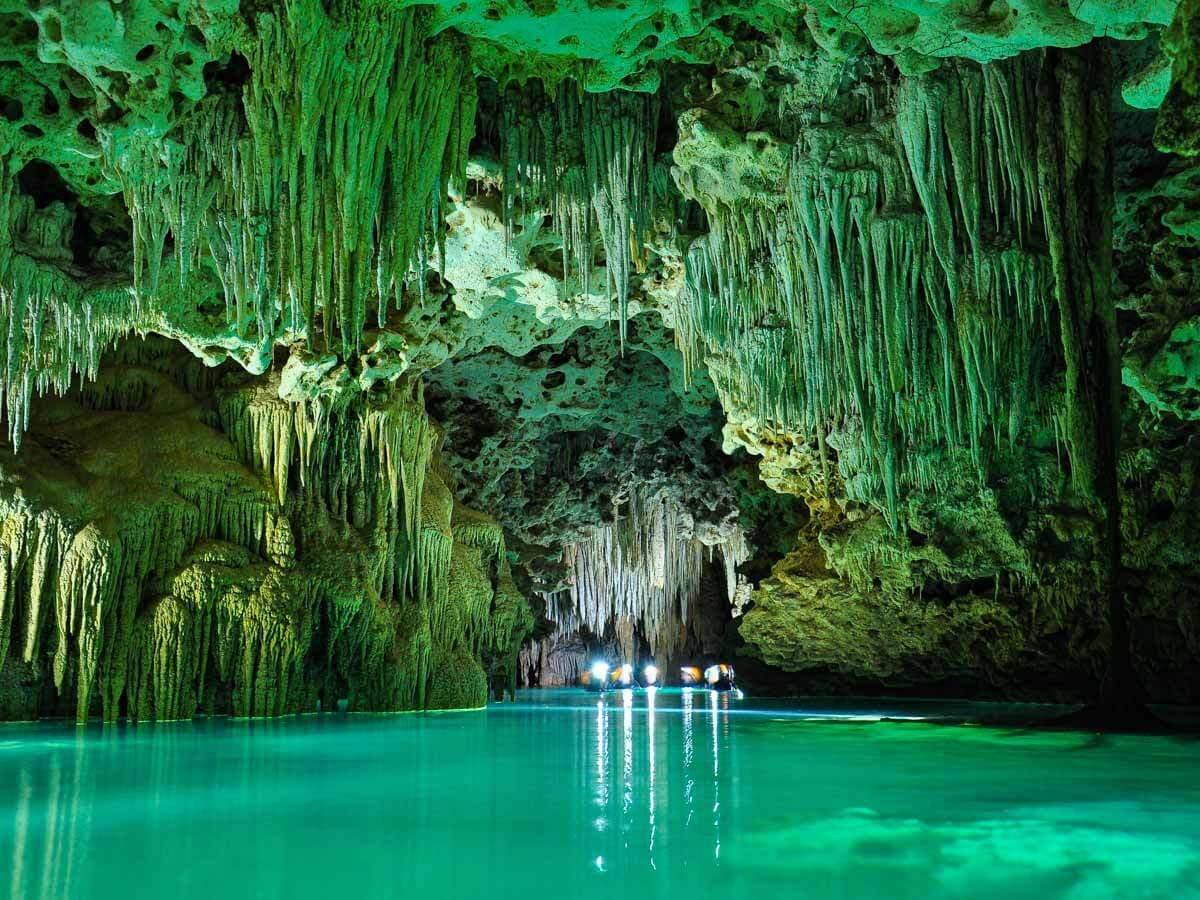 Xplor
Another comparable option from Grupo Xcaret would be Xplor, which is an adventure park known for its ziplining, amphibious vehicles, and stalactite river swim.
Xplor will give you an adrenaline rush with its variety of land, water, and adventure activities but overall feels more commercialized than the Xenotes park in the heart of the jungle.
You can read my full Xplor review in this post!
What to Wear to Xenotes
Rash Guard: I would also recommend wearing a rash guard, which is a long-sleeve swim shirt to protect you from the sun and also keep you warm in the water. The cenote temperatures can be cold (especially at Lu'um) so wear a rash guard to be the most comfortable.
Water Shoes: I would highly recommend wearing water shoes as I'm not sure how the tour can be done without them! You'll be swimming, climbing up stairs, and walking over rocky jungle areas so water shoes are an absolute must to protect your feet.
Waterproof Shorts: I usually like to wear waterproof shorts over my swimsuit just to be a little more comfortable when you're out of the water. There are some covered rest areas at each cenote where you can leave your things before getting in the water.
What to Bring to Xenotes
Waterproof phone pouch: If you don't have a GoPro, then consider bringing a waterproof phone pouch to take pictures with your cell phone. This of course should be used at your own risk but there were a few people on my tour that used one and didn't seem to have any issues.
Change of Clothes: Bring an extra change of clothes to change into at the end of the day to be dry and comfortable for the long drive back to your hotel.
Cash or credit cards: Bring cash or credit cards to pay for the photo package and tips for the tour guides.
Xenotes Tour: FAQs
Tips for Visiting Xenotes
Be prepared to be unplugged: The Xenotes cenote park is located in the middle of the jungle where there is no internet or cell phone service. Be prepared to be unplugged and be sure to attend to any important matters before arriving.
Buy the photo package ahead of time: You'll save money if you add the photo package ahead of time when purchasing your tickets online. Consider this if you think you'll want the Xenotes photos of your visit–they really do give you the best action shots!
Don't wear any sunscreen: Sunscreen (even biodegradable) is prohibited at Xenotes to protect the ecosystem of the cenotes. You'll be required to shower before entering the first cenote so don't even bother putting on any sunscreen. Most of the cenotes are pretty shady but if you're concerned about sun protection, then consider wearing a rash guard.
Don't bring a towel: Towels are provided at Xenotes so you won't need to bring one. You will be getting wet at each cenote so it's best to wait and use your towel at the end of the tour.
Don't bring valuables: There are no lockers at Xenotes and all personal belongings will be left in the group van. It's best not to bring any valuables and only bring only what you need for the day's activities.
Xenotes Review Final Thoughts – Is Xenotes worth it?
So, is Xenotes worth it? I honestly had a blast at Xenotes and thought it provides outstanding value for the money.
It's just as expensive as many of the other attractions in Riviera Maya but provides a full day outdoor adventure with roundtrip transportation, food, and drinks included.
Basically, they do all of the work for you so you just have to have fun! Plus, you'll get to experience some amazing natural cenotes, unlike anywhere else in the world.
If it's your first time visiting Riviera Maya and you want to see some cenotes, then I would highly recommend Xenotes. It's really the most hassle-free option to experience a variety of different cenotes in one day.
Plus, what I loved about Xenotes is that you'll be in a smaller group and the park feels much more natural and less commercialized than any of the other Xcaret adventure parks.