14 Best Hotels in Mahahual Mexico in 2023
Looking for the best hotels in Mahahual Mexico? You've come to the right guide!
As a travel blogger that lives in nearby Playa del Carmen, I've been to Mahahual, which is a great place for a relaxing beach getaway to escape the hustle and bustle of Riviera Maya. 
And since I used to work in luxury hospitality, I always love checking out the hotel scene in every new place I visit!
While Mahahual is a tiny beach town, there are still plenty of hotels to choose from–and they are pretty affordable!
In this post, I'm sharing my top recommendations for the best hotels in Mahahual Mexico including beachfront properties, boutique hotels, and budget-friendly options.
Ready to find out where to stay in Mahahual? Let's get started!
Top 3 Picks: Best Hotels in Mahahual Mexico
Best Hotels in Mahahual Mexico
These are the best hotels in Mahahual Mexico whether you're looking for an upscale boutique property, beachfront relaxation, or budget-friendly accommodations:  
Is Mahahual worth visiting?
Mahahual is definitely worth visiting! This small beach town in Mexico is up and coming and becoming increasingly popular with tourists.
The town has a lot to offer, including beautiful beaches, great food, friendly locals, and affordable prices. 
The beach town of Mahahual is also well known for its turquoise waters and impressive coral reef, which make it a popular spot for snorkeling and scuba diving.

Mahahual is also a great place to relax and enjoy the slower pace of life. So if you're looking for an affordable and enjoyable vacation destination with a small town tropical vibe, Mahahual is it!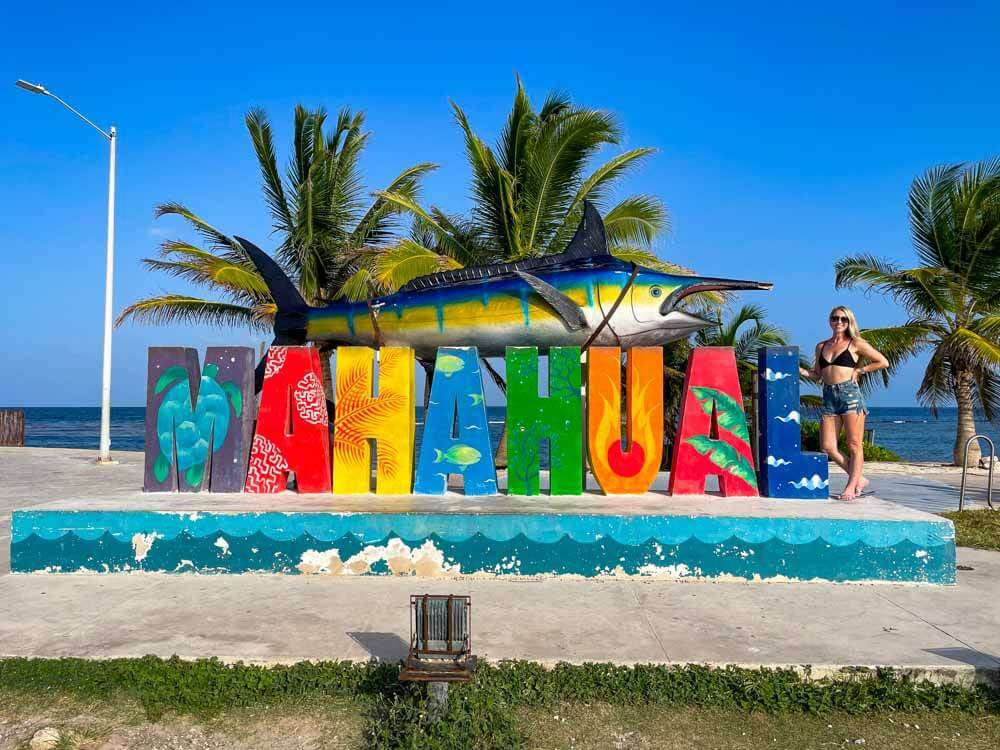 FAQs about Mahahual Mexico Hotels
Here are the answers to some of the most frequently asked questions about Mahahual hotels:
Tips for Booking Hotels in Mahahual
Check for air conditioning: One important thing to check for when searching for hotels is air conditioning! There are some hotels in Mahahual that do not offer air conditioning and the heat and humidity in Mexico can be very intense. For me, AC is a must during the summer months!
Check for wifi: Overall, the wifi and cellular service in Mahahual is not great. If you really need a strong wifi connection, then be sure to check reviews for any mentions of wifi. Most hotels offer free wi-fi but the signal may not be the strongest or it might only be available in the public areas.
Check for beach amenities: Another important thing you'll want to check for is beach amenities. I would recommend choosing a hotel with complimentary lounge beds on the beach–because that's pretty much all you're going to be doing in Mahahual! If the hotel doesn't have a private beach, you can still go to one of the many Mahahual beach clubs but you'll likely need to pay a minimum consumption charge.
Final Thoughts: Best Hotels in Mahahual
After spending some time in Mahahual, it's easy to see why it is becoming such a popular beach destination in Mexico.
Right now it still feels up and coming with a laid back and unpretentious tropical vibe.
The hotels in Mahahual are simple and comfortable, offering incredible views, outstanding service, and all the amenities you could want for a relaxing beach escape.
Plus, the prices are way more affordable than in Playa del Carmen, Tulum, or the Riviera Maya! 
My top pick for the best hotel in Mahahual is Noah Beach Hotel–it's new, cute, and modern with the best beachfront area in Mahahual.
But no matter which of these best Mahahual hotels you choose, you're sure to enjoy this beautiful beach destination!