14 Best Hotels in Mahahual: Where to Stay in Mahahual Mexico (2023)
Disclosure: This page may contain affiliate links, meaning at no additional cost to you, I will earn a commission if you click through and make a purchase. As an Amazon Associate I earn from qualifying purchases.



Wondering where to stay in Mahahual Mexico? You've come to the right guide!
As a travel blogger that lives in Playa del Carmen, I recently visited Mahahual for a relaxing beach getaway to escape the hustle and bustle of Riviera Maya.
And since I used to work in luxury hospitality, I always love checking out the hotel scene in every new place I visit!
In this post, I'm sharing all the best hotels in Mahahual Mexico from its beachfront properties to boutique hotels to budget-friendly options.
Best Hotels in Mahahual Mexico
These are the best hotels in Mahahual Mexico whether you're looking for an upscale boutique property, beachfront relaxation, or budget-friendly accommodations.
1. Noah Beach Hotel
Look no further than Noah Beach Hotel and Suites for the best beachfront area and most modern accommodations. I personally stayed at Hotel Noah during my visit and it's honestly the best hotel in Mahahual!
At the hotel's dreamy beachfront area, you can enjoy large hammocks, cushioned loungers, and complimentary beach beds facing clear blue Caribbean waters and shady palm trees.
The accommodations are modern with spacious suites or 1 or 2-bedroom apartments–some that come complete with a private balcony overlooking the entire oceanfront along Mahahual's Caribbean coastline!
They also have their own on-site restaurant, known as Malecón 21, serving breakfast through dinner including food and drink service in the sand or in the restaurant's open-air dining area.
With many creative dishes on the menu, the food at Malecón 21 was delicious and affordable and some of the best I had in Mahahual.
Hotel Noah provides everything you need for a relaxing stay that you won't even need to leave the hotel. Check out my full Hotel Noah Mahahual review for more details!
👉 Click here to check rates and availability at Noah Beach Hotel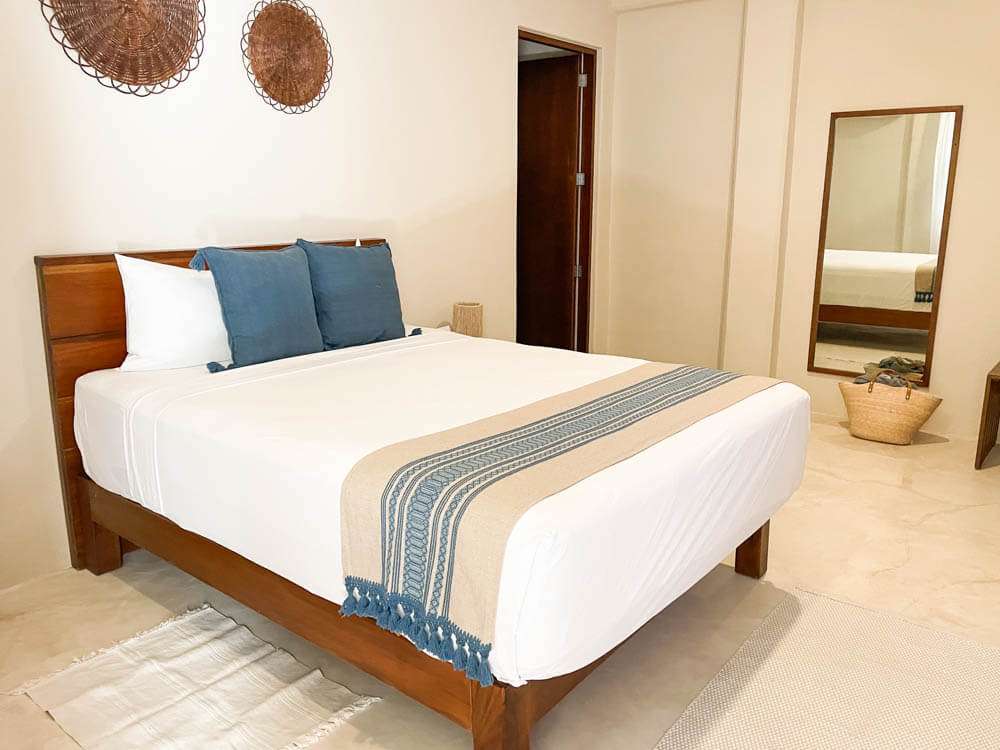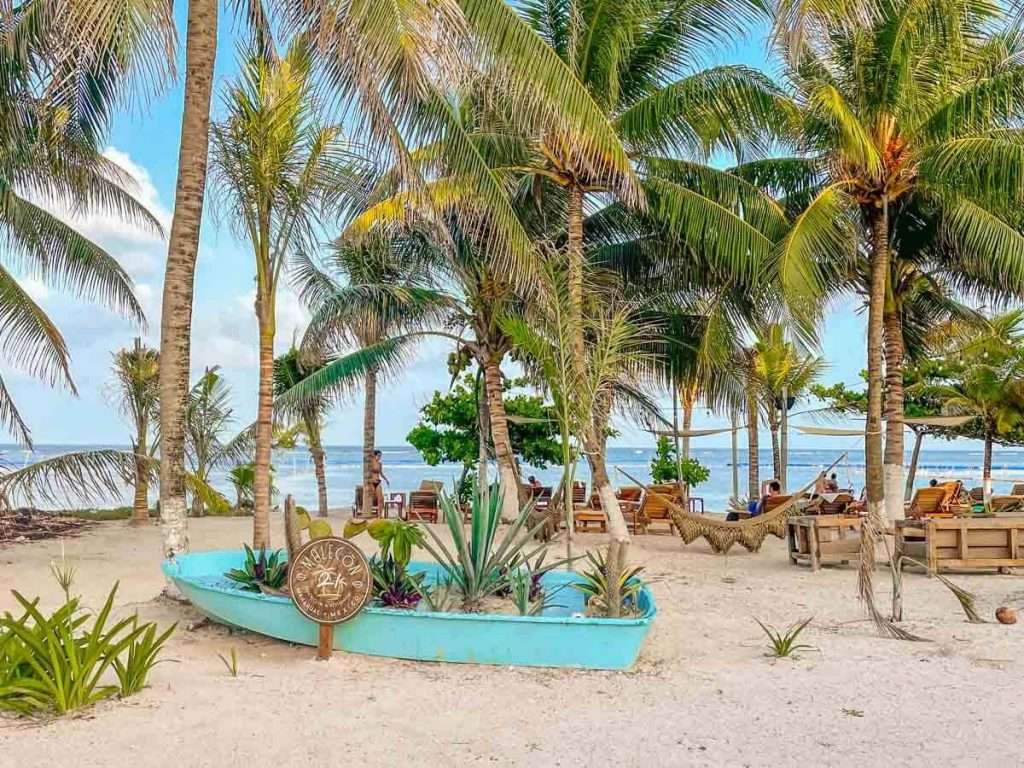 2. Aquastar Boutique Hotel
The Aquastar Boutique Hotel is a newer, more modern beachfront hotel in Mahahual. This Mahahual boutique hotel offers travelers a comfortable experience with amenities such as an on-site restaurant and bar plus an outdoor swimming pool and sun terrace.
All rooms are equipped with air conditioning and a flat screen TV and some rooms have balconies overlooking the ocean too! This makes it possible for you to relax with a view either in your room or while taking a dip in the pool.
Whether you're looking to relax by the pool or lay on the beach, the Aquastar Hotel is a good option for reasonably priced modern accommodations.
👉 Click here to check rates and availability at Aquastar Boutique Hotel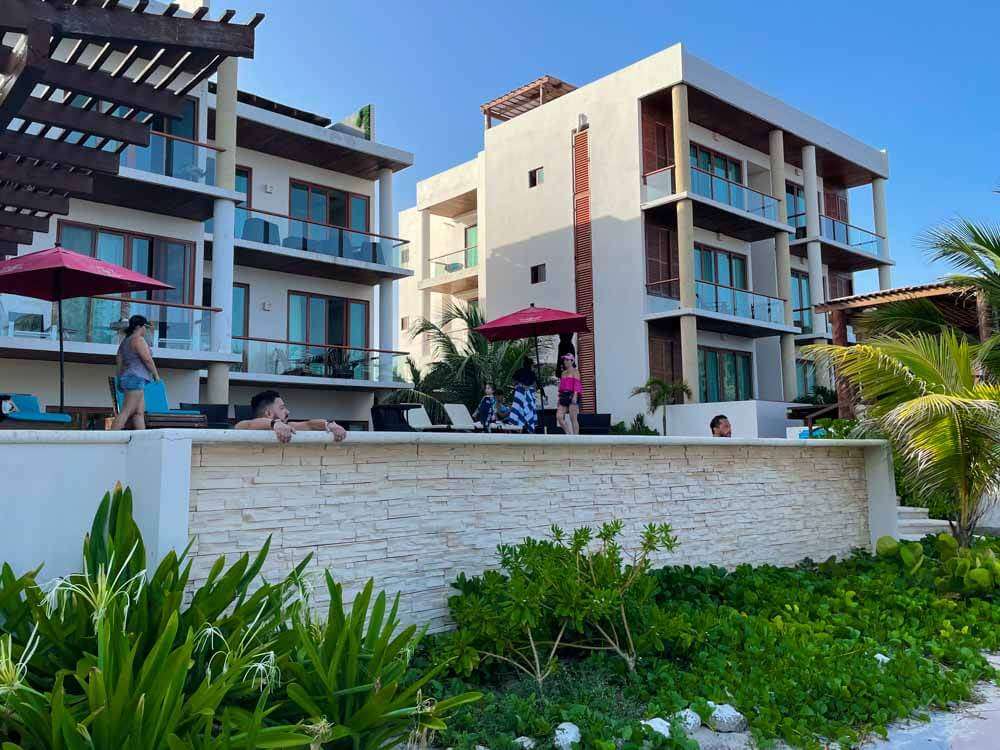 3. 40 Cañones
Set on the quieter end of Mahahual away from the cruise ship crowds, 40 Cañones (40 Cannons) is one of the best Mahahual beach hotels and offers a great place to stay for those looking for relaxation.
This boutique beachfront hotel offers guests a private white-sand beach area with comfortable lounge beds and shaded canopies. Plus, the hotel's on-site tour desk can assist with arranging tours, activities, and adventure excursions.
Accommodations at 40 Cañones are clean and bright with charming details such as unique hanging beds and rustic decor. In addition, they offer à la carte breakfast every morning as well as all day dining at the hotel's on-site restaurant.
👉 Click here to check rates and availability at 40 Cañones
4. Inkanto Luxury Hotel
If you're looking for basic luxury in Mahahual, Inkanto Luxury Hotel is a good option. While this hotel is not 5-star luxury, it provides clean and comfortable accommodations that are white and bright–some with private terraces.
Plus it has a beautiful beach club for guests and a stunning rooftop pool with an unmissable ocean view. So if you're looking for an upscale Mahahual hotel that won't break the bank, Inkanto Luxury Hotel is the perfect choice.
👉 Click here to check rates and availability at Inkanto Luxury Hotel
5. Hotel Arrecifes Costamaya
If you're looking for a hotel that's away from the main malecón but still close enough to the center of town, Hotel Arrecifes Costamaya is a great option.
It's a standard hotel that's affordably priced and offers amenities like an outdoor swimming pool, air conditioning, and free wifi.
The best part of the hotel is the sun loungers and hammocks on the beach with a dock extending out into the water–although the seaweed can sometimes be present.
Since it's a little further from the main part of town, this hotel is probably best for those that have a car but walking and taxis are still an option.
👉 Click here to check rates and availability at Hotel Arrecifes Costamaya
6. Hotel Quinto Sole
With a fantastic central location in the heart of Mahahual, Hotel Quinto Sole is one of the best places to stay in Mahahual. The hotel features spacious Mediterranean-style rooms with large bathrooms–and many with private terraces with stunning sea views.
You'll be able to step out onto your own private balcony or relax on the hotel's rooftop terrace before continuing about your day at the hotel's private beachfront area or snorkeling in Mahahual right off the beach.
And because everything is within walking distance, you'll be steps away from restaurants, bars, and Mahahual beach clubs.
👉 Click here to check rates and availability at Hotel Quinto Sole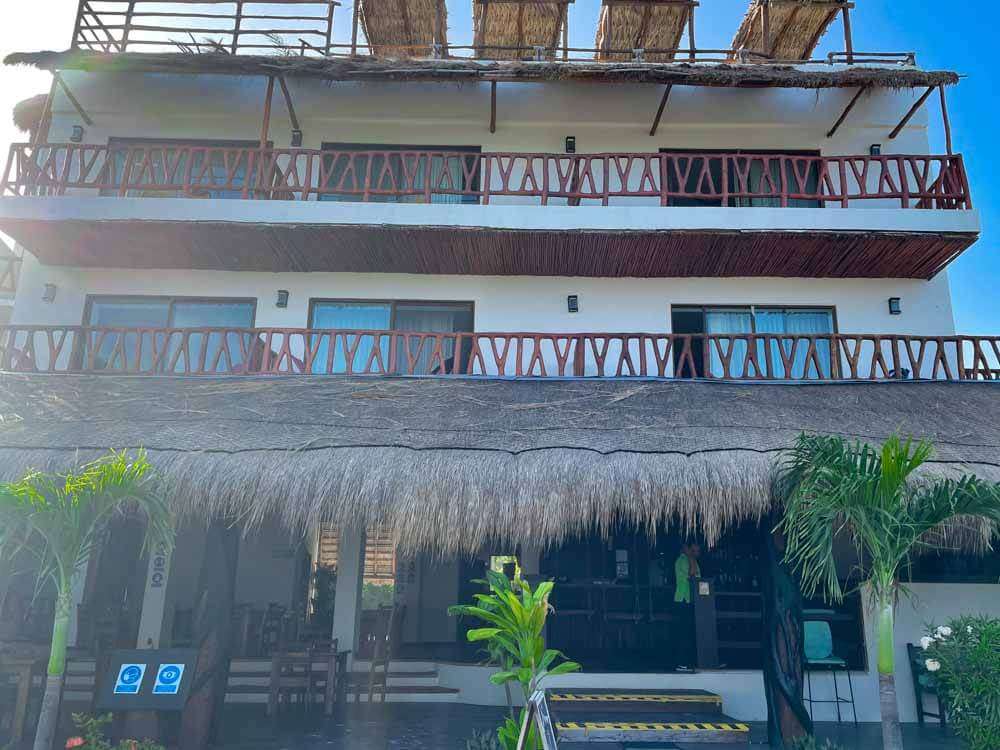 7. El Fuerte Beach Resort
The El Fuerte Beach Resort is a popular Mahahual hotel for those looking for a value vacation by the sea. The private beach area includes lounge chairs and shaded palapas, as well as massage services for an additional fee.
The accommodations at El Fuerte Beach Resort are older-style but affordable featuring air-conditioned apartments–some with sea views and kitchenettes.
If you don't want to prepare your own meals, guests can also dine at the on-site restaurant serving Mexican and Italian dishes with ocean views.
👉 Click here to check rates and availability at El Fuerte Beach Resort
8. Nacional Beach Club and Bungalows
If you want a more unique experience with a cool and colorful vibe, consider staying in a bungalow at the Nacional Beach Club and Bungalows in Mahahual.
This hotel offers simple and rustic thatched roof bungalows directly across from the Caribbean Sea. With tile floors and colorful decor, the Mexican-style bungalows have ceiling fans and outdoor hammocks, as well as en suite bathrooms.
You'll want to upgrade your accommodations for air-conditioning and sea views!
There's also a laid-back restaurant and bar on-site as well as a plunge pool, perfect for a unique and relaxing bungalow experience in Mahahual.
👉 Click here to check rates and availability at Nacional Beach Club and Bungalows
9. Blue Reef Hotel
The Blue Reef Hotel Mahahual is the perfect choice for budget travelers who want to enjoy a beachfront property. This budget-friendly property has a rooftop pool with stunning views of both ocean and sky, plus the rooms are bright and clean!
There's also an onsite dive shop which makes the Blue Reef Hotel perfect if you're into watersports like diving or snorkeling too – not just sunbathing all day long (although there is plenty of time for that too).
And don't forget about happy hour for daily drink specials after a day of exploring Mahahual!
👉 Click here to check rates and availability at Hotel Blue Reef Mahahual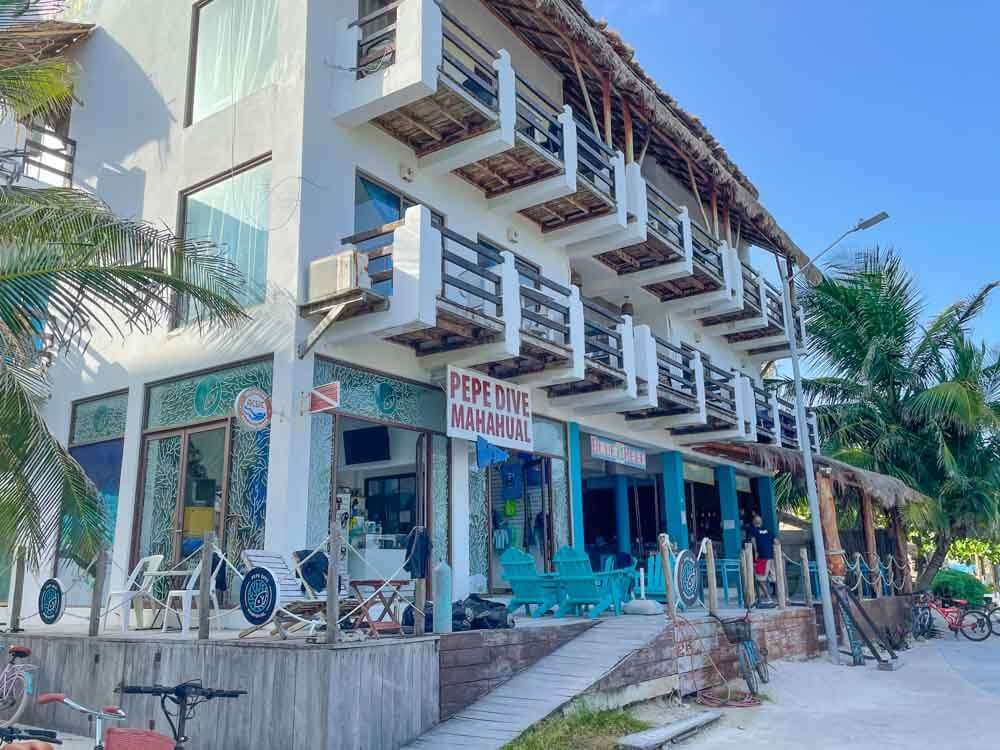 10. Matan Kaan by GuruHotel
If you're looking for a budget-friendly hotel in Mahahual, the Matan Kaan by GuruHotel is a great option. The hotel has 39 rooms, all of which are spacious, clean, and accommodating.
The hotel emanates the country's heritage with Mexican-style rooms, colorful blankets, and handmade terracotta tiles.
While it's not located directly on the beach, it is situated one block away and there is an outdoor pool for guests to enjoy.
👉 Click here to check rates and availability at Matan Ka an by GuruHotel
11. Hotel Manglar Suites by Punta Me
If you're looking for a chic and modern hotel in Mahahual, Mexico, look no further than Hotel Manglar Suites by Punta Me. This boutique hotel offers spacious rooms and suites, each with a warm and upscale style.
Many of the rooms have a private terrace with views of the surrounding area. The hotel also has an outdoor pool, perfect for cooling off after a long day of exploring.
While it's not beachfront, it's still a great option if you're looking for somewhere new and modern to stay. Plus, with a car, you can easily get to the beach in just a few minutes.
👉 Click here to check rates and availability at Hotel Manglar Suites
12. Palmeras de Mahahual Cabañas
If you're looking for a rustic beach retreat, then look no further than Palmeras de Mahahual Cabañas!
This Mahahual eco hotel is steps from the beach, and offers rustic wooden cabana accommodations with air conditioning and private terraces or patios.
Plus, some rooms have a direct view of the beach. And if you're looking for a truly untouched experience, the undeveloped beach right across the street is perfect for exploring.
Complimentary bike rentals are also available so you can explore Mahahual at your leisure.
👉 Click here to check rates and availability at Palmeras de Mahahual Cabanas
13. Hotel Luna de Plata
Hotel Luna de Plata is a small, family-run hotel located on a private stretch of beach in Mahahual, Mexico.
Just a few hundred yards from the Costa Maya cruise ships port, Hotel Luna De Plata offers simple accommodations and a restaurant serving Italian and seafood dishes.
The rooms at Hotel Luna De Plata feature tiled floors and a rustic décor with inviting colors. All rooms have a private bathroom with a bath or shower. Some rooms also have a furnished balcony offering a peaceful retreat with hammocks and sea views.
Guests can enjoy meals at the hotel's beachfront restaurant with spectacular sea views or dine directly on the beach. Hotel Luna de Plata is the perfect place to relax and enjoy the natural beauty of the Mexican Caribbean.
👉 Click here to check rates and availability at Hotel Luna de Plata
14. Blue Kay Eco Resort
Have you ever wanted to stay in a beach cabana? Then look no further than Blue Kay Eco Resort! This colorful and idyllic eco-friendly hotel offers guests a chance to relax and recharge amidst a natural and rustic environment.
The eco-cabanas at Blue Kay are built with sustainable materials like bamboo, and are set up to minimize impact on the surrounding ecosystem.
Plus, they're just across the street from a private beach – perfect for lazy days spent lounging on the sun beds or taking a dip in the Caribbean Sea. And when you get hungry, there's even a pizza restaurant on-site!
If you're working with a tight budget, don't worry – the mini-bungalows at Blue Kay are more affordable. However, they don't have air conditioning or private bathrooms. If you're looking for a little more luxury, upgrade to a suite and enjoy the comforts of home while on vacation.
👉 Click here to check rates and availability at Blue Kay Eco Resort
FAQs about Mahahual Mexico Hotels
Here are the answers to some of the most frequently asked questions about Mahahual hotels:
Is Mahahual worth visiting?
Mahahual is a small beach town in Mexico that is up and coming and becoming increasingly popular with tourists. The town has a lot to offer, including beautiful beaches, great food, and friendly locals. 

Mahahual is also a great place to relax and enjoy the slower pace of life. If you're looking for an affordable and enjoyable vacation destination with a small town tropical vibe, Mahahual is definitely worth a visit!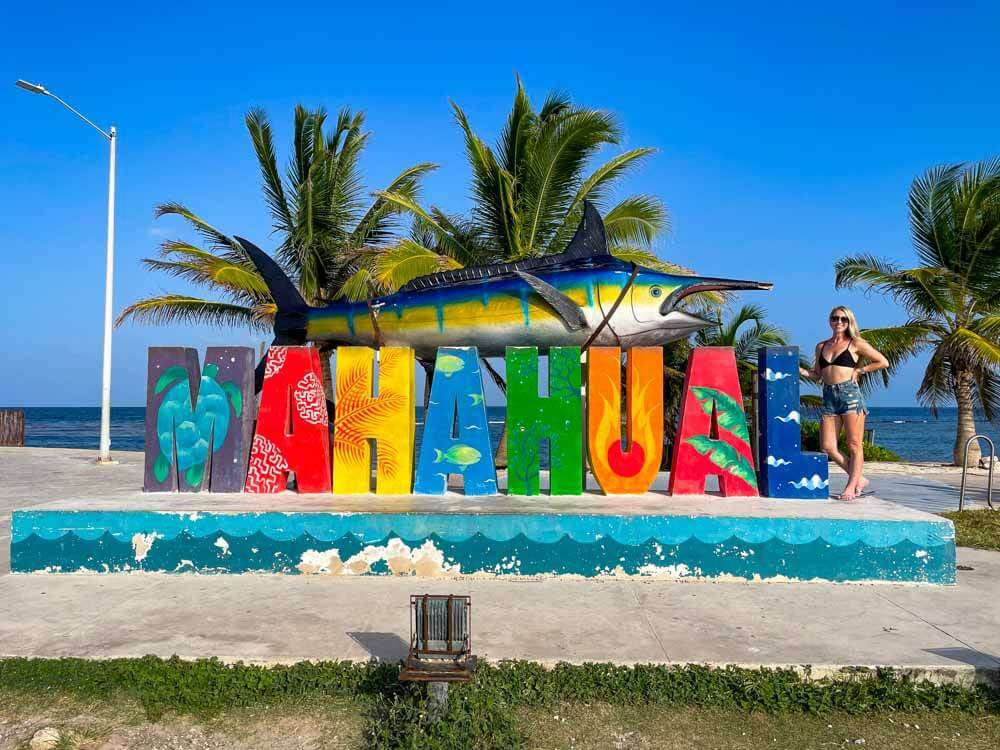 Where is Mahahual beach?
Mahahual beach is a beautiful stretch of coastline located in the Costa Maya region in the Mexican state of Quintana Roo, about 3.5 hours south of Playa del Carmen. 

The beach town of Mahahual is also well known for its turquoise waters and impressive coral reef, which make it a popular spot for snorkeling and diving. 
How much does it cost to stay at a hotel in Mahahual?
Whether you're looking for a simple beach bungalow or an upscale boutique hotel, there are accommodations options for every budget in Mahahual.

Prices can vary greatly depending on the time of year and the type of accommodation you're looking for but you can expect to pay anywhere from $40 USD-$200 USD on average per night.
When is the best time to visit Mahahual?
The best time to visit Mahahual is during the dry season, which runs from November to April.

During this time, the Mahahual weather is warm and sunny but less humid, making it ideal for spending time on the beach or exploring the town.

However, with warm tropical temperatures all year round, there really isn't a bad time to visit Mahahual. You may just face occasional rain showers if you visit during the summer months.
Are Mahahual resorts all inclusive?
Pretty much all of the hotels in Mahahual are not all inclusive.  Some hotels will offer free breakfast but any other meals and drinks can be purchased at a la carte prices. 
Tips for Booking Hotels in Mahahual
Follow these tips when booking your hotel in Mahahual:
Book in advance: Most hotels in Mahahual are small, boutique hotels with a limited number of rooms. I would recommend booking in advance to secure your reservation and desired room type. Many online booking tools like Booking.com offer flexible cancellation policies where you can always cancel for a full refund.
Check for air conditioning: One important thing to check for when searching for hotels is air conditioning! There are some hotels in Mahahual that do not offer air conditioning and the heat and humidity in Mexico can be very intense. For me, AC is a must during the summer months!
Check for wifi: Overall, the wifi and cellular service in Mahahual is not great. If you really need a strong wifi connection, then be sure to check reviews for any mentions of wifi. Most hotels offer free wi-fi but the signal may not be the strongest or it might only be available in the public areas.
Check for beach amenities: Another important thing you'll want to check for is beach amenities. I would recommend choosing a hotel with complimentary lounge beds on the beach–because that's pretty much all you're going to be doing in Mahahual! If the hotel doesn't have a private beach, you can still go to one of the many Mahahual beach clubs but you'll likely need to pay a minimum consumption charge.
Final Thoughts: Best Hotels in Mahahual
After spending some time in Mahahual, it's easy to see why it is becoming such a popular beach destination in Mexico. Right now it still feels up and coming with a laid back and unpretentious tropical vibe.
The hotels in Mahahual are top-notch, offering incredible views, outstanding service, and all the amenities you could want for a relaxing beach escape. Plus, the prices are way more affordable than in Playa del Carmen, Tulum, or the Riviera Maya!
So whether you're looking for a luxurious escape or a budget-friendly option, there's a hotel in Mahahual that's perfect for you.
So, what are you waiting for? Book your trip to Mahahual today and experience all this beautiful beach destination has to offer!
Traveling to Mexico soon?
These are the Mexico travel resources I use and recommend:
🏨 Hotels: I always find the best deals for Mexico hotels and resorts on Booking.com. If you prefer a vacation rental, check VRBO as they are often cheaper than AirBnB's added fees!
✈️ Flights: I recommend using Skyscanner for the best Mexico flight deals. Be sure to sign up for their price alerts for your preferred travel dates.
🚗 Rental Cars: I like to use Discover Cars because you can compare multiple car rental companies and see detailed ratings for overall value, ease of pick-up, efficiency of agents, car condition, and overall time spent.
🚙 Cancun Airport Transportation: I recommend booking a private transfer with Cancun Airport Transportation for the quickest and most hassle-free option!
🤿 Tours & Activities: I always use Viator or GetYourGuide for booking tours and activities in Mexico. You can cancel up to 24 hours before the tour for a full refund, plus they have excellent customer service if you were to have any issues.
🚨 Travel Insurance: After my Dad broke his hand in a taxi accident in Playa del Carmen, I always recommend buying travel insurance before your trip for added peace of mind! I recommend Travel Insurance Master for short trips or Safety Wing for digital nomads.
☀️ Biodegradable Sunscreen: Don't forget to add biodegradable sunscreen to your Mexico packing list! Regular sunscreen is prohibited when swimming in the ocean and cenotes in Mexico, so you'll need to pack some biodegradable sunscreen for sun protection. I recommend Sun Bum Sunscreen, which is reef-friendly, vegan, and cruelty-free.