The Ultimate Mahahual Mexico Travel Guide for 2023
Disclosure: This page may contain affiliate links, meaning at no additional cost to you, I will earn a commission if you click through and make a purchase. As an Amazon Associate I earn from qualifying purchases.



Do you want to visit Mahahual Mexico? You've come to the right guide!
As a travel blogger that lives in Playa del Carmen, I recently visited the beach town of Mahahual to escape the hustle and bustle of the Riviera Maya for a relaxing retreat.
With sandy beaches, shallow waters, and a colorful beachfront boardwalk, this less well-known beach town is the perfect place to unwind.
In this post, I'm sharing everything you need to know about Mahahual including how to get there, where to stay, top things to do, best restaurants, and tips for visiting.
Read on for my ultimate Mahahual Mexico travel guide.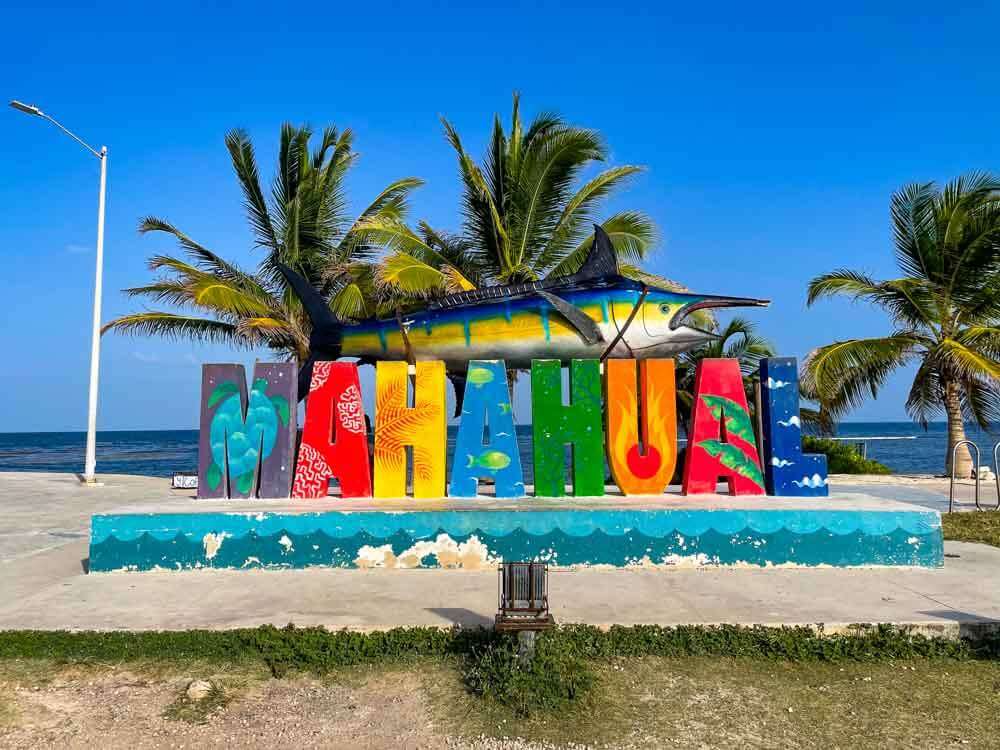 Where is Mahahual Mexico?
Mahahual is a small beach town located on the Caribbean coast of Mexico, about 3.5 hours south of Playa del Carmen in the state of Quintana Roo.
This tiny coastal town is situated on the Costa Maya, which is a small tourist region and popular cruise ship destination.
Mahahual Mexico Map
How do you pronounce Mahahual?
Mahahual is pronounced "Ma-ha-wal".
Why visit Mahahual?
Mahahual is a great place to visit if you're looking for a low-key and relaxing getaway while visiting Mexico's Yucatan peninsula.
Originally a small fishing village, the town is home to tranquil Mexican Caribbean beaches and impressive coral reefs for snorkeling or scuba diving.
Mahahual is much smaller and quieter than nearby tourist towns like Playa del Carmen, Tulum, and Cancun, making it the ideal place to escape the hustle and bustle of Riviera Maya. Plus, prices in Mahahual are much more reasonable!
The town itself is small and charming, with many colorful restaurants, bars, and beach clubs along the beautiful beachfront malecón (boardwalk) and pedestrian walkway.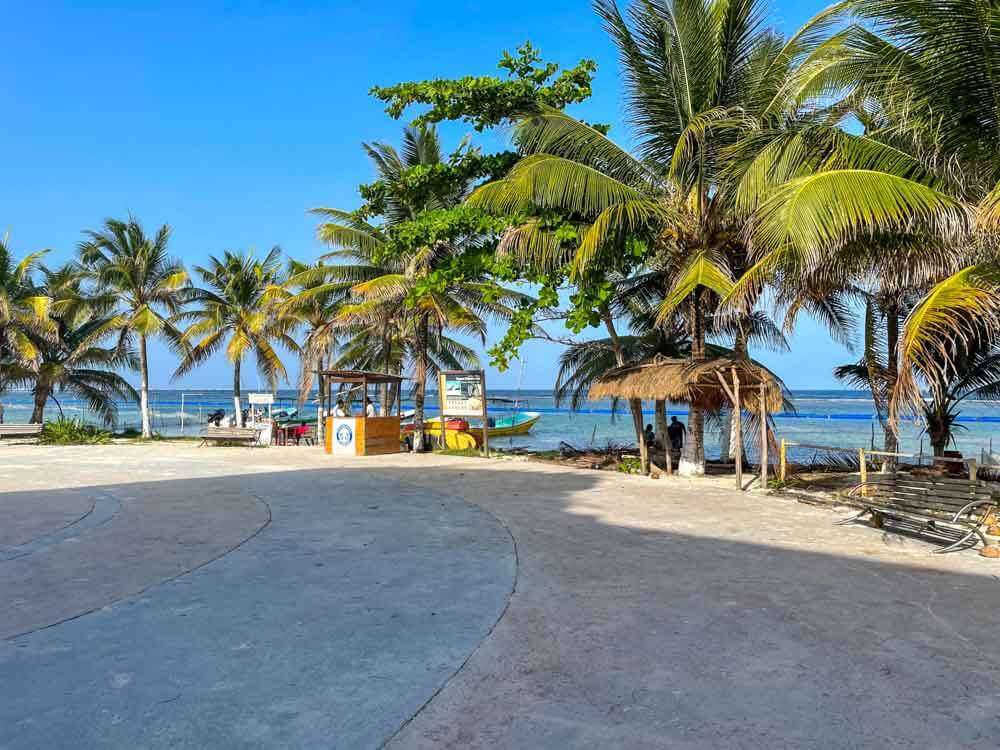 What is Mahahual known for?
Mahahual Mexico is best known as a cruise ship destination with Caribbean beaches, crystal clear waters, and a laid-back atmosphere.
With impressive coral reefs right off the shore, Mahahual also attracts scuba diving and snorkeling enthusiasts from all over the world.
What is Mahahual like?
Before visiting Mahahual, it's important to know what the town is like. This small coastal strip is very different from other popular destinations like Tulum, Playa del Carmen, and Cancun mainly because it is so much smaller.
There's no big nightlife scene in Mahahual – instead, you'll find a strip of shops and restaurants along the malecón (boardwalk) and many relaxing Mahahual beach clubs to spend your days at.
At the start of the boardwalk, you'll also find the signature Mahahual lighthouse (Faro de Mahahual) and the colorful Mahahual letters.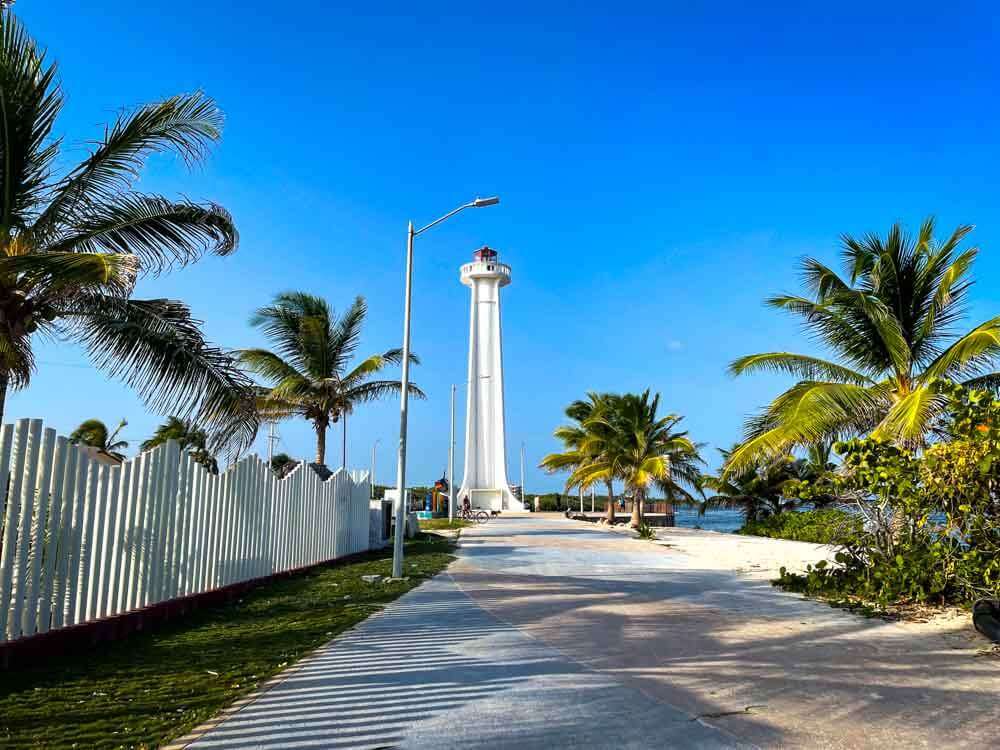 The town primarily caters to cruise ship visitors with many commercialized attractions, souvenir stalls, and colorful photo ops.
Operating hours of Mahahual restaurants, shops, and beach clubs align closely with the cruise ship visitors so the town can get pretty quiet and sleepy once the cruise ships depart.
But while Mahahual has become more commercialized from the cruise ship industry in recent years, it's still a very peaceful and relaxing beach destination.
It's best suited for those looking for a laid-back and quiet place to relax on the beach with few things to see and do.
How long should you stay in Mahahual?
I would recommend staying in Mahahual for 2-3 nights. Stay longer if you really want to chill but there are limited restaurants and things to do in Mahahual, so you might find yourself getting bored if you stay for more than a few nights.
I personally combined my road trip to Mahahual with a visit to nearby Bacalar, which offers more in terms of activities and attractions.
Mahahual Mexico Weather
The weather in Mahahual is tropical and humid all year round with an average temperature of 86°F (30°C).
The rainy season is from May to October, while the dry season runs from November to April. Rain and isolated storms are more common during hurricane season, which is from June to November.
Best Time to Visit Mahahual Mexico
The best time to visit Mahahual is during the dry season, which runs from November to April.
During this time, the Mahahual weather is warm and sunny but less humid, making it ideal for spending time on the beach or exploring the town.
However, with warm tropical temperatures all year round, there really isn't a bad time to visit Mahahual. You may just face occasional rain showers if you visit during the summer months.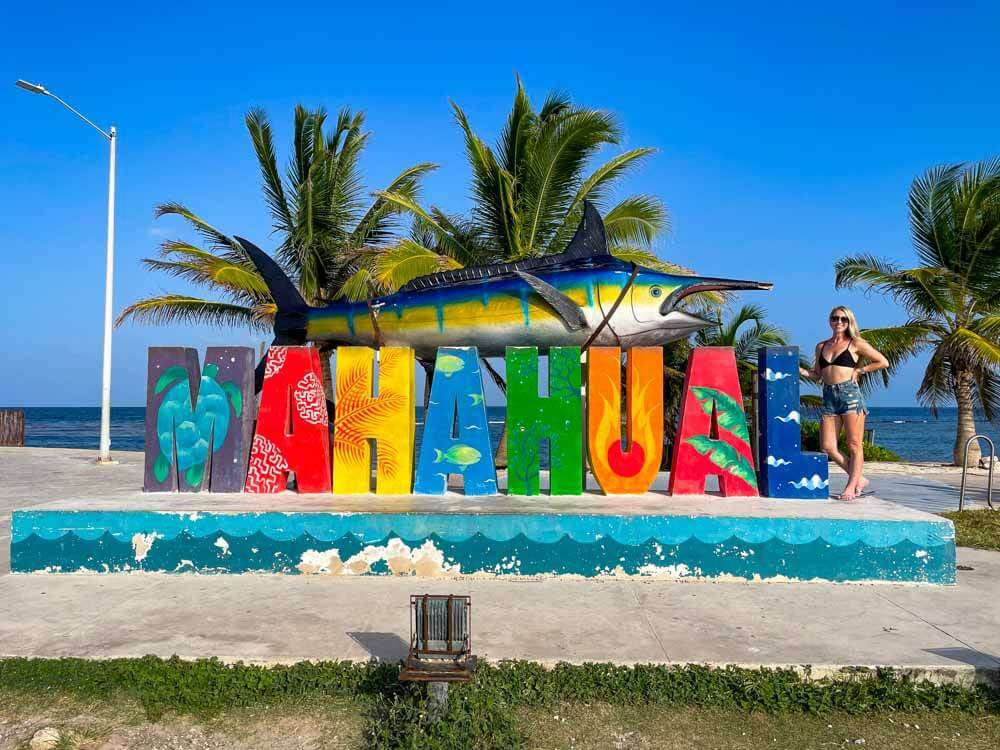 How to Get to Mahahual
Mahahual has somewhat of a remote location and there are a few different ways to get to there depending on your budget and car situation:
Drive to Mahahual
The easiest way to get to Mahahual is by driving or renting a car. Driving times from nearby destinations are as follows:
Cancun to Mahahual: 4 hours 15 minutes
Playa del Carmen to Mahahual: 3 hours 30 minutes
Tulum to Mahahual: 2 hours 30 minutes
Bacalar to to Mahahual: 1 hour 15 minutes
Chetumal to Mahahual: 1 hour 50 minutes
👉 For a hassle-free experience, book your car through my favorite rental service Discover Cars by clicking here!
I drove to Mahahual from Playa del Carmen and the GPS was very straightforward and easy to follow along well-maintained highways and paved roads.
It's important to fill up with a full tank of gas before leaving as there are few gas stations along the route. You'll also want to have some cash on hand for toll roads.
Travelista Tip: Make sure to start your GPS navigation before leaving as you will have several periods along the way without cell service.
Take the ADO Bus to Mahahual
There used to be a direct ADO bus from Playa del Carmen to Mahahual however at the time of publishing it looks like it is no longer running.
However, there seems to be a regional bus service called Autobuses Caribe that is associated with the ADO bus company but tickets can't be booked online.
More information can be found on their Facebook page here. I haven't personally used this service so I'm not sure what the buses are like or how reliable the service is.
Cruise to Mahahual
Another popular way to get to Mahahual is by cruise! Many popular cruise lines offer stops in Mexico's Costa Maya, where you can visit Mahahual for the day or signup for a shore excursion.
These are the current Mahahual cruise lines that stop in Costa Maya:
Azamara Cruises
Carnival Cruise Line
Celebrity Cruises
Disney Cruise Line
Holland America Line
Marella Cruises
MSC Cruises
Norwegian Cruise Line
Oceania Cruises
Princess Cruises
Regent Seven Seas
Royal Caribbean Cruise Line
TUI Cruises
Virgen Voyages
Windstar
Fly to Chetumal
The closest airport to Mahahual is Chetumal International Airport, which is about 2 hours driving distance.
Some Mahahual hotels offer airport transportation to get to Mahahual from Chetumal, which can be arranged for an additional cost.
Mahahual Map
Here's a map of the downtown area of Mahahual. The town consists of not much more than a 2 km coastal strip.
How to Get Around Mahahual
Once you get to Mahahual, the town is very small and walkable. If you arrive by rental car, free street parking is available at many of the Mahahual hotels.
For cruise ship visitors, taxis can easily be hailed from the Costa Maya cruise port, which is less than 10 minutes from the main town.
For a little more adventure, you can also rent bikes to ride along the malecón beach road or cruise around town.
Where to Stay in Mahahual
These are the best places to stay in Mahahual. Check out my full Mahahual hotel guide for more recommendations!
Travelista Tip: Choose a hotel on the southern part of the malecón for the best beachfront area away from the seaweed.
Noah Beach Hotel
I personally stayed at Noah Beach Hotel and would highly recommend it! As one of the newest hotels in Mahahual, it offers modern accommodations and the best beachfront area in Mahahual.
With complimentary beach beds, large hammocks, and cushioned loungers facing clear blue Caribbean waters and shady palm trees, the beachfront area is dreamy! 😍
The accommodations at Noah Beach Hotel are modern and comfortable offering spacious suites and 1 or 2 bedroom apartments.
Travelista Tip: Upgrade to one of the beachfront rooms for a spacious balcony overlooking the entire Mahahual oceanfront and boardwalk.
Noah Beach Hotel is also home to the Malecón 21 restaurant and beach club offering breakfast, lunch, dinner, and cocktails which can be enjoyed in the breezy open-air restaurant or directly on the beach. The food there was some of the best I had in Mahahual!
You can read my full Hotel Noah Mahahual review in this post!
👉 Click here to check rates and availability at Noah Beach Hotel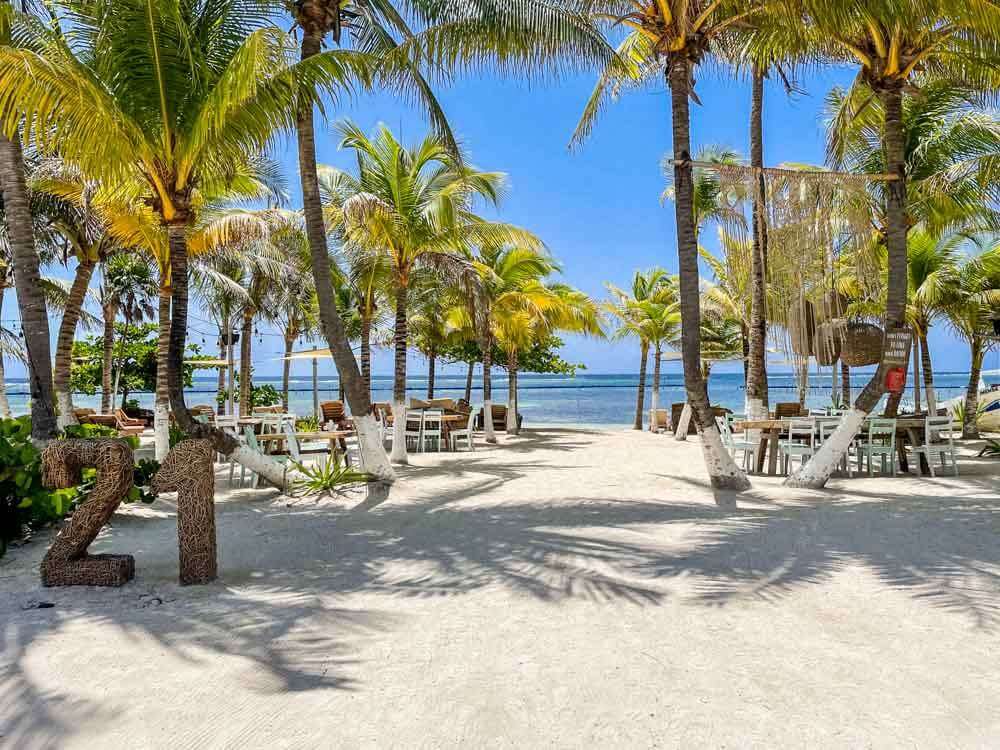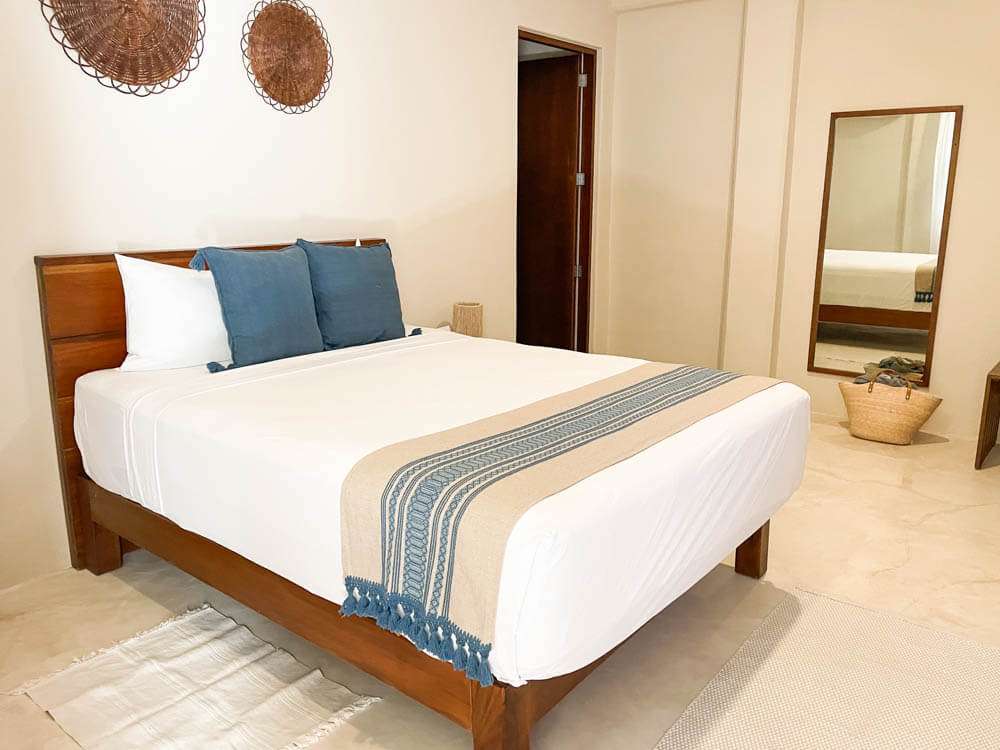 Aquastar Boutique Hotel
The Aquastar Boutique Hotel is a newer beachfront hotel in Mahahual, offering travelers a more modern experience. The hotel features an on-site restaurant and bar and an outdoor swimming pool, as well as a garden and sun terrace.
All rooms at the Hotel Aquastar Mahahual are equipped with flat-screen TVs and air conditioning, and certain rooms also have balconies with ocean views.
Whether you're looking to relax by the pool or lay on the beach, the Aquastar Boutique Hotel is a good option for reasonably priced modern accommodations.
👉 Click here to check rates and availability at Aquastar Boutique Hotel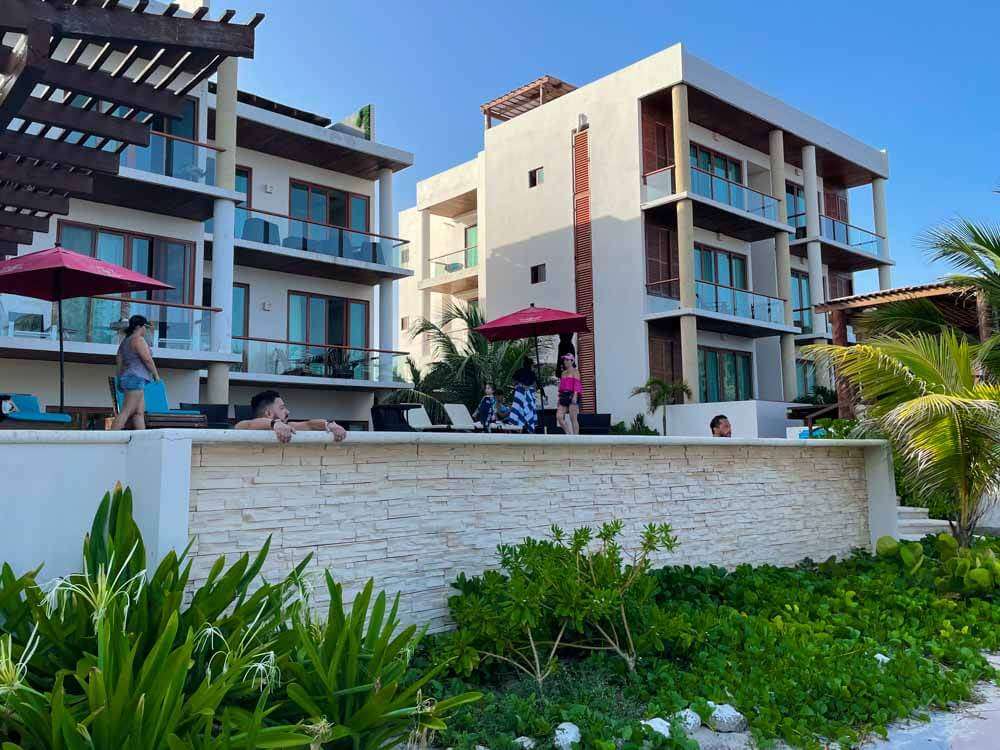 Hotel Quinto Sole
Hotel Quinto Sole Mahahual is a beachfront property with an excellent location along the malecón. This Mahahual hotel features spacious Mediterranean-style rooms with private terraces, stunning sea views, and large bathrooms.
Plus, the hotel's exclusive beach makes it easy to just step out from your private room and spend the day relaxing at the beach.
And its central location puts you right in the heart of town and within easy walking distance to nearby restaurants.
👉 Click here to check rates and availability at Hotel Quinto Sole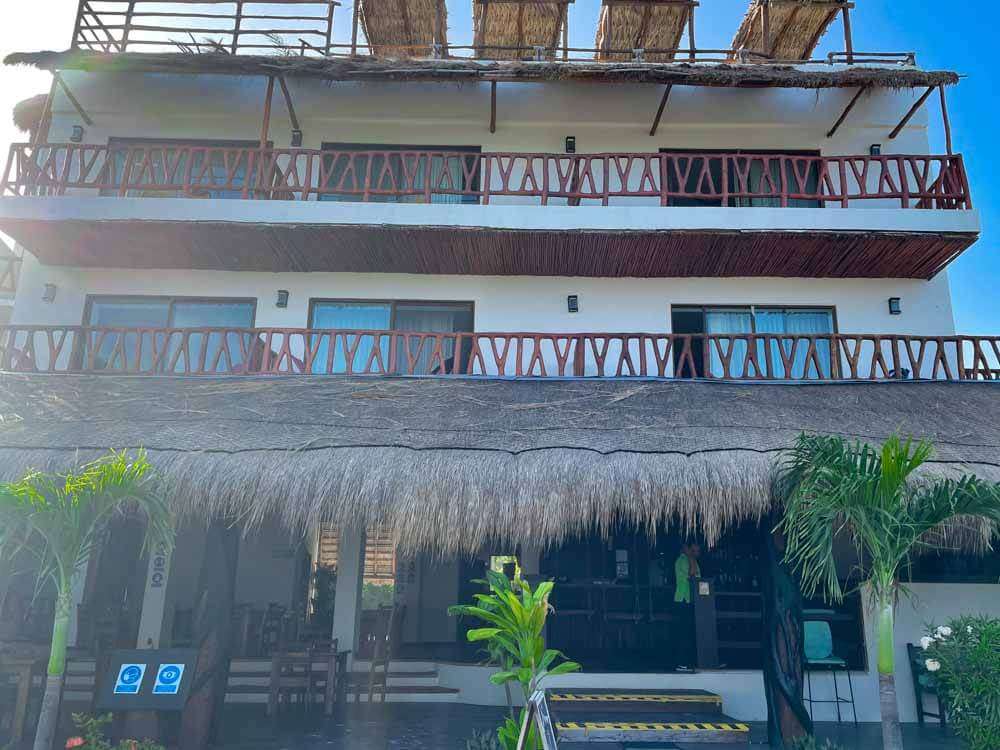 Blue Reef Hotel
The Blue Reef Hotel Mahahual is a good option for budget travelers who want to enjoy a beachfront property.
The hotel has a nice rooftop pool with stunning views of the ocean, and the rooms are bright and clean.
The on-site dive shop also makes it a great option for divers. Plus, the happy hour shouldn't be missed at the on-site restaurant and bar!
👉 Click here to check rates and availability at Blue Reef Hotel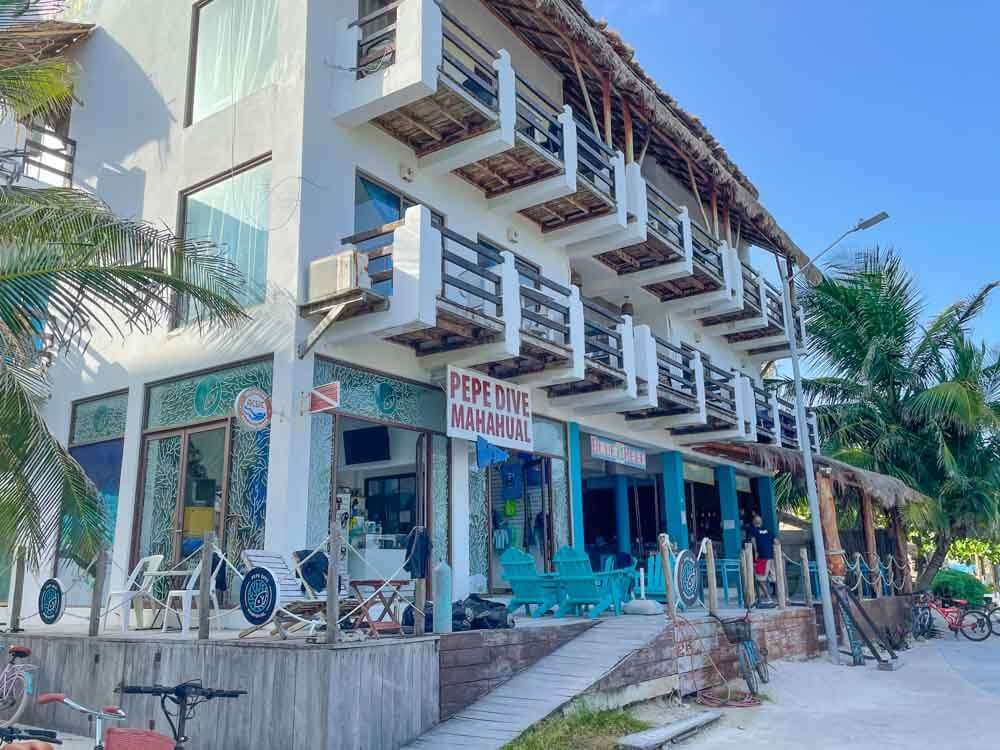 Best Things to Do in Mahahual
These are the best things to do in Mahahual Mexico:
1. Relax at the beach
As a beautiful beach destination, one of the best things to do in Mahahual is to simply relax at the beach!
Most of the beachfront hotels offer complimentary lounge beds where you can spend the day lounging in the sun or under shady palm trees.
And even if you're not staying at a beachfront hotel, there are plenty of Mahahual beach clubs to choose from, where you can order food and drinks, and use their lounge beds, swings, or hammocks.
Mahahual beaches are calm and beautiful and the atmosphere is quiet, peaceful, and relaxing. You'll definitely want to spend some time at the beach during your trip to Mahahual!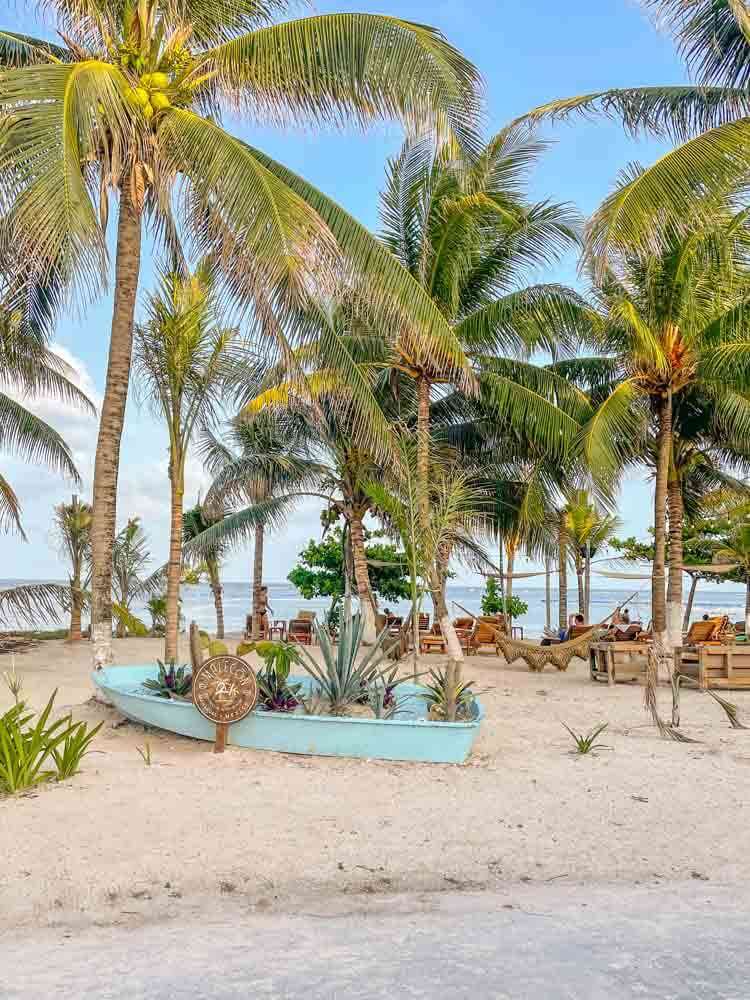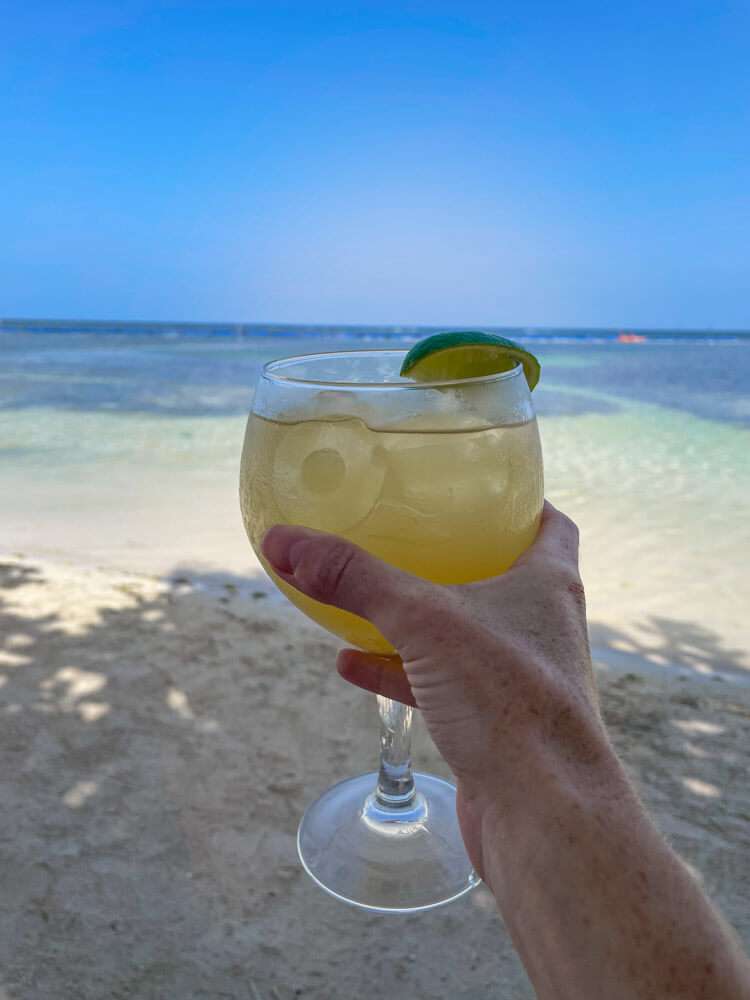 2. Go scuba diving
Mahahual is a popular destination for diving enthusiasts and offers some of the best scuba diving in Mexico.
With the Meso-American Barrier Reef (the second largest barrier reef in the world) located just off the shore, there is plenty to see when you go diving in Mahahual.
The Mahahual diving features clear waters and a beautiful reef, where you can see marine life such as colorful coral, parrotfish, barracudas, stingrays, and sea turtles.
Or you can book a dive trip to Banco Chinchorro, which is a biosphere reserve and natural atoll reef near Belize.
There are many dive shops in town that can take you out on a dive. Some of the most popular dive shops in Mahahual are Mar Adentro at the Blue Kay Eco Cabanas or Pepe Dive Mahahual at the Blue Reef Hotel.
👉 Book a Mahahual scuba dive by clicking here!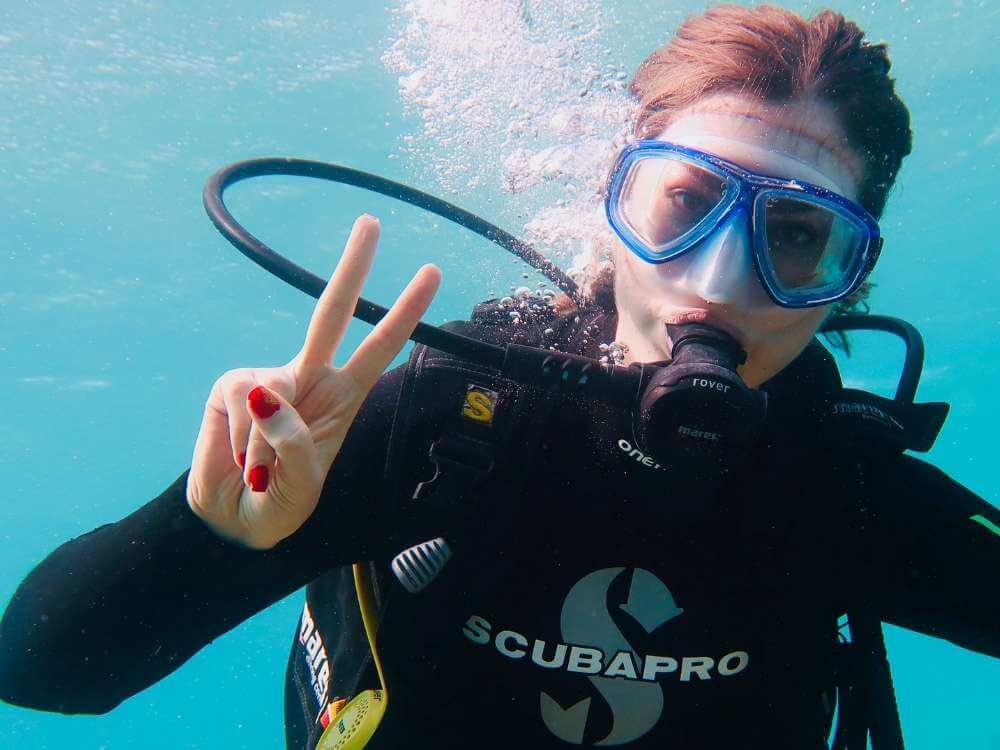 3. Go snorkeling
If you're not scuba certified, another one of the most popular activities in Mahahual is to go on a snorkeling tour.
The water is crystal clear and there are many different types of marine life to see like colorful corals, tropical fish, and maybe even some sea turtles.
Doctor Dive Mahahual is one of the best tour operators for snorkeling in Mahahual. They offer small group snorkeling tours, where you can take a boat out and snorkel at a depth of 6-12 feet for a more intimate snorkeling excursion away from the crowds.
👉 Book a Mahahual snorkeling tour with Doctor Dive by clicking here!
4. Go souvenir shopping
If you're looking for souvenirs to bring home from your trip to Mahahual, you'll find plenty of souvenir shops and stalls along the malecón.
Souvenir vendors sell all sorts of Mexican-themed items, from traditional handicrafts to more modern t-shirts and trinkets.
Prices can vary depending on the item and the shop, so it's always a good idea to browse around and compare before making a purchase.
Bargaining is also common while shopping in Mahahual Mexico, so don't be afraid to try your hand at haggling for a better price.
5. Visit the Mahahual lighthouse
If you're looking for a great photo opportunity while in Mahahual, be sure to check out the lighthouse!
Located at the start of the malecón, this signature landmark is perfect for snapping a few shots in front of the colorful Mahahual letters.
Unfortunately, you won't be able to go inside the lighthouse, but it's definitely still worth a visit!
6. Go mini golfing at Poco Loco's
If you're looking for a fun and unique activity to do while in Mahahual, Mexico, be sure to go mini golfing at Poco Loco's!
This small mini golf course is perfect for both kids and adults, and offers a fun alternative to laying at the beach.
With colorful signs and one-of-a-kind obstacles, Poco Loco's is a fun, inexpensive, and unique place for the whole family. You'll definitely have a great time trying to putt your way around this fun mini golf course in Mahahual.
7. Ride bikes along the malecón
The Mahahual malecón is perfect for a leisurely bike ride if you're looking for a more active thing to do in Mahahual.
At about 2 km long, the beachfront boardwalk is wide enough for pedestrians and cyclists to share, and there are plenty of places to stop and enjoy the beautiful view.
Bike rentals can be arranged through your hotel or at rental shops on the malecón. The ride is flat, making it an easy and enjoyable way to see the town and get some exercise at the same time!
8. Get a massage on the beach
If you're looking to relax and rejuvenate while on vacation in Mahahual, a massage is the perfect activity.
There are several masseuses who work on the beach, offering their services for reasonable prices – usually around $30-$40 USD per hour.
No matter which type of massage you prefer, you'll be able to easily find massage services in beachfront cabanas where you can listen to the ocean and enjoy some pampering.
9. Visit the nearby Mayan Ruins
If you're interested in exploring some of the region's Mayan history, a visit to the nearby Chacchoben Mayan Ruins is a great option.
The ruins are located about an hour away from Mahahual, and you can either go on your own or book a guided tour with transportation included.
Either way, you're sure to be impressed by the size and scope of the site–and since it's not as well-known as some of the other Mayan ruins, you'll likely have it all to yourself!
I visited the Chacchoben Ruins after leaving Mahahual on the way to Bacalar and was really impressed by this well-known archaelogical site with large scale pyramids, ancient structures, and wild monkeys swinging from the trees.
👉 Book a Chacchoben Mayan Ruins tour by clicking here!
10. Go kayaking
If you're looking for a fun and relaxing way to enjoy the beautiful and calm waters of Mahahual, kayaking is a great option.
You can rent kayaks from many of the Mahahual Mexico hotels and simply paddle out from the beach. The water is typically calm and clear, making for an enjoyable experience.
Best Restaurants in Mahahual
These are the best restaurants in Mahahual:
Malecón 21
Located at the Noah Beach Hotel, Malecón 21 is one of the best restaurants in Mahahual offering a mix of Mexican and American cuisine for breakfast, lunch, and dinner.
I dined here more than once while visiting Mahahual–the food and drinks were really delicious! Breakfast dishes include omelettes, chilaquiles, huevos motuleños, pancakes, eggs benedict, and fresh fruit dishes.
For lunch or dinner, try the ahi tuna poke bowl, hamburger, or Caribe tacos. And top it off with a fresh fruit smoothie or tropical gin cocktail from the beach bar!
Note: If you want to relax on the beach beds, there is a minimum consumption charge if you are not a hotel guest.
Yaya Beach
Yaya Beach Mahahual is a colorful beachfront restaurant perfect for drinks and spending the day at their beach club.
All inclusive packages are available or you can simply order a la carte from the food and drink menu, which is a little more upscale than your standard beach club fare.
Food items at Yaya Beach include cochinita pibil tacos, premium hamburgers, and avocado fries, as well as seafood dishes like octopus, ceviche, and grilled fish.
Plus, you'll get to enjoy the fun swings, beach beds, and overwater hammocks at the beach club.
Pitaya Bar
Pitaya is a cute beachfront restaurant and bar with colorful seating. We originally went here at night for drinks and decided to order a burger–it was surprisingly delicious!
Plus, they normally have nightly live music and special promotions throughout the week.
La Pancha
If you're looking for a hidden gem in Mahahual, look no further than La Pancha. This small, local restaurant is tucked away off the malecón, but it's well worth seeking out.
The tacos and quesadillas here are some of the best in town, and the consome is not to be missed. Despite being relatively unknown, La Pancha has earned rave reviews from locals and visitors alike!
Mahahual Nightlife
Mahahual is pretty quiet at night, with only a few bars offering live music. The Pitaya bar is a good option for drinks and burgers with live music, drink specials, and salsa nights.
You'll also find many street vendors along the malecón at night selling marquesitas, churros, and crepes that are worth checking out for a taste of local flavor.
Tips for Visiting Mahahual
Follow these tips to make the most of your time in Mahahual:
Be prepared for limited connectivity: The cell service in Mahahual is not the best and while there is wifi at many of the hotels, it can be spotty and unreliable. Be prepared for limited connectivity especially if you are away from public spaces.
Be prepared for the town to get quiet when the cruise ships depart: Tourism in Mahahual is centered around the arrival of the cruise ships so when they depart in the evening, many of the shops and restaurants will close and it can feel a bit like a ghost town.
Stay on the south side of the malecón: I would recommend staying at a hotel on the south side of the malecón. The beach area on the northern side is completely covered with seaweed and has a very strong smell. While seaweed is seasonal, the hotels on the southern end all had clear beachfront areas.
Be prepared for seaweed: As I mentioned, the seaweed is much worse on the northern side of the malecon all the way to the lighthouse. Seaweed (sargazo) is seasonal but it was much more intense in this area with an extremely strong smell.
Bring cash: Most hotels and restaurants in Mahahual do accept credit cards however the credit machines are not always working since the cell service and wifi isn't the best. It's a good idea to bring cash (pesos or USD) to pay for any extra expenses.
Bring biodegradable sunscreen: Whenever you're visiting a beach destination, it's important to wear biodegradable reef-safe sunscreen to protect and preserve the coral reefs. You can pick up my favorite brand on Amazon here.
FAQs about Mahahual
Here are the answers to some of the most frequently asked questions about Mahahual:
Is Mahahual worth visiting?
Mahahual is definitely worth visiting for its beautiful beaches, clear turquoise waters, and relaxed Caribbean vibe. It's best for those looking for an inexpensive and low key beach getaway.
Is Mahahual beach free?
All beaches in Mexico are technically open to the public, however beach access can sometimes be restricted by private beach clubs and restaurants.

In Mahahual, most of the beachfront space is occupied by restaurants and hotels, so you'll need to be a hotel guest or dine at the restaurant or beach club to access the best Mahahual beaches.
Can you fly to Mahahual?
You cannot fly directly to Mahahual but you can fly to Chetumal International Airport, which is located less than 2 hours from Mahahual.
How big is Mahahual?
The town of Mahahual mainly consists of a beachfront malecón (boardwalk) that only stretches for about 2 km (1.2 mi) along the town's section of coast. Mahahual has a population of about 2,600 people.
Is it safe to travel to Mahahual Mexico?
Overall, Mahahual is a safe place to visit. The small town is very quiet and the streets are well-lit at night, making it feel safe to walk around even if you are a solo traveler.

However, visitors should still use caution and keep an eye on their belongings at all times in case of pickpocketing. As long as you use common sense and take precautions, you should have no problems enjoying your vacation in Mahahual.
🚨 Do you need travel insurance for Mexico? Yes! Most insurance plans in your home country will not cover incidents abroad. I recommend using Travel Insurance Master, which is a handy travel insurance marketplace where you can compare policies. Get a FREE quote by clicking here!
Final Thoughts: Mahahual Mexico
So, are you ready to visit Mahahual?! I hope this Mahahual travel guide was helpful if you're planning a trip to this beautiful and less well-known beach destination in Mexico.
I really enjoyed my time in Mahahual and would recommend it if you're looking for a relaxing and low key beach getaway.
There's not a ton of things to do and while it is touristy, the beaches are really beautiful, calm, and relaxing.
Stepping out from your boutique hotel onto a quiet beach is a real treat and something you simply won't find in other nearby tourist destinations.
And after visiting Mahahual, I would recommend heading down to Bacalar, which is a little over an hour drive and offers a stunning seven color lagoon with many more restaurants and attractions.
Traveling to Mexico soon?
These are the Mexico travel resources I use and recommend:
🏨 Hotels: I always find the best deals for Mexico hotels and resorts on Expedia or Booking.com. If you prefer a vacation rental, check VRBO as they are often cheaper than AirBnB's added fees!
✈️ Flights: I recommend using Skyscanner for the best Mexico flight deals. Be sure to sign up for their price alerts for your preferred travel dates.
🚗 Rental Cars: I like to use Discover Cars because you can compare multiple car rental companies and see detailed ratings for overall value, ease of pick-up, efficiency of agents, car condition, and overall time spent.
🚙 Cancun Airport Transportation: I recommend booking a private transfer with Cancun Airport Transportation for the quickest and most hassle-free option!
🤿 Tours & Activities: I always use Viator or GetYourGuide for booking tours and activities in Mexico. You can cancel up to 24 hours before the tour for a full refund, plus they have excellent customer service if you were to have any issues.
🚨 Travel Insurance: After my Dad broke his hand in a taxi accident in Playa del Carmen, I always recommend buying travel insurance before your trip for added peace of mind! I recommend Travel Insurance Master for short trips or Safety Wing for digital nomads.
☀️ Biodegradable Sunscreen: Don't forget to add biodegradable sunscreen to your Mexico packing list! Regular sunscreen is prohibited when swimming in the ocean and cenotes in Mexico, so you'll need to pack some biodegradable sunscreen for sun protection. I recommend Sun Bum Sunscreen, which is reef-friendly, vegan, and cruelty-free.