Honest Hotel Unico Riviera Maya Review: Pros & Cons 2023
Hotel Unico Riviera Maya Mexico: Review Overview
First, let me start by saying that this Hotel Unico 2087 Riviera Maya review was NOT sponsored and all opinions are my own.
But to be perfectly honest, I was absolutely blown away by how stunning Hotel Unico 20°87° Riviera Maya is and had an absolutely incredible time!
As I mentioned, I had been wanting to stay at Hotel Unico for a while simply because the resort is new, modern, and trendy–exactly my style!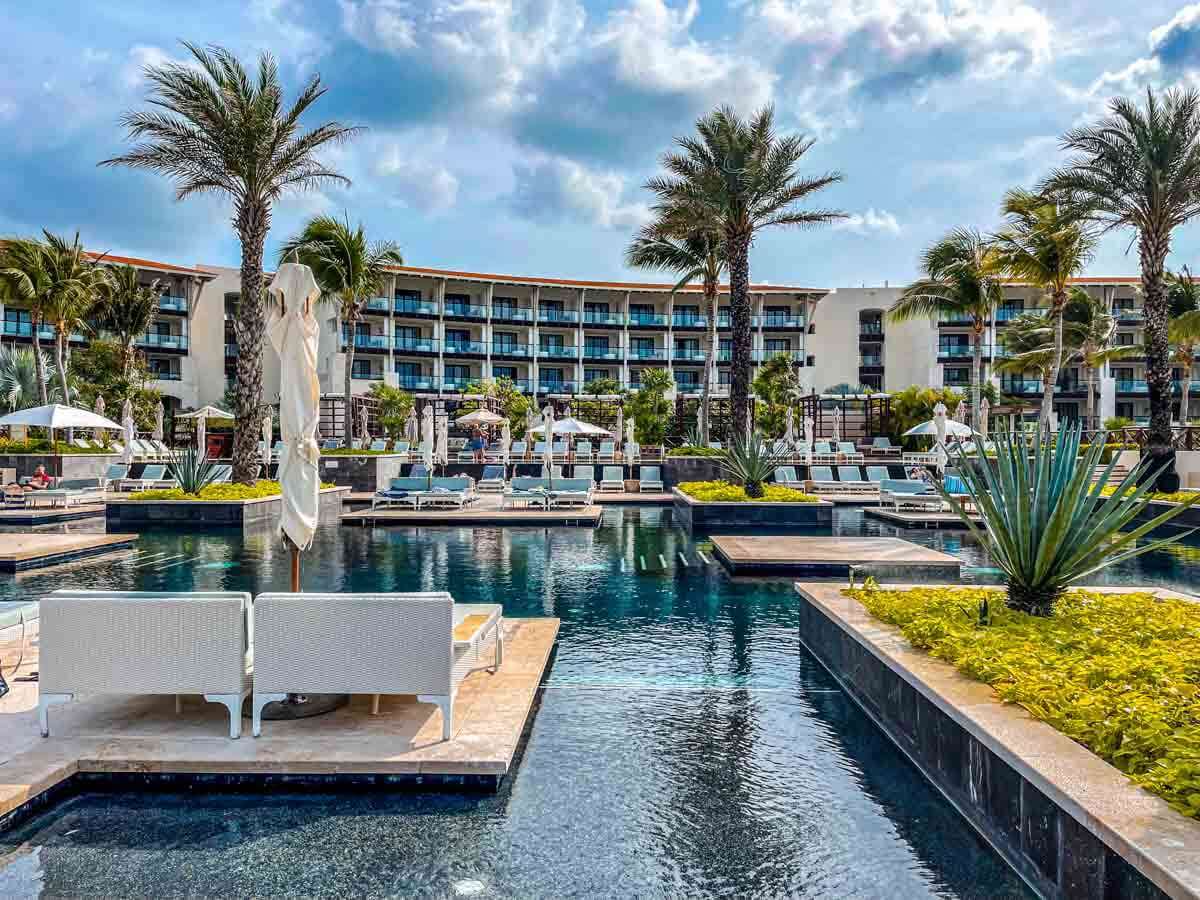 And with my background in the luxury hotel industry, I can't help but be attracted to luxury resorts with superior service, high-end amenities, and top notch facilities. Well, Hotel Unico Riviera Maya did not disappoint!
Located near Akumal, Hotel Unico 2087 Riviera Maya is an adults-only all-inclusive resort that offers guests a redefined luxury experience with unique focus on local culture and heritage.
It's one of the few resorts in Riviera Maya to receive the highly-coveted AAA 5-Diamond award, and it's also part of Leading Hotels of the World–two key indicators of the quality and caliber you can expect from this hotel.
🌎 Fun Fact: Hotel Unico 20°87° Riviera Maya is named after its latitude (20°N) and longitude (87°W) coordinates, celebrating its distinct location in the Mexican Caribbean. It can be a bit of a mouthful though so a lot people just call it "Hotel Unico"!
From the breathtaking black pools to the luxurious rustic accommodations with four-poster beds and a private jacuzzi spa tub on each balcony, Hotel Unico Riviera Maya is super chic and trendy.
And with its pool parties, water sports, and champagne trolleys, it's got a fun and hip vibe perfect for honeymooners, young couples, or groups of friends.
But what really sets this resort apart from other resorts in Riviera Maya is the level of service, the curated daily activities, and the personalized touches that really make your stay so much more memorable.
Every guest room is assigned a local host, who is kind of like your own personal concierge that will escort you around when you first arrive, make dinner reservations, and answer all of your requests via text message.
Plus, they offer exclusive curated activities to highlight the local Mexican culture like cooking classes with local chefs, mixology workshops, Macrame weaving classes, and more.
And you'll never get hungry at the resort's 5 restaurants, which serve everything from Mexican classics to Japanese cuisine and Italian dishes. Not to mention the unlimited drinks around the pool or at the resort's multiple bars!
Is Hotel Unico Riviera Maya worth visiting?
Absolutely! Hotel Unico 20°87° Riviera Maya is a luxury resort that offers guests the perfect combination of modern luxury amenities and local culture.
The level of service, attention to detail, and personalized touches truly make this one of the best adults only all inclusive resorts in Riviera Maya–not to mention its AAA 5-Diamond award.
If you're looking for an incredibly chic and trendy resort with a lot of fun activities, then this is the perfect place for you!
Who is Hotel Unico Riviera Maya best suited for?
With its chic and trendy vibe, Hotel Unico 20°87° Riviera Maya is probably best suited for honeymooners, couples, or groups of friends looking for a bit of a party atmosphere.
And it would also be an amazing option for a girls getaway or bachelorette party in Mexico–I was wishing my girlfriends had been with me!
When I visited, there were a lot of young couples and groups of friends hanging out at the pool, playing volleyball, basketball, and floating beer pong. The swim up bar is definitely the resort's hot spot!
Hotel Unico also hosts some pool parties on certain days of the week where they have a live DJ and come around with extra shots and champagne trolleys to get the party started.
But honestly it was a fun pool party vibe and not overly loud or obnoxious! I'm not a huge partier and was still able to relax and read a book by the pool.
And while the resort caters to a bit of a younger crowd, adults of all ages can enjoy this resort.
With its huge swimming pools, endless drinks, and fun activities, it's suitable for anyone looking for a luxurious and fun-filled vacation!
Hotel Unico Riviera Maya Review: Quick Facts
Unico Hotel Riviera Maya: Pros
Unico Hotel Riviera Maya definitely has more pros than cons! These are some of the best things about the hotel:
✅ Luxury Accommodations
Hotel Unico Riviera Maya offers 448 modern guestrooms and suites decorated with rustic furnishings, locally sourced accents, and warm shades of brown and gray.
And the good thing about Hotel Unico is that the hotel is designed in a U-Shape so the majority of the rooms have legit views of the ocean.
Each room features a king size bed or two queens, premium bedding, a pillow menu, and a bed so comfortable you may never want to leave!
Bathrooms have rainfall showers, double sinks, bathrobes and slippers, and premium bath products from the resort's spa.
Plus, many rooms have terraces or balconies with private jacuzzi tubs and stunning ocean views. And the Alcoba Swim-Up Pool rooms offer direct access to the pool right from your terrace.
Unico 20 87 Hotel Riviera Maya Room Types
Unico Resort Riviera Maya offers 8 different room types, most of which can be a king or double room with two queens:
ℹ️ Translation: "Alcoba" means "bedroom". And "Estancia" means "stay".
Alcoba: These rooms are closest to the lobby with tropical or garden views and a king-sized bed or two queens, and a private outdoor jacuzzi
Alcoba Swim Up Pool: These rooms are located on the ground floor with a swim up pool and elevated lounge chairs
Pure Wellness Alcoba: Pure Wellness rooms undergo an intensive 7-step cleaning process designed to eliminate bacteria, viruses, and other contaminants
Alcoba Ocean View: These rooms face the pool and have an ocean view with a king-sized bed or two queens, and a private outdoor jacuzzi
Alcoba Ocean Front: These rooms are closest to the ocean with a direct ocean view, a king-sized bed or two queen, and a private outdoor jacuzzi
Estancia Tropical: The Estancia suites overlook the Quiet Pool with a tropical view and offer a large living room and expansive terrace with a private outdoor jacuzzi
Estancia Suite 1 BR: The 1-Bedroom Estancia Suite has an ocean view and offers a large living room and expansive terrace with a private outdoor jacuzzi
Hotel Unico Alcoba Ocean View Suite Review
I personally stayed in the Alcoba Ocean View Room and it was gorgeous! My room was on the 5th floor and provided beautiful ocean views from the private balcony.
The room itself was decorated in a modern, rustic style with locally-sourced materials and furnishings and touches of brown and grey.
The wood beams lining the ceiling gave the room a cozy and rustic vibe, which I loved.
One signature feature of the rooms at Hotel Unico is the four-poster king-sized bed, which was incredibly comfortable!
Crisp white linen, premium bedding, and a pillow menu will make sure you get your perfect sleep setup.
Aside from the four-poster bed, there is also a separate sofa and seating area with two chairs and a table–a great place to eat your room service!
The bathroom was also incredibly spacious and luxurious, with double sinks, a rainfall shower, and a separate toilet area. And of course, you're treated to comfy sweatshirt-style robes and slippers.
There was also a Nespresso coffee machine in the room and a complimentary mini bar with snacks, water, sodas, and beer that are refreshed daily.
Technology wise, each room has a flat-screen TV, complimentary high-speed wifi, an iPad beside the bed, and a digital safe with a power charger inside.
But the probably the most unique feature of the rooms at Hotel Unico is that the balconies come with their own private jacuzzi tubs!
I drew a bubble bath after dinner and it was super relaxing to be outside with an ocean breeze.
✅ Pools
One of the main highlights of Hotel Unico are its impressive pools–they are gorgeous and probably where you will be spending most of you time!
The resort has 3 pools, which consists of 2 pools at the Main Pool area and 1 Quiet Pool that is more private and secluded.
Main Pool
The Main Pool at Hotel Unico is basically the hotel's main gathering area where most of the action happens.
This pool features two sleek black pools side by side–one is a bit quieter and the other has a swim-up bar, an inflatable pool volleyball court, and basketball nets.
Around both pools, there are plush lounge chairs to relax on and plenty of umbrellas to provide some shade. They also have some large lounge beds in the water.
I always judge a luxury hotel by the quality of their lounge chairs and Hotel Unico did not disappoint!
There's also some private cabanas for rent that come with bottle service and private lounge chairs. I assume these have an additional charge!
The Main Pool also has its own snack bar with food and beverage service, so you don't have to leave the pool area if you don't want to.
The wait staff are extremely attentive so as soon as you sit down, they'll help you with towels and taking your order. You'll never have to wait long for a drink!
Quiet Pool
The Quiet Pool is a short walk away on the other side of the 20°87° restaurant and provides an even more serene experience with fewer people around.
This pool also has its own swim up bar and plush lounge chairs, but here you can find some more secluded spots where you can relax in peace.
If you're looking to just relax away from the action of the main pool, this is the pool to go–just get there early as it can get crowded!
✅ Unique Activities
One of the things that really stood out to me at Hotel Unico Riviera Maya is the unique activities and experiences offered with a focus on local culture and heritage.
From mixology classes to shaman rituals, they've really chosen unique activities to highlight the local Mexican culture–but in a fun and interesting way!
Other activities offered include Huichol beading workshops, mixology master classes, salsa dance lessons, wine and astronomy, customizable mini bars, hat painting, and more.
Plus, around the pool they also have aqua spinning, pool volleyball, floating beer pong, poker, Jenga, and Bingo.
I personally loved the mixology master class and Macrame weaving workshop I went to. Both were in a small group so they felt more intimate and the instructors were very knowledgeable!
But the activity that stood out the most was the hat painting – each room gets two straw beach hats, which you can take to get customized with your name and design.
I got mine hand-painted with a palm tree and "Viva La Travelista" and I love the way it turned out!
Honestly, most activities at all inclusive resorts are usually pretty boring or cheesy, but these I was actually interested in! Hotel Unico really offers a great mix of fun, educational, and boozy activities.
📱 Note: All the activities are included in your stay but some require an advance reservation, which your local host can take care of for you.
✅ Local Host
At Hotel Unico, each guestroom is assigned their own local host–a personal concierge who serves as your go-to for all questions and requests.
My host was Emiliano and he was excellent–he was super responsive and able to get me a last minute reservation for the mixology master class even though it was booked up.
He also gave me a tour of the property and we exchanged phone numbers on Whatsapp so I could text him directly.
Local hosts are typically available from 9AM-5PM, but after that they have a 24-hour Concierge team to assist with after hours requests.
They can also help with restaurant reservations, activity reservations, customizable minibar orders, and laundry or ironing services. Plus there's a pillow menu or aromatherapy menu if you need it!
✅ Restaurants & Bars
Hotel Unico has 5 different restaurants and 2 bars, and each offers a unique and elevated experience from Mexican cuisine to Japanese to Italian.
I was really impressed by the Hotel Unico restaurants–each serves an extensive menu and they're all beautifully decorated in Unico's distinct trendy style.
The menu options have a mix of American classics, while still incorporating more unique dishes inspired by local cuisine.
Some of the restaurants even have rotating chefs to keep the menus fresh and innovative–and they really place an emphasis on highlighting the local culture.
What I really loved about Hotel Unico is that there is a great mix of both sit-down dining as well as more casual buffets–and there's even an all-day coffee shop!
With so many options to choose from, I don't think you'll get sick of eating there if you're staying for a week!
Plus, there's 24-hour room service if you want to order breakfast in bed or late night drinks and desserts.
My favorite restaurant was La Carisa–this Italian restaurant is open for breakfast and dinner and is really cute and cozy. Plus, the service, wine, and ambiance is fantastic!
However, if I had to critique the food, the menu options probably weren't quite as gourmet as I was expecting.
I guess after staying at Hotel Xcaret Arte with really elevated cuisine and unbelievable buffets, I was expecting something similar.
But the breakfast buffet at Hotel Unico has all of your classic American and Mexican breakfast foods, including omelette stations, pancakes, french toast, eggs. You'll have everything you need for a hearty meal!
Around the pool you can also order snacks including nachos, burgers, pizza, and tacos–and they will be delivered right to your seat!
Additionally, the resort offers unlimited alcoholic beverages so you can order all the margaritas and piña coladas you want!
All of the cocktails I tried were excellent–however, the frozen cocktails didn't seem like they had a ton of alcohol in them.
You might want to avoid the really fruity drinks as they seemed to be the most watered down.
Overall, Hotel Unico serves a good variety of food and drinks from comfort food to more innovative dishes–all complemented by beautifully designed restaurants.
And since the dining options are all-inclusive, you can easily experiment with different dishes and cocktails to find your favorite.
Hotel Unico Riviera Maya Restaurants
Cafe Inez: This cute coffee shop is open all day and serves a variety of espresso drinks, iced coffee, pastries, fresh juices, sandwiches, and paninis
Cueva Siete: This modern Mexican restaurant serves up regional dishes from the Yucatan peninsula prepared by rotating chefs
Mi Carisa: This romantic Italian restaurant has indoor and outdoor seating and serves breakfast and dinner
Mura House: This Japanese-inspired restaurant is open for dinner and offers teppanyaki, yakitori, and sushi
Hotel Unico Riviera Maya Bars
Bar Balam: This grand and inviting lobby bar is a happening spot for evening drinks and live entertainment. There's also a pool table and plenty of plush leather couches and lounge chairs.
In addition to these two bars, there are multiple swim-up bars and bars around the pool area. Plus, the La Botella wine shop is open for wine tastings and bottle purchases.
✅ Exceptional Service
As an AAA 5-Diamond hotel, it is no surprise that the service at Hotel Unico Riviera Maya was exceptional from arrival to departure.
From the moment you arrive, you are greeted by their friendly bell staff who will escort you to the lobby, where you'll be greeted with a refreshing welcome drink and cool towel.
Check-in is done on their comfortable couches so you don't have to stand or wait in line–a nice treat after a long day of traveling!
After check-in, you'll be introduced to your local host who can answer any questions and show you around. Plus, there's an Unico app you can download for easy access to all the hotel information.
Additionally, the pool staff was extremely attentive and friendly – they were bringing me fresh drinks before I even had to ask! The restaurant staff was also great, with servers who are knowledgeable and efficient.
You can also expect nightly turndown service where housekeeping will refresh your room, turn down the bed, and leave a special treat.
Overall, I was really impressed with the level of service at Hotel Unico Riviera Maya. This was my first time having a personal concierge and it really made all the difference!
✅ Amenities
Hotel Unico really provides everything you need for a relaxing and indulgent stay. Its 5-star modern amenities include a full-service spa, salon, and fitness center:
Spa
Known as Esencia, the full-service spa at Hotel Unico caters to body, mind, and spirit through a range of luxury treatments including signature treatments that are locally-inspired.
Some of the signature treatments include a Volcanic massage, a Blue Agave treatment, and a Hydrothermal experience. Plus, there are couples massages and treatments too.
A fully-equipped hydrotherapy facility with outdoor pools and a wide variety of natural ingredients help create a relaxing environment.
Spa treatments come at an extra charge, but are perfect for a day of pampering and relaxation.
Salon
The Salon at Hotel Unico Riviera Maya offers guests a full-service experience to enhance their stay. I was blown away by how nice it was–it's the size of a large hair salon!
From hair styling, manicures and pedicures, to waxing and blow-outs, the Salon offers ton of beauty treatments to leave you feeling pampering.
And for men, there's also a Barber shop with a complimentary beer and bourbon cart and a flat-screen TV!
And you can take home your favorite beauty products from the Esencia Wellness Beauty bar, which offers a selection of luxury oils, lotions, and bath salts.
Fitness Center
The fitness center at Hotel Unico Riviera Maya is open from 6AM-7PM and offers a full-service gym experience.
It was impressive–you'll find all the strength training equipment like a Smith machine, pulleys, barbells, free weights, and multiple strength training machines.
I'm really into strength training so I very much appreciate when hotel gyms have more than just treadmills and ellipticals!
Plus, there are fitness classes throughout the week like yoga, pilates, cycling, and cross-training. And some classes are even beachfront!
If you're looking to keep up with your fitness routine while on vacation, the fitness center at Hotel Unico Riviera Maya has everything you need!
✅ Shopping
Hotel Unico also has tons of really cute shopping options located in the main building–it's kind of like a mini shopping mall!
There's a designer boutique with men and women's clothing and swimwear, a souvenir shop, an artisanal shop with hand-crafted goods, a designer sunglass store, a fine jewelry store, a chocolate shop, and a wine cellar.
Plus, there's a really cute Monogram store with items that can be monogramed within 24 hours–I bought a beach bag here!
I was honestly so impressed by how cute everything was! Most souvenir shops are pretty cheesy, but here everything was modern and stylish.
✅ Walkable Property
One of the best things about Hotel Unico is that it is an extremely walkable property.
Although the hotel has 448 rooms, it's condensed into just a few buildings and really feels like a boutique property.
At a lot of resorts in Riviera Maya, you have to take a golf cart or shuttles to get around, but these are not needed at Hotel Unico.
I really appreciated that because everything is easy to navigate and you won't get lost easily.
This makes it easier to get accustomed to the layout of the property and find your way around quickly. Plus, for those with mobility issues, this is a great feature.
Hotel Unico Riviera Maya: Cons
These are the main cons about Hotel Unico Riviera Maya that you should keep in mind:
❌ Location
Hotel Unico is located in the heart of the Riviera Maya region near Xpu-Ha Beach, about 30 minutes south of Playa del Carmen and a little over an hour south of Cancun Airport.
To be honest, if you don't plan on leaving the resort much, then the location of the hotel is perfectly fine!
But if you're someone who prefers to be closer to all the action, you may want to look for a resort closer to Playa del Carmen, Cancun, or Tulum instead.
You can still reach Playa del Carmen or Tulum by taking a 30 minute taxi ride if you want to check out local restaurants and nightlife but this can get costly.
The location of the hotel is perfect if you're looking for a peaceful and secluded getaway, but it may not be ideal if you want to get out and explore the nearby towns.
However, if you're looking to book tours and activities in Riviera Maya, most tour operators will pick you up from Hotel Unico so the location is not really an issue.
❌ Small Beach
The beach at Hotel Unico Riviera Maya isn't really ideal and you're probably going to want to spend most of your time at the pool.
The beach is quite small and narrow, and the water can be a bit rocky. Plus, seaweed is occasionally an issue.
Now, the beach conditions are heavily dependent on the weather so this can vary from week to week–some days it may be much more picturesque!
Swimming at the beach at Hotel Unico is still possible at times but it really just depends on the beach conditions.
There are only a few rows of lounge chairs available on the beach and these aren't the same plush lounge chairs as at the pool, so this area isn't really that inviting.
That being said, it's still nice to have beach access and go for beach walks, but the pool is where you'll want to be if you want a more inviting atmosphere.
❌ Pool Can Get Crowded
The pool at Hotel Unico Riviera Maya can get a little crowded depending on the season and time of day.
During peak season (December-April), it can be sometimes be difficult to get a chair or spot close to the pool.
Most people get out there early and throw a towel or personal item on the chair to reserve them. So you'll want to do the same if you want the prime chairs closest to the water!
Also, the chairs at the Quiet Pool get taken really quickly, so be sure to get there early to get the best spot.
There are still plenty of chairs available, they just not be in the best location or closest to the water. Plus, the staff is really helpful and attentive if you need assistance getting set up.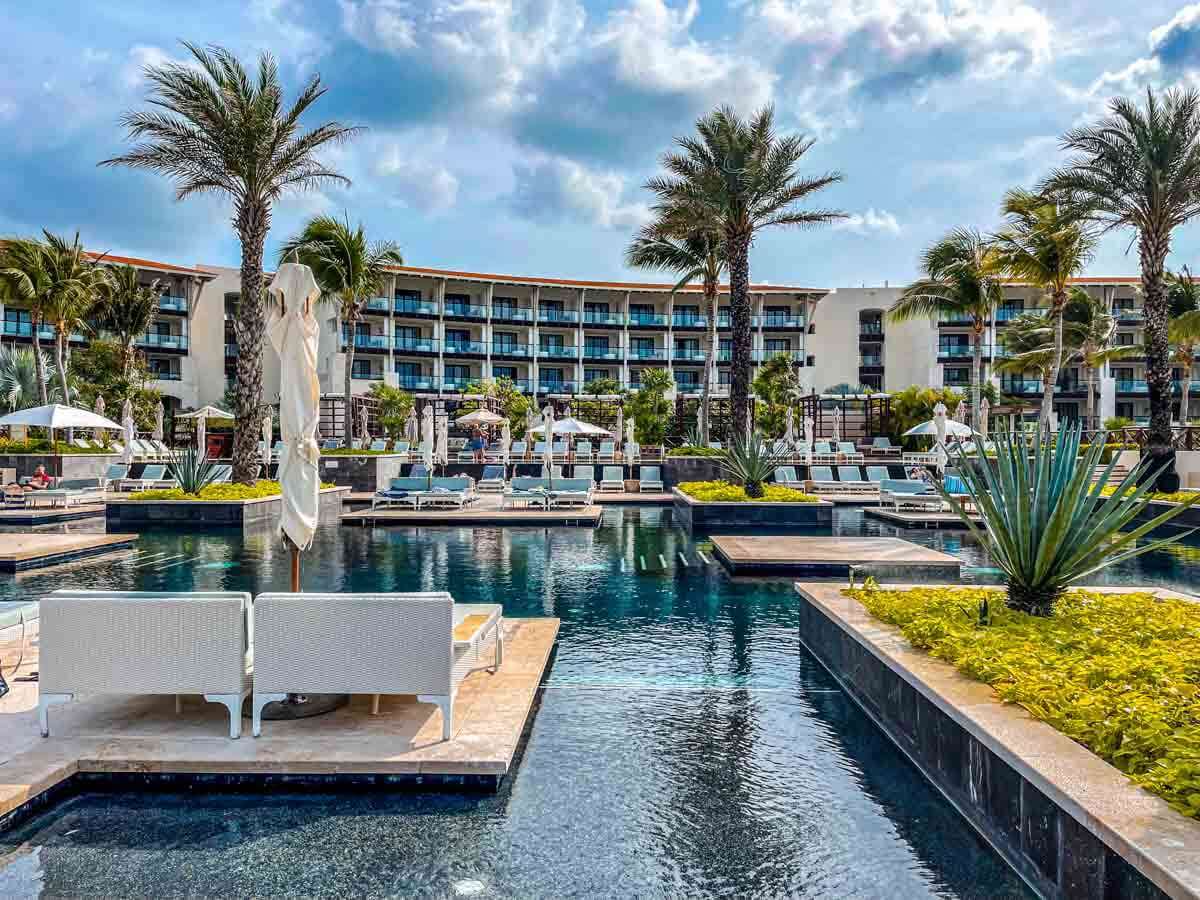 ❌ Limited Nightlife
If you're someone that really likes to party, the nightlife at Hotel Unico Riviera Maya is a bit limited.
This resort isn't super happening at night and the main nightlife is at the Palmera Lounge, which turns into a nightclub with a DJ.
I went to check it out and there was hardly anyone there–pretty typical for resort nightclubs.
They also have live music at the Bar Balam lobby bar, which is fun but much a more low key lounge-type atmosphere.
If you're really looking for nightlife scene, there are nightclubs in Playa del Carmen and Tulum, but they are about 30 minutes away by taxi.
However, if you're looking for a relaxing evening with music, drinks and good company, Hotel Unico a great option.
Plus, the discoteca at Palmera Lounge can still be fun with the right crowd!
Hotel Unico Riviera Maya Review Recap
Overall, Hotel Unico Riviera Maya is a great choice for travelers looking for an adults-only all-inclusive experience in a chic and trendy atmosphere.
The design and decor are modern and stylish, the food is really good, and the staff is friendly and attentive. Plus, the pools are beautiful and fun with swim-up bars and plenty of activities.
This resort is perfect for couples, honeymooners, and groups of friends looking for fun in the sun along with luxury amenities.
And having your own dedicated local host makes all the difference in having a truly unique, personalized experience.
For me, the only real downside was the small beach but the resort definitely makes up for it with its stunning pools and incredibly unique activities like mixology classes, wine and astronomy sessions, Macrame workshops, salsa dance lessons, and more.
Tips for Staying at Hotel Unico Riviera Maya Resort
Don't miss the hat painting days: The hat painting is typically available on Wednesdays and Saturdays so be sure to bring your straw hats down to the pool for a cute hand-painted design.
Try the mixology class: I attended the mixology master class and it was one of my favorite activities! Reservations are required so be sure to book your spot with your local host in advance.
Bring cash for tips: Tipping is not technically required but I have to say I saw a lot more tipping going on at Hotel Unico Mexico than other resorts I've stayed at. Bring some extra cash (pesos or USD) to tip the staff–you're probably going to want to tip the staff that lead some of the really unique activities.
Don't forget biodegradable sunscreen: Anytime you are going to swimming in the ocean or a cenote, biodegradable sunscreen is a must to protect the environment. I recommend just sticking to biodegradable sunscreen for your entire trip.
Bring a beach bag (or buy one there): Beach bags are not included in the guestroom so you'll want to bring your own to use around the pool and beach. I actually bought one from the Monogram shop and it is super cute!
Unico 2087 Riviera Maya Resort: FAQs
Conclusion: Unico 20 87 Hotel Riviera Maya Review