Is Xochimilco Worth It in 2023?
Disclosure: This page may contain affiliate links, meaning at no additional cost to you, I will earn a commission if you click through and make a purchase. As an Amazon Associate I earn from qualifying purchases.



Are you visiting Mexico City soon and wondering if Xochimilco is worth it? You've come to the right guide!
There's a lot of hype over this popular tourist attraction and local party spot, but is it truly worth your time and money?
As a travel blogger that lives in Mexico, I personally went to Xochimilco during my last trip to Mexico City. And when I was first planning my trip, I wasn't sure if Xochimilco would be any fun as an introverted solo traveler!
⌚️ Don't have time to read the whole article?
Xochimilco is 100% worth it if you go in group! Smaller groups and solo travelers can book a group Xochimilco tour to have the ultimate party experience!
But I decided to give it a try and now I'm here to share everything you need to know about visiting Xochimilco, including its history, how to get there, and what to do.
Plus, I'll explain the Xochimilco prices, tour options, and what to expect so you can decide if visiting Xochimilco is right for you.
Ready to find out if Xochimilco is worth it? Let's get started!
Is Xochimilco worth it?
Xochimilco is worth all the hype, especially if you are with a fun group and looking for a party atmosphere. I went solo on a group tour and had a great time!
Xochimilco's main attraction is floating down a narrow river on colorful flat-bottomed "trajinera" boats, which seat up to 16 people.
While floating down the canals, you'll get to listen to traditional mariachi bands, sip a cerveza, or try some local food specialities.
It's a fun, colorful, and lively experience and if you're with the right people or in the right mindset, you'll certainly enjoy yourself!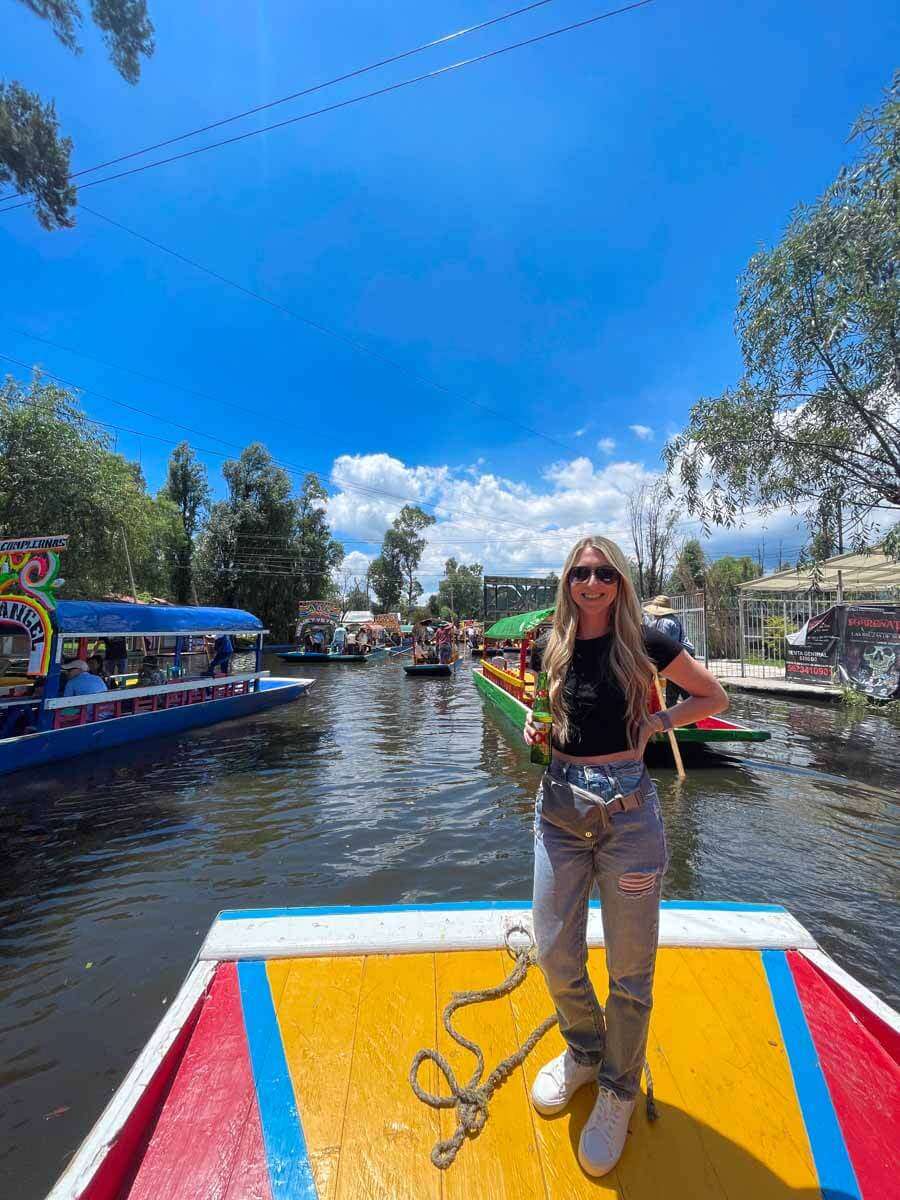 Many people bring drinks onboard and let loose during the ride. Locals go in large groups, with music bumping and drinks flowing, while celebrating birthdays, anniversaries, or other special occasions.
However, even if you aren't with a "party group," you can also enjoy a calm ride down the Xochimilco river while enjoying some scenic nature not far from the hustle and bustle of Mexico City.
Overall, Xochimilco is designed for groups so you'll have the best time if you go in a large group of friends or family. But even if you're traveling solo, you can still book a fun group Xochimilco tour and have a great time!
What is Xochimilco known for?
Xochimilco (pronounced "So-chee-meel-koh") is a captivating district in the south side of Mexico City, known for its colorful trajinera boats and picturesque network of ancient canals.

More than just a party spot, Xochimilco is designated as a UNESCO World Heritage Site because it offers a glimpse into Mexico's rich cultural and historical heritage.
Xochimilco is also home to the critically endangered axolotl salamander, also called the "Mexican walking fish" and "water monster." It's a unique species that remains in its aquatic larval form throughout its life.
Finally, "Island of the Dolls," or "Isla de las Muñecas," is another staple of Xochimilco. Island of the Dolls is an eerie small island adorned with hundreds of possibly haunted dolls.
Legend has it that the dolls were hung as a tribute to a young girl who drowned–some report they can hear the dolls whispering to each other.
Is Xochimilco safe?
Xochimilco feels very safe, although you shouldn't be walking around the area after dark. That shouldn't be a problem though since there isn't anything to do at Xochimilco at night.
This is such a popular tourist destination, even a hotspot for locals celebrating, so most people are respectful of one another.

The most dangerous part about visiting Xochimilco is getting there, as it's just outside the city. If you decide to venture here alone, you'll have to go through some more "dangerous" neighborhoods.
Additionally, you should drink responsibly and practice common sense on the Xochimilco boats and through the canal.
Check out this hilarious video, titled "Titanic Mexicano," showcasing a larger-than-expected group of people causing one of the boats to sink.
History of Xochimilco
Xochimilco translates to "the place of flower fields" in Nahuatl. Before the Spanish conquistadors in Mexico, Xochimilco was a thriving agricultural region cultivated by the Aztecs.
The Aztecs transformed the marshy land of Xochimilco into a network of artificial islands, or floating gardens of Xochimilco, known as "chinampas".
These floating gardens stood a testament to the innovative sustainable agricultural system the Aztecs developed and earned worldwide recognition.
Following the Spanish rule, Xochimilco continued to flourish. Colonial buildings and churches were erected, creating a lasting agricultural imprint that is still alive today.
Xochimilco in Mexico City was declared a UNESCO World Heritage Site in 1987. Today, it thrives as a great place rich with pre-Hispanic history.
The culture is alive in the mariachi music, floating gardens of Xochimilco, and colorful boats sailing through the Xochimilco canals.
What can you do at Xochimilco?
Xochimilco is so much more than a simple boat ride. There is much to do and much to experience here. Let's talk about some of the most popular activities at Xochimilco.
Take a Trajinera Boat Ride
Taking a trajinera Xochimilco boat trip is the centerpiece of Xochimilco. The traditional trajinera boats are vibrant, flat-bottomed boats that welcome you and your group and will take you through some of the enchanting Mexico City canals of Xochimilco.
The colorful trajinera boats are often operated by a skilled operator, who maneuvers the boat with only a large pole.
Some groups choose to bring their own food and alcohol and go all out during the Xochimilco boat ride, while others have a more relaxed vibe, just taking in the beauty that surrounds them.
Hire a Mariachi Band
Floating mariachi bands and other local sellers will stop at your boat and offer their services during your boat trip.
Considering the original purpose, the trajinera boats were initially used to transport goods across the canal. It feels like a truly immersive experience!
But if you want to embrace the rich Mexican history here, hire a mariachi band. They will come onboard and play energizing tunes at your request. They can be hired by song or by the hour.
The Mariachi bands are an integral part of Mexican history, and the ones at Xochimilco will bring a lot of energy onboard with sounds of trumpets, violins, and guitarróns.
Enjoy Local Food & Drinks
Another great way to immerse yourself in the culture of Xochimilco is to try out some of the local food specialities.
There are smaller boats that cruise up and down the canals, offering elotes (Mexican street corn), esquites (corn off-the-cob), chicharrones (fried pork rinds), and palomitas (popcorn).
And of course, there's separate boats for beer, tequila, and margaritas! 🍻
These extra food and drinks are available for purchase from local vendors and you'll pay at the end of the ride–just back sure to have enough cash on hand.
And while the traditional boats steal the show at Xochimilco, don't overlook the local food and drinks back on land at the Xochimilco market.
If you have time, stroll through the Xochimilco market right outside the main dock and snack on some of the unique Xochimilco foods you'll find here, including:
Banana-leaf tamales
Frog and charal (small fish) tamales
Tamales de dedo (regular tamales made with masa)
Tlacoyos
Chicharrones
Camotes
Carnitas
Barbacoa
Go Souvenir Shopping
In addition to its natural and cultural wonders, Xochimilco offers fantastic opportunities for souvenir shopping at the local market.
You'll find an assortment of colorful stalls and vendors selling unique handicrafts and traditional Mexican souvenirs.
Here are a few homemade handicrafts to look for while shopping around:
Handmade crafts and artifacts
Traditional clothing and accessories
Mexican art and decor
Local produce and culinary spices
Axolotl stuffed animals and souvenirs
One of the best things about shopping around Xochimilco is that you can be sure you support local artists and individuals.
And by purchasing Mexican souvenirs from local vendors, you directly contribute to the livelihood of these talented people.
Where is Xochimilco?
Xochimilco is located about 16 miles (25 km) south of Mexico City. Here is a breakdown of travel time estimates by car, depending on which neighborhood you depart from:
Historic Center: 45 minutes
Roma Norte: 45 minutes
Condesa: 45 minutes
Polanco: 40 minutes
Coyoacán: 30 minutes
San Angel: 30 minutes
🚙 Keep in mind though that traffic in Mexico City is no joke so some days it can take significantly longer!
There are more than 10 official docks in Xochimilco, called "embarcaderos" in Spanish, where you can go to hire a trajinera boat.
However, "Embarcadero Nuevo Nativitas" is the most popular official dock and starting point, so that's the one I recommend going to.
How to Get to Xochimilco
Here are the different ways to get to Xochimilco:
Take an Uber
Taking an Uber is the easiest way to get to Xochimilco if you're going on your own. Ubers in Mexico City are inexpensive and can bring you directly where you want to go. 
For regular traffic in Mexico City, an Uber ride to Xochimilco should cost around $200 pesos (~$12 USD) each way.
And when you're ready to go back to central Mexico City, it should be easy to request one for the return trip.
Book a Guided Tour
If you're looking for the most hassle-free way to get to Xochimilco, guided tours are the best way to go because you don't have to do any of the planning yourself.
Additionally, group Xochimilco tours are an excellent choice for solo travelers as you're automatically paired up with a group of like-minded travelers.
Plus, Xochimilco tours include a local guide who is well-versed in the history and importance of Xochimilco. It's a great way to learn about this piece of Mexican heritage and make the most of your time here.
An all-inclusive guided tour of Xochimilco with alcoholic drinks and snacks included typically costs around $70 USD per person.
I personally went on this small group Xochimilco tour but also I've outlined some of my top Xochimilco tour recommendations below!
Or these Xochimilco, Coyoacán, and Frida Kahlo tours also offer the chance to see other attractions around Mexico City as well.
Take Public Transportation
Public transportation is the cheapest, most time-consuming, and most risky option for getting to Xochimilco. The metro should take between an hour and an hour and a half.
You will take Metro Line 2 (the blue line) to the end of the route, getting off at Station Tasqueña. Once off, head through the doors to the light rail, getting off at the last station: Station Xochimilco. You can also find detailed directions for public transport with Google Maps.
The total cost is only around $50 pesos (~$3 USD) each way, but there are many precautions to take. Public transportation can be dangerous. The metro cars are often jam-packed, and many reports of pickpocketing and other problems arise here.
Best Xochimilco Tours
However, here's a short breakdown of the best tours at Xochimilco with slightly different itineraries:
Best Xochimilco Tour: This Xochimilco: Boat Ride and Mexican Party is the best option for those looking to party with other tourists while guaranteeing you see the best of Xochimilco. This tour includes alcoholic beverages (beer, tequila, mezcal) and snacks (chips and guacamole).
Best Small Group Xochimilco Tour: I personally went on this Frida Kahlo's House, Coyoacan and Xochimilco – All Day Tour. This full-day tour includes transportation and takes you to some of the best spots in Mexico City while guaranteeing a small, close-knit group. The guides are knowledgeable, friendly, and helpful.
How much does Xochimilco cost?
Is Xochimilco worth it? Let's break down the cost of a typical trip to Xochimilco to find out!
Here is breakdown of the Xochimilco prices:
Private Boat: $600 pesos (~$35 USD) for the entire group per hour
"Taxi" Boat One-Way: $45 pesos (~$2.70 USD)
"Taxi" Boat Round-Trip: $90 pesos (~$5.40 USD)
The "taxi" boats are smaller boats with only benches from point A to point B. I wouldn't recommend taking a taxi boat if you want the whole Xochimilco experience.
Note that the Xochimilco boat cost for a private boat trip ($600 Mexican pesos per hour) is for the entire group. So that means that the higher the number of people you have, the cheaper it will be.
The private Xochimilco boat rental generally includes a trip to all the points of interest in Xochimilco, but food, drinks, and other extras come at an additional cost. You can also bring your drinks and snacks onto the boat.
Guided tours are more expensive. Still, some include roundtrip transportation to Xochimilco, an English-speaking local guide who can tell you about the cultural significance, and often trips to other must-see attractions.
Tips for Visiting Xochimilco
Here are a few tips for to make the most of your Xochimilco day trip:
Go in a group: Going in a group can make the entire experience much more fun and affordable if you book a private boat at the main docks. Is Xochimilco worth it if you travel solo? Don't worry, it is! You can always go on a Xochimilco tour.
Hire a mariachi band: The bands might seem a little "extra" or "loud," but they are worth it! I wasn't planning on hiring one, but a guy on my tour ended up paying for it, and it was so much fun. The mariachi music adds to the experience and only costs around $10 USD.
Bring your own snacks and drinks: You can bring your snacks and drinks on the boat. While you can also buy some things from nearby vendors, it is a little pricey, and options are limited. There are even convenience stores nearby where you can buy beer and alcohol.
Plan your route: If you're hiring the boat yourself, make sure you discuss the route with the trajinera operator. There are several routes they can take, and you want to make sure you see the points of interest that are most important to you.
Bring cash: Most vendors and musicians only accept cash in Xochimilco, so make sure you bring some extra money to pay for any food and drinks or mariachi music along the way. You can use my how much money to bring to Mexico calculator to get an idea of how much cash to bring.
Respect the environment: Xochimilco is a UNESCO World Heritage Site, and it's essential to help preserve its beauty. Avoid littering and follow any guidelines and rules from your trajinera operator.
Visiting Xochimilco: FAQs
Here are some of the most frequently asked questions regarding Xochimilco CDMX:
How do you pronounce Xochimilco?
The correct Xochimilco pronunciation is "So-chee-meel-koh".
How far is Xochimilco from Mexico City?
Xochimilco is located about 16 miles (25 km) from the center of Mexico City. Getting there can take anywhere from 30 minutes to 2 hours depending on traffic.
How much time do you need at Xochimilco?
A minimum of 2-3 hours is suggested for visiting Xochimilco. However, if you plan to explore the nearby town too, you may want more time.
Is Xochimilco a tourist trap?
There are a lot of tourists at Xochimilco, but it isn't a tourist trap. It's a fun tourist attraction, a beautiful piece of Mexican culture and history. And there's so much to learn here.
What makes Xochimilco so unique?
Xochimilco is most famous for its chinampas, or artificial islands. But the experience of floating down the canal system of Xochimilco in colorful trajinera boats, surrounded by lively music and drinks, is incredibly memorable.
When is Xochimilco open?
Xochimilco hours are Monday-Friday from 9AM to 7PM and on weekends and holidays from 10AM-6PM.
Is Xochimilco open on Mondays?
Yes, Xochimilco is open on Mondays from 9AM-7PM.
What is the best day of the week to visit Xochimilco?
Xochimilco is one of those places where the more people, the better, so the best time to visit is on the weekends. The more people, the more lively and "party-like" the atmosphere is.
Can you bring your own food and drinks to Xochimilco?
Yes, you can bring your own food and drinks to the Mexico City Xochimilco attraction.
Do you need reservations for Xochimilco?
No, you do not need reservations for Xochimilco if you're just going on your own. If you're booking a guided Xochimilco tour, you'll need to book in advance to secure your spot.
What do you wear to Xochimilco?
You should wear layers and comfortable shoes to Xochimilco. It's Mexico City, with a high elevation and a temperamental climate. It can turn from hot and sunny to cool and rainy in minutes.
Are kids allowed at Xochimilco?
Yes, kids are allowed at the Xochimilco site. Remember that this is a "party" experience for many, so some over-the-top or intoxicated people might be nearby. But overall, kids can definitely enjoy the adventure, too.
Do you need bug spray for Xochimilco Mexico City?
Yes, if you tend to be susceptible to bug bites, then it's a good idea to bring bug spray for Xochimilco Mexico City.
Final Thoughts: Is Xochimilco worth visiting?
So, is Xochimilco worth it? Yes, Xochimilco is definitely worth visiting but it's best if you go in a group.
For smaller groups, the best way to see Xochimilco is by booking a group Xochimilco tour, which includes a a lively trajinera boat ride with snacks and alcoholic drinks.
And if you're traveling solo, this is the easiest way to get paired up with other people! I personally booked a group tour and had such a fun time–even as an introvert!
And if you're visiting Mexico City with your family or a larger group of friends, it's possible to go on your own and just hire a trajinera boat ride by the hour.
Regardless of how you visit Xochimilco, you will surely have the best time on a Xochimilco party boat filled with food, drinks, and some lively mariachi jams!
The attraction is so unique and really shouldn't be missed when visiting Mexico City!
🏙 RELATED MEXICO CITY READING: