Chichen Itza Tour from Playa del Carmen (2022 Guide)
Disclosure: This page may contain affiliate links, meaning at no additional cost to you, I will earn a commission if you click through and make a purchase. As an Amazon Associate I earn from qualifying purchases.



Do you want to visit Chichen Itza from Playa del Carmen? You've come to the right place!
As a Playa del Carmen resident and local travel blogger, I've personally experienced the tour from Playa del Carmen to Chichen Itza, which is one of the most popular and memorable tours in the region.
In this post, I'm sharing everything you need to know about the Chichen Itza tour from Playa del Carmen, including how to book, a detailed itinerary review, and top tips for visiting.
About Chichen Itza
First, let's start with some of the basics on Chichen Itza:
What is Chichen Itza?
Located on Mexico's Yucatan peninsula, Chichén Itzá is one of the largest Mayan ruins and one of the most visited archaeological sites in North America. 
It is even considered one of the 7 Wonders of the Modern World and a UNESCO World Heritage site.
Of all the amazing ruins in Mexico, the Chichen Itza Mayan ruins are one of the most visited archaeological sites in the country, with millions of visitors each year and far more than the Tulum Ruins.
While visiting Chichen Itza, you'll get to see and learn about the many different structures that remain, most notably the main Kukulcán pyramid, the Temple of the Warriors, the Observatory, and the Ball Court.
Where is Chichen Itza?
Chichen Itza is located on the Yucatán peninsula of Mexico near the colonial town of Valladolid and makes for an easy day trip from Playa del Carmen, Riviera Maya, Cancun, or Merida, Mexico.  
If you're coming from Tulum, it's also possible to make a day trip from Tulum to Chichen Itza and actually takes a bit less time.
Driving times from nearby tourist destinations are as follows:
Playa del Carmen to Chichen Itza: 2 hours 30 minutes
Cancun to Chichen Itza: 2 hours 50 minutes
Tulum to Chichen Itza: 2 hours 15 minutes
Merida to Chichen Itza: 1 hour 30 minutes
Valladolid to Chichen Itza: 45 minutes
What does Chichen Itza mean?
Chichen Itza means "at the mouth of the well of Itza" in the Mayan language. The name is derived from the fact that it sits on large underground freshwater cenotes, which was the main water source for the site.
Can you climb the Chichen Itza Ruins?
Unfortunately you are not able to climb the Chichen Itza Ruins.  The ruins have been off limits at this highly visited tourist attraction and are roped off to protect and preserve them.
About the Chichen Itza Tour from Playa del Carmen
The tour to Chichen Itza from Playa del Carmen typically includes a visit to the Mayan ruins, as well as a visit to a sacred freshwater cenote, followed by a short stop in the colonial town of Valladolid.
What's included in the Chichen Itza Tour from Playa del Carmen?
Here's what's included in the Playa del Carmen to Chichen Itza tours:
Hotel pickup or designated meeting point pickup
Roundtrip transportation to Chichen Itza and all tour stops
Bilingual tour guide
Buffet lunch
Mayan Community visit and shopping
Cenote visit including entrance fees
Valladolid visit
Here's what's NOT included in the Chichen Itza day trip tour:
Chichen Itza entry tax, $30 USD per adult / $5 per child to be paid in cash to the guide
Life jackets and lockers (available to rent)
Drinks
Tips
How much does the Chichen Itza Tour from Playa del Carmen cost?
The cost of the top Chichen Itza tours from Playa del Carmen is around $69 USD per person. 
Note this does NOT include the $30 USD per person Chichen Itza tax that must be paid in cash upon pickup.  So the total price for the tour is around $99 USD.
Also, if you bring a GoPro or video camera into Chichen Itza, you are required to pay an additional $45 pesos (~$2.40 USD). Regular cameras are fine and not required to pay the tax.
How to book the Playa del Carmen Chichen Itza Tour
The easiest way to book the Chichen Itza tour is by booking online in advance. I personally went on this tour, which after a lot of research I found to have the best price and highest reviews.
👉 Book the Chichen Itza tour by clicking here!
Travelista Tip: If you have a larger group or prefer a more personalized experience, consider booking a private Chichen Itza tour.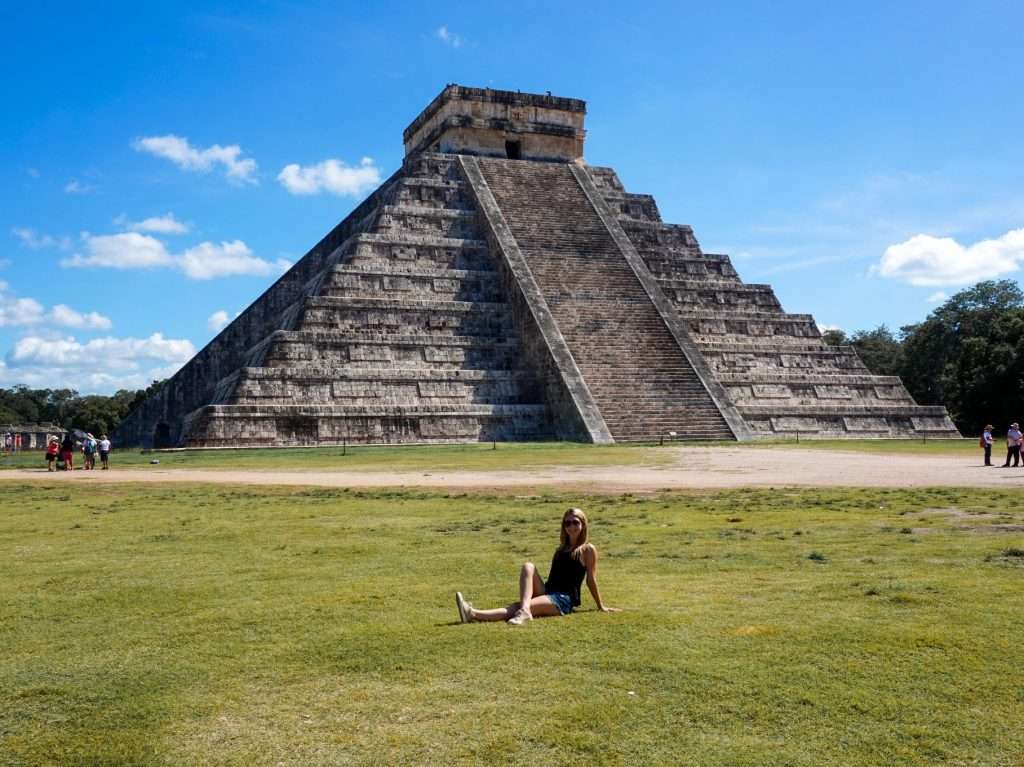 Chichen Itza Tour Itinerary
Itinerary Overview
8:00 AM – Pickup from Hotel or Meeting Location in Playa del Carmen
Travel to Chichen Itza (2.5 hours)
Full day guided tour of Chichen Itza
Travel to Mayan Community
Shopping at Mayan Community
Buffet Lunch
Travel to cenote
Swimming at cenote
Travel to Valladolid
Explore Valladolid Town Square
Travel back to Playa del Carmen (2.5 hours)
8:00 PM – Hotel Drop Off in Playa del Carmen
Total Tour Duration: Approximately 12 hours
Pickup and Travel to Chichen Itza
Upon booking, you'll receive an email confirmation from the tour company with all the information you need for the tour including the pickup time and location. 
If your hotel is not on the pickup list, they'll give you a specific meeting point.
We were picked up in a shuttle just outside of Coco Bongo in Playa del Carmen and then transferred to a large and comfortable charter bus with the rest of the tour group.
Once everyone is boarded on the bus, you'll depart for Chichen Itza and the tour guides will begin to share information on the Mayan culture and history during the 2.5 hour drive.
First Stop: Chichen Itza
The first stop on the tour of the ruins is the Mayan archaeological site of Chichen Itza.  Once you arrive at the ruins, you'll make your way through the main entrance of the archeological site. 
The land that Chichen Itza sits on used to be owned by a wealthy Mexican family but in recent years was taken back by the government and opened to the public.
While exploring the Mayan ruins of Chichen Itza, you'll see various buildings including the main pyramid (Kukulkan), the Temple of Warriors, the Observatory, and the Ball Court.
At 79 feet high and 91 steps on each side (365 in total), the main Kukulkan pyramid ("El Castillo") is so impressive, much larger in size than how it looks in pictures!
This pyramid was designed so that twice a year on the Equinox (March 21 and September 21) the sun illuminates seven triangles on the side of the pyramid creating an illusion of a feathered snake descending the pyramid.
The remains at the ancient city of Chichen Itza are very well preserved and you'll see many intricately carved structures and stone figures.  
All over the site, vendors are allowed to sell souvenirs and memorabilia so it feels a bit commercialized. Be prepared for many vendors!
Second Stop: Mayan Community & Lunch
The second stop on the tour is visiting a Mayan Community where you'll have the opportunity to hear from a Mayan shaman and shop for Mayan-made souvenirs. Personally, this was my least favorite part of the tour.
Most of the souvenirs seemed overpriced and not much different than what you can find on shopping in Playa del Carmen.
But that could also just be because I live in Playa del Carmen and am used to seeing them all the time!
There was, however, one unique souvenir that we purchased which was a personalized Mayan calendar reading.
You have to submit your name and birthday and after lunch, you'll receive a personalized folder with a reading describing your Maya lunar horoscope, as well as your traits and characteristics.
Upon receiving my reading, I found out that my protective animal is the Jaguar, which is the fiercest of them all, and that I was destined to be a shaman. Sounds about right!
If you're interested in astrology, it's a neat thing to have or display in your home. The cost is $25 USD per person and you can pay with cash or credit card.
After shopping, you'll head over to a different area to see a cooking demonstration and you'll get to try some tacos with handmade tortillas. Afterwards you'll go to the restaurant nearby for a full buffet lunch.
The food was pretty mediocre but that's pretty much to be expected on a tour. You'll get to choose from a spread of salads, fruits, tacos, fish, and pasta. Note there is an additional charge for beverages.
Third Stop: Cenote
The third stop on the Chichen Itza tour is visiting a sacred cenote for a refreshing swim. On our tour, we visited Ik Kil Cenote, which was SO impressive and probably one of the best cenotes I've visited in Mexico. 
It's a deep underground cenote, with plants cascading down the sides and center of the massive hole. It's really otherworldly!
Once you arrive, you are required to shower first to remove any sunscreen, and then you'll descend down many stairs to the bottom.
There are jumping ledges as well as wide ladders to submerge into the water. It's extremely deep so you'll want to wear a life jacket if you don't want to tread water the whole time.
Cenote Ik Kil has many amenities including bathrooms, showers, and changing rooms.  There's also a clock on the wall so you know when it's time to leave.
Last Stop: Valladolid
The last stop on the tour is visiting the colonial city of Valladolid.  We only got to spend about 25 minutes here but the historic center and town square is very cute and lively.
The quick stop gave us just enough free time to grab some churros or marquesitas as a snack before heading back to Playa del Carmen. 
I wish I had had more time to experience all the fun things to do in Valladolid. It's such a charming town!
What to Wear on the Chichen Itza Tour
Here's what I would recommend wearing on the Chichen Itza tour:
Light breathable clothing: It will be very hot at Chichen Itza so you'll want to wear light breathable clothing like shorts, a short-sleeve top or tank top, a flowy skirt, or activewear.
Swimsuit: Wear a swimsuit under your clothes so you're prepared for the Chichen Itza cenote swim after visiting the ruins.
Comfortable walking shoes: The ruins are widespread and the jungle terrain can be uneven so you'll want to tennis shoes or comfortable walking shoes to last the entire day.
What to Bring on the Chichen Itza Tour
Below are a few items I would recommend bringing on the Playa del Carmen tours to Chichen Itza. 
It's very hot at Chichen Itza and there's not much shade so be prepared for the sun. If you plan to swim at the cenote, you'll also want to bring swim items.
Sun Hat: Bring a sun hat or visor to protect your face, head, and shoulders from the sun's intensity throughout the day.
Sunglasses: It will likely be bright and sunny all year round so you'll also want to bring a pair of sunglasses to wear around the ruins.
Biodegradable sunscreen: You'll definitely need to apply sunscreen before visiting the ruins as there is little shade on site. You'll be required to shower before entering the cenote but I would recommend using biodegradable sunscreen just to be safe.
Water bottle: Bring a water bottle to stay hydrated throughout the full-day tour. These collapsible water bottles are a great option as they are compact while traveling.
Camera or GoPro: Bring a high quality camera or GoPro to capture some fun pictures around the ruins and in the cenote.
Beach towel: Another essential item to bring is a beach towel to dry off after you get out of the cenote. These microfiber beach towels are great because they are super light weight and dry quickly between the multiple stops on the tour.
Water shoes: It's always best to wear water shoes when swimming in a cenote as you'll be walking over a lot of rocks, slippery stone steps, and slick wooden ladders.
Change of clothes: Be sure to bring a change of clothes to change into after getting out the cenote. There are restrooms and changing rooms on site.
Tips for Visiting Chichen Itza
Follow these tips to make the most of your Chichen Itza tour experience:
Book in advance: I would definitely recommend booking your Chichen Itza and cenote tour from Playa del Carmen in advance.  The best Chichen Itza tours can fill up quickly and most tour companies offer a full refund if you cancel up to 24 hours in advance.
Be prepared for the heat: There is very little shade at Chichen Itza so I would bring a sun hat and a water bottle to stay hydrated. It can get VERY hot.
Bring breakfast and snacks for the bus: You'll likely have an early pickup and it's a long drive to Chichen Itza so bring some breakfast, snacks, or coffee to enjoy on the bus.
Bring water shoes: I always wear water shoes whenever I visit a cenote as the ground is usually very rocky and uneven. Bring an inexpensive pair of water shoes to protect your feet and be way more comfortable.
Final Thoughts: Chichen Itza Tour from Playa del Carmen
Overall, I thought the Chichen Itza tour from Playa del Carmen was good value for your money.
It was a long day and it felt a little rushed at times, but it was still a fun, organized, and unique experience.
If I did it again, I might consider booking a private tour to Chichen Itza for the ability to customize the experience, go at your own pace, and spend as much time as you want at the different stops.
So what do you think, are you ready to check off one of the New Seven Wonders of the World and visit Chichen Itza?!
Read next: Tulum vs Chichen Itza: Which Mayan Ruins are Best?
Like this post? Pin it for later!