Xcaret vs Xel-Ha vs Xplor: Which Xcaret adventure park is right for you in 2023?
Xcaret vs Xel-Ha vs Xplor: Which is best?
Xcaret, Xel-Ha, and Xplor are three of the most popular adventure parks in Riviera Maya, Mexico.
These beautiful eco-theme parks operated by Grupo Xcaret offer a chance to explore the natural beauty of Mexico's Yucatan peninsula actively.
Visitors can participate in a variety of activities including swimming, snorkeling, zip lining, and exploring underground rivers and caves.
You honestly can't go wrong with any of the parks but if I had to choose a favorite, I would probably choose Xel-Ha!
This beautiful waterpark offers the best value with a variety of fun water activities, and unlimited food and alcohol.
Xplor is a close second because it offers the best ziplining in Riviera Maya and is great for those looking for a full day of adrenaline-pumping activities.
Xcaret offers the widest range of activities, plenty of restaurants and bars, and the famous Mexico Espectacular production.
But it's also the most expensive of all the Xcaret parks and is better suited for children and families with its numerous wildlife encounters and more low-key activities.
Xcaret vs Xel-Ha vs Xplor: Park Overviews
First, let's start with a basic overview of each park:
Xcaret Park
The original of Grupo Xcaret's parks, Xcaret Park (pronounced "Ish-ka-ret") features 50 attractions within its massive property.
Visitors can spend a full day out among the jungle trails, swimming in underground rivers, exploring caves, and frolicking on beaches or natural pools.
Drawing your attention towards Mexican culture and heritage, its range of park activities makes it the perfect choice for families with younger children.
With a focus on wildlife, you can stroll through open-air aviaries, the Butterfly Pavilion, Coral Reef Aquarium, and interact with sea turtles and manatees. Plus, historians will love the Mayan ruins and Mexican Folk Art Museum.
Xcaret Park's main highlight is the nightly Xcaret Mexico Espectacular production, which is a 300-person crew show that is a history lesson but fun–featuring pre-Hispanic dances and more!
Xel-Ha Park
Known for aquatic activities, Xel-Ha Park (pronounced "Shell-Ha") is located on an inlet of the Caribbean Sea, giving it a prime location for natural water activities.
Boardwalks and the Jungle Train connect the park's cenotes, caves, hidden beaches, and hammock gardens. In the center lies an expansive natural pool, where red flags mark areas rich in marine life.
While swimming and snorkeling take the spotlight, the eco-waterpark isn't just the region's largest natural aquarium.
Manmade slides, high jumps, and water ziplines add dimension to the park's natural beauty and there's even a mile-long lazy river.
For land activities, visitors can explore the manatee sanctuary, Mayan ruins, jungle trails, and biking paths.
The park's most famous structure is the Scenic Lighthouse, which you can climb for panoramic views over the park and descend down one of its four spiral water slides.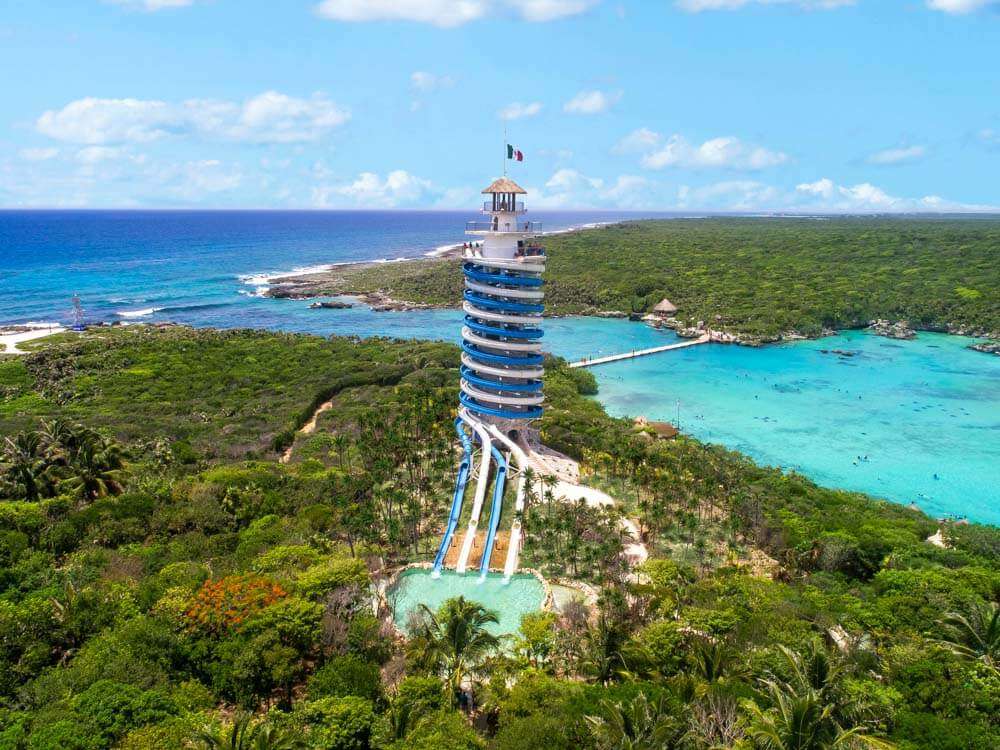 Xplor Park
Known for its adrenaline-pumping activities, Xplor (pronounced "Ish-plor") was the first Xcaret park I ever visited and still remains one of my favorites!
Xplor offers 6 different adventure activities ranging from zip lines to underground caves to ATV experiences.
Each activity is uniquely carved into natural outdoor landscapes, taking you deep into the Riviera Maya jungle, underground caverns, and flooded caves.
Xplor adventure park is best known for its sky-high zipline course with some of the tallest zip lines in Riviera Maya. Some even end with a thrilling drop into a cenote so be prepared to get wet!
After dark, Xplor turns into its night-time persona known as Xplor Fuego.
Xcaret vs Xel-Ha vs Xplor: Quick Comparison Chart
Xcaret vs Xel-Ha vs Xplor: Pros and Cons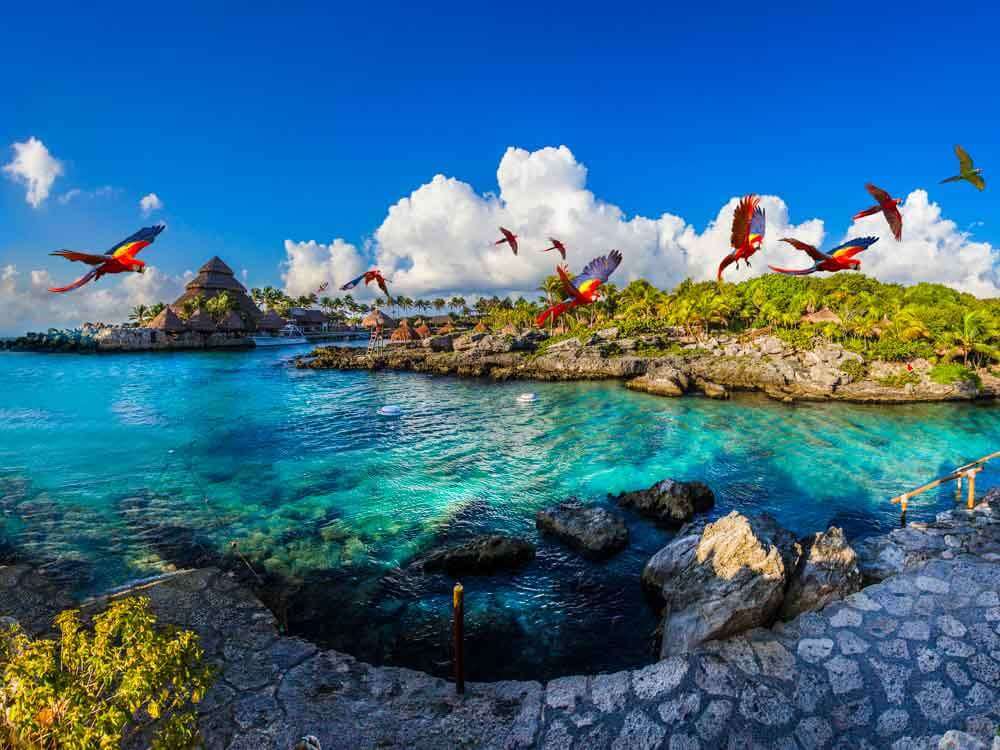 Xcaret vs Xel-Ha vs Xplor: Who is each park best suited for?
All of the Xcaret parks are designed to be fun for most ages and groups so you'll have a good time no matter which park you choose. But here's a look at who each park is best suited for:
Who is Xcaret suited for?
Xcaret is the perfect park for kids and families because it offers a wide range of activities that are both fun and educational.
With over 50 activities to choose from, kids will love the numerous wildlife encounters like the Aviary, Butterfly Pavilion, Coral Reef Aquarium, Sea Turtles, and Manatee Lagoon. Plus, water activities include underground rivers and cove snorkeling.
Xcaret is also home to the Xcaret Mexico Espectacular production, which is a nightly show that tells the story of Mexico's history and heritage.
With a greater focus on culture, Xcaret is a more laid-back park, offering a relaxed experience that's perfect for nature lovers and history buffs.
Who is Xel-Ha suited for?
Xel-Ha offers something for everyone, making it the perfect choice for families or groups of friends looking for a unique water park experience near Playa del Carmen.
While the park is suitable for children ages 5 and older, it's probably best for older kids who will love the water zip lines, ropes challenges, and high-speed waterslides.
However, smaller children will also enjoy the park's children's activities as long as they're comfortable in water.
Plus, with food and alcohol included, Xel-Ha is one of the most affordable Xcaret parks–perfect for travelers on a budget.
Who is Xplor suited for?
Xplor is best suited for adventurous adults and families with older children. If you're looking for an exciting, outdoor adventure and are not afraid of heights, then Xplor will be a great place for you.
With the absolute best ziplines in Riviera Maya, Xplor really can't be beat if zip lining is what you want to do!
Perfect for thrill-seekers who enjoy the outdoors, Xplor is a great activity for those who like an adrenaline rush.
Xcaret vs Xplor vs Xel-Ha: Location
All three adventure parks are located in Riviera Maya, Mexico in between the towns of Playa del Carmen and Tulum.
Xcaret and Xplor can be found at the same location just 15 minutes south of Playa del Carmen–Xcaret is located on an oceanfront inlet while Xplor is situated closer to the highway.
Xel-Ha is located closer to Tulum, about 45 minutes south of Playa del Carmen. When comparing parks, you'll want to consider transportation costs as round-trip transportation is NOT included in the price of admission.
To get to the parks, you can add the optional transportation service for around $27 USD per person, or go on your own by driving or taking a taxi.
Xcaret vs Xel-Ha vs Xplor: What park is the cheapest?
When it comes to price, Xel-Ha is the cheapest of the three parks and Xcaret is the most expensive as the park is not all inclusive.
Here is a breakdown of the current admission prices:
Xcaret Admission Prices
Xel-Ha Admission Prices
Xplor Admission Prices
How to Book Park Tickets
How to Save Money on Park Tickets
There are a few different Xcaret discounts available–take advantage of these automatic discounts outlined below to get the best deals on park tickets and avoid paying full price for admission.
🦜 Explore my Xcaret resource hub for easy access to all of my Xcaret park reviews, comparison guides, as well as current Xcaret coupons and promotional offers.
Book in advance
Create your own package
Stay at one of the Xcaret hotels
Staying at an Xcaret all inclusive resort gives you all "fun-inclusive" access to the parks, meaning you get unlimited access to all of the Xcaret parks during your stay.
This is an especially great option for families if you plan on visiting more than one of the parks.
🎨 Wondering what it's like to stay at an Xcaret hotel? Find out in my Hotel Xcaret Arte review!
Resident Discounts
Xcaret also offers a special discount for Quintana Roo residents which is valid only at the park's ticket booths, online, or through the contact center.
Tickets for Quintana Roo residents can be purchased through the website here but it is only available in the Spanish language.
You'll need to present an Official ID of Quintana Roo to get the best price and be eligible for the discount. For foreigners living in Quintana Roo, Temporary and Permanent Resident Cards are accepted.
Xcaret vs Xel-Ha vs Xplor: What activities can you do at each park?
Next, let's take a look at how each park compares when it comes to activities.
All three Xcaret parks offer a variety of activities, but Xcaret has the most to offer with over 50 different activities.
Xel-Ha has over 20 different activities and Xplor has 6.
Xcaret Activities
With over 50 activities to choose from, Xcaret definitely offers the widest range of activities on its massive property.
Once on-site, you'll basically be free to explore its different colored routes with mini Mexican towns and cultural recreations like haciendas, plazas, Mayan villages, and a Mexican cemetery.
A couple of water activities are included in the basic admission like the Underground Rivers and Aquatic Paradise.
However, most of the premium water activities like Sea Trek, Snuba Reef, Snorkeling Tour, Stingray Encounter, and the Adrenalina Speed Boat come at an extra charge.
At night, you won't want to miss the Xcaret Mexico Espectacular, which is a 300-person crew production and show featuring lively and colorful cultural performances and pre-hispanic dances.
Kids Activities (Included): Coral Reef Aquarium, Sea Turtles, Jaguars Island, Butterfly Pavilion, Aviary, Regional Fauna, Children's World
Nature Lovers (Included): Natural Museum of Orchids and Bromeliads, Manatee Lagoon, Tropical Jungle Trail
Water Activities (Included): Underground Rivers, Xcaret's Aquatic Paradise, Paradise River
Optional Activities (Add-Ons): Adrenalina (Speed Boat), Adventure Kids (Stingrays), Sharks Adventure, Stingray Encounter, Stingray Sea Trek, Sea Trek, Snuba Reef, Temazcal, Snorkeling Tour, Xpa Xcaret, Paraxute, Xcaret Mexico Espectacular Dinner, Wine Pairing at Xcaret Wine Cellar
Xel-Ha Activities
Xel Ha offers over 20 activities that are included in the basic admission.
Premium water activities like Sea Trek, Snuba, Power Xnorkel, and Manatee Encounters can also be added for an additional cost.
Snorkel Xel-Ha: Snorkeling spots are available all over the park in hidden lagoons, cenotes, and beaches. You'll be able to pick up Xel Ha snorkel gear around these sites to explore the underwater world at leisure.
Trepachanga: The Trepachanga activity puts your balance skills to the test by having to cross two parallel, suspended ropes over the water.
Salpichanga: Salpichanga is an overwater Xel-Ha zipline where you'll have to hang on tight to a handle and end with a splash in the fresh waters of the Xel-Ha inlet.
River Tour Xel-Ha: Xel-Ha's River Tour is a mile-long lazy river, where you can float with life jackets or on inner tubes, admiring the lush mangrove forest and other wildlife.
Xel-Ha Cave: Known as the Mayan Cave, this natural cenote is considered a sacred place where you can snorkel or float among natural skylights.
Cliff of Courage: The Cliff of Courage is a 16-foot wall and climbing challenge where you can jump off the top into the refreshing waters below.
Other Activities: Chuc Kay's Flight, Xel-Há Inlet, Bay of Caprices, Home River – Mangroves, Children's World, "Ixchel" Grotto and "El Dorado" Cave, Mayan Wall, Jungle Trails, Chacah's Garden, Cenotes, Floating Bridge, Land of Huh – Bike Ride, Xel-Há Nursery, Meliponary, Queen Conch Sanctuary Xel-Há
Optional Activities (Add-Ons): Sea Trek Discover, Adrenalina Xel Ha, Snuba Cenote, Power Xnorkel Xel-Há, Zip-Bike Xel-Há, Manatee Encounter, Spa Xel-Há, Stingray Encounter, Sea Trek, Snuba Caleta, Fish Therapy
Xplor Activities
Amphibious Vehicles: The ATVs of Xplor are known as amphibious vehicles and will take you on a jungle and cavern circuit measuring over 3 miles (5 kilometers).
Rafts: The Rafts activity is an underground rafting challenge that will take you river paddling as you navigate through underground caves using wooden hand paddles.
Stalactite River Swim: The Stalactite River Swim activity will take you swimming, floating, and trekking through stunning underground caves full of out-of-this-world stalactites and ancient rock formations.
Hammock Splash: The Hammock Splash is a seated water zip line circuit that ends with a thrilling drop into Xplor cenotes.
Underground Expedition: In Xplor's newest Underground Expedition activity, you'll get to explore underground caves, climb over obstacles, and glide down two thrilling water slides.
🧴 When visiting each of the parks, be sure to bring biodegradable sunscreen and water shoes.
Xcaret vs Xel-Ha vs Xplor: Which park has the best food and drink?
With 15 food and beverage outlets to choose from, Xcaret offers the most food and drink options at its numerous buffet restaurants, bars, and cafes.
However, it's important to know that food is not included in the Xcaret basic admission.
You can either purchase the Xcaret Plus admission for 1 buffet lunch or purchase food, drinks, and alcohol at a la carte prices.
Xel-Ha offers the best value when it comes to food and drink with unlimited dining included at the park's breakfast and lunch restaurants.
Plus, it's the only park that offers an open bar, where you can enjoy beers, margaritas, and cocktails while relaxing in the park's picturesque rest areas.
Xplor has a more limited selection of restaurants with just one lunch buffet restaurant and 2 snack bars-both of which are included in the admission ticket.
Honestly, the food buffets are pretty similar at all of the parks offering a mix of Mexican, American, and international cuisine.
The food is good but nothing spectacular so it really comes down to value when comparing the food and drink at the three parks.
Xcaret vs Xel-Ha vs Xplor: Which park is the best value for the money?
In my opinion, Xel-Ha provides the best value for your money when compared to Xcaret and Xplor.
It is the cheapest admission ticket and includes the most with unlimited activities, breakfast, lunch, and drinks!
Plus, Xel-Ha is the only Xcaret park that includes alcohol so that in itself is a huge value add.
Xplor also provides excellent value for a full day of unlimited adventure activities, lunch, and unlimited snacks.
It is honestly worth it just for the ziplines! Plus you'll get to try out 5 other action-packed activities too.
With so many different activities, Xcaret provides value but what I don't love about Xcaret is that the admission ticket is not all-inclusive so you'll have a lot of extra costs on the day of the visit.
If you go with the Xcaret basic admission, you'll still need to pay extra for food, drinks, lockers, and snorkel gear. You'll want to upgrade to the Xcaret Plus admission for less added costs.
Xcaret vs Xel-Ha vs Xplor: Which park is best for kids?
When it comes to choosing a park for kids, Xcaret is probably the best park with its numerous wildlife encounters. The beautiful natural park is basically like a tropical zoo!
Plus, of the three parks, it's the only one that allows babies and toddlers under 5 years old–and with free admission!
The park itself has much better accessibility for strollers and there are many shallow natural pools for young children.
Xplor and Xel-Ha are both suited for children ages 5 and older though older kids and teens will probably have more fun on the more intense activities.
There are also height and weight restrictions for the ziplines at Xplor which can be found on the Xplor website here on the "Important Information" tab.
Children that don't meet the weight requirement can also ride tandem with adults on the ziplines.
Xcaret vs Xel-Ha vs Xplor: Opening Hours
Xcaret is by far the biggest time commitment and with the Xcaret Mexico Espectacular show, you will be there all day and night.
For all the parks, you'll want to arrive right when they open to get the most bang for your buck!
Final Thoughts: Xcaret vs Xel-Ha vs Xplor
Xcaret, Xel-Ha, and Xplor are all excellent adventure parks in Riviera Maya, Mexico that offer visitors a chance to explore the natural beauty of the region.
Xcaret offers the widest range of activities with a focus on history and culture, while Xel-Ha is known for being a natural waterpark, and Xplor is famous for its ziplines.
When it comes to price, Xcaret is the most expensive of the three parks, while Xel-Ha is the least expensive and offers the most value–making it my personal favorite!
But with fun activities and unique natural landscapes, you really can't go wrong when choosing any of these three parks!