Is Playa del Carmen Safe? Top Playa del Carmen Safety Tips
Disclosure: This page may contain affiliate links, meaning at no additional cost to you, I will earn a commission if you click through and make a purchase. As an Amazon Associate I earn from qualifying purchases.



Is Playa del Carmen safe?  Probably one of the most common questions I've been asked about living in Mexico.  
As a female expat living solo in Playa del Carmen, safety and security is definitely a top concern.
In this post, I'm sharing my personal safety experience living in Playa del Carmen and my best Playa del Carmen safety tips for both tourists and long-term visitors.
Playa del Carmen Safety Overview
Let me just start by saying that I love living in Playa del Carmen.  It's a Mexican beach town with so amazing things to experience – beautiful beaches, incredible cenotes, and a welcoming community.
I wouldn't have lived here for so long if I didn't feel comfortable or it was super dangerous. But crime does exist in Playa del Carmen and bad things do happen sometimes so I want to be as open and honest as I can about my experience. 
I truly believe if you are more aware and follow some of these safety tips, you more than likely will have no issues visiting Playa del Carmen. 
Playa del Carmen Travel Advisory
Officially, the U.S. Department of State has issued the travel advisory for the Mexican state of Quintana Roo (where Playa del Carmen, Cancun, and Tulum are located) as a level 3 -"Reconsider Travel." 
However, this is primarily due to Covid-19.  Many of the tourist destinations in Mexico have the same level travel warning as destinations in the United Kingdom, Germany, France, Italy, and China.  
Smart Traveler Enrollment Program
If you are a U.S. citizen I would also recommend registering for the Department of State's Smart Traveler Enrollment Program (STEP), which allows you to submit your travel plans to the nearest U.S. embassy or consulate in Mexico. 
You'll then receive news and safety alerts by email for the areas you're traveling to. I'm enrolled and have found it to be very helpful and informative. 
Media Perception
I know there's a lot of media hype about crime-related incidents in Mexico, especially on American news channels.  I'm not saying these stories are false but I do think that the media does a good job at blowing many of these incidents out of proportion.  
Here's an example: I once saw a news story reporting a crime in Playa del Carmen and every article that I read relayed drastically different information.  From the crime location to the victim's nationality, the "facts" were all very different.  
One article alleged that the crime happened "blocks from the beach".  Keep in mind that the entire town of Playa del Carmen is "blocks from the beach" and the actual neighborhood where the crime occurred is not the safest neighborhood, or one that is frequented by tourists. 
I think it's important to remember that what the media portrays is not always accurate.  And if local news stories can't provide accurate information, you can only imagine how the information gets skewed on international news channels. 
Crime in Playa del Carmen
Does crime exist in Playa del Carmen?  Absolutely.  Petty crime and theft are most common since it's primarily a vacation town where tourists are more prone to relax and indulge in alcoholic beverages. 
You definitely need to be vigilant, watch your alcohol consumption, and don't let your guard down. 
I'm also not naïve to the fact that there are cartel-related incidents in the Playa del Carmen and Cancun areas, which make them less safe than nearby destinations like Cozumel or Isla Mujeres. 
However, from my experience the incidents seem to be more targeted and drug-related, and tourists are rarely involved.  As long as you are not involved in drugs, you more than likely won't be exposed to these dangers.
Safety for Tourists in Playa del Carmen
How safe is Playa del Carmen for tourists?  If you're visiting Playa del Carmen on vacation, you have very little to worry about in regards to safety.  The entire region depends primarily on tourism so it's generally safe for visitors. 
But you also have to be a responsible traveler.  Here are some Playa del Carmen safety concerns to be mindful of for tourists. 
Resort Safety
If you don't plan to leave the resort, you honestly won't face many risks.  However, if you are staying at an all-inclusive resort, be mindful of your beverage consumption and try not to stay out late alone, even if it's just at the hotel bar. 
There have been incidents at resorts where drinks have been drugged but this is definitely not the norm.
Also, you'll definitely want to utilize the hotel safe to lock up your valuables, credit cards, and travel documents. 
Don't assume your valuables will be safe in your hotel room.  You never know who has access to your room including housekeeping, maintenance, security, and other resort staff. 
5th Avenue Safety
Fifth Avenue is a great place for shopping in Playa del Carmen, but it is a crowded and lively place which makes it an attractive location for pickpocketers.  Always be vigilant of your surroundings and hold on securely to your purse and cell phone. 
For ladies, I would definitely recommend a crossbody purse or belt bag. Men should always keep their wallets in their front pockets.
👉 This is the belt bag I personally use and recommend for traveling safely in Mexico
Also, you will more than likely be offered drugs while walking down 5th Avenue.  Just ignore it and keep walking.  As I mentioned, if you avoid the drug scene in Playa del Carmen you will avoid trouble. 
Beach Safety
Many of the beaches in Playa del Carmen will be very crowded and have no shortage of vendors trying to sell you their goods. 
Never bring valuables to the beach and keep an eye on your belongings at all times.  It's an easy environment for bag snatchers to make a quick getaway. 
Whenever I go in the water, I always secure my beach bag and keep a close and watchful eye on it. Maybe I'm a little paranoid but I would rather be safe than sorry! 
And if you want to be extra cautious, you can use a Pacsafe, which you can strap to a beach chair or permanent fixture. 
Nightlife Safety
If you are going out to the nightclubs or bars in Playa del Carmen, I would always keep an eye on your drink or keep a hand over it. Drink spiking can happen, especially for ladies.
This is not something I've heard of a lot but it does happen, sadly as it does in many bars around the world.  Watch your alcohol consumption and never accept drinks from strangers.
My Personal Safety Experience
I have lived in Playa del Carmen for over two years and have stayed at all-inclusive resorts in Mexico many times. 
I'm a blonde.  I'm a female.  I definitely stand out in Mexico, which is why I learned to be super cautious. 
In Playa del Carmen, I always feel safe during the day being out and about, shopping, or going to the beach. 
If you stick to the touristy areas closer to 5th Avenue, it is generally safe and there are usually a lot of other people around.  
However, at night I generally prefer not to be out late alone.  I don't go out and party all the time and am pretty mindful of my alcohol consumption.  I'm not saying I never have any fun but I was careful not to become a target.
I always avoid unsafe areas and text a friend once I got home.  I also never feel safe taxing a taxi home alone at night (more info on taxi safety below).
For the most part, I have never had any major safety issues in Playa del Carmen but like I said I learned from others' experiences and always erred on the side of caution.
I also speak Spanish, which definitely helps to communicate more easily with locals and avoid getting taken advantage of. 
Exploitation and how to avoid It
Another important thing to remember is that Mexico is considered a third-world country.  There are many people that are struggling to make a living so the chances of exploitation are high.  
I have found that this can even be true of authority figures like police officers, military members, hospital workers, etc.
I think that is one thing we take for granted in the United States, is that we rarely have to question the integrity of public service officers.  
Now I'm definitely not saying that every authority figure in Mexico is corrupt, but it's important to know that it does exist.  Police officers have been known to abuse their power for money. 
Most tourists will not have much interaction with these types of figures or situations but generally speaking, it's best to trust your instincts and if something seems off, don't be afraid to question it.  
Common Scams
I've heard of a few common scams in Playa del Carmen that I wanted to share so you know what to be on the lookout for and things to avoid. 
Some of these are probably more likely to happen to locals but sharing is caring!
Airport Transfer Scam
When exiting the airport and looking for your prearranged airport transportation, someone will approach you and tell you that your Cancun airport transfer has been canceled and that no other vehicles are available. 
They'll even call the alleged "transfer company" and have you speak to an accomplice on the phone that acts as a reservation agent. They'll then offer to drive you to your destination at an exorbitant rate. 
ADO Thefts
The ADO is the airport bus and one of the largest bus companies in Mexico. I've taken the ADO bus many times and have never had any issues but I've heard of people's belongings being stolen from the overhead bins. 
The thief will walk down the aisle with their hands up for stability and move the overhead items along with them. 
If you can, don't use the overhead bins and keep your luggage on the floor in front of you or on your lap.
Overcharging or Added Service Charges
If you are dining at one of the restaurants in Playa del Carmen, it's not uncommon for them to add an automatic gratuity or service charge.
In fact, it's actually illegal in Playa del Carmen for them to add an automatic gratuity to the bill.
Always take the time to review your restaurant bill carefully and speak up if it's incorrect.  And if paying in cash, be sure to count your change to make sure it's correct.
Ketchup Scam
Yes, the ketchup scam is a real thing. It's a scam that happens while you are waiting in line at Sam's, Costco, etc.  Basically, someone comes up behind you and "accidentally" spills a ketchup packet on your shirt or clothing. 
They then offer to help you clean it by escorting you to the bathroom, where another accomplice is waiting to steal your money.  So if you see ketchup or any other kind of stain, it's a red flag alert-literally!
Bill Swap Scam
Mexico recently released a new $500 MXN bill that is blue in color.  Since $20 MXN bills are also blue, I've heard of people, most commonly gas station attendants, that will try to return your $500 bill with a $20 bill in the hopes that you don't notice. 
Playa del Carmen Taxi Safety
I have taken a lot of taxis in Playa del Carmen and have personally never had any bad experiences. 
Many of the taxi drivers are friendly and are just trying to make a living but there are also not-so-friendly taxi drivers that give them a bad name.
I've also heard one too many stories of bad things happening–like kidnapping and thefts at knife point.  So I just never really felt comfortable taking a taxi on my own if I could avoid it.
But if you do take a taxi, here's my advice:
Confirm the price upfront: Always confirm the price of the taxi before getting in.  Taxis drivers will definitely overcharge for tourists.  
Try to speak Spanish: If you can speak Spanish with the driver, you are more likely to get a fair rate.
Never sit in the front seat:  This sets you up for someone to hop into the backseat and attack you from behind. Also don't get in a taxi if there is someone in the passengers seat.  Chances are they are working together.
Record the taxi number: It's a good idea to save the taxi number in your phone or send it in a quick text message to a friend in case of emergency or if you left anything behind.
Double check for personal belongings: Always be sure to check the backseat of the taxi before exiting for any items that may have been left behind.  If you do leave something, chances are you will not get it back.
Don't take taxis from 5th Avenue:  The 5th Avenue taxi zone will be charged the tourist rate which will be double or triple the normal price.  In most cases, you can walk one block up to 10th Avenue and hail a taxi at the normal rate.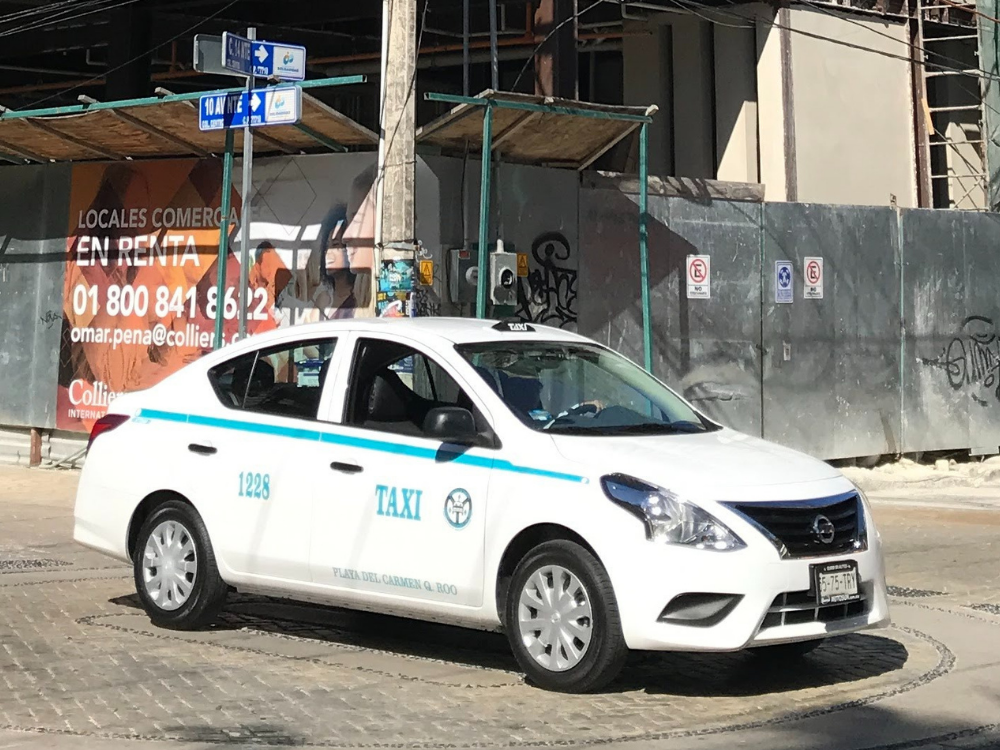 Playa del Carmen Mexico Safety Tips
Here's a recap of some of the safety tips I mentioned in this post and a few other recommendations of things I have learned on how to stay safe in Playa del Carmen.
I've also included some recommended travel safety products to give you extra peace of mind. 
Keep valuables in your hotel safe: Be sure to keep any valuables locked in your hotel safe. For added security on the go, I would also recommend purchasing a Pacsafe, which is a portable safe that can be secured to fixtures in your hotel room or beach chair.
Keep your personal belongings close at all times: When walking on 5th Avenue or in crowded areas, I would recommend wearing a crossbody purse or belt bag with zipper closures. If you want to be extra cautious you can buy a travel pouch to wear under your clothes.
Keep your purse on your lap when dining in restaurants: Always keep your purse in your lap or in close sight when dining at restaurants. It's common for thieves to snatch bags left on the floor or behind chairs.
Keep your passport in the hotel safe: It's better to keep your passport locked in the hotel safe. Instead, you can carry a photocopy of your passport or have one saved as a picture on your phone.
Don't carry large amounts of cash: Only carry the amount of money you'll need for the day as flashing large amounts of cash can make you a target.
Keep at least one credit card at the hotel: Don't carry of all your credit cards with you so you still have access to funds if your wallet were to get stolen. This happened to me in Mexico City and I definitely learned my lesson!
---
So yes, crime does exist in Playa del Carmen, as it does in many tourist destinations around the world.  But as long as you are cautious and follow some of these safety tips, I do believe it is safe to travel to Playa del Carmen.  
As I said, I love living in Playa del Carmen and don't want to discourage you from visiting because the destination has so many amazing things to offer. 
But I also want to be transparent.  Do your own research and travel only if you feel comfortable. Safety is never guaranteed but you'll more than likely have an amazing time. 
Like this post? Pin it for later!