Xcaret vs Xplor: Which adventure park is better in 2023?
Which one is better Xplor or Xcaret?
Xcaret and Xplor are two of the most popular adventure parks in Riviera Maya Mexico. They are both well known for their exciting activities and beautiful natural surroundings. But which one is better?
If you're looking for an adrenaline-pumping adventure park experience, Xplor is the place for you.
With zip lines, ATVs, and an underground river rafting adventure, Xplor will get your heart racing and is perfect for adventurous adults and teens.
If you're looking for a more relaxed adventure park experience, Xcaret is the better option.
With beautiful beaches, underground rivers, wildlife encounters, and a nightly cultural production and show, Xcaret offers something for everyone and is perfect for families with small children.
So, which one is better? It depends on what you're looking for!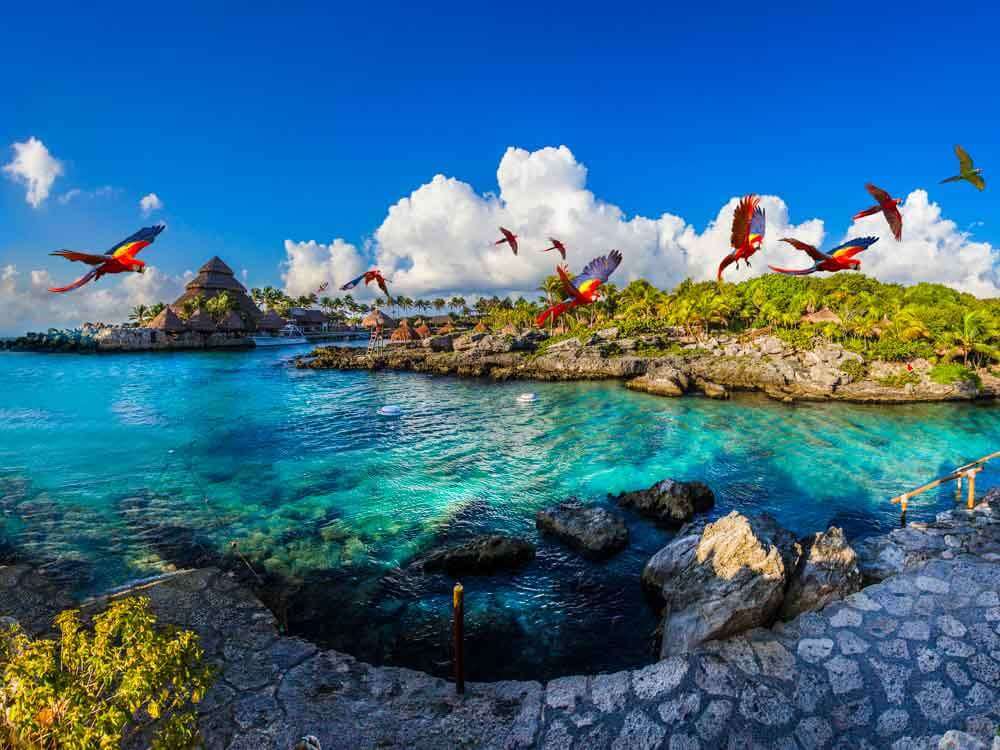 About Xcaret and Xplor
Let's take a look at both parks in more detail.
ℹ️ One important clarification to make before we start is that "Xcaret" is the name of the overall company, but it's also the name of one of the adventure parks. You might hear the name used interchangeably when referring to all of Xcaret's parks and tours.
What is Xcaret like?
The original of Grupo Xcaret's parks, Xcaret Park (pronounced "Ish-ka-ret") features 50 attractions within its massive property.
As one of the best Playa del Carmen water parks, visitors can spend a full day out among the jungle trails, swimming in underground rivers, exploring caves, and frolicking on beaches or natural pools.
Drawing your attention towards Mexico's culture and heritage, its range of park activities makes it the perfect choice for families with younger children.
With a focus on wildlife, you can stroll through open-air aviaries, the Butterfly Pavilion, Coral Reef Aquarium, and interact with sea turtles and manatees. Plus, historians will love the Mayan ruins and Mexican Folk Art Museum.
Xcaret Park's main highlight is the nightly Xcaret Mexico Espectacular production, which is a 300-person crew show that is a history lesson but fun – featuring pre-Hispanic dances and more!
What is Xplor like?
Located just 15 minutes south of Playa del Carmen, Xplor (pronounced "Ish-plor") is the first Xcaret park I ever visited and still remains one of my favorites.
Xplor offers 6 different adventurous activities ranging from ziplines to underground caves to ATV experiences.
Each activity is carved into natural landscapes, taking you deep into the Riviera Maya jungle, underground cenotes, and flooded caves.
Xplor park is best known for its sky-high zipline course with some of the highest ziplines in Riviera Maya. Some even end with a vigorous drop into a cenote so be prepared to get wet!
Xcaret and Xplor Location
Xcaret and Xplor are situated at the same location just 15 minutes south of Playa del Carmen in Riviera Maya, Mexico.
However, Xcaret is located on an oceanfront inlet, while Xplor is nestled into the jungle closer to the highway.
Fun Fact: Xcaret means "small inlet" due to the park's oceanfront location and because a part of the Caribbean Sea enters the land. Xcaret was once used as a merchandise port by the Mayans.
Xcaret vs Xplor: Pros and Cons
Xcaret vs Xplor: Quick Comparison Table
**Note admission prices can fluctuate throughout the year.
Xcaret vs Xplor: Which has better activities?
The main difference between Xplor and Xcaret comes down to the types of activities. Here's a look at how each park stacks up:
Xcaret Activities
Xcaret Park offers 50 different activities on its massive property. Once on-site, you'll basically be free to explore its different routes with mini Mexican towns and cultural recreations like haciendas, plazas, Mayan villages, and a Mexican cemetery.
Kids and nature lovers will love the wildlife encounters like the Coral Reef Aquarium, Aviary, Butterfly Pavilion, Sea Turtles, and Manatee Lagoon.
Take a ride to the top of the 80 m (262 ft) tall Scenic Tower, the highest point in Riviera Maya featuring spectacular seaside views.
A couple of water activities are included in the basic admission like the Underground Rivers and Aquatic Paradise.
However, most of the premium water activities like Sea Trek, Snuba Reef, Snorkeling Tour, Stingray Encounter, and the Adrenalina Speed Boat come at an extra charge.
At night, you won't want to miss the Xcaret Mexico Espectacular, which is a 300-person crew production and show featuring lively and colorful cultural performances and pre-hispanic dances.
Kids Activities (Included): Coral Reef Aquarium, Sea Turtles, Jaguars Island, Butterfly Pavilion, Aviary, Regional Fauna, Children's World
Nature Lovers (Included): Natural Museum of Orchids and Bromeliads, Manatee Lagoon, Tropical Jungle Trail
Water Activities (Included): Underground Rivers, Xcaret's Aquatic Paradise, Paradise River
Optional Activities (Add-Ons): Adrenalina (Speed Boat), Adventure Kids (Stingrays), Sharks Adventure, Stingray Encounter, Stingray Sea Trek, Sea Trek, Snuba Reef, Temazcal, Snorkeling Tour, Xpa Xcaret, Paraxute, Xcaret Mexico Espectacular Dinner, Wine Pairing at Xcaret Wine Cellar
Xplor Activities
In comparison to Xcaret's 50 activities, Xplor's 6 different activities seem to pale in comparison but trust me they are enough to keep you busy!
Amphibious Vehicles: The ATVs of Xplor are known as amphibious vehicles and will take you on a jungle circuit measuring over 3 miles (5 km). Hanging bridges, tiny roads, flooded caverns, and stunning views of the jungle await you along the journey.
Rafts: A challenge that will take you river paddling as you navigate through underground caves. Each participant will be given two small wooden paddles that you'll strap to your hands and use to paddle your way through an underground river course.
Stalactite River Swim: A unique Xplor water activity that will take you swimming, floating, and trekking through stunning ancient caves featuring clear turquoise water and impressive stalactites.
Hammock Splash: Sit back and relax in a hammock on this comfortable seated zipline that ends with a thrilling drop into Xplor cenotes. Try out the 2 different circuits for double the rush!
Underground Expedition: Explore underground caves, climb over obstacles, and glide down two thrilling water slides. You'll be able to stand and trek through the narrow caves and shallow water in this underground challenge.
Who are Xcaret and Xplor suited for?
Here's an overview of who each park is best suited for:
Who is Xcaret best suited for?
Xcaret is probably best suited for families with smaller children.
There are no age restrictions at Xcaret so it's a great place to bring babies, toddlers, and young children to enjoy the park's numerous children's activities, natural pools, and wildlife encounters.
With its greater accessibility, Xcaret is also the best Xcaret park to visit for multi-generational families if traveling with both children and grandparents, as its paths are much easier to navigate with strollers and wheelchairs.
But at the same time, Xcaret is not just for kids. It's also a great spot for those that enjoy nature and appreciate cultural activities.
Visitors can learn about Mexican history and culture in a fun, colorful, and interactive environment.
And the Xcaret Mexico Espectacular production is a true highlight for all ages!
Who is Xplor best suited for?
On the other hand, Xplor is better suited for adventurous adults and families with older children.
If you're looking for an exciting, outdoor adventure and are not afraid of heights, then Xplor is the perfect place for you.
With the absolute best ziplines in Riviera Maya, it really can't be beat if ziplining is what you want to do!
Perfect for thrill-seekers who enjoy the outdoors, Xplor is a great activity for those who don't mind getting wet and like an adrenaline rush.
Xplor Park vs Xcaret: Which is cheaper?
Next, let's take a look at how the parks compare when it comes to admission costs:
Xcaret Tickets
Xcaret offers 4 different admission packages: Xcaret Admission, Xcaret Plus Admission, Xcaret Total Admission, and Xcaret at Night Admission:
Xcaret Admission
Xcaret Plus Admission
Xcaret Total Admission
Xcaret at Night Admission
Which Xcaret tickets should you buy?
The main differences between the Xcaret admission tickets are around food and activities.
Xcaret vs Xcaret Plus
Deciding between the Xcaret and Xcaret Plus admission tickets comes down to how much you think you'll spend on food.
The basic admission ticket does not include any food, so you'll still need to pay for lunch and drinks at the Xcaret restaurants at a-la-carte prices.
This might save you a few dollars, but honestly you'll probably be there all day long, so having a meal included is a nice added benefit.
Restaurant prices are above average so you can expect to spend around $25+ USD per person.
Xcaret Plus vs Xcaret Total
Deciding between the Xcaret Plus and Xcaret Total admission comes down to added activities.
Basically if you want to do Adrenalina (Speed Boat) or Sea Trek, then purchase the Xcaret Total admission ticket.
The Xcaret Total Admission ticket saves you about $28 USD as both Adrenalina and Sea Trek are $69.99 USD on their own.
For any of the other premium water activities, you'll need to add those on separately.
Xplor Tickets
Xcaret or Xplor: Which provides more value?
In my opinion, both parks offer excellent value for the money with their high-quality attractions, beautifully landscaped grounds, fun activities, well-maintained facilities and services, and overall experience.
So choosing which park offers the most bang for your buck really comes down to personal preference.
If you're looking for more activities to do, then Xcaret is the better option. However, keep in mind that there are lots of optional add-ons and added costs at Xcaret. So if you're not careful, you could end up spending more than you planned.
Xplor Xcaret Park, on the other hand, has fewer activities. But everything is included in the price of admission. So you don't have to worry about any hidden costs.
If you're leaning towards Xcaret, you'll want to add up all the costs for any optional activities you're interested in to come up with a total price and decide if it's worth it for you or your family.
How to Save Money on Xcaret Tickets
There are a few different Xcaret discounts available–take advantage of these discounts outlined below to save money on Xcaret tickets and avoid paying full price for admission tickets.
🦜 Explore my Xcaret resource hub for easy access to all of my Xcaret park reviews, comparison guides, as well as current Xcaret coupons and promotional offers.
Book in Advance
Create your Own Package
Resident Discounts
Xcaret also offers a special discount for Quintana Roo residents which is valid only at the park's ticket booths, online, or through the contact center.
Tickets for Quintana Roo residents can be purchased through the website here but it is only available in the Spanish language.
You'll need to present an Official ID of Quintana Roo to be eligible for the discount. For foreigners living in Quintana Roo, Temporary and Permanent Resident Cards are accepted.
Stay at one of the Xcaret hotels
Staying at an Xcaret all inclusive hotel gives you all "fun-inclusive" access to the parks, meaning you get unlimited access to all of the Xcaret parks during your stay.
This is an especially great option for families if you plan on visiting more than one of the parks.
🎨 Wondering what it's like to stay at an Xcaret hotel? Find out in my Hotel Xcaret Arte review!
Xplor vs Xcaret: Which has better food?
When it comes to food and drink, Xcaret is the clear winner with over 15 restaurants, cafes, and snack bars and a much larger focus on gastronomy.
Xcaret Food and Drink
Xcaret offers over 15 food and beverage outlets across its expansive grounds from buffet restaurants to beach bars to coffee shops.
Menu options include a range of Mexican food, international cuisine, and seafood. Even with a focus on elevated gastronomy, you'll still be able to find burgers and pizza!
If you purchase the upgraded Xcaret admission with food included, you'll be able to choose a buffet meal in one of the park's restaurants. Any additional purchases throughout the day can be made a-la-carte.
In addition, premium food and beverage experiences can be purchased like the 7-course Mexico Espectacular Dinner and the Wine Pairing at Xcaret Cellar.
Xplor Food and Drink
Xplor features just one restaurant known as "Troglodita", which is a large buffet-style restaurant with communal seating at large wooden tables.
The Xplor buffet includes food options with a mix of American and Mexican cuisine including hamburgers, pizza, pasta, tacos, enchiladas, and much more.
In addition, you'll be treated to a healthy salad and fresh fruit bar, as well as soft-serve ice cream, and gourmet desserts.
Drink options include a soda foundation, water, and fresh juices. Note alcoholic beverages are not served at Xplor.
Aside from the restaurant, Xplor Park also offers two snack and smoothie bars known as "Oasis" and "Manantial", which are perfect for a pitstop between activities to refuel with juices, smoothies, and light snacks.
Xcaret vs Xplor Visitor Info
Here's the basic visitor info for visiting Xplor and Xcaret:
Park Hours
Xcaret is open every day from 8:30AM-10:30PM
Xplor is open from Monday-Saturday from 9:00AM-5:00PM (closed Sundays)
Transportation
Transportation is not included in the price of admission. To get to Xcaret and Xplor, you can go on your own or add the round-trip transportation service to your ticket for an additional $30 USD per person.
If you do choose the transportation service, it's important to know that transportation can only be added at the time of purchase, so be sure to add this when you're buying your tickets.
Xcaret buses pickup from most major hotels in Playa del Carmen, Cancun, or Riviera Maya. If you're staying at an AirBnB or vacation rental, they'll give you a designated meeting point for pickup.
Travelista Tip: If you're coming from Playa del Carmen, the cost of a taxi is only around $15 USD each way.
Facilities and Services
In terms of facilities, both parks have rest areas, dressing rooms, restrooms, WiFi, ATMs, and free parking.
Gift shops are also located around the parks where you can purchase park photos, souvenirs, and gear (like water shoes).
Lockers
Both parks have large lockers where you can safely store your belongings throughout the day. At Xplor, lockers are included in the price of admission.
At Xcaret, the basic admission does not include lockers so you'll need to pay $5.99 USD plus a $10 USD refundable deposit for the use of lockers.
The upgraded Xcaret Plus and Total admission tickets include complimentary lockers in the exclusive Plus Area.
FAQs about Xcaret vs Xplor
Here are the answers to some of the most frequently asked questions about Xplor and Xcaret:
What are the age restrictions?
Xcaret is suited for all ages and children 4 and under are free.
Xplor is suited for children ages 5 and older. There are weight and height restrictions for the ziplines at Xplor which can be found here on the "Important Information" tab.
Children can also ride tandem with an adult if they don't meet the minimum weight requirement.
What's the Xcaret cancellation policy?
Reservations canceled more than two days in advance of the date of visit are subject to a 10% administration fee.
Reservations canceled in 2 days or less before the visit date, or in case of a no-show, are not refundable. Optional activities at Xcaret are non-refundable.
More information on the Xcaret cancellation policy can be found here.
What should you wear to Xcaret and Xplor?
You will definitely be getting wet so you'll want to wear a swimsuit, comfortable clothing, and water shoes.
I usually always wear a one-piece swimsuit, waterproof shorts, and a rash guard to be most comfortable on all the activities.
What should your bring to Xcaret and Xplor?
When visiting Xcaret and Xplor, you'll want to bring biodegradable sunscreen (regular sunscreen is not permitted), a beach towel, and a change of clothes to dry off after the water activities.
Final Thoughts: Which is better Xplor or Xcaret?
So, which is better Xplor or Xcaret? No matter which park you choose, you're going to have an unforgettable time! But if you still can't decide between the two parks, here's my take:
Xplor is the best option for thrill seekers and adrenaline junkies and with just one all-inclusive admission ticket and no hidden fees or add-ons, it provides a much easier and more convenient booking option.
If you have a family with small children, are really into cultural activities, or love animals and nature, then choose Xcaret for a full day of culture, history, and adventure too.
Just plan out your day ahead of time and add up the costs for any additional activities so you have a very clear idea of the total expenses.
And be prepared to spend more money on the day of your visit for food, extra activities, and gear rentals, etc.
And if both parks sound good to you, then consider visiting both and get a discount by creating your own Xcaret and Xplor package!
READ NEXT: