Xel Ha vs Xplor: Which adventure park is better in 2022?
Disclosure: This page may contain affiliate links, meaning at no additional cost to you, I will earn a commission if you click through and make a purchase. As an Amazon Associate I earn from qualifying purchases.



Are you interested in visiting the Xcaret parks in Riviera Maya Mexico and can't decide between Xel Ha and Xplor? You've come to the right guide!
With so many options to choose from, the Xcaret parks can be confusing, overwhelming, and difficult to navigate. Not to mention expensive and hard to pronounce!
That's where I'm here to help! As a Playa del Carmen resident and local travel blogger, I've been lucky enough to experience the Xcaret parks firsthand.
In this ultimate Xel Ha vs Xplor comparison guide, I'm going to give you all the information you need to make a decision including an overview of each park, pros and cons, price comparisons, activity reviews, food and beverage ratings, visitor info, money saving tips, and more!
Read on to discover which Xcaret adventure park is best for you.
Which one is better Xel Ha or Xplor?
Xel Ha and Xplor are two of the most popular adventure parks in Riviera Maya Mexico. They are both well known for their exciting activities, unique attractions, and beautiful natural surroundings with a focus on eco-tourism and sustainability. But which one is better?
With a focus on aquatic adventures, Xel-Ha has a number of cenotes, or natural swimming holes, as well as caves and hidden beaches where you can snorkel and explore.
You can also zip line into the water, glide down spiral water slides, or float down a natural lazy river. If you're looking for the best water activities, then Xel-Ha is the place for you.
Xplor, on the other hand, is an adrenaline-pumping adventure park with zip lines, ATV tours, and underground caves. If you're looking for an exciting outdoor adventure that will get your heart racing, Xplor is the place for you.
So, which park is better? It depends on what you're looking for! If you like being in water and enjoy exploring nature, Xel-Ha is a great option. But if you're looking for non-stop action and adventure, Xplor is the better choice.
About Xel Ha and Xplor
Let's take a more detailed look at both parks:
What is Xel Ha like?
Known for aquatic adventures, Xel-Ha Park (pronounced "Shell-Ha") is located on an inlet of the Caribbean Sea, giving it a prime location for natural water activities.
Fun Fact: Xel-Há means "where water is born" because several underground rivers flow into the park's Mexican Caribbean inlet.
Boardwalks and the Jungle Train connect the park's cenotes, caves, hidden beaches, and hammock gardens. In the center lies an expansive natural pool, where red flags mark areas rich in marine species.
While swimming and snorkeling take the spotlight, the eco-waterpark isn't just the region's largest natural aquarium. Manmade slides, high jumps, and water ziplines add dimension to the park's natural beauty and there's even a mile-long lazy river.
For land activities, visitors can explore the manatee sanctuary, Mayan ruins, jungle trails, and biking paths.
The park's most famous structure is the Scenic Lighthouse, which you can climb for panoramic views over the park and descend down its spiral water slides.
👉 Book your Xel Ha tickets ahead of time by clicking here!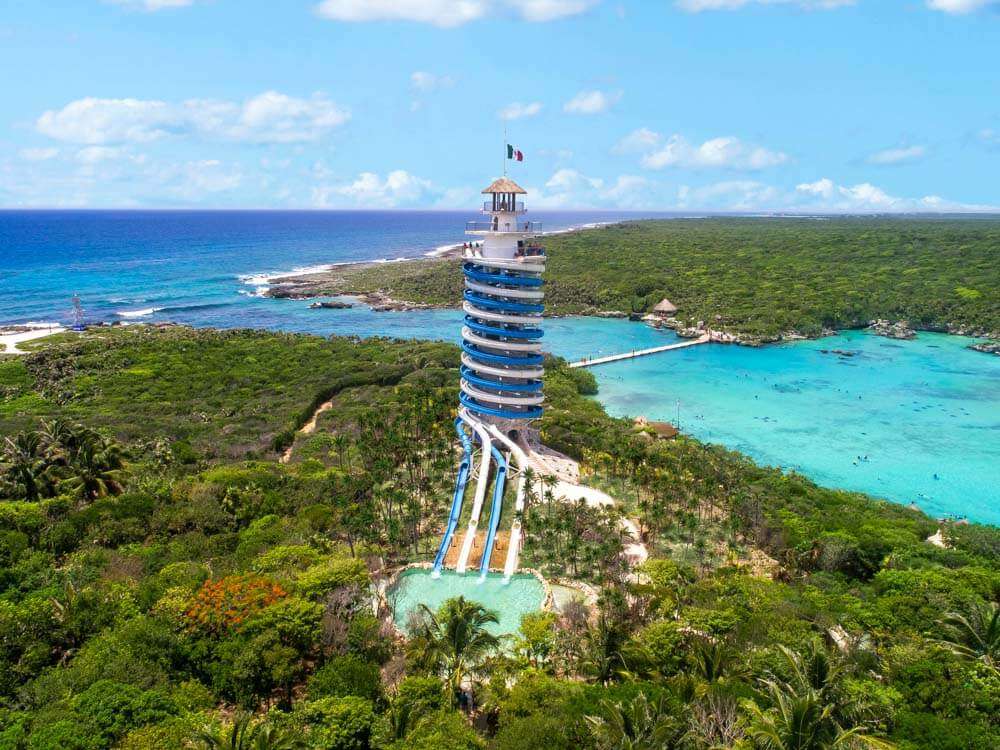 What is Xplor like?
Known for its adrenaline pumping activities, Xplor (pronounced "Ish-plor") is the first Xcaret park I ever visited and still remains one of my favorites.
Xplor offers 6 different activities ranging from ziplines to underground caves to ATV experiences. Each activity is carved into natural landscapes, taking you deep into the Riviera Maya jungle, underground cenotes, and flooded caves.
Xplor park is best known for its sky-high zipline course with some of the highest zip-lines in Riviera Maya. Some even end with a vigorous drop into a cenote so be prepared to get wet! After dark, Xplor transforms into its nighttime persona known as Xplor Fuego.
You can read more about my Xplor experience in this post!
👉 Book your Xplor tickets ahead of time by clicking here!
Xel Ha and Xplor Location
Xel Ha and Xplor are located on Mexico's Caribbean coast in between the towns of Playa del Carmen and Tulum.
Xplor is closer to Playa del Carmen, while Xel-Ha can be found closer to Tulum. Xel Ha is situated on an oceanfront inlet, while Xplor is nestled into the jungle closer to the main highway.
Driving times from nearby destinations are as follows:
Playa del Carmen to Xel Ha: 40 minutes
Tulum to Xel Ha: 20 minutes
Cancun to Xel Ha: 1 hour 30 minutes
Playa del Carmen to Xplor: 15 minutes
Tulum to Xplor: 45 minutes
Cancun to Xplor: 1 hour 15 minutes
Xel Ha and Xplor Map
Xel Ha vs Xplor: Pros and Cons
Next, let's take a look at some of the pros and cons of Xel Ha and Xplor:
Pros of Xel Ha
More than 20 activities
More water activities
Beautiful beach and natural pools
Serves alcohol
Lots of marine animals and wildlife
More restaurants
Cons of Xel Ha
Can be more expensive
Activities are more low-key
Upgraded activities cost more
Further away from Playa del Carmen
Can get crowded
Pros of Xplor
Best park for ziplines
Less expensive overall
More intense activities
Everything is included
Closer to Playa del Carmen
Cons of Xplor
Only 6 activities
No animals or wildlife
Only 1 restaurant
No alcohol
Lots of stairs and physical activity
Xel Ha vs Xplor: Quick Comparison Table
| | | | | |
| --- | --- | --- | --- | --- |
| Park | # of Activities | Park Hours | Basic Admission Cost | Buy Now |
| Xel-Ha | 20+ | Every day 8:30AM-6:00 PM | $99.99 USD | BUY NOW |
| Xplor | 6 | Monday-Saturday 9:00AM-5:00PM | $129.99 USD | BUY NOW |
Xel Ha vs Xplor: Which has better activities?
The main difference between Xplor and Xcaret comes down to the types of activities. Here's a look at how each park stacks up:
Xel Ha Activities
Xel Ha offers over 20 activities that are included in the basic admission. Premium water activities like Sea Trek, Snuba, Power Xnorkel, and Manatee Encounters can also be added for an additional fee.
Included Xel Ha Activities
Here are the main activities at Xel-Ha Mexico. You can find more detailed descriptions of all the activities on the Xel Ha website here.
Scenic Lighthouse: The Scenic Lighthouse is the famous Xel Ha water slide and main attraction where you climb to the top and descend by one of its four waterslides or just stay at the viewpoint at the top for some spectacular seaside views.
Snorkel Xel-Ha: Snorkeling spots are available all over the park in hidden lagoons, cenotes, and beaches. You'll be able to pick up Xel Ha snorkel gear around these sites to explore the underwater world.
Trepachanga: This activity puts your balance skills to the test by having to cross two parallel, suspended ropes over the river.
Salpichanga: Salpichanga is an overwater Xel-Ha zipline where you'll have to hang on tight to a handle and end with a splash in the fresh waters of the Xel-Ha inlet.
River Tour Xel-Ha: Xel-Ha's River Tour is a mile long lazy river, where you can float with life jackets or on inner tubes, admiring the mangrove forest and other wildlife.
Xel-Ha Cave: Known as the Mayan Cave, this natural cenote is considered a sacred place where you can snorkel or float among natural skylights.
Cliff of Courage: The Cliff of Courage is a 16-foot wall and climbing challenge where you can jump off the top into the refreshing cold waters below.
Other Activities: Chuc Kay's Flight, Xel-Há Inlet, Bay of Caprices, Home River – Mangroves, Children's World, "Ixchel" Grotto and "El Dorado" Cave, Mayan Wall, Jungle Trails, Chacah's Garden, Cenotes, Floating Bridge, Land of Huh – Bike Ride, Xel-Há Nursery, Meliponary, Queen Conch Sanctuary Xel-Há
Optional Xel Ha Activities
These are the premium Xel Ha activities that come at an additional cost:
Sea Trek Discover
Adrenalina Xel Ha
Snuba Cenote
Power Xnorkel Xel-Há
Zip-Bike Xel-Há
Manatee Encounter
Spa Xel-Há
Stingray Encounter
Sea Trek
Snuba Caleta
Fish Therapy
Xplor Activities
Xplor admission includes these 6 different adrenaline pumping activities as many times as you want:
Ziplines: With two full zip line circuits and a total of 14 unique ziplines, Xplor offers the absolute best ziplining in Riviera Maya with jungle and ocean views. You'll reach the top of the towers by climbing spiral staircases and hanging bridges. Take off from the zipline platforms solo or in-tandem for a thrilling high-speed jungle adventure.
Amphibious Vehicles: The ATVs of Xplor are known as amphibious vehicles and will take you on a jungle circuit measuring over 3 miles (5 kilometers). Hanging bridges, tiny roads, flooded caverns, and stunning views of the jungle await you along the journey.
Rafts: An underground raft challenge that will take you river paddling as you navigate through underground caves. Each participant will be given two small wooden paddles that you'll strap to your hands and use to paddle your way through an underground river course.
Stalactite River Swim: A unique Xplor water activity that will take you swimming, floating, and trekking through stunning underground caves featuring clear turquoise water, impressive stalactites, and ancient rock formations.
Hammock Splash: Sit back and relax in a hammock on this comfortable seated zip line circuit that ends with a thrilling drop into Xplor cenotes. Try out the 2 different circuits for double the rush!
Underground Expedition: Explore underground caves, climb over obstacles, and glide down two thrilling water slides. You'll be able to stand and trek through the narrow caves and shallow water in this underground challenge.
Who are Xel Ha and Xplor suited for?
Here's an overview of who each park is best suited for:
Who is Xel Ha best suited for?
Xel-Ha is best suited for families with young children, nature lovers, and those that love water activities.
The beautiful natural park has a variety of attractions that appeal to these groups, including a lazy river, unlimited snorkel, and wildlife areas.
Families with small children will appreciate the kid-friendly attractions and activities available at Xel-Ha like Children's World, water slides, and lazy rivers.
Those that love water activities can enjoy the many natural pools and waterways throughout the park. Nature and animal lovers will enjoy the wildlife area where they can see a variety of marine animals like tropical fish, manatees, and stingrays up close.
Who is Xplor best suited for?
On the other hand, Xplor is better suited for adventurous adults and families with older children. If you're looking for an exciting, outdoor adventure and are not afraid of heights, then Xplor will be a great place for you.
With the absolute best ziplines in Riviera Maya, it really can't be beat if zip lining is what you want to do! Perfect for thrill-seekers who enjoy the outdoors, Xplor is a great activity for those who like an adrenaline rush.
Due to the more intense nature of the activities, Xplor Playa del Carmen is probably NOT the best place for you if you:
Are afraid of heights
Have difficulty climbing stairs or walking long distances
Have heart problems
Are claustrophobic
Are pregnant
Xel Ha vs Xplor: Which is cheaper?
Next, let's take a look at how the parks compare when it comes to admission costs:
Xel Ha Tickets
Xel Ha offers two different admission ticket: Xel Ha All Inclusive and Xel Ha Total:
Xel-Há All Inclusive
The Xel Ha All Inclusive ticket is the basic admission which includes all of the basic Xel Ha activities, unlimited snorkeling, food and beverage (including alcohol), plus the use of snorkeling gear and a free snorkel.
Current Xel Ha All Inclusive admission prices are as follows:
Adults: $99.99 USD
Children (ages 5-11): $49.99 USD
👉 Book Xel Ha All Inclusive tickets on the official website by clicking here!
Xel-Há Total
The Xel Ha Total ticket is the upgraded admission and includes everything from the All Inclusive park ticket plus the choice of one premium activity: Adrenalina Speed Boat, Sea Trek, or Snuba Caleta.
Current Xel Ha Total admission prices are as follows:
Adults: $138.00 USD
Children (ages 5-11): $95.00 USD
👉 Book Xel Ha Total tickets on the official website by clicking here!
Xplor Tickets
When it comes to buying Xplor park tickets, the options are easier! Xplor just offers one admission package with pretty much everything included.
Current Xplor admission prices are as follows:
Adults: $129.99 USD
Kids (ages 5-11): $64.99 USD
The Xplor admission ticket includes all the activities as many times as you want, a buffet lunch and unlimited snacks and non-alcoholic beverages, as well as all equipment, restrooms, changing rooms, and lockers.
So once you enter the park, pretty much everything is included unless you want to buy a photo package or gift shop items.
👉 Book Xplor tickets on the official website by clicking here!
Xel Ha or Xplor: Which provides more value?
If you're looking for a theme park that provides excellent value, you can't go wrong with Xel-Ha or Xplor.
Both parks offer a great selection of activities and attractions, noteworthy nods to Mexican culture, as well as a unique experience, well-maintained facilities and services, and beautifully landscaped grounds.
Xel-Ha has more activities overall, but keep in mind that some of them come at an additional cost. If you're interested in doing any of the premium water activities, you'll want to factor those into your total costs and value assessment.
Xplor, on the other hand, is slightly more expensive upfront but everything is included in the price. And while the park only has 6 activities, they are enough to keep you busy! Plus, you can do them as many times as you want.
If I had to choose which park provides more value, the unlimited food and beverage (including alcohol) at Xel-Ha gives it a slight edge over Xplor.
How to Save Money on Xcaret Tickets
There are a few different Xcaret discounts available–take advantage of these automatic discounts outlined below to get the best deals on Xcaret tickets and avoid paying full price for admission tickets.
Book in Advance
You can automatically save by booking online on the official park website in advance:
10% off – ticket purchase 7 to 20 days in advance
15% off – ticket purchase at least 21 days in advance
Create your Own Package
If you're interested in visiting more than one of the Xcaret parks and tours, you can save by creating your own Xel Ha and Xplor combo package:
15% off – ticket purchase for any combination package of two or more parks and tours
20% off – ticket purchase for any combination package of three or more parks and tours
👉 Click here to get your bundle discount by creating your own package
Resident Discounts
Xcaret also offers a special discount for Quintana Roo residents which is valid only at the park's ticket booths, online, or through the contact center.
Tickets for Quintana Roo residents can be purchased through the website here but it is only available in the Spanish language.
You'll need to present an Official ID of Quintana Roo to be eligible for the discount. For foreigners living in Quintana Roo, Temporary and Permanent Resident Cards are accepted.
Xplor vs Xel Ha: Which has better food?
When it comes to food and drink, Xel Ha is the clear winner with 4 different restaurants and bars to choose from. Plus, it's the only Xcaret park with an open bar!
Here's how each park compares when it comes to food:
Xel Ha Food and Drink
With four different restaurants and bars to choose from, Xel Ha offers more variety when it comes to food and drink.
The menus feature international buffets, grilled specialties, Mexican gastronomy, and Yucatan cuisine. But you'll still be able to find plenty of American dishes too!
Restaurants are open for both breakfast and lunch, and with unlimited dining included, you'll be able to enjoy them as much as you want.
But perhaps the biggest perk of Xel Ha is that it's the only Xcaret park with an open bar included in your ticket. You'll get to enjoy unlimited beverages from the domestic open bar, which you can order at the many restaurants or bars throughout the park.
Travelista Tip: The beach areas at Xel Ha are great spots for adults to relax and enjoy some drinks or tropical cocktails! You'll even have lounge chairs and hammocks where you can chill out after a full day of activities.
Xplor Food and Drink
Xplor features just one restaurant known as "Troglodita", which is a large buffet-style restaurant with communal seating at large wooden tables.
The Xplor lunch buffet includes food options with a mix of American and Mexican cuisine including hamburgers, pizza, pasta, tacos, enchiladas, and much more.
In addition, you'll be treated to a healthy salad and fresh fruit bar, as well as soft-serve ice cream, and gourmet desserts. Non-alcoholic drinks include soft drinks, water, and fresh juices. Note alcohol is not served at Xplor.
Aside from the restaurant, Xplor adventure park also offers two snack and smoothie bars known as "Oasis" and "Manantial", which are perfect for a pitstop between activities to refuel with juices, smoothies, and light snacks.
Xel Ha vs Xplor Visitor Info
Here's the basic visitor info for visiting Xel Ha and Xcaret:
Park Hours
Xel Ha is open every day from 8:30AM-6:00 PM
Xplor is open from Monday-Saturday from 9:00AM-5:00PM (closed Sundays)
Transportation
Transportation is not included in the price of admission. To get to Xplor and Xel Ha, you can go on your own or add the round-trip transportation service to your ticket for an additional $27 USD per person.
If you do choose the transportation service, it's important to know that transportation can only be added at the time of purchase, so be sure to add this when you're buying your tickets.
Buses pickup from most major hotels in Playa del Carmen, Riviera Maya, and Cancun. If you're staying at an AirBnB or vacation rental, they'll give you a designated meeting point for pickup.
Travelista Tip: The Xcaret transportation service can add up for larger groups so consider taking a taxi if you are looking to save money. From Playa del Carmen to Xplor, a taxi only costs around $15 USD each way for up to 4 people.
Facilities and Services
In terms of facilities, both parks have very clean and well-maintained rest areas with hammocks, dressing rooms, restrooms, and showers. Additional services include WiFi, ATMs, and free parking.
Gift shops are also located around the parks where you can purchase park photos, souvenirs, and gear (like water shoes and rash guards).
Lockers
At both parks, lockers are included in the price of admission where you can safely store your belongings throughout the day.
Lockers are large enough for a medium sized backpack and you'll be able to easily visit them throughout the day if you need to access your personal belongings.
Equipment
At Xel Ha, snorkeling equipment is included in the price of admission and you'll be able to pick up flippers, masks, snorkels, and life jackets at the various snorkeling spots throughout the park.
A free snorkel is included so you'll receive your own fresh snorkel and won't have to worry about cleanliness.
Xplor also includes all equipment during your visit including helmets, harnesses, and the use of life jackets for water activities.
Photos
What's cool about Xel Ha and Xplor is that there are cameras and "Xelfies" photo opportunities seamlessly embedded all over the parks.
Tracking technology is inserted in your helmet or wristband so they can track your photos and you'll be able to scan your wristband and review them all at the end of the day.
A Photo Pass can be added to your admission package upon purchase, or you can purchase them at the park gift shops on the day of the visit.
The photo packages can be expensive but are a great way to capture your memories if you don't have a GoPro or waterproof camera.
FAQs about Xel Ha vs Xplor
Here are the answers to some of the most frequently asked questions about Xplor vs Xel Ha:
What are the minimum age restrictions?
Xel Ha park is suitable for all ages and children under 4 years old are free.
Xplor is suited for children ages 5 and older. There are minimum and maximum weight and height restrictions for the ziplines at Xplor which can be found here on the "Important Information" tab.
Children can also ride tandem with an adult if they don't meet the minimum weight requirement.
What's the cancellation policy?
For both Xel Ha and Xplor, reservations canceled more than two days in advance of the date of visit are subject to a 10% administration fee.
Reservations canceled in 2 days or less before the visit date, or in case of a no-show, are not refundable. Optional activities at Xel-Ha are non-refundable.
More information on the Xcaret cancellation policy can be found here.
What should you wear to Xel Ha and Xplor?
You will definitely be getting wet so you'll want to wear a swimsuit, comfortable clothing, and water shoes.
I usually always wear a one-piece bathing suit, waterproof shorts, and a rash guard to be most comfortable on all the activities.
What should you bring to Xel Ha and Xplor?
When visiting Xel Ha and Xplor, you'll want to bring biodegradable sunscreen (regular sunscreen is not permitted), a beach towel, and a change of clothes to dry off at the end of the day.
These microfiber beach towels are a great option because they are super lightweight and dry quickly. In addition, bring a GoPro or waterproof camera to capture some epic footage!
Final Thoughts: Which is better Xplor or Xel Ha?
So, which is better Xplor or Xel Ha? No matter which park you choose, you're going to have a great time! But if you still can't decide between the two theme parks, here's my take:
Xplor is the best option if you're a thrill seeker or adrenaline junkie and with just one all-inclusive admission ticket, it provides one easy and convenient booking option.
If you have a family with younger children, are really into water activities, or love marine animals and nature, then choose Xel-Ha for a full day waterpark adventure. It will be unlike any waterpark you've ever been to!
And if both parks sound good to you, then consider visiting both and get a discount by creating your own Xel Ha and Xplor package!
Now that you know all about Xel Ha and Xplor, which best describes how you're feeling about each park?!
READ MORE OF MY XCARET COMPARISON GUIDES: