How to Take A Day Trip from Playa del Carmen to Cozumel in 2023
Disclosure: This page may contain affiliate links, meaning at no additional cost to you, I will earn a commission if you click through and make a purchase. As an Amazon Associate I earn from qualifying purchases.



Want to take a day trip from Playa del Carmen to Cozumel? You've come to the right guide!
I'm a travel blogger that lives in Playa del Carmen and taking a day trip to Cozumel is one of my favorite things to do, especially when I have friends and family visiting.
It's such an easy excursion and offers some pretty spectacular beaches, incredible snorkeling, and plenty of fun activities.
In this post, I'm detailing how to take a day trip to Cozumel from Playa del Carmen including how to get there, top things to do, and tips for visiting.
Read on for my ultimate Cozumel day trip guide!
Where is Cozumel?
Cozumel is a small island located just 18 km to the east of Playa del Carmen, Mexico.
Just 45 minutes from Playa del Carmen by ferry, the island is known for its beautiful beaches and incredible reefs for snorkeling and scuba diving.
How to Get from Playa del Carmen to Cozumel
If you're visiting Cozumel on your own, the most common way to get there is by taking the ferry to Cozumel from Playa del Carmen.
👀 Looking for the easiest way to get to Cozumel? Book the best snorkeling tour here and they'll do all of the work for you!
Cozumel Ferry Location
The Cozumel ferry terminal is located in downtown Playa del Carmen just off of Avenida Juarez and 5th Avenue.
Depending on where you're staying, the terminal can be reached easily by walking or taking a taxi.
Once you arrive to the terminal, you will likely be bombarded by unofficial salespeople on the street offering ferry tickets.
From my experience, I've found it safest to purchase your ferry tickets directly from the official counter, which you'll see just outside of the terminal.
Cozumel Ferry Companies
It can be a bit overwhelming when you first arrive at the ferry terminal but there are just two ferry options to choose from–Ultramar and Winjet.
The Ultramar ferries are blue and yellow in color and the Winjet ferries are orange.
Both ferries to Cozumel from Playa del Carmen are large and comfortable, and offer food and beverage options.
The downstairs is usually air-conditioned and the upstairs offers open deck seating. Some of the ferries even have a Starbucks barista bar and a live band!
From my experience, the Ultramar ferries have been newer and nicer in quality but I would recommend just checking the overhead signs to see which one will be departing next.
The two companies usually alternate their schedules but they are both going to the same place.
Cozumel Ferry Price
One-way ferry tickets to Cozumel for adults cost $236 pesos (~$13 USD) on Winjet and $290 pesos (~$16 USD) on Ultramar.
Credit cards are accepted or you can pay in Mexican pesos or USD.
Travelista Tip: I would recommend purchasing one-way tickets as the ferry companies have alternating schedules. That way on the return trip you can just hop on the next departing ferry and not be bound to a particular provider.
On Ultramar, you also have the option to upgrade to a first-class ticket, which grants you access to an exclusive upstairs lounge with food and beverage service.
Both companies also offer discounts for Playa del Carmen locals and Quintana Roo residents.
Cozumel Ferry Schedule
You can check the Ultramar schedule and the Winjet schedule online in advance to plan your departure and return times.
The ferry schedule varies throughout the year but there is typically one that departs every hour. Once you're on the ferry, it takes less than 45 minutes to travel to Cozumel.
You'll want to be extra mindful of when the last ferry departs so you don't miss the last ferry to Playa del Carmen.
Getting Around Cozumel
Cozumel is a small island with a walkable downtown area, but you'll still need to rely on these transportation methods to get around Cozumel:
Taxis
If you want to explore the island away from the downtown area, taxis are safe, abundantly available, and probably the most convenient form of transportation on the island.
There is always a line of taxis waiting outside the ferry terminal where you can easily grab a taxi.
Be sure to check the price list posted on a board at the taxi stand, which will show you the cost to the most popular destinations on the island.
It's always best to confirm the price of the taxi upfront before getting in the car. You'll be able to pay for taxis in pesos or USD but credit cards are typically not accepted so you'll want to make sure you have enough cash on hand.
Keep in mind that taxi prices in Cozumel are much more expensive than in Playa del Carmen and you might pay $15-$20 USD for a one-way trip.
If you're heading to a well-known spot on Cozumel, there will more than likely be taxis waiting outside for your return trip, which makes it easy to get back to the ferry terminal.
Rental Car
If you prefer to venture out on your own or want to see some more off-the-beaten-path locations, then you'll want to rent a car or jeep to explore the island at your own pace.
Rental cars are widely available in Cozumel and can be booked online in advance or directly at the ferry terminal.
Before heading out, you'll want to do a thorough safety check on your vehicle as it's common for them to be worn or in poor working condition.
👉 For a hassle-free experience, book your car through my favorite rental service Discover Cars by clicking here!
Cozumel Private Driver
If you want the ultimate convenience of having your own private driver that knows the ins and outs of Cozumel, then consider booking a private island tour.
Cozumel private island tours include your own personal guide who will drive you to the island's most popular attractions.
You can plan your own itinerary whether you want to hit the beach, visit Punta Sur Park, or check out the less developed eastern side of the island.
👉 Book the best Cozumel private island tour by clicking here!
Things to Do in Cozumel
You could easily spend 3 days in Cozumel, but if you're only visiting for the day, below are a few recommendations for what to do in Cozumel.
There are so many fun things to do in Cozumel whether you are looking for something adventurous or simply some relaxation.
Visit a Cozumel Beach Club
Visiting a beach club is always at the top of my list whenever I visit Cozumel!
I've found that the beaches on the west side of the island rarely get hit with the seaweed that can sometimes be found on other beaches in Riviera Maya.
These are some of the most popular beach clubs in Cozumel, which are a short drive from the ferry terminal and downtown area:
Playa Palancar: My personal favorite, Playa Palancar is about 30 minutes from the ferry terminal and offers an absolutely stunning widespread beach with clear crystal water and a few different beach clubs and restaurants to choose from for a relaxing beach club experience.
Money Bar Beach Club: A short taxi ride away from downtown, the Money Bar Beach Club is one of the most popular Cozumel beach clubs offering a restaurant, lounge beds, live music, and clear snorkeling right off the beach.
Tortugas Beach Club: Tortugas Beach Club is one of the most popular oceanfront restaurants and water parks in Cozumel. While the beach area at Tortugas Beach Club is not the most widespread, it's most known for its water activities like floating trampolines, a floating obstacle course, jet skis, and hydro-bikes.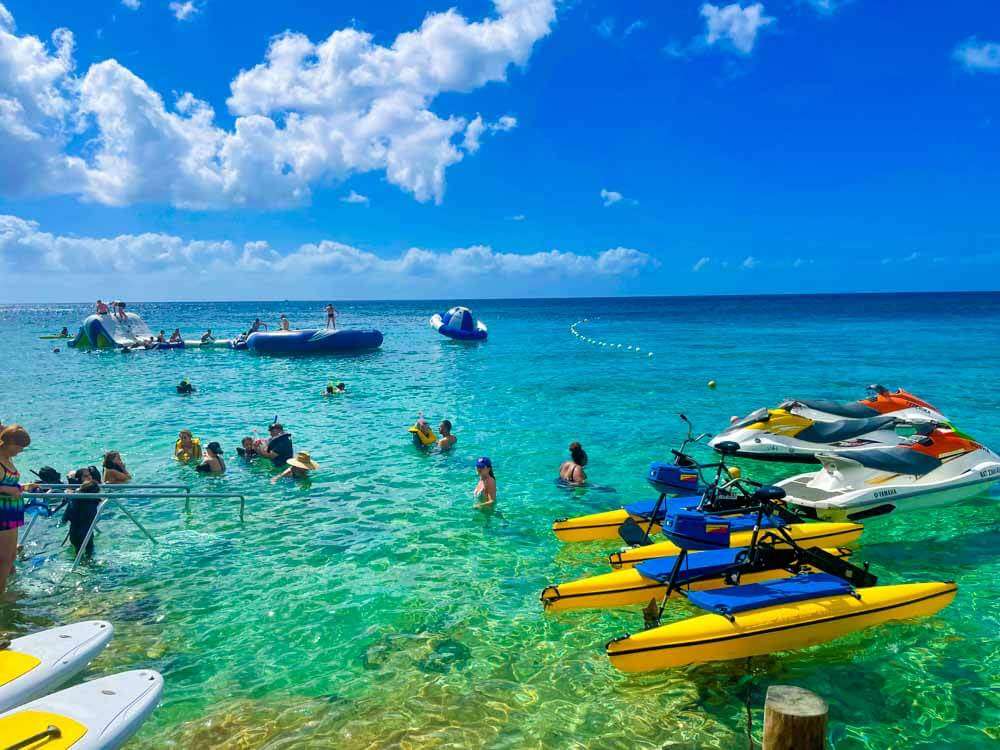 Mr. Sanchos Beach Club: This all-inclusive beach club experience offers a wealth of activities like parasailing, jet skis, pools, a water park, and a swim-up bar along with classic beach loungers and cabanas. Plus, food and unlimited alcoholic drinks are included in the admission price.
👉 Book an all inclusive day pass at Mr. Sanchos Beach Club by clicking here!
Travelista Tip: For a less commercialized Cozumel beach experience, head to the lesser well-known Playa Chen Rio on the east side of the island where you can hang out in a beautiful beach cove and grab some fresh seafood or drinks at the El Pescador beachfront restaurant.
Go on a Snorkeling Tour
Cozumel is known for its coral reef system, which is actually the second longest in the world and makes for an amazing snorkeling experience.
There are many options for snorkeling tours in Cozumel but by far the most popular tour option is visiting El Cielo, which is a shallow snorkeling spot known for its abundance of starfish.
On the El Cielo tour, you'll get to snorkel at three different coral reefs, as well as visit El Cielo and a super stunning beach called El Cielito.
👉 Book the best El Cielo Snorkeling Tour by clicking here!
Explore Downtown Cozumel
If you're looking for a leisurely activity in Cozumel, I would definitely recommend exploring the downtown area known as San Miguel de Cozumel.
It's located directly across from the Cozumel ferry terminal so it's just a short walk once you arrive on the island.
The downtown area has a cute square where you'll find street vendors and souvenir shops selling Mexican handicrafts.
There are also benches around the square where you can just sit back and relax or enjoy a refreshing treat from one of the food vendors. It's also a cool area for discovering some colorful graffiti.
Rent a Jeep in Cozumel
Another fun and more adventurous Cozumel excursion is renting a jeep to explore the island.
Jeeps can be rented from the vendors at the ferry terminal or you can book a fun jeep tour in advance online.
I rented a jeep with some friends when I visited Cozumel on a cruise and it was so much fun!
It really gives you the freedom to explore the island at your leisure and discover some of the amazing Cozumel resorts and beach clubs that are off the beaten path.
👉 Book the best Cozumel jeep tour by clicking here!
🚨 Do you need travel insurance for Mexico? Yes! Most insurance plans in your home country will not cover incidents abroad. I recommend using Travel Insurance Master, which is a handy travel insurance marketplace where you can compare policies. Get a FREE quote by clicking here!
Related Reading: Is Cozumel Safe? Top Cozumel Safety Tips
What to Bring on a Cozumel Day Trip
Below are a few items I would recommend bringing for a day trip to Cozumel. You'll want to pack light so you don't have too much to carry on the ferry.
Biodegradable reef-safe sunscreen is a must to protect the coral reefs! You can pick up my favorite brand on Amazon here.
Getting Back to Playa del Carmen from Cozumel
Once you're done with your Cozumel day trip from Playa del Carmen, you can head back to the ferry terminal to catch the return ferry and basically just reverse the process.
If you've bought a one-way ticket, then you can just purchase your return ticket for the next departing ferry and hop on board.
If you're heading from Cozumel to Playa del Carmen towards the end of the day you might be able to view the sunset over Playa del Carmen, which makes the trip all the more special!
Cozumel Day Trip: FAQs
Here are the answers to some of the most frequently asked questions about visiting Cozumel on a day trip:
How far is Cozumel from Playa del Carmen?
Cozumel is located about 18 km (11 miles) to the east of Playa del Carmen.
How do you get to Cozumel from Playa del Carmen?
To get to Cozumel, you'll need to take the ferry from Playa del Carmen to Cozumel, which takes around 45 minutes.
How much is the ferry from Playa del Carmen to Cozumel?
The ferry from Playa del Carmen to Cozumel costs around $580 pesos (~$33 USD) for a round-trip ticket.
Can you just walk around Cozumel?
You can walk around Cozumel in the main downtown area. However, if you want to visit beaches and attractions outside of downtown, you'll need to take a taxi.
How long is the ferry ride from Playa del Carmen to Cozumel?
The ferry ride from Playa del Carmen to Cozumel takes less than 45 minutes.
Conclusion: Playa del Carmen to Cozumel Day Trip Guide
Are you ready to visit Cozumel on a day trip? I hope this guide was helpful in learning about what to do in Cozumel.
Whether you want to go snorkeling, hit the beach, rent a jeep, or simply explore the downtown area, the island has plenty of options for activities.
No matter what you choose to do, you're sure to have an amazing time visiting the beautiful island of Cozumel!
For more day trips from Playa del Carmen, check out my other day trip guides:
🇲🇽 Traveling to Mexico soon?
These are the Mexico travel resources I use and recommend:
🏨 Hotels: I always find the best deals for Mexico hotels and resorts on Expedia or Booking.com. If you prefer a vacation rental, check VRBO as they are often cheaper than AirBnB's added fees!
✈️ Flights: I recommend using Skyscanner for the best Mexico flight deals. Be sure to sign up for their price alerts for your preferred travel dates.
🚗 Rental Cars: I recommend using Discover Cars because you can compare multiple car rental companies and see detailed ratings for overall value, ease of pick-up, efficiency of agents, car condition, and overall time spent.
🚙 Cancun Airport Transportation: I recommend booking a private transfer with Cancun Airport Transportation for the quickest and most hassle-free option!
🤿 Tours & Activities: I always use Viator or GetYourGuide for booking tours and activities in Mexico. You can cancel up to 24 hours before the tour for a full refund, plus they have excellent customer service if you were to have any issues.
🚨 Travel Insurance: After my Dad broke his hand in a taxi accident in Playa del Carmen, I always recommend buying travel insurance before your trip for added peace of mind! I recommend Travel Insurance Master for short trips or Safety Wing for digital nomads.
☀️ Biodegradable Sunscreen: Don't forget to add biodegradable sunscreen to your Mexico packing list! Regular sunscreen is prohibited when swimming in the ocean and cenotes in Mexico, so you'll need to pack some biodegradable sunscreen for sun protection. I recommend Sun Bum Sunscreen, which is reef-friendly, vegan, and cruelty-free.
Like this post? Pin it for later!