35 Amazing Things to Do in Cozumel Mexico in 2022
Disclosure: This page may contain affiliate links, meaning at no additional cost to you, I will earn a commission if you click through and make a purchase. As an Amazon Associate I earn from qualifying purchases.



Looking for the best things to do in Cozumel Mexico? I've got you covered!
As a Playa del Carmen resident and local travel blogger since 2018, I've visited the island of Cozumel many times and have been able to experience firsthand many of the amazing things the island has to offer.
The island of Cozumel offers something for everyone from spectacular snorkeling and scuba diving to limitless adventure activities, fabulous beach clubs, interesting museums, boat excursions, and culinary tours.
If you're looking for fun things to do in Cozumel, here are 35 amazing options whether you're staying on the island, visiting on a Cozumel day trip, or are a cruise ship passenger.
Best Things to do in Cozumel Mexico
1. Explore San Miguel de Cozumel
Just across from the Cozumel ferry terminal, you'll find the island's downtown area, which is known as San Miguel de Cozumel.
The main town square is called Benito Juarez Park, and where you'll find the tourist information center to gather visitor information from Cozumel travel guides. It's a great place to start exploring Cozumel island!
This is where you'll also find the colorful Cozumel letters and the signature orange clock tower.
Here you can check out the shops, stroll along the beachfront "malecon" (boardwalk), or just sit back and relax on the many benches surrounding the square.
2. Rent a Jeep in Cozumel to Explore the Island
Driving a jeep in Cozumel is the perfect way to explore the island. You can either rent a jeep on your own from the ferry terminal or book a fun jeep tour led by professional guides.
Before heading out, you'll want to do a thorough safety check on the vehicle to make sure it's in good working order as it's common for the jeeps to be older and in less than ideal condition.
You'll then be able to cruise around the island at leisure and get to see some of the more secluded beaches and jungle landscapes on the less developed eastern side of Cozumel.
I've rented a jeep in Cozumel more than once and it has been a highlight and some of my favorite Cozumel memories–you can't beat cruising down the Caribbean coast in an open-top jeep!
👉 Book the best guided jeep tour in Cozumel by clicking here!
🚨 Do you have travel insurance for Cozumel? I recommend Travel Insurance Master, which is a handy travel insurance marketplace where you can compare policies. Get a FREE quote by clicking here!
3. Go Souvenir Shopping in Downtown Cozumel
San Miguel de Cozumel's quaint town square is also the perfect spot to do some souvenir shopping while in Cozumel.
It's full of locally-owned shops and stalls selling traditional Mexican handicrafts and souvenirs. You'll find everything from ceramic pots and colorful blankets to Mayan-themed trinkets and jewelry.
While bargaining is common practice in Mexico, be aware that many of the prices in Cozumel are fixed. But even if you don't get a great deal on your purchases, you'll still be supporting local artisans and businesses.
4. Go Snorkeling with Starfish at El Cielo
Snorkeling in Cozumel really shouldn't be missed and is one of the best things to do if you're looking for more adventurous water activities.
The clear turquoise waters and abundance of marine life make it a snorkeler's paradise, where you'll get to see a variety of colorful fish, coral reefs, and other marine life.
Some of the best snorkeling in Cozumel can be found at El Cielo, a popular snorkeling spot and sandbar known for its abundance of giant starfish.
On the El Cielo tour, you'll get to visit El Cielo, as well as snorkel at Palancar and Columbia Reefs.
At El Cielo, you'll be astonished at the water's clear turquoise color – it is truly incredible! I've visited El Cielo twice and it has by far been my favorite tour experience in Cozumel.
👉 Book the best El Cielo snorkeling tour by clicking here!
5. Relax at a Cozumel Beach Club
There are many beach clubs on the island that offer visitors a chance to relax and enjoy the stunning views.
Aside from beach beds, many Cozumel beach clubs and restaurants also offer fun water activities which are perfect for kids or adventurous adults.
I've found the best beaches in Cozumel to be on the southwestern side of the island, where the waves are calmer, the beach area is more widespread, and there is little to no seaweed like on many of the other beaches in Riviera Maya.
These are some of the most popular beach clubs in Cozumel which can be reached easily by taxi or rental car:
Playa Palancar: My personal favorite and possibly the best beach in Cozumel, Playa Palancar offers an absolutely stunning widespread beach with clear crystal water and a few different beach clubs and restaurants to choose from for a relaxing beach club experience.
Money Bar Beach Club: The Money Bar Beach Club is one of the most popular Cozumel beach clubs offering a restaurant, lounge beds, live music, and clear snorkeling right off the beach.
Tortugas Beach Club: A popular oceanfront restaurant and fun beach hangout, the beach area at Tortugas Beach Club is not the most widespread but it's most known for its water activities like floating trampolines, a floating obstacle course, jet skis, and hydro-bikes.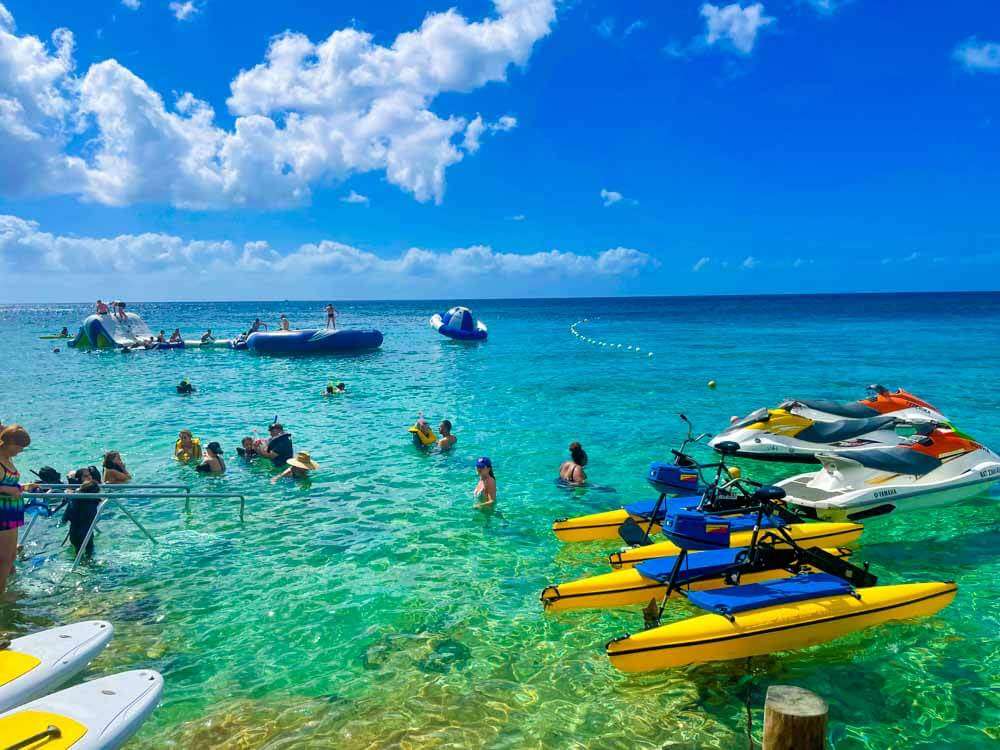 Mr. Sanchos Beach Club: This all-inclusive beach club experience offers a wealth of activities in Cozumel like parasailing, jet skis, pools, a water park, and a swim-up bar along with classic beach loungers and cabanas. Plus, food and unlimited alcoholic drinks are included in the admission price.
👉 Book an all inclusive day pass at Mr. Sanchos Beach Club by clicking here!
6. Go Scuba Diving in Cozumel
With its world-renowned coral reefs, scuba diving in Cozumel should not be missed for those that are scuba certified or want to be!
The water is crystal clear and the reefs are teeming with marine life such as sea turtles, eagle rays, colorful fish, and tiny seahorses.
Even if you're not scuba certified, many dive shops and resorts in Cozumel offer scuba certification or introductory training sessions if you want to give it a try.
I recommend diving with ScubaTony, which is one of the top scuba diving operators in Cozumel. I recently became scuba certified and can't wait to do some more diving in Cozumel!
👉 Book a dive in Cozumel with ScubaTony by clicking here!
7. Discover Cozumel's Street Art Scene
Another top thing to do in Cozumel is explore the island's colorful graffiti and street art scene, which is vibrant and ever-changing.
You can find murals and graffiti all over the island, from the downtown area to the more residential neighborhoods. The street art ranges from colorful and whimsical to political and thought-provoking.
If you're interested in seeing some of Cozumel's street art for yourself, you can explore on your own, or you can take a guided tour. Either way, you're sure to be impressed by the creativity and talent of local artists.
8. Go on the Cozumel Invisible Boat Adventure
For an underwater adventure unlike any other, check out the Cozumel Invisible Boat Tour! This one-of-a-kind experience is perfect for both first-time snorkelers and experienced swimmers alike.
As its name suggests, the boat is entirely transparent, making it the only transparent boat in the Caribbean. This means that you'll have the clearest view of marine life possible, unlike traditional glass-bottom boats.
In addition, the tour includes a quick stop at a reef where you can snorkel and see beautiful fish, starfish, stingrays, and even sunken ships up close.
The Cozumel Invisible Boat Tour is perfect if you're looking for a unique way to see Cozumel's underwater world or you're simply searching for exciting aquatic adventures in Cozumel.
👉 Book the Cozumel invisible boat adventure by clicking here!
9. Visit Punta Sur Eco Park
If you're looking for outdoor adventure while in Cozumel, Punta Sur Eco Park is the perfect spot for nature lovers.
The Punta Sur Ecological Park marks the southern point of Cozumel and spans a whopping 247 acres of pristine beaches, natural lagoons, coral reefs, and low forest eco-systems.
With activities such as snorkeling, kayaking, paddle boarding, and even a small history museum, there's plenty to do and see at this park. Not to mention the scenic lighthouse and Instagram-worthy directional signs.
One of the most popular ways to visit Punta Sur Eco Park is via an electric bike tour where you can cycle along sandy beach roads on a Pedego bike, taste tequila, go snorkeling, and spot wildlife such as crocodiles, turtles, and flamingos.
Plus, you'll get to end the ride by relaxing in a beachside cabana.
👉 Book the best electric bike tour to Punta Sur Eco Park by clicking here!
10. Visit the Cozumel Museum
For a more cultural experience, visit the Cozumel Museum, which provides an in-depth look at the culture and history of the island and is conveniently located on the waterfront just outside the main town square.
The museum is newly renovated, and the 11 interactive exhibits are engaging and informative. Admission is only $11 USD, making it a great value for your money.
👉 Book Cozumel Museum admission tickets online by clicking here!
11. Go on the Cozumel Submarine Expedition
The Cozumel Submarine Expedition allows you to see the island from a new perspective. The Atlantis Cozumel XII is Mexico's only submarine dedicated to tourism, diving up to 100 feet beneath the sea.
While on the 2-hour submarine expedition, you'll see the Felipe Xicotencatl sunken ship and pass near "La Pared", a vertical drop that plummets to more than 2,000 ft deep at the edge of the island.
The submarine has 26 side portholes and one large viewport across the bow, making it ideal for kids or those who are not interested in snorkeling or scuba diving but still want an up-close view of the underwater life in Cozumel.
👉 Book the Cozumel Submarine Expedition by clicking here!
12. Try the Seatrek Underwater Helmet Diving Experience
Try the Seatrek Underwater Helmet Diving Experience in Cozumel for a truly unique snuba experience.
You'll feel like an astronaut as you walk along the ocean floor with an underwater helmet that keeps your head and shoulders try and allows you to breathe easily under the water.
While walking along the ocean floor, you'll be surrounded by colorful fish and corals. It's a great way to see the underwater world, and is still fun even you're an experienced diver.
👉 Book the Seatrek Underwater Helmet Diving Experience by clicking here!
13. Go on a Cozumel Dune Buggy Tour
If you're looking for an adrenaline-pumping activity while on vacation in Cozumel, then look no further than the Dune Buggy Tour! You'll get to drive your own dune buggy vehicle as you explore the island, caravan-style.
Along the way, you'll stop at different sites to take in the sights and sounds of Cozumel. Your first stop will be El Cedral, where you'll see some Mayan Ruins.
Next, you'll head to Skyreef Beach Club Cozumel for some snorkeling. This beach club is part of the Arrecifes de Cozumel National Park, so you'll be able to see some amazing marine life.
The tour also includes a Mexican lunch at the popular San Martin beach club, so you'll be sure to have a delicious and authentic experience.
Please note that this tour is only available for those who know how to drive a stick shift, as the vehicles are manual transmission only.
👉 Book the Cozumel Dunny Buggy Tour by clicking here!
14. Take a Mexican Cooking Class in Cozumel
For foodies looking for an authentic Mexican culinary experience, the highly-rated Cozumel Cooking Class at Josefina's home kitchen should not be missed!
This small-group cooking class takes place at Josefina's home kitchen in Cozumel and has a limit of 8 participants for a more meaningful and personalized experience.
During the class, participants will have a hands-on culinary experience and learn how to prepare Josefina's family recipes. The class also includes a visit to Cozumel's local markets to shop for fresh and locally-sourced ingredients to use in the food preparation.
As an added bonus, participants will also receive a copy of Josefina's family cookbook with over 60 family recipes as a unique takeaway to recreate her family dishes after returning home.
👉 Book the Cozumel Cooking Class with Josefina by clicking here!
15. Go Standup Paddleboarding in Cozumel
If you're looking for a peaceful way to explore the beautiful Caribbean waters off Cozumel, standup paddleboarding is a great option.
And De Lille Sports is the perfect place to try it out! With certified instructors and guided tours, you'll learn proper techniques whether you're a beginner or advanced paddler.
Located at the Hotel Barracuda, De Lille Sports was founded by Olympic windsurfer Raul De Lille who first introduced kitesurfing to Cozumel and became the island's first certified instructor.
The shop offers 1.5 hour standup paddleboarding tours where you can paddle in the clear waters directly off the Cozumel shore and get to see some marine life.
👉 Book a SUP tour with De Lille Sports by clicking here!
16. Rent an Electric Bike in Cozumel
Electric bike rentals in Cozumel are perfect for leisurely island exploration. With no gas or emissions, these vehicles are eco-friendly and easy to operate.
On an electric bike tour, you'll be able to ride a Pedego electric bike to see Cozumel monuments, historic sites, landmarks, parks, and more.
Led by an expert guide, you'll get to explore neighborhoods away from the main tourist areas for a more local experience while still getting to stop for food and shopping along the way.
👉 Book an electric bike tour in Cozumel by clicking here!
17. Take a Chocolate Workshop at the Mayan Cacao Company
Discover the origins of chocolate with a visit to the Mayan Cacao Company, which is perfect for chocolate lovers!
In this 1 hour and 30 minute workshop, you'll learn how to make your own handmade chocolate bar using an authentic recipe of the Mayans.
It's a fun and interactive culinary experience where you get to learn about the ancient origins of cacao and how it was used by the Mayan people.
👉 Book the Chocolate Workshop at the Mayan Cacao Company by clicking here!
18. Participate in the Amazing Cozumel Race
If you're a fan of the popular TV show "The Amazing Race", then you'll definitely want to sign up for the Amazing Cozumel Race!
In this half-day Cozumel sightseeing tour, teams of 2-8 people will participate in the ultimate scavenger hunt experience in Cozumel.
During the race, you'll compete to solve challenges and crack clues with each clue leading to another sightseeing location in Cozumel.
Upon completition, there is a even post-race awards ceremony with prizes for winners. If you are competitive and like challenges, this totally unique Cozumell experience will be perfect for you.
👉 Sign up for the Amazing Cozumel Race by clicking here!
19. Go on a Mini-SUB Diving Adventure
For a unique underwater adventure, a mini-SUB diving adventure in Cozumel Mexico is one of the best excursions in Cozumel!
With the technologically advanced mini-SUB device, you can breathe normally underwater without the use of a mask or tube.
You'll ride the machine and maneuver it across the ocean floor while getting to see tropical fish, starfish, stingrays, and other marine life up close.
👉 Book the Cozumel Mini-SUB diving adventure by clicking here!
20. Visit the Playa Mia Grand Beach Park
If you're looking for family-friendly fun in Cozumel, look no further than Playa Mia Grand Beach Park, one of the top attractions in Cozumel!
This family-friendly beach is known for its water activities, with 20 free attractions included in the admission price and optional add-ons for premium activities.
Highlights include a 200 ft waterslide, floating park with play structures and water trampolines, and swim up bar.
The white sand beach is perfect for lounging, and there are also plenty of activities to keep you busy, including wave runners, sail boats, water bicycles, pedal boats, kayaks, a Hobie cat, and a kids water playground with a pirate ship known as Buccaneer's Bay.
With activities for everyone and conviently located near the cruise ship port, Playa Mia is one of the best things to do in Cozumel on a cruise.
👉 Book tickets to Playa Mia Grand Beach Park by clicking here!
21. Go on a Cozumel Catamaran Sail
For an unforgettable catamaran sailing excursion, book a Cozumel catamaran tour to set sail on the stunning Caribbean waters.
The catamaran sail includes snorkeling at the famous Palancar and Columbia reefs, as well as at El Cielo beach, which is known for its giant starfish.
Beer, margaritas, and drinks are included on board as well as ceviche and guacamole. You'll also get to enjoy beach club access in Cozumel.
👉 Book the Cozumel catamaran sail by clicking here!
22. Go Ziplining at the Awesome Flight Zipline Park
The Awesome Flight Zipline Park in Cozumel is an amazing experience for thrill-seekers of all ages. There are 6 ziplines, each with different heights and distances, that take you through the canopy of the Cozumel jungle.
The towers that the ziplines are attached to also have landing platforms, so you can enjoy the views before zipping off again. And if you're feeling really adventurous, you can even go upside down on some of the ziplines!
You'll feel safe and secure in the zipline harnesses so all you have to do is sit back and see Cozumel like never before!
👉 Book the Awesome Flight Zipline park experience by clicking here!
23. Go Horseback Riding on the Beach in Cozumel
Saddle up for a horseback riding adventure if you're looking for an exciting way to explore Cozumel.
Suitable for riders of all levels, this 30-minute tour takes you horseback riding through the jungle, mangrove forests, and ends on the beautiful beaches in Cozumel.
The tour leaves from the popular Mr. Sancho's Beach Club, where you can stay and use the beach club facilities after the tour.
👉 Book the Cozumel Horseback Riding tour by clicking here!
24. Go on a Cozumel Food Tour
If you're looking to explore the culinary side of Cozumel, then you need to sign up for the Cozumel Food Tour to experience some of the best restaurants in Cozumel!
This 3-hour guided tour takes you to visit 5 different local restaurants, where you'll get to try traditional cuisine from the Yucatan peninsula like empanadas, tacos, and traditional pastries. Beverages are also included whether you prefer fresh juice (agua fresca) or a cold beer!
You'll also get to visit Cozumel open-air markets, where you'll get to discover some of the best eats in Cozumel. With all transportation included, this small group tour is an intimate experience for foodies.
👉 Book the Cozumel Food Tour by clicking here!
25. Visit the San Gervasio Mayan Ruins
The San Gervasio Mayan Ruins are some of the most well-preserved and extensive ruins on the island and one of the top things to see in Cozumel.
Visitors can explore the main plaza, temples, and other structures, which were originally used by the Mayans as a sanctuary to Ixchel, the goddess of fertility.
While not as grand as the Tulum Mayan Ruins or Chichen Itza, the San Gervasio ruins still offer a glimpse into the rich history and culture of the Mayan people.
The ruins can be visited on your own by taxi or rental car or by booking a guided tour with a knowledgable guide.
👉 Book a San Gervasio Mayan Ruins tour by clicking here!
26. Charter a Private Yacht in Cozumel
For an elevated and more luxurious experience, consider booking a private yacht charter in Cozumel, which is one of the best things to do in Cozumel with family or groups of friends.
This luxury 40 ft private Sea Ray for up to 8 people lasts for 6 hours and includes a professional captain and crew where you can design your own boat itinerary to the prime spots in Cozumel.
Open bar, lunch, snorkeling equipment, and a dedicated crew are included for the ultimate VIP boat experience in Cozumel.
👉 Book the Cozumel private yacht by clicking here!
27. Go on a Cozumel Private Island Tour
If you're looking to explore the island of Cozumel without all the tourists, then a private island tour is perfect for you. You'll have your own private driver who will take you wherever you want to go.
Create your own customized itinerary and see all the Cozumel attractions that interest you the most such as the Mayan Ruins, Punta Sur Eco-Park, beach clubs, oceanfront restaurants, and more.
This is a great way to experience everything Cozumel has to offer with a knowledgable driver to show you around.
And the best thing is that you can stay at the Cozumel tourist attractions for as long as you want without feeling rushed.
👉 Book the Cozumel private island tour by clicking here!
28. Go Deep Sea Fishing in Cozumel
Deep sea fishing in Cozumel is a popular activity for outdoorsy tourists who love to fish.
The warm waters off the coast of Cozumel offer excellent year-round fishing conditions, making it a prime destination for anglers looking to reel in a big catch.
With a deep sea fishing excursion, you'll get an experienced captain and crew instead of trying to rent a fishing boat on your own.
The captain will show you the best fishing spots in Cozumel, where you can catch local fish such as dorado, wahoo, and tuna. Plus, all fishing tackle, snorkeling equipment, and beers are included.
👉 Book a Deep Sea Fishing Excursion in Cozumel by clicking here!
29. Visit El Mirador Lookout
Located on the rugged and less-developed eastern side of Cozumel, El Mirador lookout point is a popular landmark on the island and provides breathtaking views of the Caribbean Sea.
El Mirador is one of the best places to visit in Cozumel, which is perfect for enjoying the natural beauty of Cozumel with its stunning scenic rock bridges and tide pools.
Visitors should be aware that waves and currents can be strong in this area and the beach is not suitable for swimmng. The best way to get to the El Mirador is by taxi or rental car, or by visiting as a stop on a guided tour.
30. Hang out at Playa Chen Rio
For a less commercialized Cozumel beach experience, head to the lesser well-known Playa Chen Rio on the east side of the island.
Here you can hang out in a beautiful beach cove and shallow lagoon, which is perfect for snorkeling when the waves are calm. You'll also be able to grab some fresh seafood or drinks at the popular El Pescador beachfront restaurant.
Playa Chen Rio was one of the first secluded beaches I stumbled upon in Cozumel the very first time I rented a jeep on the island. It's such a chill hangout and one of the best Cozumel excursions to do on your own.
31. Visit the Cozumel Pearl Farm
For one of the most unique things to do in Cozumel, check out the Cozumel Pearl Farm, which is the only active pearl farm in the Caribbean.
When visiting the family-run farm on the north shore of the island, you'll get an exclusive look at the pearl farm and lab and learn about the cultured pearl business.
You'll also have the opportunity to take a boat ride out to see the pearl hatchery and snorkel.
After the tour, relax in a hammock on a pristine and secluded beach and enjoy a delicious lunch and cold beverages.
The Cozumel Pearl Farm is not an ordinary tour experience and is best for those looking for totally unique, local, and non touristy things to do in Cozumel.
👉 Book the Cozumel Pearl Farm experience by clicking here!
32. Take a Boat Tour to Isla de la Pasion
Isla de la Pasion, or "Passion Island" in English, is a private island off the north shore of Cozumel. One of the best ways to visit the island is on a private boat tour, where you can customize your own itinerary.
Typically lasting around 4 hours, you'll get to experience a private boat ride and Cozumel beach excursion to Isla de la Pasion, where you can relax and enjoy untouched Cozumel beaches.
You'll also get to snorkel around the nearby Felipe Xicotencatl Shipwreck and see colorful corals and marine life.
👉 Book the Passion Island private tour by clicking here!
33. Visit the Remote Castillo Real
Meaning "Royal Castle" in English, Castillo Real is a small Mayan ruin located on the island's remote northeastern shore.
It is speculated that Castillo Real was used as a guard station by the Mayans to keep watch for enemies. Nowadays, a hike up to the ruins offers panoramic views of the Cozumel coastline and Caribbean Sea.
Due to the rough road conditions on this part of the island, it is best to visit the site by boat or an an ATV tour.
👉 Book an ATV Tour to Castillo Real by clicking here!
34. Go Parasailing in Cozumel
Perfect for the fearless adventurer, parasailing in Cozumel is an exhilarating experience!
You'll be able to soar up to 250 meters in the air, enjoying stunning views of the island and ocean below. And landing is a breeze – you'll simply return slowly back onto the boat platform, feeling refreshed and invigorated.
The whole experience takes just 15 minutes, so it's perfect for those with limited time and looking for a quick adrenaline rush.
👉 Book the Cozumel parasailing experience by clicking here!
35. Watch the Sunset in Cozumel
There's nothing quite like watching the sunset in Cozumel as it disappears over the ocean and Playa del Carmen in the distance. The colors are just incredible, and it's a great way to relax after a long day of activities.
One of the best places to go in Cozumel to watch the sunset is from Aqui + Ahora bar near the Cozumel ferry.
They have an eclectic rooftop bar overlooking the water, and you can order some delicious craft cocktails and snacks while you watch the sun go down.
What Not to Do in Cozumel
Now that you know what to do in Cozumel, there are a few Cozumel activities that I would NOT recommend for ethical reasons.
The reason I don't recommend them is because dolphins and other marine life are held in captivity at these attractions for the purpose of shows and entertainment. I don't like to recommend activities on my blog where animals are mistreated or abused.
Of course you can do your own research and make your own decision, but I would encourage you to consider that before booking some of these Cozumel excursions, which are commonly listed as some of the top things to do in Cozumel.
There are plenty of places in this part of Mexico where you can see dolphins, whales, and other marine life in the wild which is such a better and more ethical experience!
So, consider skipping these places when visiting Cozumel:
Chankanaab Park: This is a popular theme park in Cozumel with a beach, snorkeling, and lots of water activities. However, at Chankanaab Beach Adventure Park there is also a Dolphin Discovery located within the park where dolphins, manatees, and sea lions are held in captivity.
Dolphinaris Cozumel: Another popular attraction in downtown Cozumel offering dolphin swims and encounters, where dolphins are held in captivity.
Conclusion: Best Things to Do in Cozumel Mexico 2022
As you can see from this list of best things to do on Cozumel, there is much to see and do on the island of Cozumel in Mexico!
With so many land and water activities, there is really something for everyone who is planning to travel to Cozumel. Which activities are adding to your Cozumel to do list?!
Like this post? Pin it for later!