How to Visit Playa Xcacel in Riviera Maya Mexico in 2023
Disclosure: This page may contain affiliate links, meaning at no additional cost to you, I will earn a commission if you click through and make a purchase. As an Amazon Associate I earn from qualifying purchases.



Are you interested in visiting Playa Xcacel in Riviera Maya Mexico? You've come to the right place!
I'm a travel blogger that lives in nearby Playa del Carmen, and have visited Xcacel Beach many times.
This stunning beach is a protected nature reserve, perfect for those looking for a natural sanctuary and untouched Caribbean paradise away from the crowds.
In this post, I'm sharing everything you need to know about visiting Xcacel Beach, including how to get here, things to do, visitor info, and helpful tips.
Read on to discover how to visit the beautiful Xcacel Beach Mexico for yourself!
Why visit Xcacel Beach?
Located less than an hour south of Playa del Carmen, Playa Xcacel (pronounced Ish-Kuh-Cell) is a stunning natural sanctuary and one of the best beaches in Riviera Maya.
Its hidden location makes it less well known and much less crowded than most other beaches near Playa del Carmen and Tulum.
With minimal amenities, Xcacel is a secret retreat where you'll get to experience the untouched natural beauty and pristine turquoise waters of the Caribbean coastline.
Plus, the beach is dedicated to protecting the sea turtles that lay their eggs there from April–October. All entrance fees go towards conservation efforts.
Where is Playa Xcacel?
Playa Xcacel is located in Mexico's Riviera Maya region in the state of Quintana Roo on the Caribbean coast.
It's located right off the main highway 307, and is about 40 minutes south of Playa del Carmen, or 20 minutes north of Tulum.
More specifically, it's located in between Chemuyil and Xel-Ha Adventure Park.
Driving times from nearby destinations are as follows:
Playa del Carmen to Xcacel: 40 minutes
Tulum to Xcacel: 20 minutes
Akumal to Xcacel: 11 minutes
Cancun to Xcacel: 1 hour 40 minutes
How to Pronounce Xcacel
Xcacel is pronounced Ish-Kah-Cell. They key to pronouncing "X" sounds in the Mayan language is to pronounce them as either as an "Ish" or "Sh" sound.
How to Get to Xcacel Beach Mexico
Here's how to get to Xcacel by car, taxi, or public transportation:
Drive to Playa Xcacel
The easiest way to get to Playa Xcacel Mexico is by driving or renting a car.  It's about a 40 minute drive south of Playa del Carmen, or 20 minutes north of Tulum.
From Playa del Carmen, there is a sign on the left side of the highway marking the entrance to the beach.
However, the sign is not very prominent and can be easily missed so I would recommend using GPS on your phone to make sure you don't pass the entrance.
Once you arrive to Xcacel, it is just a short drive down a dirt road and then there is free parking on site.
👉 For a hassle-free experience, book your car through my favorite rental service Discover Cars by clicking here!
Take a Taxi to Playa Xcacel
Taxis can easily be hailed almost anywhere in Playa del Carmen and taken to Xcacel Beach.
You can expect the rate to be around $400-$500 pesos (~$20-$25 USD) each way.
For the return trip, taxis will NOT be waiting outside the beach entrance. It's best to try and pre-arrange pickup with the taxi driver that dropped you off.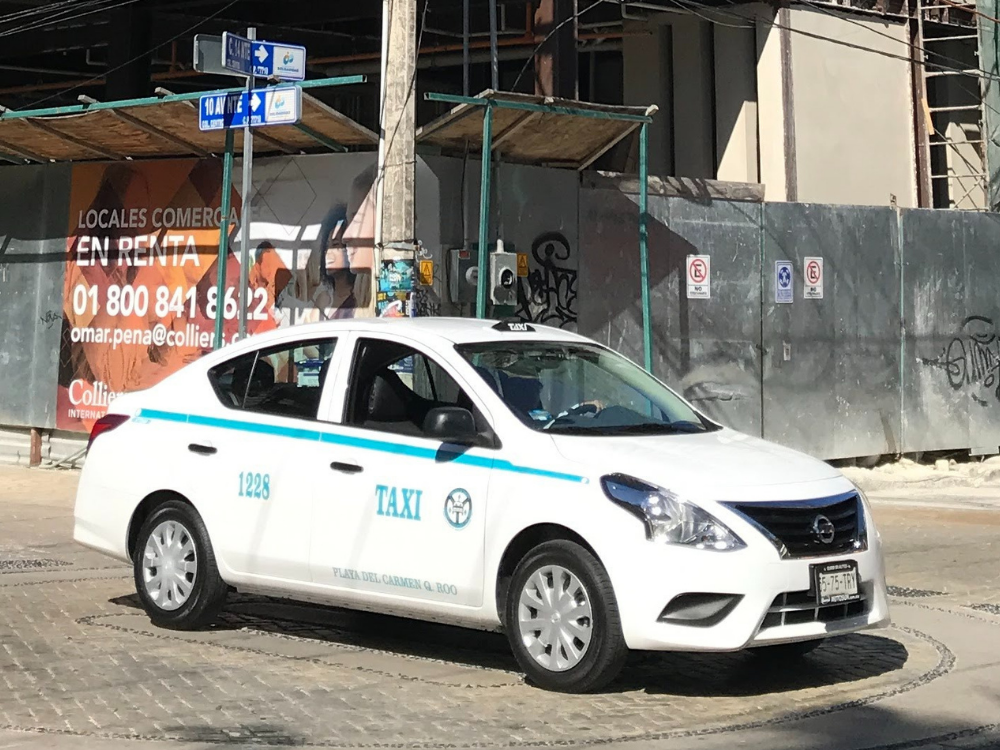 Take Public Transportation to Playa Xcacel
You can also reach Xcacel Beach by taking a colectivo (shared van) from Playa del Carmen towards Tulum.
The main bus depot in Playa del Carmen is located near the Chedraui grocery store and Highway 307 (behind the McDonald's).
Tell the driver you are going to Xcacel and they will drop you off on the side of the highway.
It's also a good idea to watch the GPS on your phone so you know when you're getting close. The cost should be less than $50 pesos each way.
What is Playa Xcacel like?
Playa Xcacel is a long beach in a natural coastal inset with shallow stunningly turquoise water.
For the most part, the sand is soft but there are some rocky areas in the water so you may want to bring water shoes for foot protection.
Keep in mind there are some areas that are not safe for swimming and depending on the day, the waves can be large.
Be sure to reference the sign posted at the entrance that shows you exactly which areas are safe and which are prohibited (see below).
🚫 Note: There is also a cenote called Xcacelito located at the far end of the beach but it's currently closed to visitors.
Xcacel Beach: Know Before You Go
Here's some important things to know before visiting Xcacel Beach:
Xcacel Hours
Playa Xcacel is open on Tuesday–Sunday from 10:00 AM–4:00 PM. Note the beach is closed on Mondays and the closing times are strictly enforced.
There is staff on-site that walks up and down the beach alerting visitors when it is time to leave. It's best to get there early so you can enjoy a full day at the beach.
Xcacel Entrance Fee
Below are the entrance fees for visiting Xcacel Beach. The fees are used to maintain the facilities, support the turtle conservation program, and help to keep the beach preserved.
Residents of Quintana Roo: $25 pesos (~$1.30 USD)
Mexican Nationals: $51 pesos (~$2.50 USD)
Foreigners: $97 pesos (~$5 USD)
Xcacel Rules
Xcacel Beach is more of a nature sanctuary and not intended as a place to party.
It's important to be respectful of the beach and collect any trash and belongings before you leave.
There are a few rules that are strictly enforced by the staff on-site:
No speakers
No alcohol
No smoking
No food
No regular sunscreen
No pets
Things to Do at Xcacel Beach
Xcacel is a simple beach with just a few activities:
1. Swim and sunbathe
Xcacel is best suited for those that want a quiet place to soak up the sun and swim in the ocean.
While visiting, you can swim in the shallow waters or sunbathe on the sand. Be sure to bring your own beach towels, umbrella, or chairs for lounging.
2. Go snorkeling
Playa Xcacel beach can be a great place for snorkeling depending on the water conditions.
You'll be able to snorkel right off the beach and might see some colorful corals and tropical marine life.
Snorkel gear is not available for rent so be sure to bring your own snorkel set and fins if you want to give Xcacel snorkeling a try.
3. Support the Xcacel Turtle Sanctuary
Xcacel is a protected nature reserve that is committed to protecting the sea turtles that lay their eggs there from April–October.
While most turtle hatching happens at night, you'll able to learn all about the conservation program while visiting.
Plus, all entrance fees go towards supporting their conservation efforts.
Amenities at Playa Xcacel
It's important to know that there are absolutely no amenities at Playa Xcacel like beach clubs, lounge chairs, or food and beverage service.
The only amenities you'll find are restrooms and simple showers near the entrance.
What to Bring to Playa Xcacel
Since Playa Xcacel doesn't offer any amenities, you'll need to bring everything you need with you for a day at the beach.
Regular sunscreen is prohibited so you'll definitely need to bring biodegradable sunscreen.
Here are a few other items I would recommend bringing:
Visiting Xcacel: FAQs
Here are the answers to some of the most frequently asked questions about visiting Xcacel Beach Tulum:
What are the Xcacel hours?
Xcacel is open Tuesday–Sunday from 10AM-4PM (Closed Sundays).
What is the entrance fee for Playa Xcacel?
The Xcacel Beach entrance fee for foreigners is $97 pesos (~$5 USD)
Can you see turtles at Xcacel Beach?
Sea turtles come to lay their eggs at Xcacel Beach from April–October. However, most turtle activity happens at night so you are unlikely to see them while visiting during the day.
How far is Xcacel from Playa del Carmen?
Xcacel is located about 40 minutes south of Playa del Carmen.
Final Thoughts: Playa Xcacel Tulum Mexico
So are you ready to visit Playa Xcacel? I hope this visitor guide was helpful in planning your visit!
Overall, I was so blown away by Playa Xcacel and consider it to be a hidden gem and one of the best beaches in Riviera Maya.
If you want to visit a gorgeous natural beach in Mexico but are okay with not having any flashy amenities, then it's the perfect place to spend the day while visiting Playa del Carmen, Tulum, or the Riviera Maya.
And if you're looking for an equally stunning beach with more amenities then you'll want to check out the nearby Playa Xpu-Ha. Enjoy!
Like this post? Pin it for later!
Traveling to Mexico soon?
These are the Mexico travel resources I use and recommend:
🏨 Hotels: I always find the best deals for Mexico hotels and resorts on Expedia or Booking.com. If you prefer a vacation rental, check VRBO as they are often cheaper than AirBnB's added fees!
✈️ Flights: I recommend using Skyscanner for the best Mexico flight deals. Be sure to sign up for their price alerts for your preferred travel dates.
🚗 Rental Cars: I like to use Discover Cars because you can compare multiple car rental companies and see detailed ratings for overall value, ease of pick-up, efficiency of agents, car condition, and overall time spent.
🚙 Cancun Airport Transportation: I recommend booking a private transfer with Cancun Airport Transportation for the quickest and most hassle-free option!
🤿 Tours & Activities: I always use Viator or GetYourGuide for booking tours and activities in Mexico. You can cancel up to 24 hours before the tour for a full refund, plus they have excellent customer service if you were to have any issues.
🚨 Travel Insurance: After my Dad broke his hand in a taxi accident in Playa del Carmen, I always recommend buying travel insurance before your trip for added peace of mind! I recommend Travel Insurance Master for short trips or Safety Wing for digital nomads.
☀️ Biodegradable Sunscreen: Don't forget to add biodegradable sunscreen to your Mexico packing list! Regular sunscreen is prohibited when swimming in the ocean and cenotes in Mexico, so you'll need to pack some biodegradable sunscreen for sun protection. I recommend Sun Bum Sunscreen, which is reef-friendly, vegan, and cruelty-free.