Best Car Rental in Playa del Carmen 2023: Important Info + Tips
Best Car Rental in Playa del Carmen Mexico
In-Person Car Rentals
Cancun Airport
What are the best car rental companies in Playa del Carmen?
Is it safe to rent a car in Playa del Carmen?
Is it necessary to rent a car in Playa del Carmen?
How much do rental cars cost in Playa del Carmen?
What kind of cars can you rent in Playa del Carmen?
Where are the car rental pick-up locations in Playa del Carmen?
What's the parking situation in Playa del Carmen?
Is it safe to drive in Playa del Carmen?
Can you rent a car from Cancun Airport?
How are the road conditions in Playa del Carmen?
Do you need to buy insurance for car rentals in Mexico?
Yes, insurance coverage is required by law to rent a car in Mexico.
Types of Insurance
Here are the different types of insurance explained:
Liability Insurance
Collision Damage Waiver (CDW)
Theft Protection
Which type of insurance do you need?
Requirements for Renting a Car in Playa del Carmen
These are the necessary requirements for renting a car in Playa del Carmen:
At Least 25 years old
Valid Passport
A valid passport is also required to rent a car in Playa del Carmen and fees may vary depending on your country of residence.
Valid Driver's License (or IDP)
Credit or Debit Card
Liability Insurance
Common Rental Car Scams in Playa del Carmen
These are some common Playa del Carmen rental car scams to watch out for. In some cases, these might be unavoidable because unfortunately, that's just how things operate in Mexico.
$1/Day Car Rentals
Hidden Fees
Insurance Overcharges
Bait and Switch
Large Credit Card Deposits
Charges for Damages
Other Car-Related Scams to Watch Out For
Besides car rental scams at the rental office, there are also a few other car-related scams to watch out for while driving in Mexico:
Bill Swap Scam
Gas Pump Reset Scam
Window Washers
How to Avoid Car Rental Scams in Playa del Carmen
Follow these Playa del Carmen car rental tips to ensure you have a safe and stress-free rental experience:
Reserve online in advance
Be cautious when renting from the Cancun Airport
Check reviews
Take pictures at pickup and dropoff
Use a credit card instead of a debit card
Have your insurance in order
Read the fine print
Return the car with a full tank of gas
Important Tips for Driving in Playa del Carmen
Follow these Playa del Carmen driving tips for a safe and enjoyable experience:
Watch out for speed bumps (topes): Speed bumps are very common in Playa del Carmen and can often appear out of nowhere. Make sure to slow down as you approach any intersections or roundabouts and pay close attention to the road.
Follow all traffic laws: Driving in Mexico can be a bit chaotic, so make sure to follow all traffic laws and obey the speed limit. This includes stopping at red lights and stop signs, yielding to oncoming traffic when turning, and wearing your seatbelt at all times. It's also best not to use your cell phone while driving. You can get pulled over and fined (or bribed) by the police for these infractions.
Avoid driving at night: It's best to avoid driving at night in Playa del Carmen as it can be difficult to see due to the lack of streetlights in some areas and unfamiliar road conditions. Plus, safety risks due to drug violence increase at night.
Speed limits are in kilometers/hour: Mexico follows the metric system, which means speed limits are measured in kilometers/hour. Make sure to familiarize yourself with the speedometer and speed limit signs and adjust your speed accordingly.
Gas is in liters: Gas is also measured in liters, so make sure to use the right units when filling up at a gas station.
Be cautious during traffic checkpoints: Traffic checkpoints are common in Mexico, so it's best to stay calm and cooperative when approaching one. As long as you are not doing anything illegal, you most likely will not be asked to stop.
Never leave valuables in your car: Petty theft is unfortunately common in Mexico so it's best to not leave any valuables in your car unattended–even in the trunk. Always lock your doors and keep your windows up when you're not in the car.
Always take the toll roads: When visiting destinations in the Yucatan peninsula outside of Playa del Carmen, you will likely have to take a toll road. While this costs a small fee, it's much safer as the roads are well-maintained and there are fewer risks.
Download offline maps: When driving around this part of Mexico away from the main tourist towns, it's not uncommon to lose cell service. Be sure to start your navigation before setting out and download offline maps in case you were to lose service along the way.
Don't get confused by the attraction signs on the highway: When driving on the main highway 307, you'll often see official road signs for Riviera Maya hotels, towns, and attractions like the Xcaret parks. This can be deceiving because it seems like these places are coming up but in reality they are MUCH further down the main road. It's best to stick to Google Maps or GPS navigation to get to your destination.
Gas pumps are not self-serve: Gas pumps in Mexico are operated by attendants and you will not pump the gas yourself. Be prepared to tell them how many liters or pesos worth of gas you would like.
What to Do in Case of an Emergency
Here's what to do if you get into an accident or have a breakdown:
Contact the Rental Car Company
Call 911
Is there Uber in Playa del Carmen?
Best Ways to Get Around Playa del Carmen
If you plan to stick to downtown Playa del Carmen or don't feel comfortable driving in Mexico, these are the best ways to get around Playa del Carmen:
Walking
Biking / Biciplaya
Taxis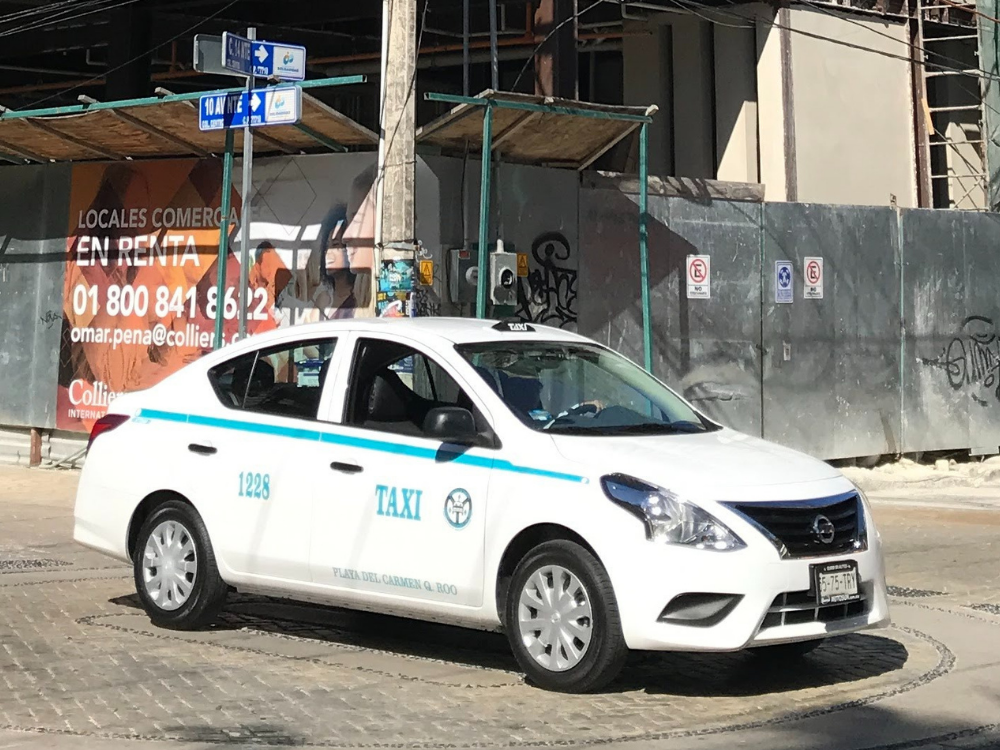 Colectivos
ADO Bus
Best Places to Visit with a Rental Car in Playa del Carmen
Once you get your Playa del Carmen rental car squared away, these are some of the best places to visit in the Yucatan peninsula:
Secluded Beaches
Cenotes
Mayan Ruins
Adventure Parks
Ruta de los Cenotes
Akumal Bay
Car Rental in Playa del Carmen: FAQs
Conclusion: Best Car Rental Playa del Carmen Guide