Puerto Vallarta vs Cozumel: Which is better in 2023?
Disclosure: This page may contain affiliate links, meaning at no additional cost to you, I will earn a commission if you click through and make a purchase. As an Amazon Associate I earn from qualifying purchases.



Planning a trip to Mexico and stuck between visiting Puerto Vallarta or Cozumel? You're in the right place!
As a travel blogger that lives in Playa del Carmen (just a short ferry ride from Cozumel) and previously lived in Puerto Vallarta, I know all about these two beach destinations.
While both Puerto Vallarta and Cozumel are stunning beach vacation spots, there are some key differences between the two.
In this ultimate Puerto Vallarta vs Cozumel guide, I'll share everything you need to know about cost details, safety concerns, the best activities, and where to stay in each tropical location.
Ready to find out if you're more suited for Cozumel, the small Caribbean island, or Puerto Vallarta, the lively city on the Pacific Coast? Let's get started!
Puerto Vallarta vs Cozumel: Overview
Puerto Vallarta and Cozumel are two completely different tropical locations with endless appeal.
While I think they're both worth a visit, the final decision will come down to your preferences.
About Puerto Vallarta
Puerto Vallarta is a large coastal city on the Pacific Coast of Mexico in the state of Jalisco. It's known for its lively nightlife, beautiful beaches, and adventurous water sports. But there's so much more to it.
Puerto Vallarta has a stunning backdrop of the Sierra Madre mountain range, making it the perfect place for outdoor activities like ziplining, biking, and hiking.
Plus, as one of Mexico's original beach towns, it has classic Mexican charm with cobblestone streets, Spanish architecture, and incredible hillside views.
Some of the town's most famous sites include the impressive beachfront boardwalk known as the "Malecón", the spiral-shaped Los Muertos Beach Pier, and the beautiful pink-hued Church of Our Lady of Guadalupe.
Much of Puerto Vallarta caters to tourists, cruise ship passengers, and local families on vacations. For that reason, you'll find many excellent resorts and other fun activities for all ages.
About Cozumel
Cozumel has an entirely different vibe than Puerto Vallarta. Where Puerto Vallarta is large, bustling, and loud, Cozumel is small, tranquil, and quiet.
Cozumel is Mexico's largest Caribbean island, located just off the coast of Playa del Carmen in the Yucatan Peninsula.
It's a small place–you can easily drive around the island in about an hour. And yet, there's so much to do and see with numerous water activities and attractions.
Additionally, Cozumel is worth visiting due to its location on the Mesoamerican Barrier Reef, the second longest barrier reef system in the world.
This makes it a divers paradise because of the stunning coral formations, shipwrecks, and lively marine life off the coast.
And as one of the most visited cruise ship destinations in the Caribbean, there are tons of cruise ships arriving daily to the island.
Basically, it's a small island with a ton of personality to match the influx of tourists, divers, and cruise ship arrivals.
Puerto Vallarta vs Cozumel Map
Take a look at the map below to see where Puerto Vallarta and Cozumel are located:
Puerto Vallarta vs Cozumel: Who are they best suited for?
Puerto Vallarta and Cozumel are beach destinations catering to beach tourism, but they differ in many ways.
Who is Puerto Vallarta best suited for?
Puerto Vallarta has more of a city vibe, with great nightlife and many adventure activities. But there's so much to do here that various travelers will find an oasis at this beach destination.
Puerto Vallarta is perfect for solo travelers looking for the ideal Mexican destination with a welcoming atmosphere to meet other like-minded travelers. Plus, it's one of the most LGBTQ-friendly cities in Mexico.
And because of the large variety of all inclusive resorts, cute boutique hotels, and family resorts, Puerto Vallarta is also great for couples and families looking to settle in the hotel.
And finally, don't forget it's right on the beach. This makes it perfect for all beach lovers, and the proximity to the mountains also makes it great for hikers and other thrill seekers.
Who is Cozumel best suited for?
Cozumel is much calmer, often called a "sleepy town" because everything shuts down early, and there are rarely crowds of people on the streets.
Due to this low-key vibe, Cozumel is great for couples looking for a romantic escape, solo travelers who want to escape the fast-paced atmosphere sometimes found on the mainland, and families who wish to relax and unwind.
Cozumel is also a haven for scuba divers, snorkelers, and water sports lovers. It's the best place to settle down, enjoy the majestic beauty of the Caribbean Sea, and soak up the sun.
Puerto Vallarta vs Cozumel: Pros and Cons
Here's a look at the Puerto Vallarta vs Cozumel pros and cons to help with your decision:
Pros of Puerto Vallarta
City vibes with all the amenities and comforts
Many beach activities and adventure tours
Large variety of Puerto Vallarta resorts
Excellent nightlife and restaurant variety
Large international airport and easy transportation
Very LGBTQ friendly
Cons of Puerto Vallarta
Noisy and overwhelming
Frequent construction noise
Higher crime rate
More tourists
Less picturesque beaches
Pros of Cozumel
Quieter, more peaceful atmosphere
World-renowned scuba diving and snorkeling
Lower crime rate
Caribbean beaches with crystal clear water
Cute all inclusive resorts, boutiques, and family-friendly oceanfront resorts
Cons of Cozumel
Doesn't have many public beaches
Harder to get to
Doesn't have great transportation options
Less developed
Limited shopping and dining options
Puerto Vallarta vs Cozumel: Safety Comparison
Now, let's look at a safety comparison between Puerto Vallarta and Cozumel.
U.S. Department of State Travel Advisory
The official U.S. Department of State Travel Advisory for Puerto Vallarta is currently "Level 3 – Reconsider Travel" due to crime and kidnapping in the state of Jalisco.
The U.S. Department of State Travel Advisory for Cozumel is currently "Level 2 – Exercise Increased Caution" due to crime in the state of Quintana Roo.
The United States Mexico travel advisory mentions violent criminal activity in Jalisco but references Guadalajara, not Puerto Vallarta.
The same report warns tourists to exercise increased awareness in the tourist areas of Riviera Maya, Quintana Roo (Cancun, Playa del Carmen, and Tulum) but doesn't mention Cozumel.
Crime and Safety Index
Numbeo reports the following crime and safety indices for Puerto Vallarta and Cozumel. Basically, you want the crime index to be low and the safety index to be high.
Crime Index: Puerto Vallarta: 35.60 (Low) | Cozumel: 34.57 (Low)
Safety Index: Puerto Vallarta: 64.40 (High) | Cozumel: 65.43 (High)
🚨 Do you need travel insurance for Mexico? Yes! Most insurance plans in your home country will not cover incidents abroad. I recommend using Travel Insurance Master, which is a handy travel insurance marketplace where you can compare policies. Get a FREE quote by clicking here!
Is Cozumel safer than Puerto Vallarta?
You can see from the Numbeo Crime and Safety Index above that, statistically, crime and safety statistics are similar for both Puerto Vallarta and Cozumel.
Cozumel has a much lower population and fewer crime reports than Puerto Vallarta, so the data may not be a perfect representation. But based on my experience, I would say Cozumel is safer to visit.
Generally, there will be fewer incidents in Cozumel than in Puerto Vallarta because it is a much smaller city. While Puerto Vallarta has more city appeal, Cozumel has a more friendly island vibe.
However, when traveling anywhere, practicing mindful awareness is essential. You should always be aware of your surroundings, never leave personal belongings unattended, and avoid illegal activity.
Puerto Vallarta vs Cozumel: Cost Comparison
Puerto Vallarta and Cozumel are close in cost comparison. Both are on the more expensive side of places to visit in Mexico, as they have many all inclusive resorts and tourist attractions.
But when it comes to transportation costs, you'll probably save money in Puerto Vallarta as it has a large international airport (PVR), with direct flights from many international cities.
Additionally, Uber in Puerto Vallarta is available and very inexpensive, which makes getting around the city easy and affordable.
Cozumel does have an international airport (Cozumel International Airport – CZM), though flights are typically more expensive.
That's why many travelers choose to fly into Cancun International Airport (CUN) and then take the ferry from Playa del Carmen to Cozumel.
Uber in Cozumel is not available, so you'll need to rely on taxis or a rental car to get around the island.
But in both places, there are ways to save money to meet any budget. For example, you can choose cheaper accommodations and avoid the high season (winter months and spring break).
Puerto Vallarta vs Cozumel: Beaches Comparison
Both Cozumel and Puerto Vallarta have beautiful beaches with blue waters, rows of swaying palm trees, and a sea full of tropical fish.
The island of Cozumel is known for its warm, turquoise crystal clear waters and vibrant marine life, so it draws scuba divers and snorkelers.
And due to its location on a barrier reef, many of the beaches tend to be more rocky. However, there are still beautiful white-sand beaches to be found on the island like Playa Palancar.
Additionally, there's a lack of public beaches in Cozumel. So, finding good beach spots will be challenging unless you're staying at a resort or visiting beach clubs or Cozumel water parks that have their own private beach.
Puerto Vallarta is located on the Pacific Coast, with many beaches open to the public. Banderas Bay also protects the beaches, meaning the waters are calmer than other beach destinations on the west coast.
The waters of Puerto Vallarta tend to be more rugged and you don't have that bright, turquoise blue coloring like the Mexican Caribbean. Plus, the sand is more golden and isn't as white and soft.
Puerto Vallarta vs Cozumel: Hotels Comparison
Another important thing to consider between Puerto Vallarta vs Cozumel is the accommodation and hotel options available.
Puerto Vallarta has more than double the amount of hotels than Cozumel, so Puerto Vallarta will have many more options.
Plus, there's so many more neighborhoods in Puerto Vallarta so you have a lot more variety depending on what you're looking for.
So whether you want a boutique hotel in the walkable Romantic Zone, an all-inclusive beachfront resort in the Hotel Zone, or a family-friendly resort in Nuevo Vallarta, there's a lot to choose from.
Alternatively, the resorts in Cozumel are mainly larger all inclusive resorts. But you can still find cute boutique hotels and plenty of budget-friendly options closer to the town center.
Where to Stay in Puerto Vallarta
Here are a few great options for where to stay in Puerto Vallarta:
Travelista Tip: If you're looking for the best beaches, I recommend staying in the Hotel Zone, as you'll have several within walking distance. If you want to be near the action and good nightlife, I recommend the Romantic Zone.
Where to Stay in Cozumel
Here are a few great options for where to stay in Cozumel:
Travelista Tip: If you're looking for the best beaches, I would recommend staying on the southwestern side of the island, as the beaches are less rocky, and the snorkeling is fabulous.
Puerto Vallarta vs Cozumel: Activities Comparison
Puerto Vallarta and Cozumel activities differ, so the better destination depends on your preferences.
Puerto Vallarta has more of a well-rounded activity list that includes beautiful beaches, great hiking in the Sierra Madre mountain range, vibrant nightlife, and plenty of other things to do.
Many of the biggest things to do in Cozumel center around the ocean. Scuba diving, snorkeling, and beach clubs are the most popular activities on the island.
So, this may not be your place if you aren't obsessed with the sea (or at least appreciative of it).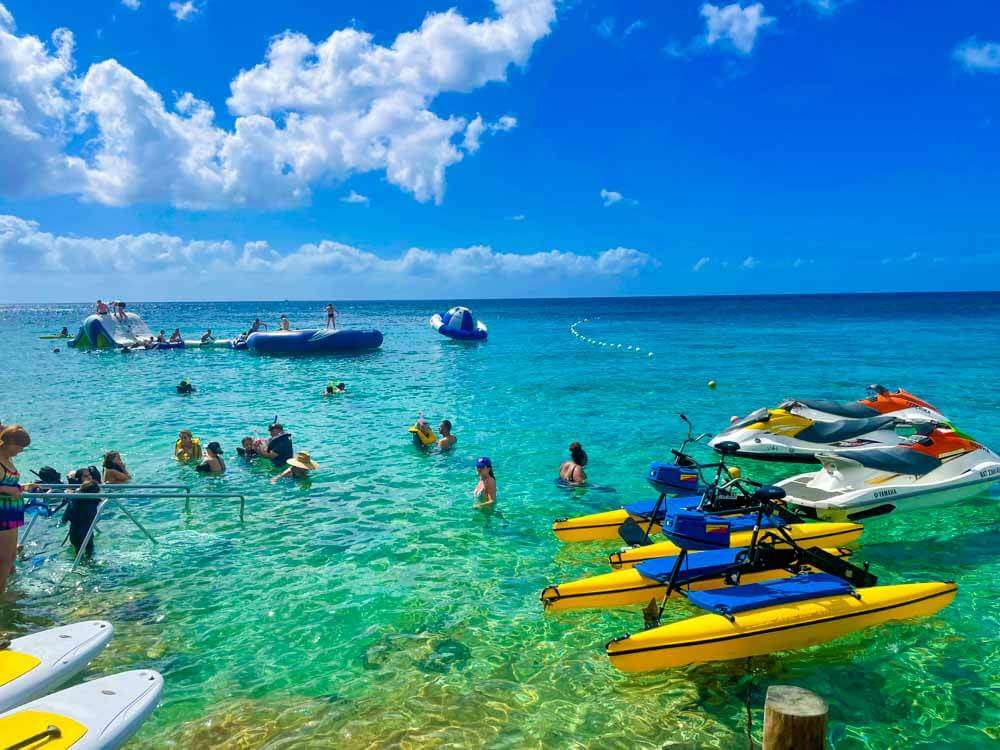 Best Things to Do in Puerto Vallarta
Here are some activity highlights of things to do in Puerto Vallarta:
Take a Boat Tour to Islas Marietas National Park: Islas Marietas (The Marietas Islands) is a beautiful group of tiny islands off the coast of Puerto Vallarta. You can take an Islas Marietas boat tour there to visit the stunning Hidden Beach, as well as go snorkeling, kayaking, and paddleboarding.
Go Ziplining in the Jungle: Puerto Vallarta's location in the Sierra Madre mountains makes it the perfect place for ziplining. You can book a fun Puerto Vallarta ziplining tour to soar through the jungle canopy and enjoy the incredible views.
Go Whale Watching: Whale watching season is between December and March when humpback whales enter Banderas Bay. It's a really fun activity, perfect for any family vacation.
Walk the Malecón: Puerto Vallarta's "Malecón" is a beautiful beachfront boardwalk lined with shops, restaurants, and bars where you can enjoy incredible ocean views.
Best Things to Do in Cozumel
Here are some activity highlights of things to do in Cozumel:
Go on a Snorkeling Tour: A snorkeling tour in Cozumel is a must to explore the lively Mesoamerican Reef (the second largest reef in the world, only behind the Great Barrier Reef).
Snorkel at El Cielo: El Cielo is among Cozumel's most prestigious and well-known snorkel spots. You can only access it by boat, but the abundance of starfish and the bright turquoise water make it well worth the trip.
Visit Punta Sur Ecological Reserve: Punta Sur is the perfect place to go if you want some time away from the coral reefs and salty water. There are other fun activities here (like a crocodile boat tour and a beautiful lighthouse with great views).
Go on the Atlantis Submarine Expedition: The Atlantis Submarine in Cozumel is Mexico's only submarine dedicated to tourism, diving up to 100 feet beneath the sea. While on the 2-hour submarine expedition, you'll see the Felipe Xicotencatl sunken ship and pass near "La Pared", a vertical drop that plummets to more than 2,000 feet deep at the edge of the island.
Puerto Vallarta vs Cozumel: Restaurants Comparison
When it comes to dining, Puerto Vallarta wins on this front. While Cozumel has some great restaurants, Puerto Vallarta has a much larger variety.
Puerto Vallarta is known to have some delicious international food and a good blend of local food. Plus, a lot of the restaurants have fantastic views.
You'll have to indulge in some fresh seafood when you're in Puerto Vallarta! The city is home to some of the best fresh ceviches in Mexico if you're a big fan of this dish.
Cozumel, on the other hand, has fewer options. However, you'll still find some great dining experiences.
Many of the restaurants are located in downtown San Miguel de Cozumel, with stunning oceanfront views.
One of my favorite breakfast and lunch spots is Aqui + Ahora, located right across from the ferry terminal. You'll have to walk back a few blocks for more local food.
Guisado's is a short walk from downtown Cozumel and has some of the best tacos in Cozumel.
Puerto Vallarta vs Cozumel: Nightlife Comparison
When it comes to nightlife, Puerto Vallarta also takes home the cake. Puerto Vallarta is one of the best party places in Mexico, so you'll find endless opportunities for partying, clubbing, dancing, and any other drinking-related activity.
The Romantic Zone is the best district in Puerto Vallarta for exciting nightlife, but you can find good dancing and drinks in almost every neighborhood.
Cozumel is not really known for its nightlife, although there are some places here, too. Right across the Puerta Maya Cruise Ship Terminal, Señor Frogs and Hooters are open late and get reasonably busy.
However, most people go to Cozumel for relaxing, snorkeling, and scuba diving, so there are fewer options.
Cozumel vs Puerto Vallarta: FAQs
Here are some of the most frequently asked questions about Cozumel vs Puerto Vallarta:
Is it worth it to go to Puerto Vallarta?
Yes, it is worth it to go to Puerto Vallarta. It's a fun beach town with classic Mexican charm and has the perfect blend of adventure activities, water sports, and opportunities for lounging by the beach.
Why is Puerto Vallarta so popular?
Puerto Vallarta is popular because it's a well-known spring break destination and family vacation spot. There's a little something for everyone, making it a great place to explore on vacation.
What are the best months to go to Puerto Vallarta?
The best months to go to Puerto Vallarta are between December and March, when the weather is cooler and more temperate. You'll also be able to spot humpback whales during this time.
Is Puerto Vallarta ocean swimmable?
Yes, the Puerto Vallarta ocean is swimmable. The city beaches are in Banderas Bay, making the water more calm than other Pacific Coast destinations.
What month is hurricane season in Puerto Vallarta?
Hurricane season in Puerto Vallarta is technically from June to November, with the largest risk of hurricanes in August and September.
When is the best time to visit Cozumel?
The best time to visit Cozumel is between December and February, when the weather is more dry and less humid.

The summer months past June is the rainy season and it can get incredibly hot and humid. But the island is warm enough to visit all year round.
Final Thoughts: Is Cozumel or Puerto Vallarta better?
When choosing between Cozumel or Puerto Vallarta, many factors must be considered.
Are you looking for the best nightlife? Are you looking for the most active reef? Are you looking for the best dining experience?
Both Cozumel and Puerto Vallarta have a lot to offer. Puerto Vallarta is more well-known as a party destination, but it also has many high-end resorts, restaurants, and adventurous activities for anyone.
Cozumel is world-renowned as a top cruise ship destination, with excellent snorkeling and diving excursions. But overall, it's more quiet so it's best suited for those looking for a relaxed atmosphere.
No matter what you decide, I hope you enjoy your time soaking up the sun and getting to experience the vibrant Mexican culture at either destination!
🇲🇽 Traveling to Mexico soon?
These are the Mexico travel resources I use and recommend:
🏨 Hotels: I always find the best deals for Mexico hotels and resorts on Expedia or Booking.com. If you prefer a vacation rental, check VRBO as they are often cheaper than AirBnB's added fees!
✈️ Flights: I recommend using Skyscanner for the best Mexico flight deals. Be sure to sign up for their price alerts for your preferred travel dates.
🚗 Rental Cars: I recommend using Discover Cars because you can compare multiple car rental companies and see detailed ratings for overall value, ease of pick-up, efficiency of agents, car condition, and overall time spent.
🚙 Cancun Airport Transportation: I recommend booking a private transfer with Cancun Airport Transportation for the quickest and most hassle-free option!
🤿 Tours & Activities: I always use Viator or GetYourGuide for booking tours and activities in Mexico. You can cancel up to 24 hours before the tour for a full refund, plus they have excellent customer service if you were to have any issues.
🚨 Travel Insurance: After my Dad broke his hand in a taxi accident in Playa del Carmen, I always recommend buying travel insurance before your trip for added peace of mind! I recommend Travel Insurance Master for short trips or Safety Wing for digital nomads.
☀️ Biodegradable Sunscreen: Don't forget to add biodegradable sunscreen to your Mexico packing list! Regular sunscreen is prohibited when swimming in the ocean and cenotes in Mexico, so you'll need to pack some biodegradable sunscreen for sun protection. I recommend Sun Bum Sunscreen, which is reef-friendly, vegan, and cruelty-free.