25 Best Things to Do in Isla Mujeres Mexico in 2023
Disclosure: This page may contain affiliate links, meaning at no additional cost to you, I will earn a commission if you click through and make a purchase. As an Amazon Associate I earn from qualifying purchases.



Looking for the best things to do in Isla Mujeres? I've got you covered!
As a Playa del Carmen resident and local travel blogger, I've visited the island of Isla Mujeres many times and I'm here to help!
Isla Mujeres is an unbelievably beautiful island known for its stunning beaches, crystal clear waters, and endless activities.
There are plenty of things to do in Isla Mujeres, from swimming and snorkeling to shopping and dining. Here are 25 things you shouldn't miss on your next trip to Isla Mujeres.
Best Things to Do in Isla Mujeres Mexico
These are the top things to do in Isla Mujeres whether you're staying on the island or taking a day trip to Isla Mujeres from Cancun, Playa del Carmen, or the Riviera Maya:
1. Go on an Isla Mujeres Catamaran Sail
One of the best ways to see Isla Mujeres is from the water on a catamaran sail. Catamarans are large sailing vessels that have two hulls, or pontoons. This makes them stable and ideal for enjoying the island's coastline.
During a catamaran sail, you'll have the opportunity to relax on deck, swim and snorkel in the crystal-clear waters, and explore Isla Mujeres' many beaches.
You may even spot some of the island's wildlife, including dolphins, turtles, and rays.
If you're visiting Isla Mujeres on a day trip from Cancun or Riviera Maya, a catamaran sail is the perfect way to experience all that Isla Mujeres has to offer.
I went on an Isla Mujeres catamaran sail for a friend's birthday and it was an unforgettable experience! The bright turquoise color of the water will definitely leave you a jaw-dropping first impression.
👉 Book the best Isla Mujeres catamaran tour by clicking here!
2. See the MUSA Underwater Museum of Art
Isla Mujeres is home to an Underwater Museum of Art known as MUSA ("Museo Subacuático de Arte").
This underwater museum is made up of over 500 sculptures that have been placed on the seabed around the island.
Visitors can snorkel or scuba dive to see the sculptures, which are designed to promote the growth of coral reefs. The museum is a great way to see some amazing art while also enjoying the underwater world.
Aside from the sculpture garden, you'll also get to see a house and car under the water. The experience is so unique and a step above your typical snorkeling excursion!
3. Relax on Playa Norte
If you're looking for the best beach in Isla Mujeres, head to Playa Norte (North Beach), which is the most popular beach on the island.
This Isla Mujeres must see beach is the perfect place for swimming, sunbathing, and relaxing.
Playa Norte is basically the party cove of the island, and one of the most popular places for boats and yachts to anchor at–you might even see a celebrity super yacht!
There are numerous beach clubs and bars on Playa Norte, as well as beach volleyball nets. You can also rent all sorts of water sports equipment here.
If you're looking to relax, the northern end of Playa Norte is generally less crowded and less congested with beach umbrellas.
Recommended Isla Mujeres Beach Clubs
Check out these Playa Norte beach club recommendations below for beach bed rentals and food and beverage service:
Green Demon Beach Club: A trendy Isla Mujeres beach club with string lights, great music, and hexagon shaped beach beds, offering healthier food items, drinks, and cocktails.
Oceanus Beach Club Isla Mujeres: A popular Isla Mujeres beach club situated inside of the Casa del Jaguar luxury beach hotel offering full-size beach beds and umbrellas for rent.
Guru Beach Club and Restaurant: An upscale adults beach club located on the north end of Playa Norte with beach beds for rent, a pool, music with a live DJ, restrooms, and showers.
4. Go Swimming with Whale Sharks
Swimming with whale sharks in Isla Mujeres Mexico is an experience you'll never forget. These gentle giants are the largest fish in the world, and they're absolutely fascinating to watch.
Whale shark season in Isla Mujeres is from May to September, when they arrive to feed in the plankton-rich waters off the coast of the island.
There are several tour operators who offer whale shark snorkeling excursions, and they all follow strict guidelines to ensure that the sharks are not disturbed.
You'll get to swim right alongside these huge creatures for an up-close view but no touching is allowed.
I personally swam with whale sharks in Isla Mujeres and it was an incredible experience and I promise NOT as scary as it sounds. Read more about my whale shark experience in this post!
👉 Book the best Isla Mujeres whale shark tour by clicking here!
5. Visit Punta Sur
Punta Sur is the southernmost tip of Isla Mujeres, and is home to a beautiful sculpture park, lighthouse, and breathtaking ocean views.
With a small entrance fee, it is essentially an island landmark and one of the best places to visit in Isla Mujeres.
Punta Sur Lighthouse
Punta Sur is also home to a small lighthouse located in the middle of the park.
Visitors are not able to climb the lighthouse, but it is still makes for a good photo backdrop.
Note there used to also be a Punta Sur restaurant here but it is currently closed.
Punta Sur Sculpture Park
At Punta Sur, you'll also find a Sculpture Park that features contemporary art and sculptures, which are modern representations of Mayan civilization by artists from around the world.
Punta Sur Mayan Ruins
In this area, you'll also find the remains of the Temple of Ixchel, the Mayan goddess of love and fertility.
In fact, this is how Isla Mujeres (Island of Women) got its name after the Spanish discovered several female figures when they arrived on the island.
Punta Sur Cliffs
Another notable feature at Punta Sur is the Punta Sur Cliffs, natural rock formations overlooking the ocean with many different viewpoints and pathways. It's a great spot for ocean views and an incredible photo op!
⚠️ Near Punta Sur, you'll also find the popular Garrafon Reef Park and Beach Club which I don't like to recommend because it has dolphins held in captivity. There are plenty of places in this part of Mexico where you can see dolphins and other marine life in the wild which is so much cooler! I encourage you to keep that in mind when choosing to visit Garrafon Natural Reef Park.
6. Go on a Snorkeling Tour
If you're looking for an amazing snorkeling spot in Mexico, look no further than Isla Mujeres. As part of the Mesoamerican reef system, this small island is home to some of the most beautiful coral reefs in the world.
The water is crystal clear and there's an abundance of marine life to see, including colorful fish, turtles, and even stingrays.
There are several snorkeling tours available that will take you to the best snorkeling spots in Isla Mujeres, including Manchones reef, which is the biggest coral reef on the island.
Isla Mujeres snorkeling tours typically include all snorkel gear, a boat trip to Isla Mujeres, lunch, and beverages for a full day adventure.
👉 Book the best Isla Mujeres snorkeling tour by clicking here!
7. Go Souvenir Shopping in Downtown Isla Mujeres
Isla Mujeres is a popular tourist destination in Mexico, and souvenir shopping is one of the main things to do on the island.
There are many souvenir shops along the main road in downtown Isla Mujeres known as Avenida Miguel Hidalgo selling all kinds of souvenirs, from t-shirts and hats to handcrafted goods and local snacks.
Prices vary depending on the item, but you can usually find good deals if you shop around.
Some of the most popular souvenirs to buy in Isla Mujeres are handmade items such as pottery, straw baskets, and textiles.
These make great gifts or keepsakes from your trip. You can also find a wide variety of Mexican food products like spices, coffee, and chocolate.
8. Rent a Golf Cart to Explore the Island
Golf carts are one of the main modes of transportation in Isla Mujeres and can be rented to explore the island at your own pace.
Golf cart rental in Isla Mujeres cost around $50-$100 USD for 24 hours and can be arranged at the Isla Mujeres ferry terminal, at your hotel, or at many other places around the island.
Before heading out, be sure to familiarize yourself with the vehicle and the island's roads and driving conditions.
With a main road that goes around the island, it is easy to navigate, but you'll be sharing some of the roads with cars, taxis, and pedestrians.
Once you're away from the main tourist areas, you can explore some of the more off-the-beaten-path destinations like Punta Sur and the beaches on the east side of the island.
9. Go Scuba Diving
Isla Mujeres is world-renowned for its scuba diving, and the island is home to some of the best dive sites in the world, with crystal clear waters and an abundance of marine life.
Isla Mujeres is a popular destination for both beginner and advanced divers, and there are many dive shops and schools on the island that offer Discover Scuba introductory sessions, as well as open water certifications if you want to get scuba certified.
I recently became scuba certified in Playa del Carmen and can't wait to do some diving in Isla Mujeres!
👉 Book an Isla Mujeres scuba dive by clicking here!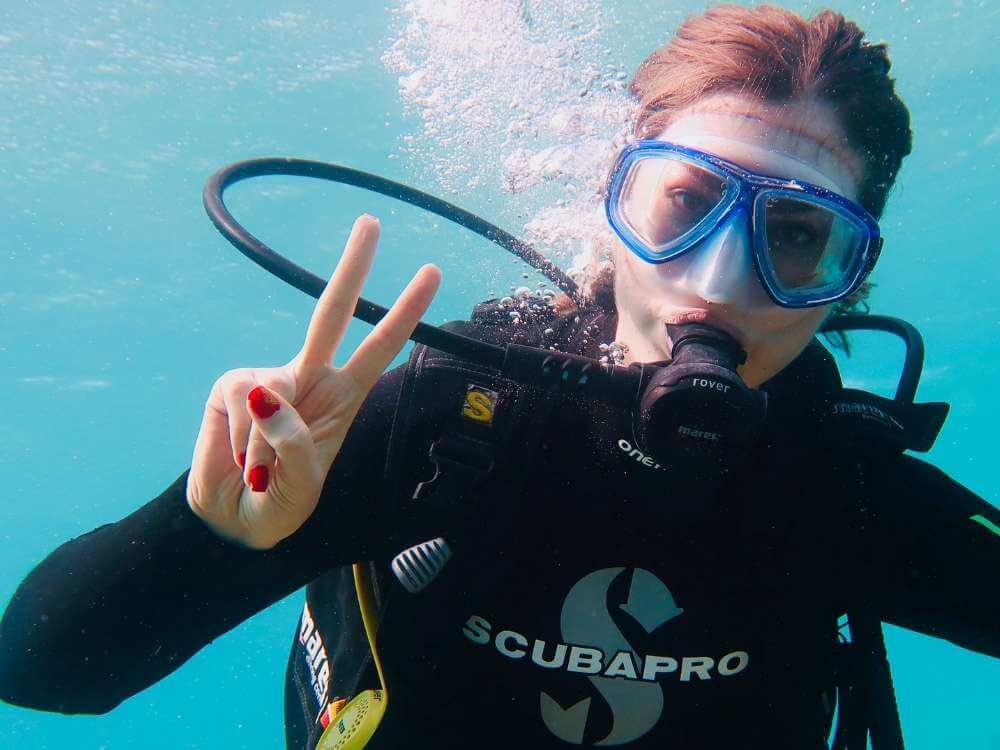 10. Take a Day Trip to Isla Contoy
Isla Contoy is a small, uninhabited island located about 30 kilometers north of Isla Mujeres.
Only allowing 200 visitors per day to its pristine beach, the tiny island offers a totally exclusive tropical island experience.
Despite its small size, the island is also home to a variety of plant and animal life, including over 100 species of birds.
Visitors from the mainland can take a day trip to Isla Contoy, where they can enjoy the island's spectacular beaches, untouched palm trees, and birdwatching opportunities.
I personally visited Isla Contoy and can honestly say it's the most beautiful beach I have seen in Mexico–it is really unbelievable!
👉 Book the best Isla Contoy + Isla Mujeres tour by clicking here!
11. Visit a Turtle Sancutary
2023 Update: Tortugranja is temporarily closed for renovations but will hopefully be reopening soon!
Isla Mujeres is home to a self-guided turtle sanctuary and aquarium known as Tortugranja (Turtle Farm), where you can learn about these amazing creatures and even get to feed them.
It's a simple and no frills kind of place but interesting to learn about and see turtles up close.
The main goal of the sanctuary is to help baby sea turtles survive, as well as take care of older and endangered sea turtles who are unable to survive in the wild.
The entrance fee is around $30 pesos and you'll be able to see many different species of turtles of all ages in indoor and outdoor pools, and visit the small gift shop on-site.
It's probably one of the most unique things to do on Isla Mujeres, allowing you to connect with nature and learn about preservation.
12. Go on a Golf Cart Bar Crawl
To experience some of the best Isla Mujeres nightlife during the day, join a small group on a fun golf cart bar crawl!
You'll get to sample speciality beers and local liquor, including mezcal, as you stop at some of the best bars, beach bars, and even the Punta Sur cliffs.
And since you won't have to worry about drinking and driving, you can just sit back, relax, and enjoy the ride! Drink samples, snacks, and a personal tour guide are included.
👉 Book the Isla Mujeres Golf Cart Bar Crawl by clicking here!
13. Sip on Swings at a Beach Bar
Head to the one of the many beach bars on Playa Norte for a laid-back spot to enjoy a refreshing beverage.
This wide, stretch of white sand beaches is dotted with bars that offer up swings instead of chairs, perfect for kicking back with a margarita or cerveza in hand.
You'll likely be able to find a bar with swings just by walking down Playa Norte but some bars with swings include Bujo's Beach Bar and Restaurant and the Mayan Beach Club.
Swing away as you sip on your drink and take in the incredible surroundings! If you get hungry, most beach bars and Isla Mujeres restaurants also serve up traditional Mexican fare like tacos, quesadillas, and nachos.
14. Go Kayaking on Isla Mujeres
For a more adventurous activity, try kayaking on the clear waters around Isla Mujeres.
There are many different beach clubs that offer water activities in Isla Mujeres for guests such as kayaking, water trampolines, swimming, and snorkeling.
One place to go kayaking is at Parque de los Suenos, which is a beach club and restaurant with an oceanfront deck and pool overlooking the water.
Guests can also enjoy kayaks, a water slide, and a makeshift water zip-line while visiting.
It's one of the best things to do in Isla Mujeres with family where you can hang out, eat and drink, and enjoy the beautiful views of the island in a relaxed and more enclosed space.
Typically, you'll just pay a minimum consumption fee when visiting.
15. Take a Sunset Catamaran Cruise
Isla Mujeres is known for its stunning sunsets, and there's no better way to experience them than on a sunset cruise.
On a private sunset catamaran cruise in Isla Mujeres, you'll get to enjoy music and drinks of your choice as you sail towards the south of the island for the best sunset view.
This 2-hour private cruise is one of the best Isla Mujeres excursions for couples or for those celebrating special occasions.
👉 Book an Isla Mujeres sunset catamaran cruise by clicking here!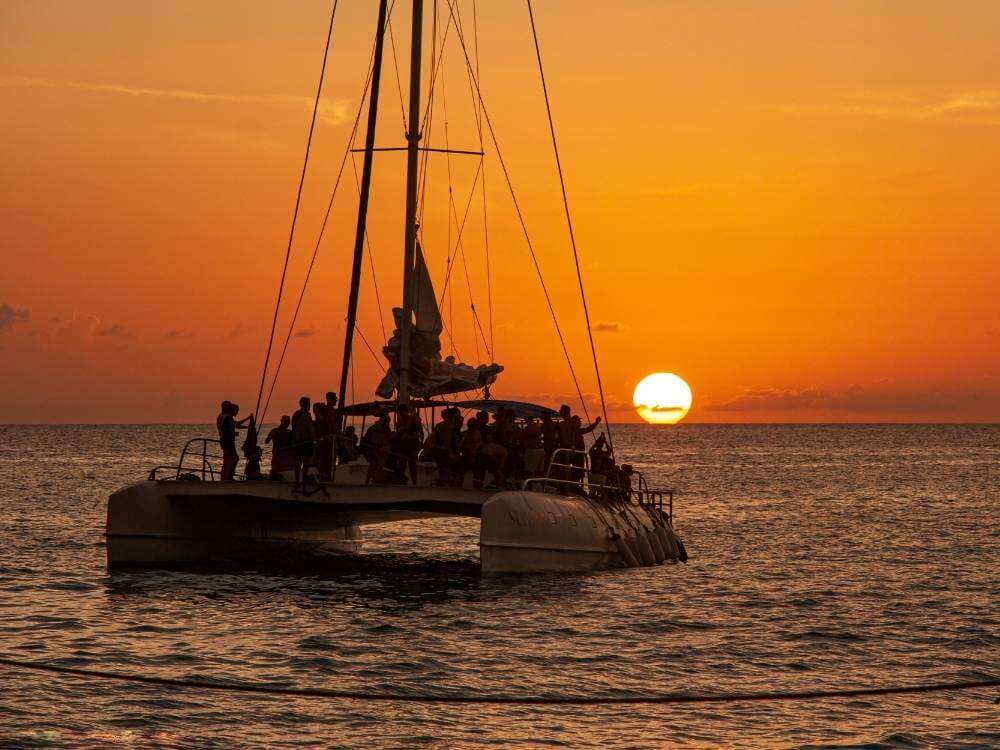 16. Snap a Photo in Front of the Colorful Isla Mujeres Letters
When visiting Isla Mujeres, be sure to snap a photo in front of the colorful letters that spell out the island's name.
The letters are located on the northeastern side of the island (opposite of Playa Norte) and offer a scenic background right on the edge of the water.
This photo op is a popular one for visitors, and one of the best free things to do in Isla Mujeres! The best time to take your photo is during the day when the sun is shining and the colors are most vibrant.
17. Go Fishing in Isla Mujeres
Isla Mujeres is a popular destination for fishing, and you can find several charter companies that offer half-day and full-day trips.
This private fishing trip from Isla Mujeres is a great option for outdoorsy families. You'll head a few miles out from the coast for several hours trolling for fish on a private boat.
Depending on the season, cast your line for barracuda, snapper, grouper, and other local fish species.
Get fishing advice from your dedicated captain, snack on food and beverages onboard, and soak up the sun as you sail away in the clear waters around Isla Mujeres.
👉 Book the private Isla Mujeres fishing experience by clicking here!
18. Catch the Sunset at Playa Sol
If you're looking for a beautiful spot to watch the sunset, head to Playa Sol on Isla Mujeres.
This beach is located just next to Playa Norte, but it's slightly less crowded because the water isn't quite as clear.
But that doesn't mean it's any less gorgeous – in fact, the sunset here is simply stunning. Order a cocktail and watch as the sun goes down over the water.
You don't get to see sunsets like this from the mainland so watching the sunset in Isla Mujeres really shouldn't be missed!
19. Go Stand-Up Paddleboarding
Stand-up paddleboarding (SUP) is an eco-friendly way to explore the waters around Isla Mujeres and get a great workout too!
It's a fun water sport that provides a low-intensity workout by challenging your core, upper body strength, balance, and stability. Standup paddleboarding is suitable for most ages and activity levels.
In Isla Mujeres, paddle boards can be rented from some of the beach clubs on the west side of the island, or you can book a private tour with SUP Isla Mujeres.
If you are a beginner, the clear and calm waters around Isla Mujeres are a great place to start!
20. Grab Some Cheap Eats at the Mercado Municipal
If you're looking for a cheap and delicious meal in Isla Mujeres, head to the Mercado Municipal for a taste of the Yucatan peninsula.
This local market is known for its inexpensive Mexican food, and you'll find everything from fruits, vegetables, and fresh juices to prepared dishes like tacos, empanadas, tortas, and quesadillas.
The market is open daily from early morning until late afternoon, so you can stop by anytime for a quick bite for breakfast or lunch.
A casual spot with plastic tables and chairs, it's also popular with locals, so you know the food is going to be good!
21. Ride a Bike Around the Island
Isla Mujeres is a small island, and it's easy to get around by bike. Bike rentals on Isla Mujeres are inexpensive (around $10-$12 USD for the day) and can be rented from many rental shops near the ferry and in the downtown area.
With a bike rental, you can ride all over the island at your own pace, including to Punta Sur, the island's eastern side, or up to Playa Norte.
Main roads can be busy with cars, taxis, and golf carts so you will want to ride carefully and be mindful of speed bumps. And be sure to bring plenty of sunscreen and water before heading out!
22. Charter a Private Yacht to Playa Norte
If you want the most EPIC experience in Isla Mujeres, then book a private yacht or catamaran to Isla Mujeres Playa Norte!
A private yacht charter is a much more exclusive experience where you can ditch the crowds for a spacious yacht with a private captain and crew, open bar, and food and drink.
Playa Norte on Isla Mujeres is one of the best beaches in the world, and a private yacht is the most unforgettable way to experience its unbelievably bright turquoise waters.
Isla Mujeres charters are perfect for larger families, bachelor or bachelorette parties, or large groups of friends. It won't come cheap but is worth every penny!
👉 Book a private yacht charter to Isla Mujeres by clicking here!
23. Admire the Isla Mujeres Street Art
Walking around Isla Mujeres, you'll see colorful paintings of turtles, dolphins, and other sea creatures, as well as portraits of Mexican celebrities and political figures.
The street art can be admired by simply walking around town where you're likely to stumble upon some impressive sea wall murals.
You can also take a guided street art tour of Isla Mujeres that will take you all over the island to see the most beautiful murals that are more off-the-beaten-path.
👉 Book an Isla Mujeres street art tour by clicking here!
24. Explore the Beaches on the East Side of the Island
One of the most non-touristy things to do in Isla Mujeres is to explore the beaches of the east side of the island for some Isla Mujeres sightseeing.
Golf cart rentals in Isla Mujeres are the best way to get around and gives you the freedom to explore the entire island at leisure.
On the east side of the island, you can see rugged beaches, stop at the picturesque seaside chapel known as Capilla de Guadalupe, or spot the noteworthy Shell House (one of the most famous AirBnBs in the world).
The beaches in Isla Mujeres on the east side of the island are the complete opposite to the Playa Norte beaches with rough waves and rocky cliffs.
While not suitable for swimming, they're still beautiful to look at and make for a great Isla Mujeres day trip.
25. Watch the Sunrise at Punta Sur Cliff
For early risers, watching the sunrise at Punta Sur Cliff on Isla Mujeres is an incredible experience.
In fact, it's the eastern most part of Mexico and the first place where the light of the sun touches the country.
Punta Sur Cliff attracts Isla Mujeres travelers, photographers, and yoga enthusiasts to gather every morning to watch the sun come up over the horizon.
As the sun slowly rises, the colors change and reflect off the water. It's a truly stunning sight that you won't want to miss if you can bear to get up that early!
Is Isla Mujeres safe for tourists?
Isla Mujeres is generally safe for tourists, but there are a few things to be careful of in Isla Mujeres to stay safe while visiting.
While the crime rate is relatively low on Isla Mujeres, there have been some reports of petty theft and pickpocketing, so it's important to keep an eye on your belongings when out and about or when visiting a beach club.
You'll also want to use common sense and be on alert for common tourist scams such as overcharging.
Overall, as long as you take basic safety precautions, Isla Mujeres is a safe and enjoyable place to visit.
🚨 Do you need travel insurance for Mexico? Yes! Most insurance plans in your home country will not cover incidents abroad. I recommend using Travel Insurance Master, which is a handy travel insurance marketplace where you can compare policies. Get a FREE quote by clicking here!
Visiting Isla Mujeres: FAQs
Here are the answers to some of the most frequently asked questions about Isla Mujeres:
Is Isla Mujeres worth visiting?
Isla Mujeres is definitely worth visiting! This charming island municipality off the coast of Mexico is known for its beautiful beaches, turquoise waters, and laid-back atmosphere.

Visitors can enjoy plenty of fun Isla Mujeres attractions and activities such as swimming, snorkeling, fishing, and exploring the many shops and restaurants in the downtown area.


Is there anything on Isla Mujeres?
The island of Isla Mujeres is a commercialized vacation destination and although the island is less than 5 miles long, it's home to plenty of restaurants, shops, homes, Isla Mujeres hotels, and all-inclusive resorts. 
What is special about Isla Mujeres?
Aside from its beautiful beaches and clear turquoise waters, Isla Mujeres is also a "pueblo magico", or magical town. This official designation is given to towns in Mexico that are considered to be particularly special or charming.

Isla Mujeres definitely fits this description! In addition to its natural beauty, the island is home to a number of interesting sights and unique Isla Mujeres activities.
How do you get to Isla Mujeres?
For tourists, Isla Mujeres can be visited from mainland Mexico by taking the Ultramar ferry from Puerto Juarez on the coast of Cancun. The ferry terminal is located about 25 minutes from the Cancun Airport.

With multiple departures each day, it's about a 20 minute ferry ride from Cancun to Isla Mujeres and costs around $450 pesos (~$22 USD) for a round-trip ticket.

Taking the ferry to Isla Mujeres makes a popular day trip from Cancun or while further away, a fun day trip from Playa del Carmen or the Riviera Maya.
Conclusion: Best Things to Do in Isla Mujeres Mexico in 2023
As you can see from this list of fun things to do in Isla Mujeres, there is plenty to see and do on the island!
Whether you're looking for a relaxing getaway or an action-packed vacation, you're sure to find something fun to do in Isla Mujeres for an unforgettable time.
Now that you know what to do in Isla Mujeres, which activities are you adding to your Isla Mujeres things to do list?!