Where to Find the Best Tacos in Playa del Carmen Mexico in 2022
Disclosure: This page may contain affiliate links, meaning at no additional cost to you, I will earn a commission if you click through and make a purchase. As an Amazon Associate I earn from qualifying purchases.



Looking for the best tacos in Playa del Carmen? You've come to the right place!
After I moved to Playa del Carmen, finding the best tacos was pretty much at the top of my to-do list.
Now that I've lived here for over 3 years, I've discovered all the best local taco joints for the most authentic, delicious, and incredibly inexpensive Mexican food staple.
In this post I'm sharing where to find the best tacos in Playa del Carmen from street taco trucks to taco restaurants to local taco stands. Read on for my ultimate Playa del Carmen taco guide.
About Tacos in Playa del Carmen
First, let's start with some of the basics on Playa del Carmen tacos:
What are traditional Mexican tacos like?
Most Americans are accustomed to Tex-Mex style tacos consisting of flour tortillas filled with seasoned meat, lettuce, tomatoes, and topped with shredded cheese and sour cream.
I'll admit I'm a fan but after moving to Mexico, I've come to love and appreciate truly authentic Mexican tacos, which are prepared much differently.
There are many different styles of tacos in Mexico but these are the basic taco components:
Corn tortilla
Meat
Finely chopped onion
Fresh cilantro
They are then accompanied by an assortment of salsas and sprinkled with fresh lime juice. Beware some of the salsas can be very spicy!
What kind of tortillas are used?
Most tacos in Mexico are traditionally served on a corn tortilla in either a single or double layer. However, you can usually request a flour tortilla if you prefer.
Because corn tortillas are more authentic when it comes to tacos, I would suggest at least trying a corn tortilla to see how you like it. You will probably be surprised how good it tastes!
How much do tacos cost in Playa del Carmen?
Tacos are extremely inexpensive in Playa del Carmen and typically cost less than $20 pesos (~$1 USD) each. If you want to add melted cheese or prefer flour tortillas, then the cost will be slightly more.
Some of the higher end and more touristy restaurants in Playa del Carmen will have more upscale versions of tacos on the menu that will be much more expensive. Think flank stank tacos, carne asada tacos, duck tacos, and other premium meats and ingredients.
Is it safe to eat street tacos in Playa del Carmen?
Yes, it is safe to eat street tacos in Playa del Carmen but it's always a good idea to keep an eye out for cleanliness and sanitation.
Most importantly, watch for cross-contamination and make sure there's a separate person handling the money. I've personally eaten street tacos many times in Playa del Carmen and have never gotten sick.
Types of Tacos in Playa del Carmen
These are the most common types of tacos that can be found in Playa del Carmen Mexico:
Traditional Types of Tacos
These are the most common types of tacos that are most likely to be found on the menu whether you're ordering from a taco stand or at a Mexican restaurant in Playa del Carmen.
Al pastor: Pork schwarma style meat with pineapple
Chicken: Grilled or shredded chicken meat
Sirloin: Cut of beef from the mid-back of a cow
Arrachera: Skirt steak from the cow's belly
Chorizo: Seasoned ground pork sausage
Commonly the al pastor and sirloin meats will be cooked on a large schwarma-style rotisserie (pictured below) that will be thinly shaved off when the tacos are being prepared.
Speciality Types of Tacos
In addition to the common taco meats listed above, these are the more speciality cuts of Mexican taco meats that you might find at the local taco restaurants and stands.
Most commonly they come from different cuts or parts of the animal's anatomy and are prepared in a particular way. As you'll see from this list of tacos, some of these are not for the faint of heart!
Beef Tacos
Suadero: Beef breast meat
Tripa: Beef small intestines
Bistec: Marinated beef
Campechano: Thinly sliced beef
Lengua: Beef tongue
Sesos: Beef brains
Cachete: Beef cheeks
Ojo: Beef eyeballs
Cecina: Beef hind leg
Surtida: All the things mixed together
Pork Tacos
Al pastor: Pork schwarma style meat
Chorizo: Sausage
Maciza: Pork white meat
Longaniza: Seasoned pork sausage
Chuleta Ahumada: Smoked pork chops
Goat Tacos
Birria: Typically goat meat with dried chili peppers
Gringa Tacos
Another type of taco that can found in Playa del Carmen is called the "Gringa" taco, which is kind of like a cross between an al pastor taco and a quesadilla.
Gringa tacos commonly consists of a large flour tortilla filled with al pastor meat, melted cheese, and pineapple. About the size of a large plate, they are huge and filling!
Best Local Taco Restaurants in Playa del Carmen
I'll admit the taco scene in Playa del Carmen doesn't really compare to Guadalajara tacos or those you'll find in other parts of Mexico, but there are still some really authentic places for amazing tacos.
Known in Spanish as "taquerias", here are my favorite local taco restaurants in Playa del Carmen. While all of these taco restaurants are downtown, none are located on Playa del Carmen's touristy 5th Avenue, which makes them all the more authentic.
El Ñero
Hailing a proud slogan of "100% Chilango" (meaning from Mexico City), El Ñero is probably where you'll find the most authentic Mexican tacos in Playa del Carmen.
With over 12 different types of tacos on the menu at only $15 pesos each, you are in for a tasty and inexpensive treat no matter which ones you try. My personal favorite are the al pastor tacos!
El Ñero opens in the late afternoon so it is more of a late night spot but it's definitely worth the trip for dinner or after a night out. With red plastic chairs and tables, it's a very laid back local hangout that's always crowded with locals.
Don Sirloin
Known for having the best sirloin (steak) tacos in Playa del Carmen, it's easy to see where Don Sirloin gets it name. In fact, I would skip the al pastor tacos here and just go for the sirloin!
The sirloin is cooked on a schwarma-style skewer which makes it tender and flavorful. Besides tacos, you'll also be able to order other traditional Mexican foods like nachos, fajitas, burritos, and queso fundido.
Don Sirloin Playa del Carmen has a few different locations, but the most popular one is across the street from the Mega grocery store. It's a quick and convenient spot for lunch, dinner, or just a taco treat.
El Fogón
Meaning "hearth" in the Spanish language, El Fogón has consistently been a top contender for the best Playa del Carmen taco restaurant.
In my opinion, they have some of the best al pastor tacos in Playa del Carmen that always keeps me coming back for more!
You'll see the tacos being prepared on the schwarma-style skewers as you walk through the entrance to the casual and warmly-decorated taco joint.
Besides tacos, another popular menu item at El Fogón Playa del Carmen are the gringa tacos (flour tortilla with cheese) which are very tasty and extremely filling.
There are a few different locations downtown but their most popular location across from the street Mega is probably the most convenient. It gets very busy in the evenings so you'll want to try to go in the off hours to avoid a line.
Best Taco Stands in Playa del Carmen
You'll find taco stands and street food vendors all over Playa del Carmen including outside of grocery stores, parks, and at local events.
Taco Stands Outside of Super Aki on Avenida 30 and Calle 40
Congregated just outside of the Super Aki grocery store on Avenida 30 and Calle 40, you'll find some of the best street tacos in Playa del Carmen:
El Ingrato: A small taco stand offering 10 different types of tacos and tortas. Don't miss out on their 2×1 al pastor special!
Taqueria El Chito: With $12 peso tacos and $25 peso tortas, these are some of the best cheap tacos in Playa del Carmen.
Neza York: Local taco truck with traditional tacos as well as buche (pork stomach) and tripe (small intestines) tacos.
Best Seafood Taco Restaurants in Playa del Carmen
La Floresta
Located just across the highway, La Floresta is situated on the outskirts of downtown and offers some of the best fish tacos in Playa del Carmen. Although it's a little harder to get to, it is definitely worth the trip!
La Floresta is only open during the day so it's a great spot for lunch tacos or an afternoon snack. The taco menu features shrimp, marlin, jaiba (crab), and crab tacos, all batter fried to perfection.
Be prepared when your tacos are served, they will likely just be a corn tortilla with the fried pieces of fish on top. You'll want to add salsas, pico de gallo, and lime juice to your liking–the secret is in the toppings!
Los Aguachiles
Offering a casual open-air environment, Los Aguachiles has some of the best seafood in Playa del Carmen. The menu offers a variety of seafood tacos including multiple styles of shrimp, tuna, and fish.
In addition, treat yourself to some of the best ceviches, seafood cocktails, aguachiles, and tostadas–all prepared with fresh and locally sourced seafood.
There are a couple of locations but the Constituyentes location just off of 5th Avenue is a convenient spot for seafood tacos after hitting the beach.
Best Birria Taco Restaurants in Playa del Carmen
Birria de la 30
Known for having the best birria in Playa del Carmen, Birria de la 30 offers just a few birria (goat) dishes including tacos dorados, quesadillas, and consome.
While the birria tacos are really tasty, the hearty birria consome (soup) actually takes center stage and the tacos are commonly used as a side dish to dip in the au-jus.
With a quaint and local feel, Birria de la 30 is a small, hole-in-the-wall kind of place. Don't be surprised if there is a wait or a line for to-go orders.
Best Fusion Taco Restaurants in Playa del Carmen
The Lost Tiki
With a unique Mexican and Asian fusion menu, The Lost Tiki is a local tiki bar and popular expat hangout where you'll find some of the most unique tacos in Playa del Carmen.
The taco menu includes unique Asian fusion tacos like Cantonese Pork Belly Tacos and Korean Beef tacos (both pictured below). My favorite are the pork belly tacos–they are so flavorful that I have asked for a second round!
Its tiki-themed environment and colorful tropical drinks make it a fun place to hangout. In addition, they host several special events, live music, and happy hours throughout the week.
Location: Avenida 20 entre Calle 4 y 6
Hours: Tuesday – Sunday 5:00 PM – 11:00 PM, Closed Mondays
Payment Methods: Cash and credit cards accepted
Best Cochinita Pibil Taco Restaurants in Playa del Carmen
La Cochi Loka
Just a small pink window front on 10th Street, La Cochi Loka is a takeaway taco restaurant that can easily be missed. They are primarily known for their cochinita pibil tacos, which are native to the Yucatan peninsula of Mexico.
Cochinita pibil is a traditional slow roasted pork dish that is most commonly served on tacos or tortas and topped with pickled onions and salsa.
It's not spicy but has a slightly sweeter flavor from being marinated and slow roasted in a pib, which is Mayan oven consisting of a hole in the ground lined with hot stones.
Located right across the street from La Embajada Bar, La Cochi Loka is a popular spot for late night tacos on the cheap.
Best Upscale Taco Restaurants in Playa del Carmen
La Perla Pixan
Featuring a creative variety of Mexican and regional specialties, La Perla Pixan is an upscale Mexican restaurant located on the trendy 38th Street.
On the menu, you'll find a ton of traditional Mexican dishes as well as upscale tacos like cochinita pibil duck tacos, rib eye tacos, steak tacos, and chicken tacos. These taco dishes won't be cheap but are definitely higher quality and expertly prepared.
In addition, La Perla Pixan is known for their high quality craft cocktails, mezcal, and tequilas to pair with your meal. Plus, they usually have live music and colorful native dance performances which totally enhances the dining experience.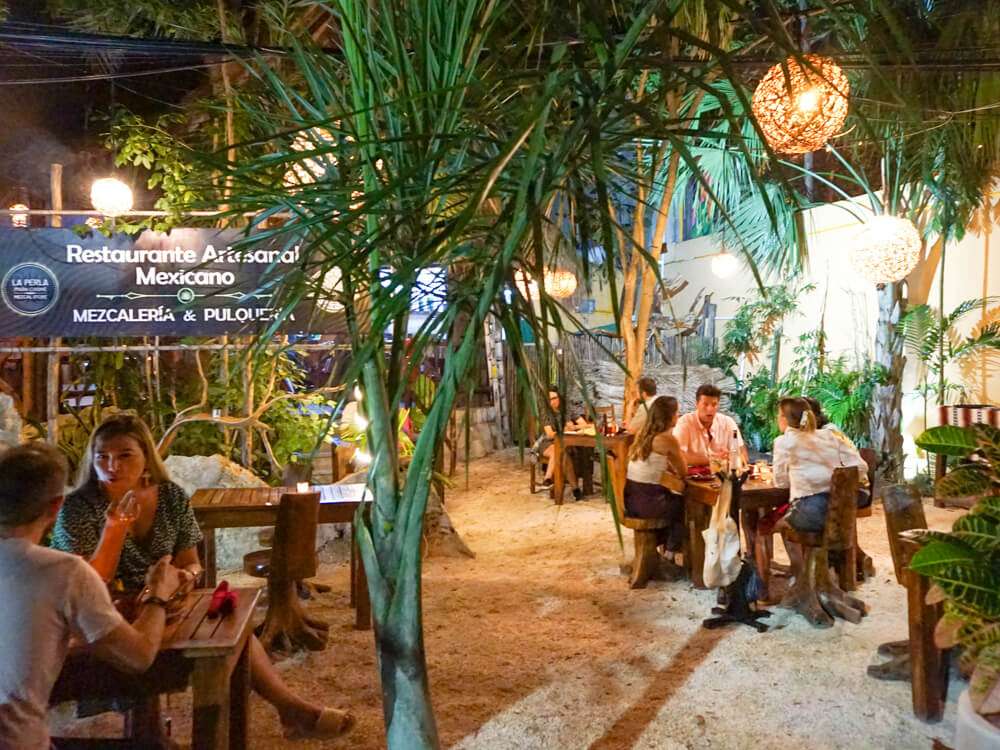 Axiote
Located on 34th Street, Axiote is an upscale Mexican restaurant with a gourmet menu and a focus on Mexican gastronomy and locally sourced ingredients.
The menu offers traditional Mexican dishes as well as more innovative tacos like stewed duck tacos, fish birria tacos, and peanut mole tacos to name a few.
With a warm and inviting atmosphere and sophisticated menu, Axiote definitely offers an elevated culinary experience and some of the best high-end tacos in Playa Del Carmen.
Playa del Carmen Taco Crawl
Short on time or can't decide between these amazing Playa del Carmen taco restaurants? Then consider booking a Playa del Carmen Taco Tour!
Led by a local guide, this group taco and beer tour includes a visit to five different Playa del Carmen taquerias where you can try a variety of different tacos and beer.
It's a fun and casual way to get a sample of the best taco restaurants from a local food expert, while getting to explore Playa del Carmen and meet new people along the way.
Tips for Eating Tacos in Playa del Carmen
Follow these tips to make the most out of your taco experience in Playa del Carmen:
Watch out for cleanliness: Street tacos are tasty but can make you sick if proper sanitation is not used. I personally have never gotten sick from eating street tacos in Playa del Carmen but it does happen. You'll just want to be mindful of the overall cleanliness of the taco food stand. Check to see if they are wearing gloves and watch for cross-contamination. The person that is preparing the food should not be handling the money.
Eat where the taxi drivers eat: This is a tip I learned that stuck with me. If you see taxi drivers eating at a particular taco stand or restaurant, it is most likely a good one!
Have cash on hand: Not all taco restaurants will accept credit cards so it's always best to have cash (pesos are best) on hand. Try to use small bills as most restaurants won't have much change.
Learn some basic Spanish: Most taco vendors and restaurant employees will not speak English, so I would recommend brushing up on some basic Spanish phrases. Otherwise you will more than likely be able to get by with pointing at the menu.
Don't be afraid to try something new: Most tacos in Playa del Carmen are super inexpensive so it won't break the bank to give it a try. Most likely you'll find a new flavor that you really enjoy!
Conclusion: Best Tacos in Playa del Carmen Mexico
These are my picks for the best taco restaurants in Playa del Carmen.  I hope you get a chance to try them out!
For more food and drink recommendations, check out my other Playa del Carmen food guides:
Like this post? Pin it for later!