17 Best Bars in Playa del Carmen to Try in 2022
Disclosure: This page may contain affiliate links, meaning at no additional cost to you, I will earn a commission if you click through and make a purchase. As an Amazon Associate I earn from qualifying purchases.



As one of the most popular vacation destinations in Mexico, Playa del Carmen has a robust nightlife scene with hundreds of bars, restaurants, and nightclubs all over town.  
After moving to Playa del Carmen, I quickly learned to avoid the 2×1 drink specials offered at many of the bars and restaurants on the touristy Fifth Avenue, where the drinks are often watered down and overpriced.
Here's my guide to the best bars in Playa del Carmen, a complete list of my favorite spots for high quality drinks, craft cocktails, and the coolest atmosphere.
Best Rooftop Bars in Playa del Carmen
1. Be Roof
Located on the top of the Be Playa Hotel in downtown Playa del Carmen, Be Roof is a chic boho style rooftop with a pool and bar.
You can have drinks in the pool, or just chill out on the daybeds or dining tables. They often have a live DJ spinning house music.
Its relaxed vibe makes it a great place for happy hour or a night out with friends. Don't miss the ladies night on Thursday nights where ladies drink free!
2. Fives Rooftop
The Fives Rooftop is a chic rooftop bar and pool located on top of the Fives Downtown Hotel and Residences (A Hilton Hotel).
With a long infinity pool facing the ocean, it's a great place for happy hour or late afternoon drinks to enjoy the views before it gets dark.
The Fives Rooftop is also one of the best rooftop pools in Playa del Carmen that you can also visit during the day and relax at the pool with a minimum consumption fee.
Best Beach Bars in Playa del Carmen
3. Fusion
2022 Update: Fusion is temporarily closed but will hopefully reopen soon!
In my opinion, Fusion is the best bar in Playa del Carmen on the beach. With low wooden chairs and lantern-lit tables, it has a very chill beach vibe where you can relax with your toes in the sand.
They also offer live music and an impressive fire show almost every night making Fusion my go-to place whenever I have friends or family visiting. It never disappoints!
4. Zenzi
Located right on the beach, Zenzi is probably one of the most popular Playa del Carmen beach bars and also one of my favorites.
Zenzi Bar Playa del Carmen has a large open-air bar with a full service restaurant, along with tables and chairs in the sand.
The food and drinks are not stellar but with live music and free salsa lessons every week, it's a fun place to enjoy drinks on the beach with friends.
Best Bars for Craft Cocktails in Playa del Carmen
5. La Perla Pixan
La Perla Pixan is an upscale Mexican restaurant and mezcal store that has some of the best cocktails in Playa del Carmen. It offers an extensive drink menu, all crafted with fresh and unique ingredients.
The drinks at La Perla Pixan are definitely a step up from the watered down margs on Fifth Avenue, especially if you're looking for tequilas or mezcals.
The restaurant also offers a lively outdoor atmosphere with a live band or local musician.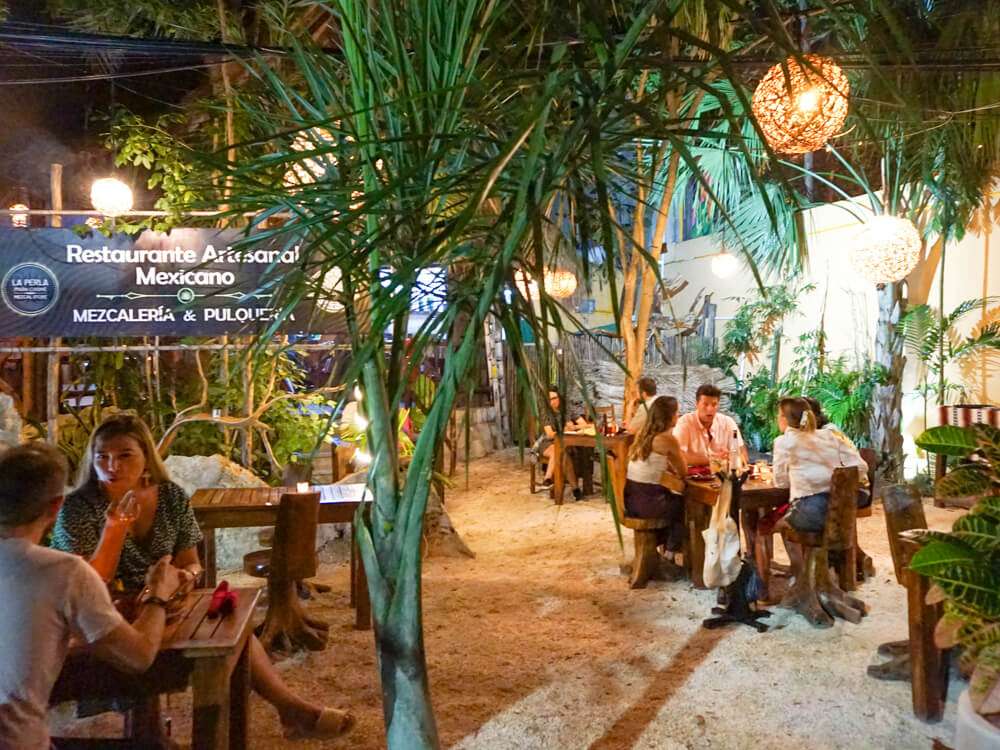 6. Trujillos Cantina de Selva
Located on the beautiful 38th Street, Trujillos Cantina de Selva is another great spot for craft cocktails.
Situated in a jungle setting with lowly-lit string lights, it offers a stunning atmosphere for dinner or drinks.
If you're dining there, be sure to ask your server for a cocktail to best pair with your meal. They have a unique drink menu with many craft cocktails made with fresh ingredients.
Best Bars for Live Music in Playa del Carmen
7. Fah
Fah Bar Playa del Carmen is a fun and lively spot and is one of the best places in Playa del Carmen for live music.
The restaurant at Fah is open all day but it will be most packed at night after the live music starts at 6:00pm. You can hang at the dining tables or there's a small area in front of the band for dancing.
Fah is one of the 5th Avenue Playa del Carmen bars that draws the largest crowd and is a great place to start the night.
8. Caiman Tugurio
Caiman Tugurio is another Playa del Carmen bar that is very popular for live music. They almost always have a live band or solo singer that attracts crowds from Fifth Avenue.
It's more of a local dive and doesn't offer a fancy or upscale atmosphere, but it's a fun and casual place to grab a few beers and enjoy the live music.
9. Cantina La No. 20
Cantina La No. 20 is an upscale restaurant and bar located in the heart of Playa del Carmen on the second level of the Calle Corazon shopping center.
It's a beautifully designed restaurant and bar overlooking Fifth Avenue that has a lively atmosphere and often has a live band.
Cantina La No. 20 is a fun place for dinner or drinks but will be a little more expensive than other bars in Playa.
Bars with the Best Atmosphere in Playa del Carmen
10. Alux
Alux is probably one of the most notable Playa del Carmen bars. It's located just outside of downtown Playa del Carmen, which makes it a little harder to get to but it is worth it for the atmosphere.
The restaurant is set in a cave, offering the experience to dine in a cavernous setting. The food at Alux Playa del Carmen is not amazing but I would recommend going there just for the drinks and unique atmosphere.
11. La Verbena
La Verbena is another bar off of Fifth Avenue offering a jungle-esque setting. The bar has an almost tree-house like atmosphere and they usually have a live band or DJ spinning beats or house music.
I love the unique setting at La Verbena and it's definitely one of the lesser well-known bars in town.
Best Wine Bars in Playa del Carmen
12. Off the Vine
Off the Vine is a wine bar and restaurant featuring a collection of local and imported wines.
You can browse the wine selection inside the store or sit at the tables outside the restaurant on Fifth Avenue.
Off the Vine often hosts special events with dinner and drinks included. I attended a Halloween event at Off the Vine and it was so fun!
Best Beer Bars in Playa del Carmen
13. Club de la Cerveza
Located towards the end of Fifth Avenue, Club de la Cerveza is a great place for craft beer and speciality brews.
It's a small bar with a just a few tables but it's the place to go if you're a beer aficionado.
Club de la Cerveza offers Mexican craft beers as well as a selection of imported beers from the United States, the UK, Germany, and Belgium.
14. Chela de Playa
Formerly known as Akumal Cerverceria, Chela de Playa is a newer beer bar located on 38th Street.
With colorful indoor and outdoor seating, they offer speciality brews and a food menu with small bites. It's a casual place to enjoy a beer flight or craft brews.
Best Bars for Cheap Drinks in Playa del Carmen
15. Cerverceria Chapultepec
If you're looking for cheap drinks in Playa del Carmen, Cerverceria Chapultepec is the place to go.
Almost everything on the menu is only $19 pesos (~$1 USD). That includes beers, margaritas, tacos, mini burgers, and much more.
There are multiple locations all over Playa del Carmen and they all draw a large crowd. You will be amazed at how small your bill is at the end of the night!
16. Bar Loco
Bar Loco is owned by a friend of mine and it's such a fun place for cheap drinks and dancing. There are two locations on 5th Avenue, with a third location coming soon.
Bar Loco is known for its $20 peso margaritas (~$1 USD) and $39 pesos (~$2 USD) food items.
It draws a lot of tourists but it's one of those lively bars to go for cheap drinks to get the party started.
Best Local Bars in Playa del Carmen
17. La Embajada
La Embajada is probably one of the most popular bars for locals and late night Reggaeton music.
They offer large liters of alcoholic drinks at low prices. With a second level and open courtyard in the middle, it's a fun place for dancing after hours.
It definitely is a late night spot so it's doesn't get busy until after 11:00pm. I personally love Reggaeton music so I've had a lot of fun nights out dancing at La Embajada.
Conclusion: Best Bars in Playa del Carmen
I hope my best bars Playa del Carmen guide was helpful! Experiencing the nightlife in Playa del Carmen can be a lot of fun but it's important to be careful and always be mindful of your surroundings.
For more food and beverage guides, check out my posts on the best restaurants in Playa del Carmen or the best coffee spots to nurse your next day hangover!
Like this post? Pin it for later!