The Best Restaurants in Playa del Carmen
Disclosure: This page may contain affiliate links, meaning at no additional cost to you, I will earn a commission if you click through and make a purchase. As an Amazon Associate I earn from qualifying purchases.



Ever since moving to Playa del Carmen, I've had so much fun exploring the local food scene and neighborhood hotspots. Believe it or not, Playa actually has an amazing mix of both Mexican and international cuisine.
Below are some of the best restaurants in Playa del Carmen that I've discovered so far. Even better, most are located off of the touristy 5th Avenue. Read on to find out where to eat in Playa del Carmen.
Best Mexican Restaurants in Playa del Carmen
La Perla Pixan
Featuring a creative variety of Mexican and regional specialties, La Perla Pixan is an upscale Mexican restaurant located on the trendy 38th Street.
On the menu, you'll find a ton of traditional Mexican dishes as well as upscale tacos like cochinita pibil duck tacos, rib eye tacos, steak tacos, and chicken tacos. These dishes won't be cheap but are definitely higher quality and expertly prepared.
La Perla Pixan is also the place to go for high quality craft cocktails, mezcal, and tequilas as opposed to the overpriced and watered drinks that you'll find at many of the restaurants on 5th Avenue in Playa del Carmen.
Plus they usually have live music and colorful native dance performances which totally enhances the dining experience.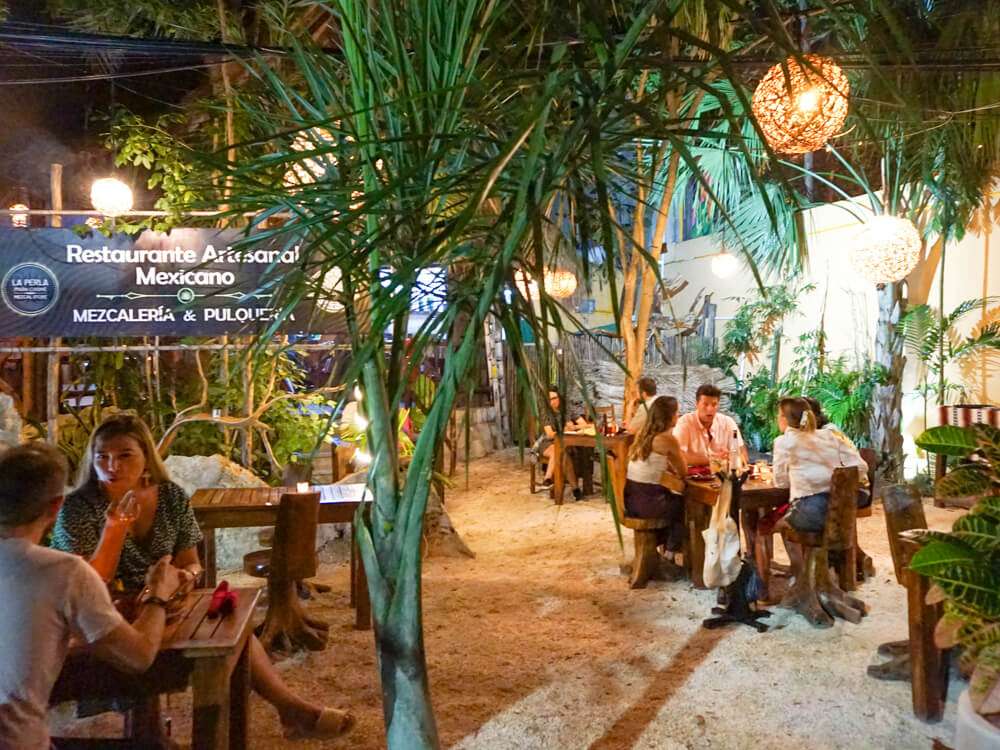 Axiote
Axiote is another upscale Mexican restaurant with a gourmet menu and a focus on Mexican gastronomy and locally sourced ingredients.
The menu offers traditional Mexican dishes as well as more innovative plates with atypical ingredients such as ant eggs, beef tongue, rabbit, and duck.
With a warm and inviting atmosphere and sophisticated menu, Axiote definitely offers an elevated culinary experience and some of the best food in Playa Del Carmen.
Pik Nik
Pik Nik is a colorful and more casual Playa del Carmen Mexican restaurant located on 10th Avenue and 24th Street.
It's a small restaurant with outdoor covered seating and the menu offers traditional Mexican dishes like chile enjogadas, moles, tacos, and fajitas.
If you're looking for simpler Mexican dishes, Pik Nik is one of the best Mexican restaurants in Playa del Carmen. They are also open early and have some tasty breakfast specials.
Trujillos
Trujillos Cantina de Selva is a stylish outdoor restaurant located on 38th Street. While walking by, you'll no doubt be attracted by the restaurant's string lights and lush forest-like ambiance.
The menu is a little more upscale and offers a mix of Mexican and international cuisine. Be sure to check out their cocktail menu to pair a creative craft cocktail with your meal.
El Ñero
If you're looking for the best tacos in Playa del Carmen, head to El Ñero. Although Playa del Carmen is not really known for its taco scene, El Ñero serves the most authentic tacos similar to those you might find in Mexico City.
They have a variety of taco options all for under $20 pesos ($1 USD) each but my favorite are the tacos al pastor.
El Ñero is a late night spot that opens daily at 5:00pm. It is cash only, super casual, and a popular spot among the locals.
The Lost Tiki
The Lost Tiki is a newer restaurant and tiki bar that offers a fusion of Mexican and Asian cuisine.
It's very popular among the expat community but the staff is extremely friendly and they host several fun themed nights throughout the week.
My favorite menu items are the Ahi Tuna Stack and the Cantonese Pork Belly Tacos. They also offer a full menu of fun tiki-inspired cocktails.
Best Fine Dining Restaurants in Playa del Carmen
Plank
Plank is a fine dining restaurant that has consistently been rated as one of the top restaurants in Playa del Carmen.
With a variety of steak, seafood, and pasta dishes, it's a great option for a fancier dinner during your stay. The open air atmosphere with lowly lit string lights make for a great ambiance.
And, if you're looking for a nicer place for drinks, Plank also has a great bar serving unique craft cocktails. It can be busy so reservations are recommended.
Travelista Tip: Plank is also open for weekend brunch!
Oh LaLa
Oh Lala is a relaxed upscale restaurant serving international cuisine that has consistently been a top rated restaurant in Playa del Carmen.
It's a very small restaurant with an intimate setting of only 9 tables but the dishes are of exceptional quality and beautifully plated.
The menu offers meat, seafood, and vegetarian dishes paired with hors d'oeuvres and fine wines.
With its multiple course offerings, Oh LaLa Playa Del Carmen is a great restaurant for celebrating a special occasion. Make sure to save room for one of their amazing desserts!
Sonora Grill Prime
Okay so Sonora Grill Prime is an upscale chain restaurant located right in the middle of 5th Avenue, BUT I have been there multiple times and have had some pretty amazing food and excellent service.
The restaurant is large and modern and located on the upper level overlooking 5th Avenue.
The menu offers many steak and seafood dishes, as well as a good offering of appetizers and Mexican specialities.
And a few of the menu items are prepared table side which makes for a fun and interactive experience.
Best Italian Restaurants in Playa del Carmen
La Famiglia
La Famiglia is a family-owned authentic Italian restaurant that offers a variety of pizzas, homemade pastas, and Italian dishes. The atmosphere is a little more upscale and it has a very cute upstairs seating area.
With a warm and homey atmosphere, La Famiglia is definitely one of the best Italian restaurants in Playa Del Carmen and a great place to dine with family and friends. I celebrated my birthday here and had such a good experience!
Travelista Tip: Order your pizza to go and enjoy it at the beach!
Trattoria del Centro
Tucked away just off of 5th Avenue and 26th Street, Trattoria del Centro is an intimate open air Italian restaurant serving some of the best pizza in Playa del Carmen.
The atmosphere is super cute and cozy and makes you feel like you are part of the family.
Don Chendo
Don Chendo is an Italian restaurant known for their deep dish pizza, similar to that you would find in Chicago.
I lived in Chicago for almost 5 years before moving to Playa del Carmen so I can attest it comes pretty close!
The restaurant itself is not too fancy, kind of a hole in the wall type of place and it's definitely more popular among locals who consider it to be the best pizza in Playa del Carmen.
The pizzas are extremely filling so you will want to come hungry and will likely leave with leftovers.
Cheester
Cheester (actually pronounced Chester) is an Italian restaurant which is located downtown further away from 5th Avenue.
They serve GIANT pasta dishes in large cast iron bowls with an entire wall full of menu options.
They are definitely made for sharing and even then you will have a week's worth of leftovers. Note Cheester restaurant Playa Del Carmen is closed on Tuesdays.
Best Seafood Restaurants in Playa del Carmen
Los Aguachiles
Los Aguachiles is one of the best seafood restaurants in Playa Del Carmen offering a casual open-air environment. The menu offers a wide variety of tacos, tostadas, ceviches, and other seafood dishes.
I have a slight obsession with ahi tuna and the Tostada Atun Maravillosa is hands down one of my favorite menu items in the city. It's perfectly seasoned and has the most amazing flavor.
El Doctorcito
With a bit of an odd location just behind Walmart, El Doctorcito has some of the best seafood in Playa del Carmen and is a great spot if you're looking for some cheap eats while traveling.
My favorite item on the menu is the tostadas mixtas (a mix of shrimp and octopus). The menu is similar to Aguachiles but the open air atmosphere is MUCH more hip.
There's always a live DJ playing house music and the line is out the door. Watch out for the spicy menu options – they will leave your mouth burning!
El Pirata
El Pirata is very casual seafood restaurant that is popular among the Playa del Carmen locals.
I used to live just a few blocks from the restaurant and it was always packed with a line out the door.
The menu at El Pirata offers fresh seafood dishes, prepared fish, ceviches, and seafood cocktails.
Best Breakfast Restaurants in Playa del Carmen
Que Huevos
Que Huevos is the cutest spot towards the end of 5th Avenue that serves some of the best breakfast in Playa del Carmen.
I stumbled upon it while riding my bike one morning and have been obsessed with it ever since.
It's a small cafe with outdoor seating and they offer a full breakfast menu with American and Mexican dishes, as well as fresh juices, smoothies, and coffee.
I personally love their iced coffee and Horchata espresso drinks!
La Cueva del Chango
La Cueva del Chango ("Cave of the Monkey" in Spanish) has consistently been named as one of the best breakfast restaurants in Playa del Carmen.
It offers a cave like interior as well as outdoor seating towards the back of the restaurant, which makes the atmosphere especially unique.
My absolute favorite dish is the green chilaquiles – they are to die for!
Chez Celine
Chez Celine is a French bistro and breakfast restaurant located right on 5th Avenue. They offer a breakfast menu as well as a full bakery serving freshly prepared pastries, croissants, and desserts.
The breakfast dishes are tasty and the desserts are almost too pretty to eat!
Peace & Bowl
Peace & Bowl is a colorful smoothie and juice bar located in Playa del Carmen's Mercado 30 restaurant complex. It's my favorite spot for a quick smoothie, açaí bowl, or healthy meal.
All the ingredients are super fresh and colorful and the menu is packed with loads of healthy options for breakfast or lunch.
Best American Restaurants in Playa del Carmen
Mu Burgerhouse
It can be hard to find good burgers in Mexico, but in my opinion Mu Burgerhouse has the best burgers in Playa del Carmen.
With outdoor courtyard seating and string lights, the restaurant has a very cute ambiance especially at night.
The burger menu is unique with toppings like fried eggs, bacon, burrata, chimichurri, and a variety of cheeses. And they offer a choice of tasty sides including my personal favorite camote (sweet potato fries).
Be sure to check out the drink menu as Mu Burger is also known for their craft cocktails.
The Grill at 1 26
The Grill at 1 26 is a more upscale restaurant at the Grand Hyatt Playa del Carmen resort.
You don't have to be a hotel guest to dine at the restaurant – simply tell the security that you are headed to the restaurant.
The menu offers high end American as well as international dishes. And don't miss their weekly Ladies Night, where everything on the menu (including drinks) are 50% off!
I hope you enjoyed my best restaurants Playa del Carmen guide! While the Playa del Carmen restaurants scene might not be as renowned as Guadalajara or Mexico City, it still offers a great selection of restaurants and a variety of cuisines, many of which can be enjoyed al fresco.
I hope you have a chance to try some of the restaurants that I consider to be the best places to eat in Playa del Carmen.
Have you discovered any other Playa restaurants or hidden gems? Let me know in the comments!
Like this post? Pin it for later!