Xavage Review: What to Know Before You Go (2023)
Disclosure: This page may contain affiliate links, meaning at no additional cost to you, I will earn a commission if you click through and make a purchase. As an Amazon Associate I earn from qualifying purchases.



Are you interested in visiting Xavage adventure park in Cancun Mexico and wondering if it's worth it? You've come to the right guide!
As a travel blogger that lives in Playa del Carmen, I've become a resident expert on the Xcaret adventure parks and tours.
As Xcaret's newest adventure park, Xavage offers some of the most extreme activities you'll find in Riviera Maya.
But if you're just starting to learn about Xavage and all of the Grupo Xcaret offerings from afar, it can be confusing and overwhelming to navigate.
Don't worry, I've broken it all down for you in this comprehensive Xavage review, where you'll learn everything you need to know about visiting Xavage adventure park including:
A park overview
Pros and cons
In-depth activity reviews
Food and beverage reviews
Services and amenities
Visitor info
Money-saving tips
And more!
So by the end of the review, you should have an idea of what to expect when visiting Xavage and be able to make an informed decision on whether or not it will be worth it for you.
Ready to find out if Xavage is right for you? Let's get started!
🏆 Best Xcaret Park for Extreme Activities
Pros:
✅ Newest Xcaret Park
✅ Adrenaline Rush
✅ Fewer Crowds
✅ Food Included
Cons:
❌ Expensive
❌ Feels More Man-Made
❌ No Cenotes
Coupon Code: XVAFF15
Discount: 15% off
What is Xavage?
The newest of Xcaret's adventure parks, Xavage is an extreme adventure park located just south of Cancun, Mexico.
I'd equate it to an Xcaret park on steroids since it's where you'll find some of the most adrenaline-pumping activities.
Xavage offers 7 different activities, each named after animals:
Ropes course (Howler Monkey)
Superman-style ziplining (Hawk)
White water rafting (Barracuda)
Monster trucks (Puma)
Kayaking (Crocodile)
High-speed jet boat experience (Dragonfly)
Splash Zone (Serpent)
The white water rafting and monster truck course are intense – and probably some of the most unique experiences you'll find at Xcaret theme parks.
🤑 Get 15% off with Xavage coupon code XVAFF15!
Where is Xavage?
Xavage is located about 45 minutes north of Playa del Carmen, or just 20 minutes south of Cancun, Mexico.
The location is right off the main highway 307, which makes it easily accessible by car and there is a free parking garage available on-site.
Driving times from nearby destinations are as follows:
Playa del Carmen to Xavage: 45 minutes
Tulum to Xavage: 1 hour 45 minutes
Cancun to Xavage: 20 minutes
Travelista Tip: Xavage is also located right next to Xoximilco, which is another Xcaret experience where you can float down the canals on a colorful barge drinking tequila and listening to live Mariachi, a recreation of the original Xochimilco attraction in Mexico City.
How do you pronounce Xavage?
The correct pronunciation of Xavage is "Sha-vage" with the "X" pronounced as a "Sh" sound. However, most people will just pronounce it as "Savage".
Why visit Xavage?
Xavage is a full-day adventure experience, offering immensely fun, intense, and unforgettable activities.
It's basically a one-stop-shop if you're looking for adventurous and fun things to do in Cancun or Riviera Maya, Mexico.
Who is Xavage suited for?
Xavage Cancun is best suited for adventure seekers and adrenaline junkies. If you love amusement parks, thrill rides, and being outdoors, then Xavage will be perfect for you.
It's a great place for families with older children, friends, and small groups to experience a totally unique adventure park experience.
Since the activities are much more intense, it's probably better suited for older children and teens.
Who is Xavage NOT suited for?
Xavage is probably not the best place for you if you:
Are afraid of heights
Have difficulty with extended periods of physical activity
Suffer from heart problems, epilepsy, asthma, hypertension, diabetes, or neck and/or back problems
Are pregnant
Xavage Pros and Cons
Next, let's take a look at some of the pros and cons of Xavage:
Xavage Pros
Newest Xcaret park
Adrenaline-pumping activities
Food is included
Fewer crowds
Xavage Cons
All-inclusive ticket is expensive
No cenotes
Park feels more man-made
Transportation is not included
Xavage Tickets
Xavage Xcaret park offers two different admission packages–Basic Admission and All-Inclusive Admission.
The main difference is that the basic admission only includes 3 activities (Kayaking, Ropes Course, and Splash Zone).
Before each activity you are required to scan your wristband so they know which type of admission you purchased.
Xavage Basic Admission
The Xavage basic admission package includes:
3 activities (Kayaking, Ropes Course, and Splash Zone)
Kids Area
Snack Bar
Lunch buffet
🤑 Get 15% off with Xavage coupon code XVAFF15!
Xavage All Inclusive Admission
The Xavage all-inclusive admission package includes:
All activities (Kayaking, Ropes Course, Monster Trucks, Jet Boat, White Water Rafting, and Zip Line) as many times as you want
Kids Area
Snack Bar
Lunch buffet
🤑 Get 15% off with Xavage coupon code XVAFF15!
Xavage Transportation
Round trip transportation from your hotel in Cancun, Riviera Maya, or Playa del Carmen can also be added to your park admission during booking.
The cost is around $30 USD per person and can only be added at the time of purchase. If you're going to need transportation, be sure to add this option when booking.
Your pickup time will depend on the location of your hotel or resort.
If you decline the transportation, you can get to Xavage by driving or renting a car, or taking a taxi.
How to Book Xavage Tickets
The best way to purchase Xavage tickets is by booking on the official park website in advance.
There is usually always some kind of promotion so I would avoid paying full price if possible. I've also outlined a few additional ways to save in the next section.
🤑 Get 15% off with Xavage coupon code XVAFF15!
How to Save Money on Xavage Tickets
There are a few different Xcaret discounts available–take advantage of these automatic discounts outlined below to save money on Xavage tickets and avoid paying full price for admission tickets.
🦜 Explore my Xcaret resource hub for easy access to all of my Xcaret park reviews, comparison guides, as well as current Xcaret coupons and promotional offers.
Book in advance
You can automatically save by booking online on the official park website in advance:
10% off – ticket purchase 7 to 20 days in advance
15% off – ticket purchase at least 21 days in advance
Create your own package
If you're interested in visiting more than one of the Xcaret parks and tours, you can save by combining parks to create your own package:
15% off – ticket purchase for any combination package of two or more parks and tours
20% off – ticket purchase for any combination package of three or more parks and tours
Resident Discounts
Xcaret also offers a special discount for Quintana Roo residents which is valid only at the park's ticket booths, online, or through the contact center.
Tickets for Quintana Roo residents can be purchased through the website here but it is only available in the Spanish language.
You'll need to present an Official ID of Quintana Roo to be eligible for the discount. For foreigners living in Quintana Roo, Temporary and Permanent Resident Cards are accepted.
Stay at one of the Xcaret Hotels
Staying at an Xcaret all inclusive hotel gives you all "fun-inclusive" access to the parks, meaning you get unlimited access to all of the Xcaret parks during your stay.
This is an especially great option for families if you plan on visiting more than one of the parks.
Check out the hotel websites below for more info on these all inclusive resorts:
🎨 Wondering what it's like to stay at an Xcaret hotel? Find out in my Hotel Xcaret Arte review!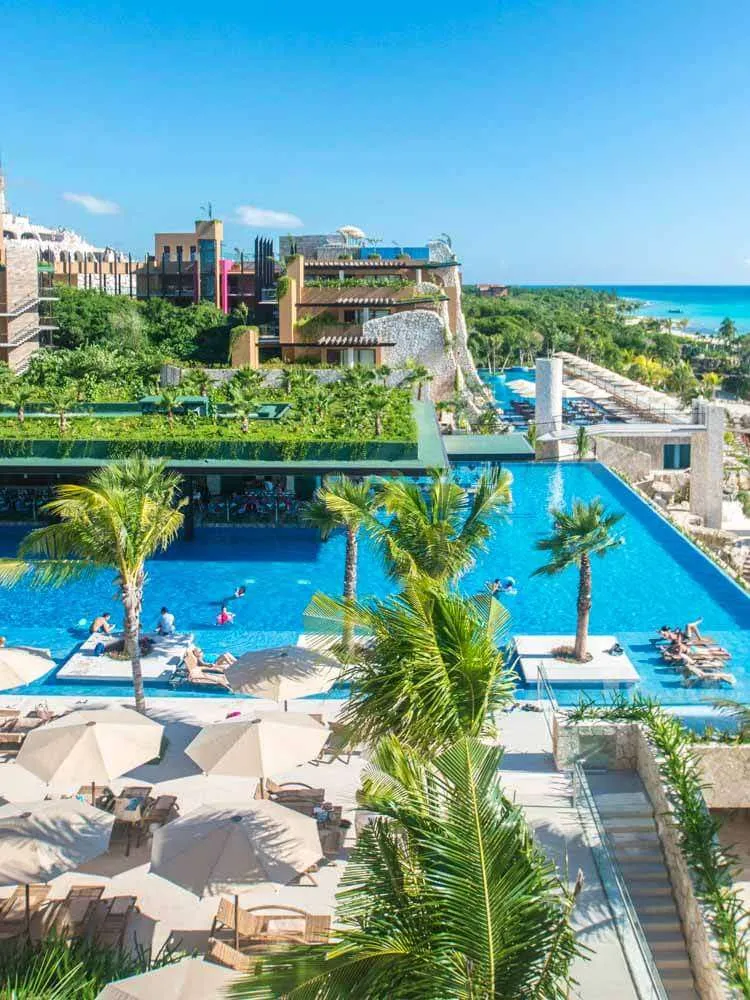 Xavage Arrival Experience
Here's what you can expect when you first arrive at Xavage:
Ticketing & Check-in
When you first arrive to Xavage, you'll need to present your printed tickets at the check-in counter.
Everyone in your party will then be outfitted with a helmet and admission wristband, as well as given a thick velcro wristband for your locker key.
You'll also be given small disposable packages of biodegradable sunscreen that you can apply throughout the day. The use of regular sunscreen in prohibited at Xavage.
Lockers and Changing Rooms
From the main entrance, you can then head down to the lockers and changing rooms to store your belongings.
The lockers are very large in size and big enough to hold all your items including tote bags, purses, backpacks, towels, etc.
In addition to lockers, Xavage offers full facilities including clean and well maintained changing rooms, showers, and restrooms.
Gift Shops and Services
At Xavage, you'll also find gift shops at the entrance to almost every activity where you can purchase souvenirs and gear including water shoes, swimwear, water bottles, clothing, stuffed animals, and memorabilia.
The gift shops are also where you can review and purchase your Xavage park photo packages. Additional services like WiFi an ATMs are also available.
Xavage Photos
On every activity at Xavage, there are designated Xelfie stations where you can pose for photos or have your reactions photographed.
The photos are logged by your helmet number and there are screens around the park where you can scan your wristband to view your photos.
At the end of your visit, you can purchase photo packages at any of the gift shops around the park.
Photo packages can also be added to your admission package in advance when purchasing your tickets online.
Xavage Review: Activities
Each activity at Xavage is designated as an animal, and you'll see animal signs around the park directing you to the different activities.
With the all-inclusive admission you can participate in each activity as many times as you want.
Before each activity you are required to watch a safety video or listen to safety instructions (offered in both English and Spanish).
Ropes Course (Howler Monkey)
Intensity Rating: 3/5
The ropes course is a high level obstacle course built to test your balance, strength, and stability.
There are four different difficulty levels to choose from–green, blue, red, and black. The green level is the easiest at a height of 26 ft and the black level is the most difficult at a height of 118 ft.
There are a series of obstacles including ropes, wooden platforms, tires, and nets that you have to traverse to make it to the end of the course. On some levels, there are even suspended kayaks and bicycles.
Once you arrive to the ropes course, you'll be outfitted with a safety harness and gloves.
The guides will explain in detail the clic-it technology system that you use to hook your harness onto the safety lines as you progress throughout the course.
Although I have a slight fear of heights, I felt very secure in my harness which made the activity much less frightening.
In fact, I think the ropes course was my favorite activity and found it to be super challenging yet very fun!
Zip Line (Hawk)
Intensity Rating: 2/5
The zip line at Xavage is a horizontal or Superman style zip line. You will lay down on your stomach and be lifted and secured into a harness.
You'll then hang horizontally from a suspension and fly down with your arms outstretched to the bottom of the track.
I was excited to try this type of zipline because it was very unique, but to be honest it wasn't as fast as other ziplines in Riviera Maya and was more of a leisurely cruise to the bottom.
White Water Rafting (Barracuda)
Intensity Rating: 4.5/5
To be honest, white water rafting was probably the most nerve wracking activity for me! I had never been rafting before which definitely made me a little nervous.
Although it is a man-made course, the rapids at Xavage are still very intense, reaching up to class III rapids with 7 foot waterfalls!
The rafts hold up to six people with a certified guide at the back that shouts instructions throughout the course.
When you first arrive to the activity, you are required to watch a safety video as well as listen to detailed instructions from the guides.
They explained exactly how to maneuver the raft and what to do if you fall out–which apparently is pretty common!
I'll admit our rafting experience was pretty intense as our two teams got very competitive but luckily I did not fall out.
Monster Trucks (Puma)
Intensity Rating: 4/5
Another one of the more intense activities is the Xavage monster truck driving course. I didn't even drive and I was still super freaked out!
You are basically strapped into land rover vehicles and you have to navigate through a challenging course with boulders, steep climbs, and muddy pits.
The Xavage Puma experience is one of the most intense ATV experiences in Riviera Maya and will definitely get your heart pumping!
Note you'll most likely get a little dirty on this activity so I would recommend wearing water shoes or old tennis shoes.
🪪 Note you must be at least 18 years old with a valid driver's license and at least 5.2 ft tall to drive the monster trucks at Xavage. Children must be at least 4 ft tall to ride as passengers.
Jet Boat (Dragonfly)
Intensity Rating: 3.5/5
The Xavage jet boat is a group experience where you are buckled into a high speed boat that makes 360 degree turns.
Luckily there is an experienced driver but it's their job to give you a wild ride!
There's a GoPro camera strapped to the front of the boat that records your reactions and you can purchase your group's video after the ride. Be prepared to get wet on this activity!
Kayaking (Crocodile)
Intensity Rating: 1/5
Kayaking is another activity offered at Xavage, and you can choose to go in a single or double kayak.
Our group decided not to participate in this one but it looked like a good way to explore the park.
Splash Zone (Serpent)
The Splash Zone kids pool at Xavage is an expansive water park with water slides, waterfalls, a wading pool, and falling water buckets.
It looked very fun but can only be used by children aged 12 and under.
Xavage Review: Food and Beverage
Xavage offers two food and beverage options at the park–a lunch buffet and a snack bar. There are also complimentary bananas available once you finish the ropes course.
🍺 Note due to the nature of the activities, alcohol is not served anywhere at the park.
Lunch Buffet
Included in your admission is a lunch buffet, which actually was very impressive.
It offers a variety of cuisine including salads, veggies, pasta, tacos and other Mexican dishes, American food, and desserts.
You'll also be greeted with a fruity welcome drink and a variety of fresh juices.
Xnack Bar
The other food and beverage option at Xavage is the Xnack (Snack) bar. They offer lighter food options here such as pizza, fruits, and fresh juices.
The snack bar is centrally located between the activities so it's a great place to sit down, take a break, and enjoy some refreshments.
What to Wear to Xavage
You will definitely get wet at Xavage so it's best to wear a swimsuit with waterproof shorts or activewear that dries quickly.
I wore a one piece swimsuit, athletic shorts, and an athletic tank.
You are also required to wear closed toes shoes so I would recommend wearing a pair of old tennis shoes as they are likely to get dirty, especially on the Monster Truck activity.
It's also a good idea to bring water shoes to wear on the water activities (Kayaking, Jet Boat, and White Water Rafting).
The lockers and changing rooms are centrally located so you'll be able to change clothes or shoes throughout the day if needed.
What to Bring to Xavage
Below are a few items I would recommend bringing to Xavage.
It's important to note that GoPro cameras are not allowed on the activities unless they can be strapped to your life jacket or helmet.
You can keep your camera stored in your locker and get it out at anytime to take pictures around the park.
Beach Towel: You'll want to bring a beach towel to dry off after the water activities. These microfiber beach towels are a great option because they are super lightweight and dry quickly.
Water Shoes: Water shoes can be purchased at the gift shops at Xavage but they cost over $30 USD so I would recommend picking up some more reasonably priced water shoes on Amazon here.
Change of clothes: Bring a change of clothes to change into at the end of the day after the water activities.
Xavage Tips
Follow these tips to make the most of your Xavage experience:
Get there early: The Xcaret Xavage park is open from 8:30AM–5:00PM so I would recommend getting there early to get the most out of your experience.
Plan out the activities in advance: I would definitely recommend planning your activities in advance. We saved the water activities for last so we could just change and shower before leaving the park.
Plan meals after intense activities: If you have a queasy stomach, I would recommend planning out your meals so you don't feel sick on the activities. For example, the jet boat would not be fun right after a heavy meal.
Leave time for photos: Leave time at the end of your visit to review your photos. Consider purchasing a group package with other people in your group to get a better deal.
Visiting Xavage: FAQs
Here are the answers to some of the most frequently asked questions about visiting Xavage by Xcaret:
What are the Xavage park hours?
Xavage Park hours are Monday-Saturday from 8:30AM–5:00PM. 
What's the Xavage cancellation policy?
Reservations canceled more than two days in advance of the date of visit are subject to a 10% administration fee.

Reservations canceled in 2 days or less before the visit date, or in case of a no-show, are not refundable.

More information on the Xavage cancellation policy can be found here.
What are the Xavage age restrictions?
Xavage is suited for children ages 5 and older. Children must be at least 4ft tall to ride as a passenger on the monster trucks.
Is Xavage transportation included?
Transportation is not included in the Xavage price of admission. To get to Xavage, you can go on your own, take a taxi, or add the round-trip transportation service to your ticket for an additional $30 USD per person.  A free parking lot is available on site.

If you do choose the transportation service, it's important to know that transportation can only be added at the time of purchase, so be sure to add this when you're buying your tickets.  They'll then pick you up by bus at your hotel, resort, or designated meeting point. 
Xavage Review: Is Xavage worth it?
Overall, I had an awesome time at Xavage Park by Xcaret. I'm pretty adventurous and I love adrenaline pumping activities so this was right up my alley.
Xcaret's Xavage Park is beautifully designed and well-equipped, and the best part was that the lines were never long so you could just walk right on to the next activity.
My favorite activity was definitely the ropes course and I would love to visit again to conquer the black level!
Even though the all-inclusive admission is a bit pricey, I think it's definitely worth it if you take advantage of the entire day.
And since the basic admission ticket only includes kayaking and the ropes course, you really want to go with the all-inclusive admission ticket to be able to fully experience all that the park has to offer.
Plus, you can save money if you book your ticket in advance or want to visit multiple Xcaret parks like Xplor, Xcaret, or Xel-Ha.
Overall, I would recommend visiting if you're a thrill seeker and love a good adrenaline rush!
So what do you think, are you ready to visit Xavage?!
🤑 Get 15% off with Xavage coupon code XVAFF15!