25 Fun Things to Do in Bacalar Mexico in 2023
Disclosure: This page may contain affiliate links, meaning at no additional cost to you, I will earn a commission if you click through and make a purchase. As an Amazon Associate I earn from qualifying purchases.



Looking for things to do in Bacalar Mexico? You've come to the right guide!
I'm a travel blogger that lives in Playa del Carmen and have been lucky enough to visit Bacalar more than once! It's actually one of my favorite destinations in all of Mexico and gets better every time I visit.
This magical town has plenty to offer, from swimming in its stunning lagoon to exploring ancient Mayan ruins.
In this post, I'm sharing 25 best things to do in Bacalar Mexico whether you're looking for water activities, adventurous excursions, or cultural attractions.
Best Things to Do in Bacalar Mexico
If you want to get away from it all and enjoy a beautiful place in nature, then Bacalar is the perfect destination. And with so many fun things to do, you'll have plenty to keep you busy!
Here are 25 of the top things to do in Bacalar, the Lagoon of the Seven Colors ("Laguna de los Siete Colores"):
1. Go on a boat tour of the lagoon
If you're looking for things to do in Bacalar, going on a boat tour of the lagoon is pretty much at the top of the list! Bacalar boat tours come in two basic forms: pontoon boats and sailboats.
I would recommend opting for a sailboat tour if possible, as non-motorized boats have less of an environmental impact on the lagoon.
Prices for boat tours are very affordable, and the tours usually last around 3-4 hours with some snacks, beers, and life jackets included.
Most tours will include a full tour of the lagoon, with stops at Cenote Negro, Canal de los Piratas, Cenote Esmeralda, and Cenote Cocalitos.
The highlight of sailing in Bacalar is definitely a visit to "Canal de los Piratas", where you swim in crystal clear waters–it's kind of like a party cove!
A Bacalar boat trip is my personal favorite activity, and hands-down is one Bacalar activity that shouldn't be missed!
👉 Book a Bacalar sailing tour by clicking here!
2. Go standup paddleboarding on the lagoon
Another fun way to explore Lake Bacalar is on a standup paddleboard. The beautiful lagoon is the perfect place for it, with calm waters and gorgeous views.
There are many standup paddleboarding (SUP) tours available, including sunrise tours for early risers. It's actually best to go early in the day when the water is calmest and before the lagoon gets busy with boat tours.
I recommend going on a small group tour for a fun way to meet people in a relaxed environment. And be prepared for a great workout too!
👉 Click here to book a sunrise standup paddleboarding tour
👉 Click here to book a daytime standup paddleboarding tour
3. Go kayaking on the lagoon
Another great way to explore Bacalar lagoon is by renting a kayak. There are many kayaking rentals and tours in Bacalar, which is a great way to explore the lagoon at your own pace.
It's a peaceful and relaxing activity, and you can visit many of the lagoon's popular sites on your own. Plus, you stay at Canal de los Piratas for as long as you want!
I went kayaking the very first time I visited Bacalar and it was so memorable! It's the perfect opportunity to get an up close view of the lagoon and customize the day's itinerary based on your personal preferences.
Travelista Tip: The lagoon is huge and with so many places to explore, it can be tiresome to kayak on your own. Rent a double kayak and go with a friend to make it a little easier!
You'll also want to bring plenty of biodegradable sunscreen because you'll be out in the sun all day with pretty much no shade.
It's also a good idea to bring a waterproof dry bag to carry your sunscreen and any personal items while on the kayak.
👉 Book a Bacalar kayaking tour by clicking here!

👉 For a totally unique experience, check out this transparent kayaking tour!
4. Visit the Canal de los Piratas
Located in the middle of the lagoon, Canal de los Piratas (Pirates' Channel) is a beautiful narrow canal and probably the most popular place to visit on the lagoon–it's kind of like the party cove of Bacalar!
This Bacalar must see canal is only accessible by boat, and it can be reached by taking a boat tour or by kayak.
The water is crystal clear and turquoise, with a depth of only a few feet, making it the perfect place to relax in the water and enjoy a few beers or refreshing drinks.
In the middle of the canal is a colorful abandoned structure that's a popular spot for jumping into the water or taking photos. And at the back of the canal, you can find soft clay sand that's perfect for making a mud mask.
Travelista Tip: Bring a GoPro or waterproof camera to take some fun pictures in the water–the color of the water at Canal de los Piratas is the brightest turquoise you will find in Bacalar!
👉 Book a boat tour to visit Canal de los Piratas by clicking here!
5. Tour the San Felipe Fort
If you're a history buff, then you'll definitely want to visit the San Felipe Fort (Fuerte de San Felipe), which is located right in Bacalar's main town square.
The San Felipe Fort was built in the 18th century to protect against pirate attacks, but today it's a popular destination for tourists. Visitors can explore the fort's many rooms and learn about its history at the fort's museum.
The Fort San Felipe is open Monday-Sunday from 9AM-7PM. The entrance cost is $55 pesos for Mexican nationals and $110 pesos (~$5.50 USD) for foreigners.
Even if you don't want to pay to go inside, you can still see the fort's cannons and unique structures from the outside–along with beautiful views of the lagoon!
6. Float down Los Rapidos Bacalar
Another one of the best Bacalar attractions is Los Rapidos, which is a restaurant and fun excursion where you can float down the rapid canals of the lagoon.
The site looks similar to a cenote but has natural rivers and narrow channels with strong currents flowing through them.
Visitors to Los Rápidos can float down the rapids, hang out in hammocks, or dine and drink in the restaurant. The entrance fee is around $300 pesos (~$15 USD) per person. Be sure to bring water shoes as the site can be very rocky!
Travelista Tip: Bring some inflatable pool floats for a little more fun! When I visited, we brought this large inflatable unicorn, which was a fun way to float through the canals.
7. Visit Cenote Azul Bacalar
Located just outside of the city center, Cenote Azul is one of the most popular cenotes in Bacalar. At about 90 meters deep, Cenote Azul Bacalar is one of the deepest cenotes in Riviera Maya.
It's a large, round open cenote that looks more like a lake and is perfect for swimming, snorkeling, or kayaking. You'll want to wear a life jacket as the swimming areas are extremely deep!
There is also a restaurant on-site where visitors can dine after swimming in the cenote. The Cenote Azul Bacalar entrance fee is only $25 pesos (~$1 USD) per person, which makes it one of the cheapest things to do near Bacalar!
8. Visit ancient Mayan Ruins
If you want to see some Mayan Ruins, you're in luck because there are several Mayan ruins near Bacalar!
Here are the most popular ruins near Bacalar that make for an easy day trip:
Chacchoben Ruins
Situated in the midst of tropical rainforest, the Chacchoben Mayan Ruins (pronounced "Chak-cho-ben") are located just 35 minutes outside of Bacalar.
The archaeological site offers visitors a glimpse into the ancient culture and history of the Mayan people with several well-preserved pyramids, temples, and other unique architectural features.
I personally visited the Chacchoben Ruins on my way from Mahahual to Bacalar and was really impressed by the size of the ruins.
Plus, they are some of the least well-known ruins in the area, so you will likely have the ruins all to yourself!
The Chacchoben Ruins entrance fee is $70 pesos (~$3.50 USD) per person and the ruins are open daily from 8AM-5PM. With a large parking lot on site, it's easiest to visit the ruins on your own.
Kohunlich Ruins
The Kohunlich Ruins (pronounced "Koe-hoon-leech") are located about an hour outside of the town of Bacalar, and date back to the Mayan civilization.
Kohunlich is a smaller archaeological site and only about 10% has been excavated. There are a few small pyramids which you are able to climb, unlike most ruins in the area.
The most famous of these is the Temple of the Masks, which features a large mask on its front facade.
The Kohunlich Ruins are open daily from 8AM-4:30PM. If you're traveling to Bacalar, be sure to add a visit to these ruins to your itinerary.
👉 Book a private tour to Kohunlich Ruins by clicking here!
Oxtankah Ruins
Located just north of Chetumal near the Belize border, the Oxtankah Ruins (pronounced "Osh-tahn-kah") are about 1 hour away from Bacalar.
The Oxtankah Ruins are centered around two main plazas, which contain numerous temples, pyramids, palaces, and courtyards.
Visitors can also see the remains of an open air Spanish chapel. A number of ancient tombs have also been found on the site, with many more mounds yet to be excavated.
The Oxtankah Ruins entrance fee is around $65 pesos (~$3.50 USD) per person and the ruins are open daily from 9AM-3PM.
Dzibanche Ruins
Located in the state of Quintana Roo, a little over an hour drive from Bacalar, the Dzibanche Ruins (pronounced "Zee-ban-che") are some of the most impressive and least visited Mayan ruins in the Yucatan peninsula.
There are two sites here–the main Dzibanche site and the adjacent Kinichna site (pronounced "Kin-itch-na"), which is just down the road.
At the Dzibanche site, you'll be able to see impressive pyramids such as the Owl Temple and the Cormorant Temple, as well as ceremonial centers adorned with stone masks.
At the Kinichna site, the main attraction is a massive pyramid, known as the "house of the sun god," which you climb all the way to the top for impressive 360-degree views of the Mayan jungle.
Be sure to take your time and really take in all the amazing details of these ancient ruins–and be on the lookout for howler monkeys and toucans in the trees!
The Dzibanche Ruins entrance fee is around $70 pesos (~$3.50 USD) per person and the ruins are open daily from 8AM-4:30PM.
👉 Book a Dzibanche Ruins Tour by clicking here!
9. Hang out at Los Aluxes
Los Aluxes is one of my favorite places to hang out in Bacalar! This restaurant is located right on the lagoon and is the perfect place to relax and enjoy some good food and drinks.
Visitors can get in the water and they also have fun wooden swings, day beds, water sports, and small boats available for rent, so you can really make a day of it.
Plus, the whole scene at Los Aluxes is so fun and colorful–you'll get to see some stunning views of the brightly colored lagoon!
10. Visit Cenote Negro (Cenote de La Bruja)
Known as the witch's cenote, Cenote Negro (Black Cenote) is a deep cenote that is located just off the main Bacalar lagoon and can be reached by boat or kayak.
Local legend says that a witch used to live on the property here, which is where the cenote gets its name.
Cenote Negro is about 15 meters (50 feet) deep, which makes the water almost completely black. It's incredible to see the sharp contrast in the color of the water once you reach the cenote.
The most common way to visit Cenote Negro is on a boat or kayaking tour of the lagoon.
👉 Book a boat tour to visit Cenote Negro by clicking here!
11. Go ziplining at Tirolesas Kan Kin Bacalar
For a more adrenaline pumping activity in Bacalar, consider going ziplining at Kan Kin Bacalar zipline park.
Just 10 minutes outside of town, this zipline course offers 5 different ziplines, totaling 1,452 meters in length.
You'll climb to the top of the zipline towers in the Bacalar jungle to start the adventure. The highlight is definitely the zipline with views of the lagoon!
All equipment and harnesses are provided and the ziplines are safe and secure. Plus, the prices at Tirolesas Kan Kin Bacalar are very affordable!
👉 Visit the Tirolesas Kan Kin Bacalar website to learn more!
12. Go souvenir shopping
If you're looking to do some souvenir shopping while in Bacalar, you'll find most of the shops located around the small town square.
You'll find all sorts of traditional Mexican souvenirs and handicrafts like jewelry, clothing, and leather goods. Or, if you're looking for something a little more unique, you can find items like dreamcatchers, hand-made textiles, and local honey.
And if you're wanting to do some higher end shopping, there are also designer boutiques located around town with women's clothing and swimwear.
No matter what your budget is, you'll be able to find some great souvenirs to take home with you!
Travelista Tip: Check out El Manati, which is a restaurant, art gallery, and store with lots of cute and trendy locally sourced products.
13. Hang out on one of the public docks
If you're looking for a free activity to enjoy in Bacalar, head to one of the public docks. These narrow wooden piers are perfect for hanging out and swimming in the shallow waters of the lagoon.
Towels and personal belongings can be left on the pier, and you'll also want to bring some snacks and drinks to enjoy.
You'll find lots of Mexican families enjoying the beauty of the lagoon from here, so it's the perfect way to experience Bacalar lagoon like a local!
Plus, it's simply stunning to take in the views of the lagoon from these docks where you can see the different shades of blue dotted with green lily pads.
Whether you're looking to relax or explore, spending some time at the public docks is one of the best free things to do in Bacalar!
Travelista Tip: There are a few public docks in Laguna Bacalar but I personally went to this one: 📍Google Maps
14. Stroll through the main town square
Bacalar's main town square is where all the action is, and the perfect place to take a stroll and enjoy the local atmosphere.
The square is also home to the San Felipe Fort, as well as the colorful Bacalar sign–perfect for photo ops! Visitors can also climb up to the top of a newly constructed elevated platform where you can enjoy some great views of the lagoon.
There are also plenty of Bacalar restaurants with outdoor dining around the square, as well as souvenir shops and street food vendors selling delicious snacks. It's a lively place to walk around during the day or in the evenings!
Travelista Tip: Grab an ice cream from Annie's Heladeria to enjoy while walking around the square!
15. Visit the Balneario Ejidal Magico Water Park
Balneario Ejidal Magico water park is an inexpensive family-friendly activity in Bacalar. The lagoon-front park consists of a restaurant and small water park with water slides that shoot out directly into the lagoon.
With an entrance fee of only $40 pesos per person, this place is not upscale but is a good option for kids.
It's one of the most popular things to do for local families and a good place for lagoon access, especially if you don't have it at your Bacalar hotel.
Just keep in mind that it's not really a place to relax–it's more of a noisy amusement park. But adults can still enjoy food, drinks, and live music while hanging out at the lagoon.
16. Visit Cenote Cocalitos
For one of the most instagrammable spots in Bacalar, head to Cenote Cocalitos, which is a tranquil swimming lagoon with overwater hammocks, swings, and a restaurant.
Cenote Cocalitos is one of the best places to visit in Bacalar and a popular stop on a boat tour, but you can also enter directly from the beach. It is actually more of a beach/lagoon rather than a cenote!
The most unique feature of Cenote Cocalitos is that it is home to fossilized stromatolites, which are layered rock formations and one of the earliest forms of life on earth–they are pretty cool to see!
The Cenote Cocalitos entrance fee is around $50 pesos (~$2.50 USD) per person and it's open daily from 10AM-5PM–you'll definitely want to arrive early to beat the crowds. It's a fun and beautiful place to spend the day!
17. Have lunch at La Playita
La Playita is one of the best restaurants in Bacalar located right on the lagoon and is a perfect spot for lunch with amazing lagoon views.
The restaurant has a fun vibe and the menu offers a variety of delicious cuisine, including tacos, empanadas, burgers, and flatbreads.
Visitors can hang out on the restaurant's sun terrace or walk out on the dock for the best views of the lagoon.
18. Go on a catamaran cruise
A Bacalar catamaran cruise is an upgraded version of the basic boat tours in Bacalar and a fun way to explore the lagoon aboard a comfortable catamaran.
This 3-hour catamaran cruise will take you sailing around the lagoon's most popular sights, while enjoying an open bar with unlimited drinks and some snacks included.
Whether you're traveling solo or with friends, this is a fun Bacalar activity you won't want to miss!
👉 Book a Bacalar catamaran cruise by clicking here!
19. Visit Cenote Esmeralda
Another popular cenote to visit in Bacalar is Cenote Esmeralda, which is near Cenote Azul and Cenote Cocalitos.
Meaning "Emerald Cenote", this large circular cenote is about 70 meters deep and has navy blue clear waters.
The most common way to visit Cenote Esmeralda is on a boat tour, where visitors can see the sharp contrast in color where the cenote water meets the lagoon.
👉 Book a boat tour to visit Cenote Esmeralda by clicking here!
20. Explore the Bacalar Street Art Scene
Bacalar has a robust street art scene and you'll likely find colorful works of art around every corner!
One of the best ways to explore the street art in Bacalar is just to wander around town and you're sure to stumble upon some incredible pieces.
You'll see lots of colorful murals on the sides of buildings from Frida Kahlo to butterfly wings to more political pieces. They make for some amazing photo ops!
21. Take a day trip to Mahahual
Located less than an hour away from Bacalar, Mahahual is a laid-back Caribbean beach town and popular cruise ship port.
If you have a rental car, a visit to Mahahual makes for a fun day trip from Bacalar where you can explore the town's colorful beachfront boardwalk (malecón), see the signature lighthouse, or spend the day relaxing at a beach club.
You'll be treated to the stunning white sand beaches and turquoise waters of the Caribbean Sea–without the crowds and high prices of nearby Riviera Maya!
I recommend visiting the Malecón 21 restaurant and beach club at Hotel Noah, which has the best beachfront area in Mahahual!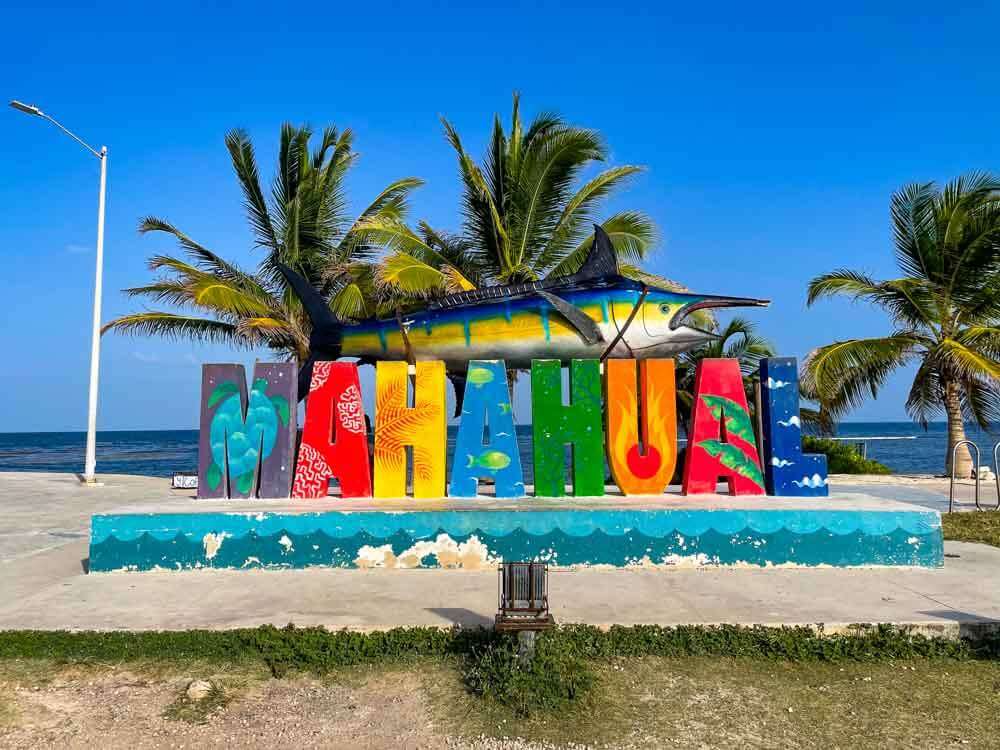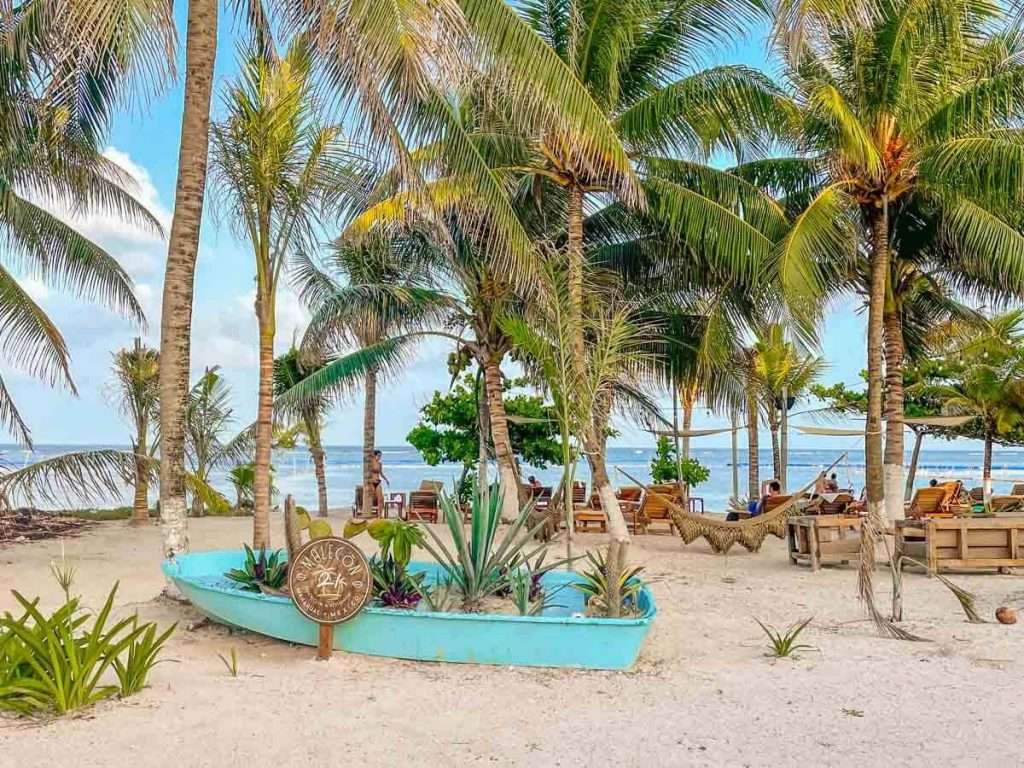 22. Go scuba diving in Bacalar
Bacalar Lagoon is a good place to learn scuba diving and there are some dive shops in Bacalar town. However, the destination is not really that popular for scuba divers.
One place you can scuba dive in Bacalar is at Cenote Azul, which is about 90 meters deep and recommended for experienced divers.
Scuba diving enthusiasts can also consider traveling to nearby destinations like Mahahual or Riviera Maya for reef and ocean diving.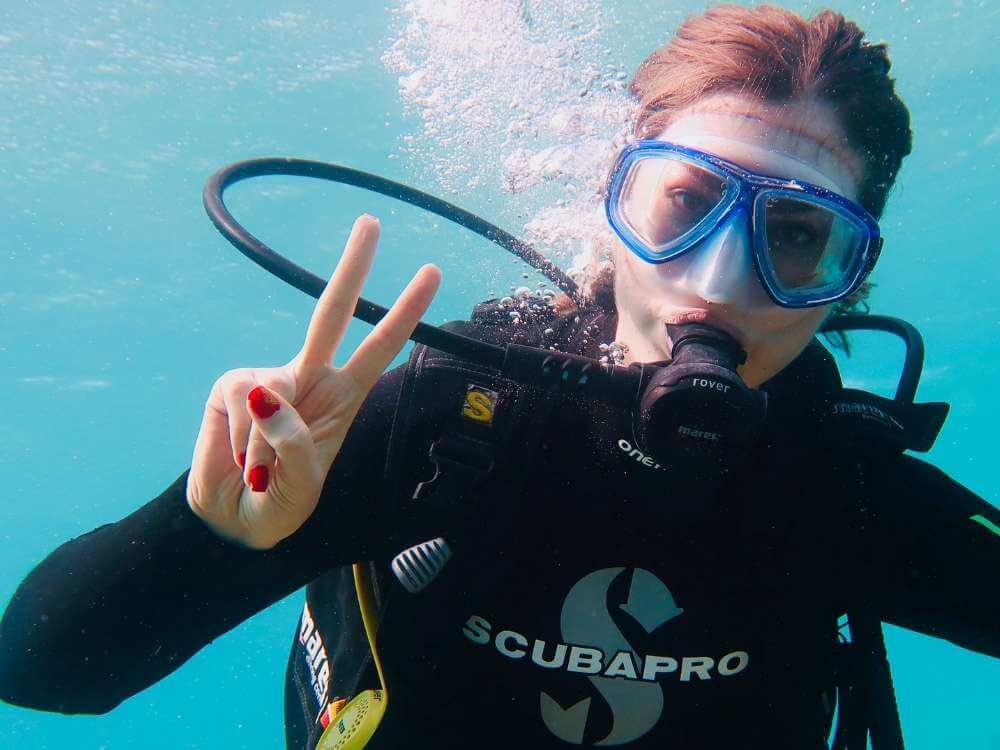 🚨 Do you need travel insurance for Mexico? Yes! Most insurance plans in your home country will not cover incidents abroad. I recommend using Travel Insurance Master, which is a handy travel insurance marketplace where you can compare policies. Get a FREE quote by clicking here!
23. Hang out at Yak Lake House
If you're visiting Bacalar, one of the liveliest places to hang out is at Yak Lake House. It's the most popular hostel in town, and it's one of the best spots for young social travelers.
Even if you're not staying at Yak Lake House, you can still visit for food and drinks. You can also rent boats, kayaks, and paddleboards, and there's often a live DJ.
The atmosphere is more party than chill, but it's still a great place to relax and have some fun. It's the perfect place to meet new people and have the best time while enjoying the lagoon.
👉 Check rates and availability at Yak Lake House by clicking here!
24. Try some Bacalar street food
If you want to experience the Bacalar food scene, then you have to try the street food!
There are many food trucks around the main town square in the evenings, mainly selling marquesitas (a rolled wafer), crepes, and waffles.
You can also find carts and vendors selling tropical local fruits such as rambutan, which is a sweet red fruit that is spiky on the outside.
Or, if you're looking for a full meal, head to one of the Bacalar food truck parks for a creative taste of local fare in a fun environment.
25. Go on a Bacalar sunset cruise
A Bacalar sunset cruise is a unique and romantic way to experience Bacalar lagoon and is ideal for couples.
This 2-hour cruise takes you around the lagoon as the sun sets, with drinks included and chill music playing in the background.
You'll get to see some of the most popular sights in Bacalar, including Cenote Negro, Isla de los Pajaros, and the Canal de los Piratas.
And of course, there will be plenty of opportunities to take photos of the stunning sunset. If you're looking for a special way to spend an evening in Bacalar, a sunset cruise is definitely worth considering.
👉 Book a Bacalar sunset cruise by clicking here!
Is Bacalar worth visiting?
Yes, Bacalar is definitely worth visiting! This charming town is officially designated as a "Pueblo Magico" (magic town) because of its natural beauty and magical atmosphere.
The town is located on the shores of Bacalar Lake, which is said to have seven different colors and often referred to as the "Maldives of Mexico". The lake is surrounded by lush garden and jungle, making it a perfect place to relax and enjoy nature.
Bacalar offers a relaxing lakeside retreat and is much less commercialized than the nearby tourist destinations of Tulum, Playa del Carmen, and Cancun–and much more affordable!
There are also many activities to do in Bacalar, such as swimming, kayaking, and boat tours. So whether you're looking for a relaxing getaway or an adventurous vacation, Bacalar is definitely worth a visit.
FAQs about Things to Do in Bacalar
Here are the answers to some of the most frequently asked questions about Bacalar activities:
How long should you stay in Bacalar?
I would recommend staying in Bacalar for at least 2 nights but you'll definitely want to stay longer if you really want to relax and unplug. 
Do you need a car in Bacalar?
Having a car in Bacalar is nice to have but not an absolute necessity.  The town center is easily walkable and the lagoon is within easy walking distance. 

Plus, taxis and bike rentals are available to go further distances.  If you plan on taking day trips, then I would recommend renting a car. 

Can you swim in Bacalar Lagoon?
Yes, you can swim in Bacalar Lagoon and there are many restaurants and Bacalar hotels on the lake offering direct lagoon access. 

Visitors can also book Bacalar tours in boats, rent kayaks, or go standup paddleboarding to enjoy the lagoon. 

Is Bacalar Lagoon back to normal?
Yes, Bacalar Lagoon is back to normal. In 2020-2021, severe weather conditions and sewage problems caused Bacalar Lagoon to become polluted and lose its bright turquoise color.

However, the lagoon has since recovered and has returned to its normal shades of blue. 
Conclusion: Best Things to Do in Bacalar Lagoon
Now that you know what to do in Bacalar, which Bacalar activity are you doing first?! I hope this Bacalar activities guide was helpful in planning your trip to Bacalar!
Bacalar is such a special place and honestly one of the most beautiful towns I've visited in Mexico. It feels so much less touristy and commercialized–which is a nice break from Playa del Carmen!
If you're limited on time, the Bacalar boat tour with a visit to the "Canal de los Piratas" is the pretty much best thing to do in Bacalar and shouldn't be missed.
But no matter which activities you choose, you're sure to have an unforgettable time!
Traveling to Mexico soon?
These are the Mexico travel resources I use and recommend:
🏨 Hotels: I always find the best deals for Mexico hotels and resorts on Expedia or Booking.com. If you prefer a vacation rental, check VRBO as they are often cheaper than AirBnB's added fees!
✈️ Flights: I recommend using Skyscanner for the best Mexico flight deals. Be sure to sign up for their price alerts for your preferred travel dates.
🚗 Rental Cars: I like to use Discover Cars because you can compare multiple car rental companies and see detailed ratings for overall value, ease of pick-up, efficiency of agents, car condition, and overall time spent.
🚙 Cancun Airport Transportation: I recommend booking a private transfer with Cancun Airport Transportation for the quickest and most hassle-free option!
🤿 Tours & Activities: I always use Viator or GetYourGuide for booking tours and activities in Mexico. You can cancel up to 24 hours before the tour for a full refund, plus they have excellent customer service if you were to have any issues.
🚨 Travel Insurance: After my Dad broke his hand in a taxi accident in Playa del Carmen, I always recommend buying travel insurance before your trip for added peace of mind! I recommend Travel Insurance Master for short trips or Safety Wing for digital nomads.
☀️ Biodegradable Sunscreen: Don't forget to add biodegradable sunscreen to your Mexico packing list! Regular sunscreen is prohibited when swimming in the ocean and cenotes in Mexico, so you'll need to pack some biodegradable sunscreen for sun protection. I recommend Sun Bum Sunscreen, which is reef-friendly, vegan, and cruelty-free.