Tulum vs Playa del Carmen: Which Mexican Beach Town is Better in 2022?
Disclosure: This page may contain affiliate links, meaning at no additional cost to you, I will earn a commission if you click through and make a purchase. As an Amazon Associate I earn from qualifying purchases.



Situated on Mexico's Caribbean coast, Tulum and Playa del Carmen are two of the most popular tourist destinations in Mexico.
Both offer beautiful beaches, stunning Mayan ruins, and a wide variety of beachfront hotels, restaurants, and bars. But which one is better?
That's where I'm here to help! As a Playa del Carmen resident and local travel blogger since 2018, I'm sharing my honest perspective of Playa del Carmen and Tulum as travel destinations in 2022.
In this ultimate Tulum vs Playa del Carmen comparison guide, I'll help you decide which Mexican beach town is best for you.
Tulum vs Playa del Carmen: Overview
While only 1 hour apart, Tulum and Playa del Carmen are completely different and each has its own distinct vibe.
If you're able, I would highly encourage visiting them both to get to see for yourself what each town is like even if it's just for quick day trips.
But if you're limited on time and are trying to decide where to spend your vacation days, here's a quick overview of each destination:
About Tulum
Tulum, Mexico is one of the most popular travel destinations in the world attracting celebrities, influencers, and the wealthy elite.
Situated on the Yucatan Peninsula about 2 hours south of Cancun, Tulum is known for its untouched beaches, clear blue waters, and oceanfront Mayan ruins. Still relatively small, the beach town has a population of about 46,000 people.
The town of Tulum touts a kind of hippy chic spirituality with an excess of trendy hotels, restaurants, and boutiques, all designed with Tulum's earthy design aesthetic.
Design elements in Tulum include earthy exteriors, thatched roofs, and natural bohemian elements all with an emphasis on eco-friendly design, making the entire town an Instagrammer's paradise.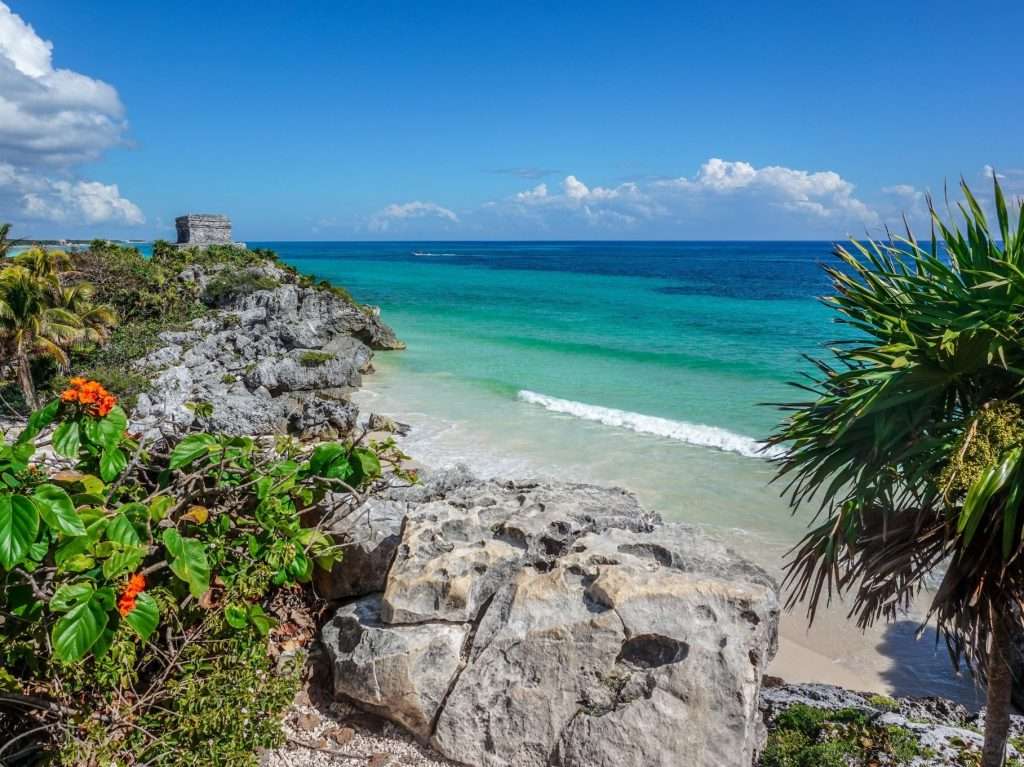 About Playa del Carmen
Playa del Carmen, Mexico is a laid-back beach destination located on the Caribbean coast of the Yucatan Peninsula just 1 hour south of Cancun.
Originally a small fishing village, the town has grown rapidly to a population of about 300,000 people with a large expat and international community.
The area is known for its stunning turquoise waters, white sand beaches, and lively downtown area known as Fifth Avenue ("La Quinta Avenida" in Spanish).
There are also many restaurants, bars, and shops located in downtown Playa del Carmen and within short walking distance of the beach, making it a great place to explore and relax.
Tulum vs Playa del Carmen: Who are they suited for?
Here's an overview of the types of travelers each beach town is best suited for:
Who is Tulum suited for?
It's no secret that Tulum has gained a reputation for attracting party-goers and spiritual seekers, who are known locally as the "Tuluminati".
If you're an artist, spiritual seeker, yoga enthusiast, or just someone who loves spending time in nature, you will probably love Tulum. Eco-friendly travelers will also appreciate Tulum's boutique eco-friendly hotels and commitment to sustainability.
But you don't have to be a hippy, hardcore partier, or super spiritual person to have a good time in Tulum. Your experience in Tulum can be exactly what you make it, and these types of experiences can be enjoyed or avoided depending on what you're looking for.
With Tulum's luxury bohemian vibe, it's best suited for travelers with a higher budget who want to escape the hustle and bustle of everyday life for an upscale nature retreat.
Who is Playa del Carmen suited for?
On the other hand, Playa del Carmen is best suited for budget-conscious travelers looking for walkability and easy access to restaurants, beaches, and nightlife.
With its wide variety of hotels and all-inclusive resorts, it appeals to many different kinds of travelers whether you're looking for a family-friendly vacation, honeymoon destination, or adults-only retreat.
As compared to Tulum, Playa del Carmen has a much more laid-back vibe and feels a little bit more down-to-earth. Overall the town is more developed, so it's easier to access public and private transportation, as well as shopping, entertainment, and attractions.
Playa del Carmen is also a great central hub for exploring other parts of Mexico, which makes it a great destination for solo travelers and digital nomads.
Tulum vs Playa del Carmen: Pros and Cons
Next, let's take a look at some of the Tulum Playa del Carmen pros and cons that I'll discuss further in this post:
Pros of Tulum
Widespread untouched beaches
Less crowded
More relaxing
More trendy architecture and design elements
More eco-friendly
Cons of Tulum
More expensive
Less safe
Not very walkable
Poor infrastructure for electricity and internet
Far from Cancun Airport
Beach and town are separate
Pros of Playa del Carmen
Less expensive
Extremely walkable
Easy beach access
Feels safer
Better infrastructure with fewer electricity and internet outages
Closer to Cancun Airport
Cons of Playa del Carmen
More crowded and congested
Busy beaches
Older buildings, less trendy design
Less eco-friendly
Tulum vs Playa del Carmen: Safety Comparison
One of the most important considerations when choosing a new travel destination is safety and security. Here's an overview of safety in Tulum and Playa del Carmen:
How safe is Tulum?
To be completely honest, Tulum doesn't feel quite as safe as it used to be. There have been widely publicized incidents in the last couple of years where tourists were caught in the crossfire of drug violence in Tulum and were unfortunately killed.
If you plan to stay at your hotel or resort the entire time and steer clear of any drug activity, you will more than likely be fine traveling to Tulum. It's more the late-night and illegal activity where risks are higher and danger is more likely to occur.
I do believe Tulum is still worth visiting but it's important to be aware of the possible risks and current safety situation. As in any foreign destination, use common sense, avoid staying out late alone, and be aware of your surroundings at all times.
How safe is Playa del Carmen?
As a solo female traveler who's lived in Playa del Carmen for over 3 years, I can say that I do feel relatively safe living in Playa del Carmen.
Yes, drug-related crime does exist in Playa del Carmen just as it does in Tulum but since the town is more developed and more heavily populated, it feels safer to be out and about during the day and at night.
I live pretty cautiously because I've learned what to avoid and how to stay safe in Playa del Carmen. Safety is never guaranteed but if you take precautions and avoid trouble, most tourists will not have any safety issues while visiting Playa del Carmen.
Of course, it is always important to be cautious when traveling to any new destination and Playa del Carmen is no exception. Be sure to stay in well-lit areas at night, keep your belongings close to you, and don't flash your cash around.
🚨 Do you need travel insurance for Mexico? Yes! Most insurance plans in your home country will not cover incidents abroad. I recommend using Travel Insurance Master, which is a handy travel insurance marketplace where you can compare policies. Get a FREE quote by clicking here!
Tulum vs Playa del Carmen: Cost Comparison
When it comes to comparing costs, Tulum is definitely more expensive than Playa del Carmen. In general, you can expect prices in Tulum for hotels, restaurants, and transportation to be about 30% higher than Playa del Carmen.
Tulum has become a popular destination for celebrities, influencers, and other wealthy individuals, which has only contributed to the rise in prices.
It's probably one of the most expensive destinations in Mexico with prices comparable to much larger cities around the world.
Tulum vs Playa del Carmen: Beaches Comparison
Known for having some of the most beautiful beaches in the world, the beaches in Tulum are far superior to the beaches in downtown Playa del Carmen.
With turquoise waters and powder white sand, the beaches in Tulum are more widespread and untouched. With a chill atmosphere and far fewer crowds, you'll actually be able to lounge and relax.
On the other hand, the beaches in Playa del Carmen are much more crowded and have a more bustling beach scene. Yes, they are nice but just not as pretty or widespread as the beaches in Tulum.
There's always a lot going on at the many beach clubs in Playa del Carmen so don't expect to find much peace and quiet on downtown Playa del Carmen beaches.
Tulum vs Playa del Carmen: Hotels Comparison
One of the most noticeable differences between Tulum and Playa del Carmen is the hotel accommodations.
What are the hotels like in Tulum?
The main focus of Tulum hotels is on sustainability and being eco-friendly. This often translates into rustic jungle accommodations including tree houses, bungalows, and luxury glamping that may be a different experience than a typical hotel or resort.
It's not uncommon for hotels in Tulum to have outdoor showers, communal bathrooms, mosquito netting, and limited technology like air conditioning, TVs, and wifi.
These types of accommodations fit into the minimalist Tulum design aesthetic and the idea is that your stay is a true retreat and has as little impact on the environment as possible. Essentially what you are paying for is a boutique vacation experience that is an escape from the reality of everyday life.
In addition, most of the hotels in Tulum are not all-inclusive. This means that you will need to pay for all of your meals and alcohol in addition to your nightly room rate.
What are the hotels like in Playa del Carmen and the Riviera Maya?
On the other hand, Playa del Carmen and the surrounding Riviera Maya region offer a wide variety of more reasonably priced all inclusive hotels.
With a much wider variety of options, these range from modern and luxurious to family-friendly to small boutique hotels. At Riviera Maya resorts, you'll find beautifully landscaped grounds, multiple restaurants, expansive pools, and swim-up bars.
Staying in Playa del Carmen or the Riviera Maya is best if you prefer a hassle-free, all-inclusive booking option that includes all of your meals and alcohol.
Tulum vs Playa del Carmen: Transportation Comparison
Ease of access and cost of transportation should also be considered when comparing Tulum and Playa del Carmen.
Airport Transportation
As Tulum is located about 2 hours south of the Cancun Airport, the cost for an airport transfer to Tulum will be almost double the price of getting to Playa del Carmen and will take twice as much time.
Current airport transfer rates are as follows:
Cost of Private Airport Transfer to Tulum: $110 USD each way
Cost of Private Airport Transfer to Playa del Carmen: $70 USD each way
Taxis
Taxis are readily available in both towns but will be more expensive in Tulum. Tulum is much less walkable than Playa del Carmen so if you decide to stay in downtown Tulum, you'll then need to hire taxis to get to the beach or the popular Tulum beach hotel zone.
Public Transportation
As Playa del Carmen is more developed, it's easier to access public transportation such as the ADO bus, colectivos (shared vans), and city buses.
While these transportation services are available in Tulum town, they are more frequent and readily available in Playa del Carmen.
Related Reading: How to Get from Playa del Carmen to Tulum
Tulum vs Playa del Carmen: Activities Comparison
When it comes to activities, both Tulum and Playa del Carmen have a lot to offer tourists.
In Tulum, nearby outdoor activities include exploring the Tulum Ruins, swimming in cenotes, hanging out in hidden lagoons, and exploring Sian Ka'an Biosphere Reserve.
There are just as many things to do in Playa del Carmen within a short drive such as the Xcaret adventure parks, Cenote Zapote Eco-Park, and numerous snorkeling excursions.
There are also a few different popular attractions located between Playa del Carmen and Tulum such as natural cenotes, beautiful secluded beaches, and Akumal Beach, known for its abundance of sea turtles. These activities can easily be reached from either town.
Playa del Carmen is probably a better and more centrally located hub if you want to explore some of the more northern destinations in the Yucatan peninsula like Chichen Itza, Holbox, Las Coloradas, or El Cuyo.
Tulum vs Playa del Carmen: Food and Restaurant Comparison
When it comes to food and drink, Playa del Carmen and Tulum both offer unique dining experiences. If you're looking for a luxurious, trendy dining experience during your vacation in Mexico, Tulum is the place to be.
Restaurants in Tulum are known for their inventive menus and stylish atmospheres. However, these upscale eateries come with a much higher price tag.
In contrast, Playa del Carmen is a great option if you're looking for a range of dining options all within easy walking distance. This popular resort town offers a wide variety of restaurants, from cheap taco joints to authentic Mexican food to upscale international cuisine.
And while Playa del Carmen restaurants may not find the same level of sophistication as in Tulum, you'll be sure to enjoy some delicious meals at a fraction of the cost.
Tulum vs Playa del Carmen Nightlife Comparison
When it comes to nightlife, Tulum and Playa del Carmen offer two very different experiences.
In Tulum, the bars and nightclubs are dark and mysterious set amongst an outdoor jungle backdrop. The town attracts famous DJs from all over the world spinning house or techno music in a hardcore party atmosphere.
You'll still find laid-back bars in Tulum but its main allure comes from music festivals and special events, as well as high-end party experiences such as the Full Moon Party at Papaya Playa Project.
Meanwhile, Playa del Carmen boasts more sophisticated and upscale nightclubs in an indoor/outdoor setting, as well as laid-back local hangouts, rooftop bars, and the famous Coco Bongo Show.
In Playa del Carmen, the majority of the bars and nightclubs are located on or near 5th Avenue, which is a well-lit and high-traffic area making it feel safer to be out at night.
Tulum vs. Playa del Carmen Digital Nomad Comparison
There are a few key factors to consider when choosing between Tulum and Playa del Carmen as a digital nomad.
Infrastructure and Internet Access
Infrastructure is one of the most important considerations – unfortunately, Tulum lags behind in this respect.
As a result of rapid construction and tourism development in Tulum, the town lacks proper infrastructure for electricity, sewage, and utilities. This is why internet and electricity outages are much more common in Tulum, and reliable internet access can be hard to come by.
This can make it difficult to get work done on a day-to-day basis if you are planning to stay long-term. In addition to wifi internet access, cellular service in Tulum can also be sparse and unreliable.
Playa del Carmen, on the other hand, has a much larger digital nomad community and infrastructure to support it. While you may still experience the occasional power or internet outage, these are generally less frequent than in Tulum.
Digital Nomad Community and Coworking Spaces
While you will find active digital nomad communities in both towns, Playa del Carmen's digital nomad scene is larger and more robust. Most nomads choose Playa del Carmen as a base as a result of the more reliable internet.
There are many coworking spaces in Playa del Carmen, which often host networking events, professional development workshops, and fun outings. These are great digital nomad hubs to meet new people and network in a relaxed setting.
Although coworking spaces are popping up around Tulum, there are not as many and they are more spread out.
Cost of Living
Another key consideration for digital nomads is cost of living. Tulum is generally more expensive than Playa del Carmen, although this can vary depending on your lifestyle. If you're looking to save money, Playa del Carmen may be the better option.
Ultimately, the decision of whether to choose Tulum or Playa del Carmen as your digital nomad base comes down to personal preference. Consider your needs and priorities, and make the choice that's right for you.
FAQs about Playa del Carmen vs Tulum
Here are the answers to some of the most frequently asked questions about Playa del Carmen vs. Tulum:
Where is better to stay Tulum or Playa del Carmen?
Deciding between Tulum or Playa del Carmen depends on your vacation style. If you want an upscale nature retreat and access to excellent beaches, stay in Tulum. If you want a more reasonably priced beach vacation with walkability, then stay in Playa del Carmen.
Is Tulum safer than Playa del Carmen?
Tulum is not quite as safe as Playa del Carmen. While there are inherent risks in both destinations, Tulum has seen more tourist fatalities from drug violence in the last few years.
Is Tulum or Playa del Carmen more expensive?
Tulum is much more expensive than Playa del Carmen, with prices that are typically 30% higher for hotels, restaurants, and transportation.
Why shouldn't you go to Tulum?
In recent years, drug violence has been on the rise in Tulum, making it less safe than it used to be. Traveling to Tulum can also be quite expensive when compared to other beach destinations in Mexico. I think it's still worth visiting but it's important to be aware of the risks.
Final Thoughts: Which is better Playa del Carmen or Tulum?
I hope these Tulum and Playa del Carmen travel tips were helpful in choosing which Mexican beach destination is best for you.
If you're still trying to decide between Playa del Carmen or Tulum in 2022, here's my take:
What Playa del Carmen has going for it is that it's extremely walkable, has a much more laid-back vibe, and appeals to a wider variety of travelers. The destination is beautiful and tropical but not pretentious. And it's an excellent hub to get to other places in Riviera Maya and the Yucatan region.
What Tulum has going for it is its widespread untouched beaches and trendy hotels. If you have a higher budget, want to truly disconnect in nature, and appreciate sustainability, then Tulum will be the perfect beach destination for you.
But no matter which destination you choose, you'll still be treated to Caribbean beaches, a vibrant culture, and amazing Mexican cuisine and are sure to have an incredible time.
READ NEXT:
Traveling to Mexico soon?
These are the Mexico travel resources I use and recommend:
🏨 Hotels: I always find the best deals for Mexico hotels and resorts on Booking.com. If you prefer a vacation rental, check VRBO as they are often cheaper than AirBnB's added fees!
✈️ Flights: I recommend using Skyscanner for the best Mexico flight deals. Be sure to sign up for their price alerts for your preferred travel dates.
🚗 Rental Cars: I like to use Discover Cars because you can compare multiple car rental companies and see detailed ratings for overall value, ease of pick-up, efficiency of agents, car condition, and overall time spent.
🚙 Cancun Airport Transportation: I recommend booking a private transfer with Cancun Airport Transportation for the quickest and most hassle-free option!
🤿 Tours & Activities: I always use Viator or GetYourGuide for booking tours and activities in Mexico. You can cancel up to 24 hours before the tour for a full refund, plus they have excellent customer service if you were to have any issues.
🚨 Travel Insurance: After my Dad broke his hand in a taxi accident in Playa del Carmen, I always recommend buying travel insurance before your trip for added peace of mind! I recommend Travel Insurance Master for short trips or Safety Wing for digital nomads.
☀️ Biodegradable Sunscreen: Don't forget to add biodegradable sunscreen to your Mexico packing list! Regular sunscreen is prohibited when swimming in the ocean and cenotes in Mexico, so you'll need to pack some biodegradable sunscreen for sun protection. I recommend Sun Bum Sunscreen, which is reef-friendly, vegan, and cruelty-free.