Cozumel vs Holbox: Which Mexican island is better in 2023?
Disclosure: This page may contain affiliate links, meaning at no additional cost to you, I will earn a commission if you click through and make a purchase. As an Amazon Associate I earn from qualifying purchases.



Planning a trip to Mexico and can't decide between Cozumel and Holbox? You've come to the right guide!
As a travel blogger that lives in nearby Playa del Carmen, I know all about these two popular island destinations and I'm here to share what each one is really like!
While both make amazing destinations for a beach vacation, Cozumel and Holbox have some key differences, and are suited for different types of travelers.
In this ultimate Cozumel vs Holbox comparison guide, I'll share everything you need to know about how the two island destinations compare when it comes to hotels, beaches, activities, nightlife, safety, costs, and more.
Plus, you'll learn more about the pros and cons of each one and who they're best suited for.
Ready to find out which of these Mexican island destinations is best for you? Let's get started!
Cozumel vs Holbox: Overview
In my opinion, both Cozumel and Holbox are worth a visit! These beautiful islands are each special in their own way and have a lot to offer travelers.
But if you're limited on time and are trying to decide where to spend your vacation days, here's a quick overview of each destination:
About Cozumel
Cozumel is the largest island in the Mexican Caribbean, located about 7 miles to the east of Playa del Carmen, and a 45-minute ferry ride from the mainland.
At 30 miles long, the island is more developed on the west side, where you'll find San Miguel de Cozumel, the island's largest town and main city center.
Thanks to its stunning Caribbean beaches, incredible coral reefs, and beautiful jungle landscapes, Cozumel is a popular tourist destination for beach and sun-seekers.
It is also one of the most visited cruise ship destinations in the Caribbean and welcomes millions of cruise ship travelers every year.
Cozumel's abundant snorkeling and scuba diving sites attract tourists and diving enthusiasts from all over the world.
The impressive coral reefs surrounding the island are part of the Mesoamerican Reef, which is the second-longest barrier reef system in the world, only second to the Great Barrier Reef in Australia.
About Holbox
Holbox (pronounced "Hole-bosch") is a much smaller and less developed island located on the northwestern tip of the Yucatán Peninsula.
To reach Isla Holbox, you must take a 30-minute ferry from the small town of Chiquila, which is located about 2 hours away from Playa del Carmen, Cancun, and the Riviera Maya.
At just 26 miles long and just 1 mile wide, Holbox has a very laid back vibe and feels like a small fishing village with stunning white sand beaches, shallow waters, and beautiful sunsets.
With only dirt roads, cars are not allowed on the entire island, so you'll have to get around on foot or rely on a golf cart or bicycles.
There's a small downtown area where you'll find the majority of restaurants, bars, and shops and most of the hotels are scattered along the beachfront.
Holbox is also known for its bioluminescence–an amazing natural phenomenon that occurs when plankton in the water lights up at night.
The island is still up-and-coming and largely undeveloped so it's best if you're looking for a quiet beach getaway but willing to forgo some of the comforts of more developed beach towns.
Cozumel vs Holbox Map
Here is a map of Cozumel and Holbox to give you an idea of where they are in relation to each other:
Cozumel vs Holbox: Who are they best suited for?
Here's an overview of the types of travelers each beach town is best suited for:
Who is Cozumel best suited for?
Cozumel is a great destination for those looking for a relaxing beach getaway but still want some options for dining and entertainment.
While still a small island, Cozumel is much more developed and spread out than Holbox offering more options for restaurants, bars, and attractions.
The island tends to attract families, couples, and older individuals to its beachfront all-inclusive resorts and is not really considered a party destination.
You'll still find plenty of adventurous things to do in Cozumel, but it is best suited for those who truly want to escape to an all-inclusive resort.
And with its incredible coral reefs, Cozumel is also an extremely popular destination for scuba diving enthusiasts, as there are many dive sites around the island suitable for beginner or experienced divers.
Plus, with an international airport and easier access from the mainland, it's pretty easy to get to Cozumel from anywhere in the world.
Who is Holbox best suited for?
Holbox is best suited for those looking for a secluded getaway where you can truly unplug–the wifi and cell service on the island is pretty spotty!
Although the island does have some restaurants, bars, and attractions, you won't find the same level of development as in Cozumel.
Holbox is great for travelers looking to relax away from crowds and enjoy nature or do simple activities like lounging on the beach, kayaking, or riding bikes.
The island is a paradise for beach lovers, as its stunning white sand beaches with shallow turquoise water are some of the best in Mexico.
Holbox is not as popular with families, but more suited for couples and younger travelers looking for a low-key beach getaway.
So if you're someone that likes more off-the-beaten path destinations away from the touristy crowds, Holbox will be perfect for you.
Additionally, Holbox is a bit harder to get to so it's typically better suited for travelers that are planning a trip around Mexico's Yucatan peninsula, rather than flying in from an international destination.
Cozumel vs Holbox: Pros & Cons
Here's a look at the Cozumel and Holbox pros and cons to help you make your decision:
Pros of Cozumel
More developed with better infrastructure
Better snorkeling and scuba diving
More restaurants, bars, and things to do
International airport – easier to get to
More accommodation options
Cons of Cozumel
More expensive
Need a car to get around
Beaches are more rocky
More touristy
More crowded
Pros of Holbox
Beautiful beaches
Less expensive
Walkable
Bioluminescence at night
Less touristy
Cons of Holbox
Less infrastructure
Poor wifi and cell service
Harder to get to
Not much to do when it rains
Need cash
Cozumel vs Holbox: Safety Comparison
Next, let's take a look at how these two destinations compare when it comes to safety.
U.S. Department of State Travel Advisory
The official U.S. Department of State Travel Advisory for both Holbox and Cozumel is currently "Level 2 – Exercise Increased Caution" due to the high levels of crime and violence in the overall state of Quintana Roo.
The United States Mexico travel advisory mentions that criminal activity and violent crime may occur in popular tourist destinations such as Cancun, Playa del Carmen, and Tulum, but does not specifically list Holbox or Cozumel as areas of risk.
Crime and Safety Index
Holbox is too small a town to have a Crime and Safety Index, however, Cozumel currently has a crime index of 34.57 (low) and a safety index of 65.43 (high) on a 100-point scale as reported by Numbeo.
When compared to other destinations in Mexico, both Cozumel and Holbox have much lower levels of crime and cartel activity.
That doesn't mean that crime can't happen but you should feel very safe walking around the islands during the day, and at night if you stick to the main tourist areas.
Is Holbox safer than Cozumel?
When comparing safety in Holbox to safety in Cozumel, both islands feel very safe to visit and I have never had any safety concerns when visiting either one.
They are both low-key beach towns where you can find a bit of evening entertainment if you go looking for it, but they don't have a wild nightlife scene.
Holbox probably feels safer than Cozumel due to its small size and remote location, but you should still take basic safety precautions.
As in any destination, it is important to be aware of your surroundings, avoid illegal activity, and never leave personal belongings unattended.
And if you are traveling alone, it is also best to avoid walking alone at night and never leave drinks unattended.
Cozumel vs Holbox: Cost Comparison
When it comes to costs, Cozumel is typically a more expensive destination than Holbox.
Cozumel caters to tourists and cruise ship visitors so prices there are a bit inflated for hotels, restaurants, and activities.
But at the same time, the island of Cozumel does offer better infrastructure, as well as more accommodation and dining options.
On the other hand, Holbox is more up-and-coming so prices tend to be lower, but the infrastructure is less developed and there are fewer restaurants, hotels, and attractions.
You'll also want to factor the costs of getting there into your budget planning as both islands take a bit of work to get to.
Cozumel has an international airport and there are direct flights from the U.S., or you can fly into Cancun Airport, drive to Playa del Carmen, and then take the ferry over to Cozumel.
To reach Holbox, you'll need to fly into Cancun Airport, then drive to Chiquila, and then take the Holbox ferry across to the island.
So you'll need to add up the costs of flights, transportation, and ferries to get a sense of what your total trip will cost.
But both islands do offer a range of accommodation and transportation options so there are definitely ways to make either destination work for your budget.
Cozumel vs Holbox: Beaches Comparison
When comparing the beaches, Cozumel and Holbox both have really nice beaches with clear turquoise blue waters.
However, due to their close proximity to the coral reefs, the majority of the beaches in Cozumel tend to be more rocky.
Plus, it's important to know that the beaches on the eastern side of Cozumel have large waves which make them unsuitable for swimming.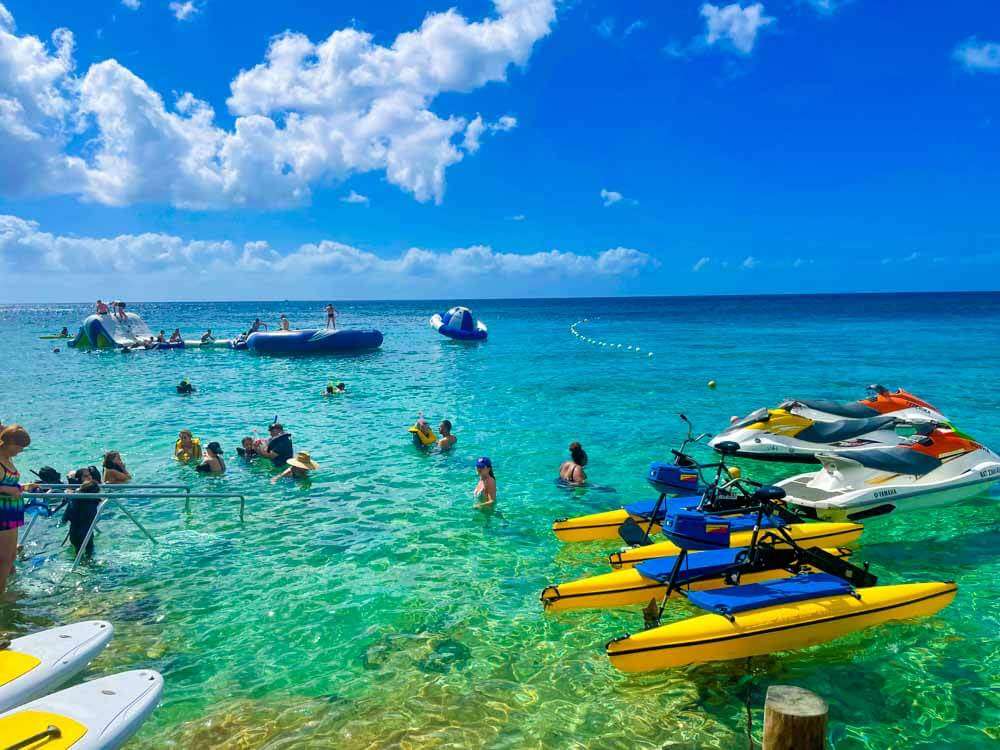 But you still can find white sandy beaches in Cozumel, like Playa Palancar for instance, which is located on the southwestern side of the island.
But the real charm of Cozumel's beaches lies in the ability to snorkel straight off the shore, where you can spot tropical fish and a variety of marine life.
On the other hand, Holbox boasts dreamy, widespread white sand beaches with really shallow, calm waters that are bright turquoise in color.
The water is so shallow that you can walk a fair distance off shore, making it a quintessential tropical paradise.
However, it's worth noting that there can sometimes be seaweed present in Holbox. But I've always found that beaches on the eastern side of the island (just to the right of downtown) typically have less seaweed.
So whereas Cozumel appeals to the adventurous snorkelers, Holbox is ideal for those seeking the classic, idyllic beach experience.
Cozumel vs Holbox: Hotels Comparison
Next, let's compare the hotel options in Cozumel and Holbox. Both islands have a range of accommodations options to fit any budget.
So whether you're looking for a cheap hostel, a luxury hotel, or an all-inclusive resort, you can find them on both islands.
But with it being larger, Cozumel just has a lot more to choose from. The island offers everything from luxury beachfront all-inclusive resorts to budget dive hotels and VRBO options.
Holbox is a little more limited, but there are a lot of new hotels opening up as the island becomes more popular.
Hotels on the beach in Holbox are much more expensive so if you're looking for a more affordable option, you'll want to stay in the downtown area which is just a short walk to the beach.
Where to Stay in Cozumel
If you're wondering where to stay in Cozumel, here are a few options to consider:
🏝 Travelista Tip: If you're looking for the best beaches, I would recommend staying at a hotel on the southwestern side of the island, as the beaches here are less rocky.
Where to Stay in Holbox
If you're wondering where to stay in Isla Holbox, here are a few options to consider:
🏝 Travelista Tip: If you're looking for the best beaches, I would recommend staying at a hotel on the eastern side of the island, as the beaches here are more widespread and typically have less seaweed.
Cozumel vs Holbox: Activities Comparison
When it comes to activities, Cozumel definitely has the edge over Holbox!
There are numerous activities and excursions in Cozumel like snorkeling tours, scuba diving, kayaking, and paddleboarding, as well as land activities like ATV tours, jeep tours, and ziplining adventures.
There are also many different beach clubs and water parks in Cozumel, as well as cultural attractions like ancient Mayan ruins, the Cozumel Museum, and historical sites like El Cedral.
Holbox is much smaller and quieter so there aren't as many activities to choose from.
The island does have some unique offerings like wildlife watching, whale shark tours, and bioluminescence, but it tends to be more of a relaxing destination than an action-packed one.
Best Things to Do in Cozumel
Here are some activity highlights exclusive to Cozumel:
El Cielo: A popular snorkeling spot, El Cielo is a shallow sandbar known for its unbelievably crystal clear water and abundance of giant starfish. On the El Cielo tour, you'll get to visit El Cielo, as well as snorkel at the famous Palancar and Columbia Reefs.
Punta Sur Eco Park: Marking the southern point of Cozumel, the Punta Sur Ecological Park spans a whopping 247 acres of pristine beaches, natural lagoons, coral reefs, and low forest eco-systems. With activities such as snorkeling, kayaking, paddleboarding, and even a small history museum, there's plenty to do and see at this popular Cozumel eco-park.
Cozumel Submarine Expedition: The Cozumel Submarine Expedition is Mexico's only submarine dedicated to tourism, diving up to 100 feet beneath the sea. While on the 2-hour submarine expedition, you'll see the Felipe Xicotencatl sunken ship and pass near "La Pared", a vertical drop that plummets to more than 2,000 feet deep at the edge of the island.
San Gervasio Mayan Ruins: The San Gervasio Mayan Ruins are some of the most well-preserved and extensive ruins on the island. Visitors can explore the main plaza, temples, and other structures, which were originally used by the Mayans as a sanctuary to Ixchel, the goddess of fertility. While not as grand as the Tulum Ruins or Chichen Itza, they are still worth a visit.
Cozumel Pearl Farm: The only active pearl farm in the Caribbean, the Cozumel Pearl Farm lets visitors have an exclusive look at the pearl farm and lab and learn about the cultured pearl business. You'll also have the opportunity to take a boat ride out to see the pearl hatchery and snorkel.
Best Things to Do in Holbox
Here are some activity highlights exclusive to Holbox Island:
Punta Mosquito: Punta Mosquito nature reserve can be reached by walking along the sandbar from Playa Holbox and you might be able to spot some flamingos in the wild.
Bioluminescence Tours: During a nighttime Holbox bioluminescence tour, you'll get to observe the incredible phenomenon of bioluminescent plankton lighting up in the dark waters.
Whale Shark Tours: From May to September, whale sharks gather in the waters off Holbox and near Isla Mujeres to feed on plankton, providing a unique opportunity for a whale sharks tour, where you can have an up-close snorkeling encounter with these gentle giants.
Isla de la Pasión: Isla de la Pasión (Passion Island) is a little island located just off the coast of Holbox. Most Holbox boat tours include a stop at Isla de la Pasion where you can see the tropical island and possibly some flamingos.
Watch the Sunset: The sunsets in Holbox are a real spectacle and every night visitors gather on the beach to watch it dip below the horizon.
Cozumel vs Holbox: Restaurants Comparison
When it comes to dining, both Cozumel and Holbox offer a variety of culinary experiences that cater to different budgets and tastes.
Cozumel, being larger and more developed, boasts a broader selection of international cuisine, from authentic Mexican to Italian, Asian, and American.
Trendy restaurants like Kondesa offer upscale, gourmet experiences and there are also more options for oceanfront dining.
Plus, you can find street food and taco joints like Guisado's in downtown San Miguel for a cheaper and more local experience.
On the other hand, Holbox provides a more casual and local dining experience, with a lot of fresh seafood dishes.
A lot of the restaurants in Holbox are in the downtown area and have dirt floors, which adds to the rustic charm.
The restaurant scene in Holbox is definitely up-and-coming and every time I go there are new restaurants popping up!
Aside from seafood, you'll be able to find classic Mexican, Italian, pizza, and international restaurants.
Plus, there's a lot of cute cafes, smoothie bars, and breakfast spots like Painapol that are definitely Instagram worthy.
Cozumel vs Holbox: Nightlife Comparison
When comparing the nightlife in Cozumel and Holbox, the two islands are both pretty sleepy at night and you won't find a wild party scene like you would at the nightclubs in Playa del Carmen or Cancun.
But there are bars that are open late if you go looking for it. Cozumel has bars and restaurants in downtown San Miguel de Cozumel, and fun tiki bars like Cocomama Tiki Room.
And in Holbox, there is one popular spot known as "The Hot Corner" which is pretty much the liveliest spot on the island after midnight.
Here you can find live music, and everyone just gathers in the street to drink, dance, and enjoy the music.
But overall, the nightlife on both islands is limited, making it ideal for those who prefer tranquility over wild nights of partying.
Holbox vs Cozumel: FAQs
Here are the answers to some of the most frequently asked questions about Holbox vs. Cozumel:
Is it worth it to go to Holbox?
Yes, absolutely! Holbox is a stunning island with beautiful beaches and an incredibly relaxed atmosphere. It's perfect for those who want to get away from the hustle and bustle of city life and enjoy a tranquil beach escape.
Why is Holbox so popular?
Holbox has gained popularity due to its untouched natural beauty and serene atmosphere. Its unique attractions, such as bioluminescent plankton and whale shark tours, coupled with tranquil beaches and stunning sunsets, make it an idyllic getaway for those seeking a relaxed and intimate vacation experience.
Is Holbox a party island?
No, Holbox is not typically considered a party island. It's more of a tranquil beach escape, known for its laid-back vibe and natural beauty.
What's so special about Cozumel?
Cozumel holds a special appeal due to its world-renowned coral reefs which are a paradise for divers, and wide range of water sports and activities, making it an ideal destination for those seeking both adventure and relaxation.
Is it worth it to go to Cozumel?
Absolutely! Cozumel is well worth a visit not only for its beautiful beaches and world-class diving opportunities, but also for its unique attractions, such as its Mayan ruins and Punta Sur Eco Park.
What is the best month to go to Cozumel?
The best months to visit Cozumel are from December–February when it more dry and the humidity is lower.

This is also high season in Cozumel so if you're looking to avoid the crowds, consider visiting during the shoulder months of high season (October/November or March/April).
Is the snorkeling good in Holbox?
Not really. Holbox is not known for its snorkeling, so if you're looking to do some serious snorkeling, head to Cozumel which has world-class diving and snorkeling experiences.
Can you dive in Holbox?
No, there aren't really any dive sites in Holbox. So if you are an avid scuba diver, Cozumel is definitely the best option.
Is Holbox expensive?
Holbox is less expensive than nearby destinations in the Yucatan peninsula including Cancun, Playa del Carmen, and Tulum but it can still get pricey if you're not careful.

But the island has many different accommodation and restaurant options so you can easily find something to fit your budget.
Final Thoughts: Is Cozumel better than Holbox?
So, which is better Cozumel or Holbox? I hope this Holbox vs Cozumel comparison guide has helped you to decide which island is the better choice for your vacation!
Both islands offer a unique and unforgettable experience, but ultimately it comes down to personal preference when deciding between them.
If you're looking for a more developed beach destination with plenty of attractions and activities, then Cozumel may be the right choice for you.
I love that Cozumel offers a bit of everything–from snorkeling and scuba diving, to exploring Mayan ruins and relaxing at a beach club.
On the other hand, if you're seeking a more tranquil and laid-back beach escape with fewer crowds and stunning beaches, Holbox is your best bet.
You'll be blown away by the island's dreamy beaches but just keep in mind Holbox has a less stable infrastructure with spotty cell service and wifi so be prepared to be unplugged!
But no matter which island you choose, both have plenty to offer and are great options for a Mexican beach getaway!
READ NEXT:
🇲🇽 Traveling to Mexico soon?
These are the Mexico travel resources I use and recommend:
🏨 Hotels: I always find the best deals for Mexico hotels and resorts on Expedia or Booking.com. If you prefer a vacation rental, check VRBO as they are often cheaper than AirBnB's added fees!
✈️ Flights: I recommend using Skyscanner for the best Mexico flight deals. Be sure to sign up for their price alerts for your preferred travel dates.
🚗 Rental Cars: I recommend using Discover Cars because you can compare multiple car rental companies and see detailed ratings for overall value, ease of pick-up, efficiency of agents, car condition, and overall time spent.
🚙 Cancun Airport Transportation: I recommend booking a private transfer with Cancun Airport Transportation for the quickest and most hassle-free option!
🤿 Tours & Activities: I always use Viator or GetYourGuide for booking tours and activities in Mexico. You can cancel up to 24 hours before the tour for a full refund, plus they have excellent customer service if you were to have any issues.
🚨 Travel Insurance: After my Dad broke his hand in a taxi accident in Playa del Carmen, I always recommend buying travel insurance before your trip for added peace of mind! I recommend Travel Insurance Master for short trips or Safety Wing for digital nomads.
☀️ Biodegradable Sunscreen: Don't forget to add biodegradable sunscreen to your Mexico packing list! Regular sunscreen is prohibited when swimming in the ocean and cenotes in Mexico, so you'll need to pack some biodegradable sunscreen for sun protection. I recommend Sun Bum Sunscreen, which is reef-friendly, vegan, and cruelty-free.